Corruption, Official Apathy Cloud Uttarakhand Village's Development
The villagers of Simagaon are exploited both at the Panchayat and district administration levels.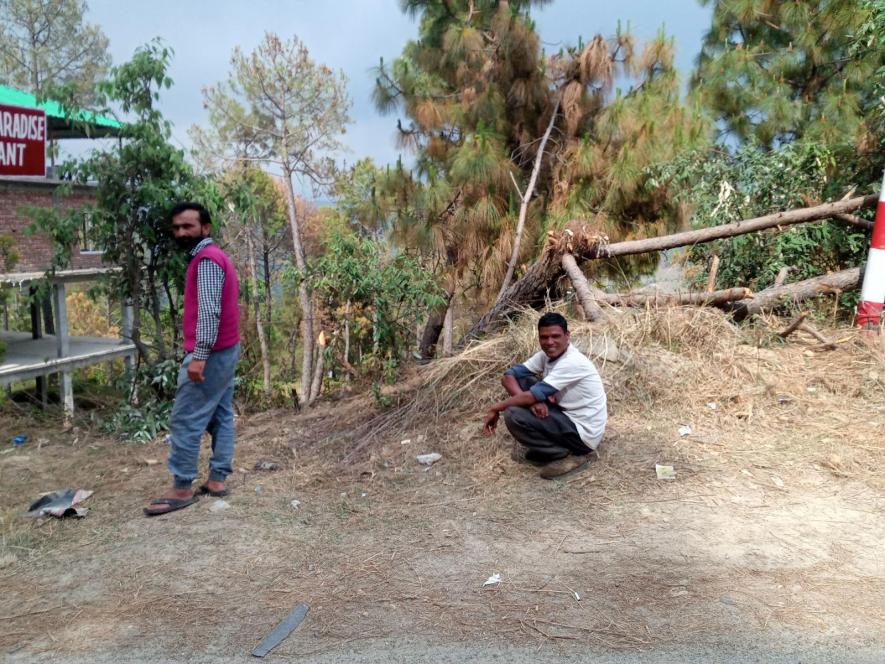 Villagers in Simagaon, near Kausani, Uttarakhand.
Pramod is frustrated with corruption and the state government's apathy towards his native village of Simagaon, near Uttarakhand's Kausani hill station. "People in the plains always get government help while everything is slow and tedious here," says the 30-year-old tea garden worker.
Corruption at the Panchayat level and higher administration has become a big problem for the village but the villagers aren't able to press for their demands to receive state-sponsored incentives due to the lack of mobilisation. Tea garden workers continue to receive wages less than the mandated amount in the absence of an active union.
"Hill people are passive and polite; they don't demand their rights from the gram panchayat or the higher-ups," says Pramod reflecting the lack of mobilisation needed to fight corruption and demand basic rights. "For example, many villagers, including me, have APL ration cards despite being eligible for the BPL category. I have been going to the local office to upgrade my card but to no avail. Officials shoo us away," he adds.
Despite sanctioned funds and materials for the construction of toilets in houses and polyhouses, they are "not equally distributed among the villagers. The gram pradhan distributes them among his close relatives and other influential people", Pramod alleges. "Other officials, including the district magistrate and the local MLA are nowhere to be found. They don't visit us. I don't think the villagers even know who is the MLA."
As Pramod continues to narrate the sorry state of affairs, his brother Pushkar says corruption has become a festering wound. Pramod, who has tried a lot to mobilise the villagers to protest against the administration, says, "They do not listen to me and say, 'Let things be as they.'"
The health and education infrastructure is on the verge of collapse and aggravating the mass migration crisis in the state," says Pushkar, who owns a small eatery after working as a chef in Mumbai for two years. "With the absence of basic facilities due to corruption, migration is bound to happen. Local politicians after winning elections are nowhere to be found. They construct lavish houses in the plainer parts of the state, such as Dehradun and Haldwani, and lead a peaceful life while ignoring us," he adds.
Pushkar left his job in Mumbai thinking the tourist hotspot of Kausani will have better opportunities. Soon, his hopes were dashed. "The town has many guesthouses and homestays which hire villagers on meagre wages knowing we are desperate for jobs. A hotel offered me only Rs 8,000 to work as a cook," a dejected Pushkar says.  
Chandan Singh Bhandari (40) is a well-known local activist who staged several protests against the administration, filed several RTIs and wrote letters about the corruption to influential officers and MLAs over the past few decades.
A dejected Bhandari has given up. "I gathered people and made our voices heard. But most of the time, it fell on deaf ears. I haven't been able to get justice for my people," he says lamenting that the system is unchangeable with goon threatening him. "The local politicians wield so much power that it silences everyone. I have also given up now."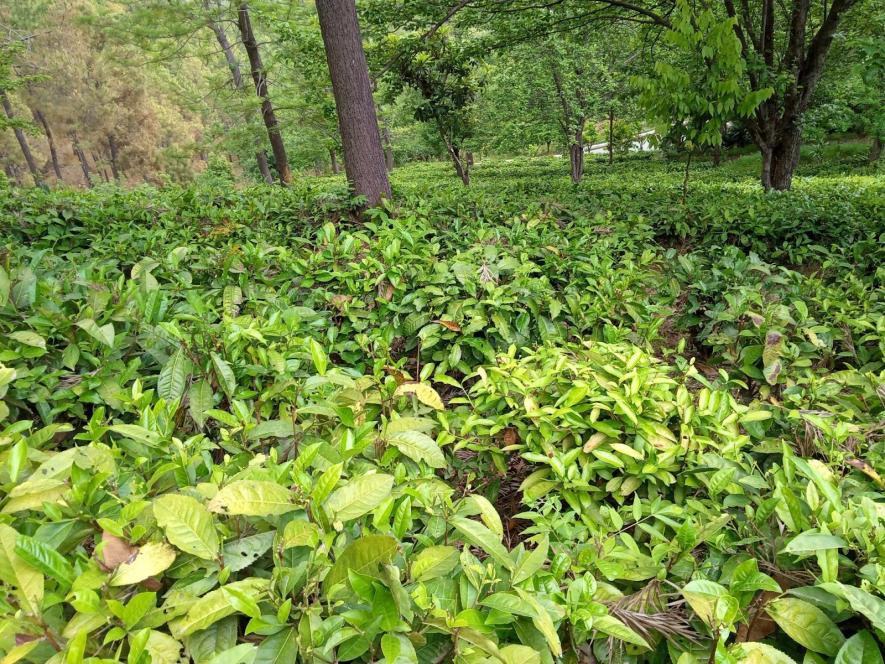 The tea gardens of Kausani.
The state government has taken initiatives, including offering employment to villagers at tea estates, to stop migration. Many villagers from around Kausani work at these estates. However, against they are paid less than the mandated monthly amount of Rs 8,000-Rs 10,000 by estate managers.
"According to the fixed wages of Rs 316 per day, we should get Rs 8,000 per month. But the managers and supervisors deduct our salaries for holidays and we end up getting only Rs 4,000-Rs 5,000," says Vinod, a tea worker.
Every worker has to undergo training for 6-12 months. "They teach us the skills required to maintain and aid the gardens, use the tools and properly pluck the leaves. But it is not worth it for such a salary." Pramod says. The meagre wages are not enough to sustain families "because we have to spend on education and daily ration. Our women also work in the estates but even our combined wages are not sufficient", says Vinod.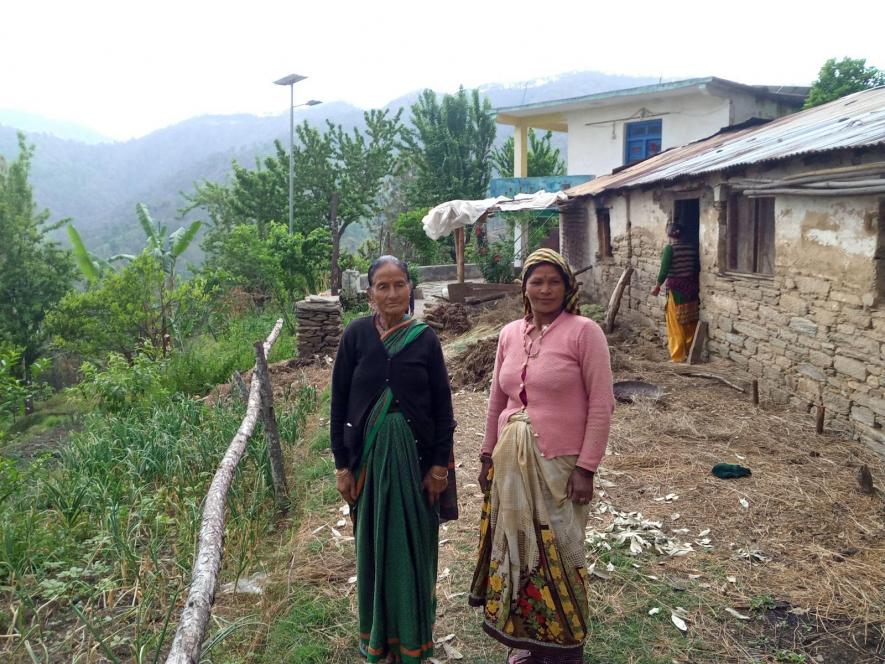 Tea garden workers Durga Devi and Meena Devi.
Tea garden workers Durga Devi and Meena Devi says that only supervisors and managers, who are outsiders, benefit from managing the estates. "A supervisor gets a salary of around Rs 15,000-Rs 20,000 and has a permanent government job. A manager gets similar benefits. They are even provided government accommodation," Durga said. "Only locals are supposed to be exploited for such low income," says Meena.
Working in a tea garden is harsh labour. "Plucking tea leaves and maintaining the cleanliness of the gardens are all part of our jobs. During the rainy season and in harsh winters, this becomes especially difficult," explains Durga. "You will find many women working in the gardens since our husbands have migrated to cities to work. We have to fill our stomachs, don't we?"
The tea estates are supposed to have a workers union. But like the administration, the union doesn't seem to be concerned as well. Several workers don't even know about it. Pramod laments that "the union has weakened and its officials are nowhere to be seen. We deserve proper wages but we have no one to support us to demand our rights," says Pramod. 
The writers are freelance journalists.
Get the latest reports & analysis with people's perspective on Protests, movements & deep analytical videos, discussions of the current affairs in your Telegram app. Subscribe to NewsClick's Telegram channel & get Real-Time updates on stories, as they get published on our website.
Subscribe Newsclick On Telegram