Naomi Osaka: Grand Slam Champion, Grand Slam Role Model
Having sealed her second Australian Open after beating Jennifer Brady in straight sets, the Naomi Osaka legend continues to grow. The story, though, has two parts, one of Osaka on court and the other off it. Both continue to rise, and both need to grow further.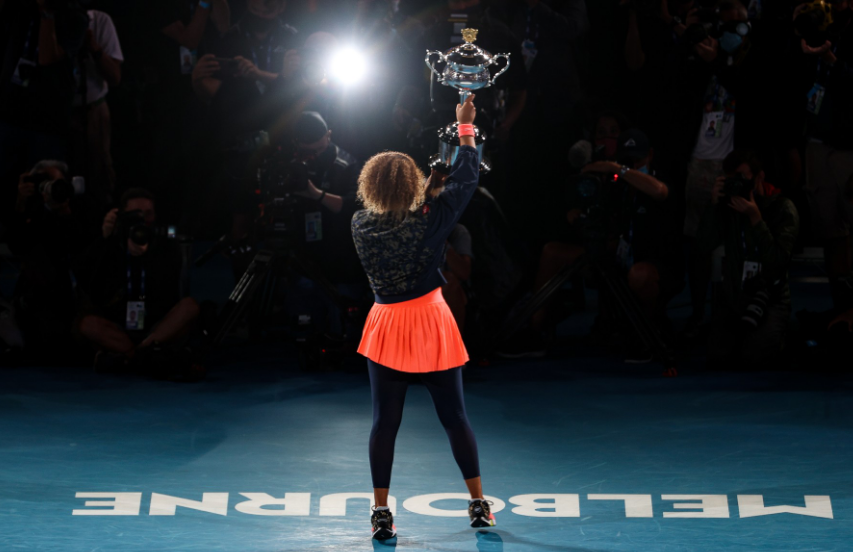 Naomi Osaka lifts the Australian Open women's trophy in Melbourne on Friday. She beat Jennifer Brady of the US 6-4, 6-3 (Pic, Australian Open, Twitter).
"I feel like playing a Grand Slam is a privilege," Naomi Osaka said after winning the Australian Open in Melbourne. Her feeling put ever so succinctly. Perhaps more crisp and certainly laden with more heartwood than some of the winners which left her final opponent — Jennifer Brady of the US — at sea on Saturday.  
Osaka, at the podium clutching the Daphne Akhurst Trophy, remembered what it means to be accorded the privilege of playing professional sport at the highest level, get paid quite a lot of money for it, and receive adulation from the fans for it. Yes, fans were there too, something of a privilege these days.
"It feels incredible to have fans, I played the last Grand Slam without fans, to have this energy means a lot," added Osaka.
Also Read | Medvedev Crushes Tsitsipas to Set Up Date with Djokovic
These words shed more light on something which many of us already know. This Japanese tennis player, 23, is a special talent. It has quite a bit to do with the fact that she has four Grand Slams against her name — entering a rarefied list of 15 women in the Open era to have done it — which very few of her current contemporaries have. 
Osaka's greatness has many more layers to it though, more than backhands, forehands and slices. More than tenacity on court, though tenacity has a significant quote in the bundle of neurons that constitute Osaka's persona. The tenacity and the will to stand up for what is right, beyond tennis, beyond endorsements, beyond even the idea of keeping variables at bay and focusing on the game at the Grands Slam. 
Osaka's greatness should and would be realised beyond the tennis courts. 
She can be that once in a generation player who could push the greatness envelope to even exalted heights. Much like what Serena Williams was (and is) for women's tennis the last couple of decades. Much like Mohammed Ali was for sport in general a few generations back. 
A clean hitting and clear thinking player on court, Osaka shreds the opposition into mere side acts on most occasions. Off court, her voice, loud and symbolic, has the power beyond her age to turn herself, the star, into a side act, and the message she wants to put across as the protagonist. That is a rare gift, comes only when one reaches an exalted stage crossing the trappings of personal gain. Has Osaka crossed that threshold? Perhaps not, for she is after all a professional player hardwired to win. However, for many, including this writer, when she lifted the US Open trophy last year it wasn't her, but Black Lives Matter that won on the day. Her greatness came in making sure the message was louder than the actions that preceded it.
Osaka's greatness is rooted between her ears. Of course, it helps that she can wield the racket with an incredible winning statistic — she has won all four Grand Slam finals she has played in, and that's just the tip of the numbers game in her nascent career.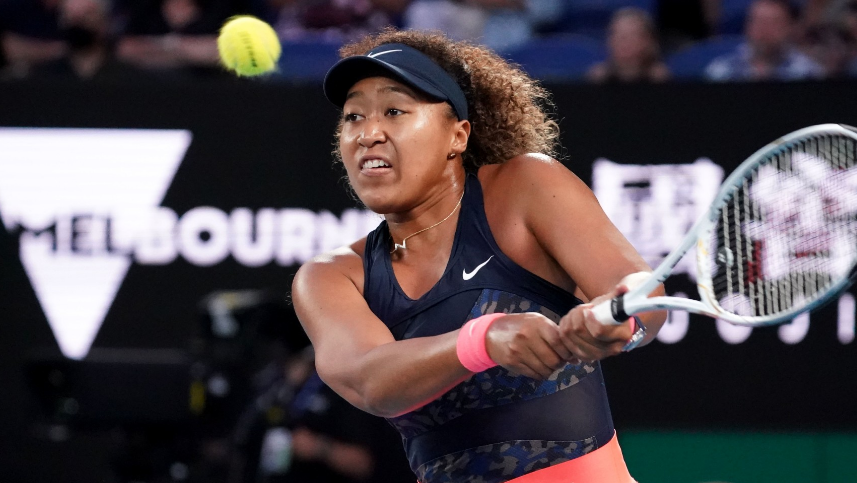 She understands that no one remembers the player who loses the final. That's a philosophy she wears on her warm-up jacket sleeve as she begins her hitting routine before the matches. She removes that jacket, places it safely in her kit bag and then goes about her business with so much purpose that many are reminded of Serena Williams. A player we have seen run through opponents as though they were pawns delaying the inevitable: her tryst with greatness. Osaka has been named as the new Serena. She beat the old Serena in the semifinals at Melbourne Park.
Also Read | Tokyo Olympics: Indian Boxers in Four Categories Set to Miss Chance to Qualify
Now the question is why does Osaka want remembrance. Is it to prove her credentials as a tennis pro? With Osaka there is a larger game at play, one that involves the many changes the society and world needs at the moment. 
She did display courage, or rather much more than courage, while protesting and educating the world during her victorious run at the US open last year, bringing to the spotlight the names of those black people who were victims of racial violence. Osaka was there, right in the thick of it all when the Black Lives Matter movement swept across the world and pricked the collective conscience of the masses. She was also there when the stakes were high both on and off the court and she took a stance, a stance which was vindicated both by her victory in the championship, and off it, achieving what she meant to achieve. 
She fights for that remembrance and fights knowing that winning on court fuels her quest for a larger narrative, a larger script, a script one wishes all professional sports persons adhered to, rather than copy paste the ones given by those in power and to casually tweet out to millions. A simple tweet that triggers a thought war on social media, and smoke-screening the thoughts that really need to reach the masses out there. Thoughts such as why the Indian farmers should win this ongoing struggle or why the Black Lives Matter. Oh it still does, the movement has just about brought out a small bit of what happens out there, while the ugly truth remains hidden, under pandemics, and social media blitzkriegs.
We can't possibly do justice to Osaka if we fail to mention the real Majors she has won, and will go on to win the future if she continues her chosen path or trajectory. One can't also possibly do justice to her by not mentioning the magnitude of her victory on the court. After all, the champion seeks that remembrance too, much like Ali did while punching and getting punched in the ring. 
Also Read | Indian Arrows Add to the Mohammedan Wobble; Goal Rush as Real Kashmir Beat Neroca
Soft spoken most of the time (being succinct is her forte), Osaka is tennis' biggest star at the moment and her stardom, or marketability, or reach and influence depending on which side of the fence you are sitting, was given credence yet again with her victory on Saturday.
Osaka was the overwhelming favourite in the final. She had a relatively unblemished path to the title clash over the fortnight Down Under though there were moments when she was forced to bank into her fight and spirit to come through. 
In the fourth round against Garbine Muguruza, the 2020 runner up, Osaka saw off two match points in the third set, before storming back to win the match. Down 15-40 at 3-5, on her serve she reeled off a succession of 22 points without a single unforced error. When the going got tough, she got going. She came through some tricky moments against 23-time Grand Slam winner Williams as well.
Against Brady in the final, Osaka was not in her peak form. But still, there was enough quality, especially in the key moments, to ensure the American had no say in the match. 
Osaka struggled to land first serves and made 24 unforced errors. However, she won four of five breakpoints and saved two of Brady's four. At 5-4 in the first set, Osaka's relentless pressure forced Brady into errors which proved pivotal in the outcome of the opener.
Also Read | Wasim Jaffer's Treatment Marks a Frightening New Communalisation of the Cricket Field
Osaka then made a quick start in the second set, her brilliance in seizing the momentum with some incisive play, being the difference between the players. A lovely cross-court backhand winner brought up breakpoints for a 2-0 lead. She sealed the lead in the first opportunity, bamboozling Brady with an unexpected deep return. 
Osaka was unstoppable from that point, and she went up by a double break. Brady did claw one back, but Osaka served out the title to love in a devastating sealing act.
As far as her game is concerned, the big question for Osaka to answer would be whether she can take the hard-court dominance onto clay and grass. She has won four of the last six Grand Slams held on hard courts. But outside it, she has remained an enigma. She has not been successful at the French Open and Wimbledon, which would be her immediate priority on court. Besides the four Slams, Osaka has a mere three titles on Tour, a blemish she will seek to correct, perhaps first by bagging a gold for Japan at the Tokyo Games if it gets staged. 
Off court, it is clear that Osaka will remain undeterred in her quest to add to the voice for change. What is that change she seeks, or any of us seek. Well, that's a question with individual answers, isn't it. Osaka, at 23, seems to have found hers. Have we?
Get the latest reports & analysis with people's perspective on Protests, movements & deep analytical videos, discussions of the current affairs in your Telegram app. Subscribe to NewsClick's Telegram channel & get Real-Time updates on stories, as they get published on our website.
Subscribe Newsclick On Telegram