Emiliano Sala's Death, Hakeem al Araibi's Life and Football's Ugly Face
FC Nantes and Cardiff City FC's tiff over transfer money of the deceased Emiliano Sala, and FIFA and the Asian Football Confederation's (AFC's) lack of intent and effort in releasing Hakeem al Araibi from Thailand show the prevalent greed and underhand skulduggery in the global football business.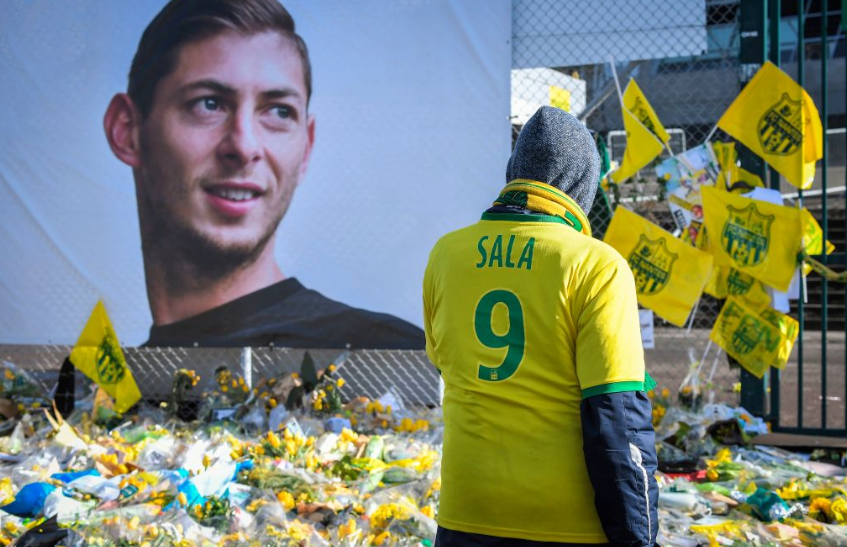 A fan offers tribute to Emiliano Sala outside the Nantes Stadium in France (Courtesy BBC Sport, twitter).
For a significant number of us — fans, writers, savants and idiots alike — football is everything we love. More than any other sport it is this one that combines the beautiful and the ugly, the corruptible and the transcendent, and the absurd with the effective. It gives small town children a chance to showcase their skills on a world stage, and turns nobodys into millionaires. For every messiah with a football at his feet, an act of skulduggery awaits to either glorify, or reprimand it. Everything football is, and forgive the hyperbole here, is imitated in normal human endeavour. Quite appropriately then, both those faces of football have been on display over the past few days.
The power of football, and its ability to transcend politics, international relations and borders to fight for human rights has been on display in Hakeem al Araibi's release from Thailand on February 12.
Mostly due to the perseverance of some footballers like Craig Foster — Al Araibi is now back in Australia. A Bahraini who sought refugee status in Australia, he was detained by Thai authorities while on honeymoon with his wife in Thailand last November. He was accused of vandalism in Bahrain and faced a long imprisonment and a risk of torture, if extradited.
Also Read | Qatar vs UAE: Blockade Derby, the Ugly Truth of West Asia Politics
While a huge amount of credit for Al Araibi's release must go to football — and most of it to former Socceroos captain Foster, who rallied Australian football and Australian sport, to block sponsorships for Thai companies, and led a nationwide call for his release — almost none of it should go to FIFA. Or even the Asian Football Confederation (AFC), who refused to get involved (their president Bahrain's Salman Bin Ibrahim Al-Khalifa completely absolving himself of any say in the matter) in his release. For them, football it seems is an instrument for monetary benefit. A casino game where human life is measured in chips.
Forgive the cynicism. It has been brought upon by events surrounding Emiliano Sala's death in a plane crash over the English Channel. His body was found in the wreckage of the plane over the weekend, following independent rescue efforts undertaken by his family. At the very least now, with a body, they can grieve properly. Not the family of the pilot David Ibbotson though. And even though the search efforts initially stopped for him, donations and contributions for it to continue, initiated by his family, have as of now, exceeded £120,000. The footballing world, fans and players alike, as they had for Sala, have once again come together, united for Ibbotson's family.
Not all fans have their heads screwed on right though, and so obviously, there were some who were caught on video mocking Sala's death with airplane gestures during Cardiff City FC's match against Southampton. If this had happened in Italy or in Spain, the obvious response asked of the federation would be a stadium lockdown, the team playing in front of empty stands for a period of time, as punishment.
But, this is English football, the epitome of commercial broadcasting football. Empty stands look atrocious on camera,  and so that won't happen. Southampton will launch an independent inquiry and have promised to ban the fans, who made the gestures, for life.
But, for peace of mind, let's forget the fans. They are the bottomless pit of the universe, as glorious as they are repulsive. There seems no point of reprimanding the individuals when the collective is flawed.
Video | FC Basel ​1893 ​Acquire 26% Stake in I-League Club Chennai City FC, Plan​ ​Academy
At this very juncture then the least one would expect is that the two clubs at the very centre of the tragedy would also be united in their response. Is it so outrageous to ask that two footballing entities, financial entities, community representatives, come together, put on a brave face and not, at least for the immediate future, talk money over Sala's transfer?
Apparently it is.
The details of the case are now public record. A brief summary: Sala was transferred from FC Nantes to Cardiff City for £15 million and after completing his medical returned to France on January 19, to say goodbye to his teammates and join his new club. On January 21, he took a chartered flight — flown by Ibbotson — back to Cardiff, only to disappear over the English Channel.
Cardiff — Sala is their most expensive signing ever — were to pay the money over three installments, the first of which was to be done at the closing of the January transfer window. Nantes asked for the money, even before Sala's body had been found.
All of it galling and really terrible, considering especially how the two clubs had actually paid touching tributes to their player over the past few weeks. Nantes manager Vahid Halilhodzic's inability to hold his emotions on the touchline in line with Neil Warnock showing the raw reality of football management, saying he considered retirement because of an inability to really do anything when he heard the news.
Those are the images that will stay in the memory: or rather, those are the images that should. Instead, we will have this. Two clubs, post tributes haggling over the money owed over a dead player's transfer. Forgive the insensitivity here, but really, this is as good as it gets.
Video | Lallianzuala Chhangte: 21, Taking on the Big Guns (420 Grams Season 1, Ep. 11)
Nantes are right. They are owed money. Cardiff are right too. Why raise it now? Both are wrong though to play this out in public, in the eyes of the whole world. But there is little more to expect.
For all of its greatness, football is played in  a commercially viable, economically sound world. £15 million is a lot of money, and no one wants to lose out on that. Decency would demand that the money be split up and perhaps delivered to Sala's family, no strings attached. Not going to happen.
The insurance policy pulled against Sala amounted for £16 million and while the date when it was activated isn't clear, one thing is: it won't cover all the details of the transfer. After all, there are agents to pay (at last count five) here too. One of them, the particularly noxious, Willie McKay, is at the centre of another storm. The emails he leaked to L'Equipe, perfectly summarize everything that is the stereotype of football agents. They are the vermin of the footballing world. He really is.
McKay has been notorious in footballing circles for a few years now, and his emails detailing how "we are not interested personal belongings, finances, holidays, babysitting, it's not our business." The only objective, McKay explained very matter-of-factly, was to make money. Sala was a pawn, and in his death he will continue to be flagged about as one.
Football matters. But at the cost of human life, it is after all, just a game. The goal is decency. The goal is compassion. The goal is to display humanity. Not greed through underhand skulduggery.
Get the latest reports & analysis with people's perspective on Protests, movements & deep analytical videos, discussions of the current affairs in your Telegram app. Subscribe to NewsClick's Telegram channel & get Real-Time updates on stories, as they get published on our website.
Subscribe Newsclick On Telegram