FIFA World Cup: A Beautiful Midfield's Ugly Realities – the Croatian Irony
Croatian football's successes have always come from chaos, rather than order. The first came after a brutal war; the second, at the 2018 FIFA World Cup, has come from the survivors of the war, who are locked in battle with the system.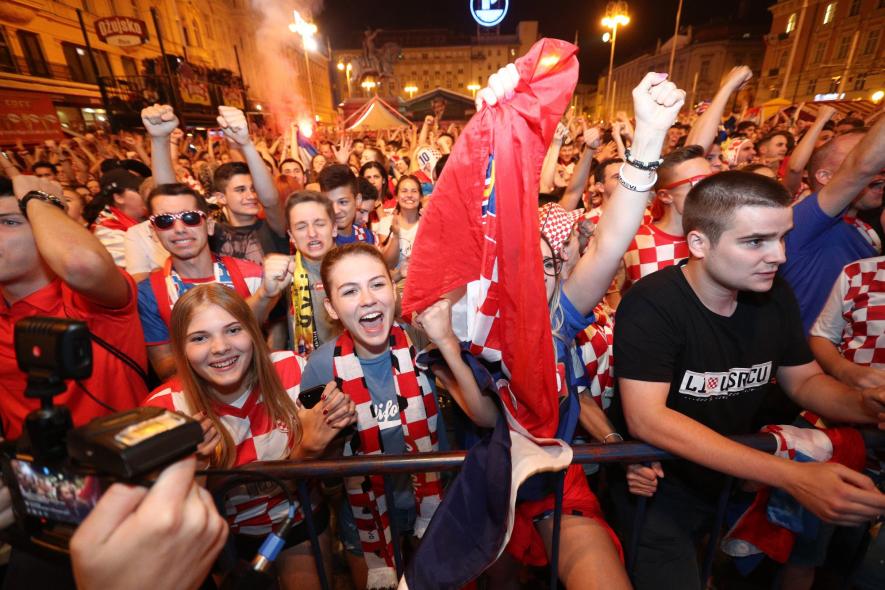 Croatia football team fans have been celebrating the success of their side at the 2018 FIFA World Cup on the streets of Zagreb (Pic: IANS).
Josip Zanki does not like football. He is very specific about this – football is what he does not like. "It is peak of macho culture," he says on the phone. An artist and cultural anthropologist at the University of Zagreb, Zanki's pet peeve with football stems from the unbelievable violence and xenophobia it inspires in all those around him. He paraphrases Orwell, in a Balkan accent. "Football justifies nationalism. Absurd nationalism. And never translates into good life."
Football though, is at the core of FIFA World Cup finalists Croatia's national narrative. Everything happens, and has happened, through midfield.
There is an argument to be made that the Balkan Wars of the 1990s which led to the eventual dissolution of Yugoslavia started at a football game. The city was Zagreb. The season spring. This was a fragile time fuelled by ethnic conflict, secessionist demands, and an eager government's crackdown on demands for independence. Furthermore, Croatia sought independence from Yugoslavia, but refused to cede territories to Serbia.
So, in this backdrop, the two teams playing the game – just weeks before Croatia's first multi-party elections in 50 years – were always going to be Dinamo Zagreb and Red Star Belgrade. The two sets of ultras (the Bad Blue Boys of Zagreb and the Delije of Belgrade) had always had a toxic, violent relationship with clear lines drawn on grounds of ethnicity. On this day, the 13th of May 1990, it broke loose.
Also Read | Will France Play for Legacy or the Cup in the Final vs Croatia?
Members of Delije charged their oppositon's stands, chanting 'Zagreb is Serbian'. A massive riot ensued. Weeks after, Croatian separationists romped to victory. Serb nationalists boycotted the Croatian parliament and seized control of Serb dominated territory. The conflict would last years.
Independent Croatia's football team became the best marketing ploy ever devised by mankind, thrown out in absurdly hypnotic checkerboard patterned jerseys, to enthrall, exalt and celebrate across the world. They were the underdogs who held you spell bound. What an impression this marketing device made on their debut excursion to the world stage. When they were beaten by France in the semi-finals in '98, football neutrals wept.
When they beat England on July 11, booking a spot in the 2018 FIFA World Cup final against France, those neutrals wept again. This time the tears were of joy. And yet, the schism between those two sides – bound as they are by the same names – could not be any wider.
Davor Vidak, a journalist at Jutarnji list, one of Croatia's dailies, offers a reason for this. "That team symbolised a society, a culture, a people that created Croatia the country as we know it, and were the first representations of us after the war at such a big stage," he says.
Also Read | The Real Stake in Belgium vs England FIFA World Cup Play-off
Even Zanki, doesn't deny the impact that Croatia's success in '98 had on a young nation. "Before that World Cup, Croatia was only ever mentioned in the context of suffering and war. After that [the World Cup in France], it opened the doors to the world."
The World Cup has traditionally been a cartel, owned by a handful of populous industrial nations to be passed around every four years. In reaching the finals, Croatia have become the youngest country to have ever got there. They are also the least populous nation to reach the final of a global event since Uruguay in 1950 (Here's some context: If Mumbai decided to secede and start their own nation, they would have a population pool ten times bigger than that of Croatia).
"Success on the football pitch gives psychological motivation to common people, of course," Zanki says, "At the semi-finals you saw three traditional colonial powers, and then you saw Croatia. It gives hope to people in the country, in a way. Post the economic crisis, and the effects of heavy migration, it distracts them."
"You know how it was in ancient Rome," he ruefully says, "When there was a shortage of bread, they would hold the Games."
And yet, not everyone is blind to the ills at home. It is almost three decades since that riot at a football game, and football still shapes Croatia's politics. Over the past three years, the drama has threatened to spill over and destroy the game within the country itself. A World Cup run may not be enough to derail that.
The political game
Understanding Balkan politics is fraught with mind boggling complications, but in Croatia, everything, eventually, links back to football. And like everywhere else, the game has its own politics that influences everything around it.
Also Read | Oscar Tabarez: A School Teacher's Revolution Which Changed Uruguayan Football
2016 was the year of the European Championships, and Croatia used the Euro qualifiers in 2015 to break into world news in worst possible ways. First came the flares on the pitch. Then the racist chanting, which provoked UEFA to impose a stadium ban. And then came the coup de grace, a situation so grim that, if scripted, it would have been discarded as being too cliché and farcical.
Playing a game, in front of empty stands – as part of the sanctions for racist chanting – cameras spotted a swastika bleached across the playing grass. The Federation hid for cover among excuses, but the damage was done. UEFA fined them and deducted a point from their campaign.
Zanki says the intention of the swastika was far from making a fascist gesture. "The imagery was meant to tarnish the image of the football federation and draw the eyes of the international community towards the ills of Croatian football," he adds.
Additionally, there was a deeper resentment that provoked the 'protest'.
"The imagery came in a game in Split, and you must understand, that the divisions in Croatian football itself are also geographical," explains Zanki.
Also Read | FIFA World Cup: N'Golo Kante and the Art of Functional Football
Split, Zanki says, has been more independent than Zagreb in political thought. Once Yugoslavia crumbled, Zagreb football's major rivals came from the south. Hajduk Split became the converging point for southern Croatia's frustrated anger against the establishment. The idea of the swastika had less to do with neo-Nazi ambition and more to do with highlighting the corruption in the current power structure.
"When Croatia became independent," explains Vidak, who comes from Split, "Zagreb became the capital. Unfortunately, despite the independence, we went from centralist control from Belgrade to centralist control from Zagreb. That's what is just so irritating."
Data proves this right. A majority of Croatia's 4.2 million people flock around Zagreb, despite the low employment. Split's major industries, tourism and ship building, have taken a major hit in the past years thanks to privatization and the after effects of the economic crises.
The football, independent of central control to a certain degree, has also suffered. The last time Hajduk Split won the Prva HNL (Croatia's top division), was in the 2004-05 season. Dinamo has won 12 of the last thirteen seasons. Split dropped out of the top two in their last five.
Despite the dark, grim symbolism used to do protest against the footballing system, most in Croatia agree the ploy worked. Croatian football's dark politics immediately came under the scanner.
Mamic depression
"To explain what is wrong with Croatian football, it is one man," Vidak says, pausing for effect, "Zdravko Mamic".
Mamic, is the famous Croatian football executive who controlled every aspect of the country's football for years, ceding control in 2015, just before the start of the European Championships. Forever suspect for being corrupt, he was arrested in 2015 for tax evasion and involvement in organised crime. In addition, Mamic was known to help young players financially, and sign a contract which guaranteed him a portion of their earnings later in their careers. Clauses would be inserted into the players' contracts which gave them a cut of the transfer fee in the event of a sale. That money would be transferred to Mamic.
Also Read | FIFA World Cup Semi-Finals: Of Golden Generations and Unfulfilled Destinies
Mamic was sentenced to six years in prison by a court earlier in June this year. Predictably, he took the easier option and fled to Bosnia, sought citizenship and refused to return. The lack of an extradition treaty between the two countries turns any action into a diplomatic cul-de-sac.
Mamic's influence dropped deeper, into the very lives of the players dominating headlines for the Vatreni today. Chief among them, was their talisman, Luka Modric.
Modric testified during Mamic's hearing last year. In statements made in court he said 'He couldn't remember' how much he was paid during his Dinamo days, and crucially claimed that the contract was in place before his transfer to Tottenham Hotspur in 2008. This contradicted an earlier statement, and he has been charged with perjury and could be facing jail time up to five years if found guilty.
Where one would expect sympathy from the fans, there has been none. Croatian fans piled on Modric, regardless of his brilliance on the pitch. Vidak mailed a tweet that did the rounds earlier in the tournament -- a picture of a supporter wearing a Croatia jersey with Modric's number, and the words "I don't remember" in Croatian.
Mamic's trial also opened a can of worms that engulfed Croatian government as a whole.
Also Read | FIFA World Cup: Croatia and the Demons From History
"Mamic isn't just the godfather to many players in this team right now, he is, essentially, also responsible for supporting our president to power," Zanki says.
His inference is towards the funding Mamic allegedly provided for Kolinda Grabar-Kitarovic's election campaign. While the details have been obscure, Mamic's close relationship with Grabar-Kitarovic cannot be denied. In November last year, just after his arrest, news outlets across Croatia expressed outrage at him hosting a birthday party in the president's honour. For her part, Grabar-Kitarovic demanded the sacking of the intelligence chief when she discovered that they had been monitoring her conversations with Mamic. The Prime Minister as well the opposition parties objected and eventually it led to the temporary fall of the government in 2016.
In most countries, football serves as a unifying force. In Croatia, it errs on the side of reason. The unity comes from a disillusionment with the beautiful game.
Croatian chaos theory
Football, it is said, reflects human desire (goals, attacks, defence, the lot). Winners therefore are those whose desire exceeds their opponents. They want it more, is the line often repeated to enforce this fallacy. As if the second place finishers in the final of a global event; sportsmen and women who have prepared for this moment their entire life, suddenly shift their cravings elsewhere.
This Croatian team has done what few others have. They have, over the past week, played three games over extra time, won two games on penalties, and come from behind in every knockout game this tournament.
Also Read | FIFA World Cup: Argentina are dead. Long Live Argentina
In his essay, The Sporting Spirit, Orwell lays into competitive sport as we know it (even though he knew it in the year 1945). "You play to win, and the game has little meaning unless you do your utmost to win," he writes. He may be right, but couldn't have been more wrong.
Winning, in recent times has come from enforcing order. Spain created order by negotiating a truce between Barcelona and Real Madrid, before international tournaments. Germany created order by revamping their football structure and integrating a multi-kulti spirit into the national team. Inevitably though, chaos follows order. When a radical idea becomes the orthodoxy, chaos returns. It returns only to give birth to another radical idea. The cycle is endless.
Predictably then, arguments towards footballing success also tend towards asking for order. India, as a country rallies behind those successes and frequently asks to get behind such ideas and emulate them.
In Croatia, none of this makes sense. Order has never provided success. To look to Croatia for example is misinformed thought. Their first glimpse of success came after a brutal war. The football was an expression of survival. Their second has come from the successors and survivors of the brutal war, who have found themselves in battle with the system.
If the Vatreni lift the World Cup, there is no guarantee that all the ills of the federation, or the country, will be swept away. Winning may matter, but not as much as you are led to believe. Croatian football succeeds in spite of what happens within the country, not because of it. This is success via chaos. Concede first, win later. A Croatian version of the beautiful game.
Get the latest reports & analysis with people's perspective on Protests, movements & deep analytical videos, discussions of the current affairs in your Telegram app. Subscribe to NewsClick's Telegram channel & get Real-Time updates on stories, as they get published on our website.
Subscribe Newsclick On Telegram