FIH Hockey World Cup: India and the Double Dutch Dilemma
India's high-scoring free-wheeling thrillers have been matched by the Netherlands hockey team who outplayed and casually dismissed Pakistan in their final group encounter at the FIH Hockey World Cup. Now with a quarterfinal clash looking ominous and imminent, Indian hockey team's task involves finding the chink in the Dutch armour, and then try and stop the Oranje charge.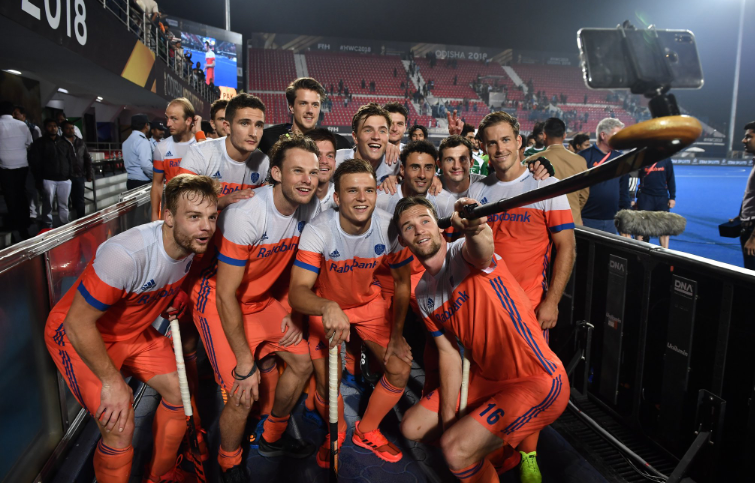 The Netherlands hockey team, which decimated two Asian sides en route to a second place finish in the preliminary group behind Germany, will play Canada in the crossover next (Pic: FIH).
In all likelihood, the Netherlands would be India's quarterfinal opponents at the FIH Men's Hockey World Cup. First though, the Dutch have a crossover match against Canada to win and seal their date with the Indians. Then again, if the clinical yet nonchalant way the European champions went about dismantling Pakistan in their final Pool D match on December 9 is anything to go by, India need to start worrying — start putting a plan in place as well — as Canada, in all possibility, will be a formality.
Watching the Netherlands go about their business against Pakistan, I was trying to figure out two things — one, how did they manage to lose against Germany; and two, what are the weaknesses in their play that the Indian hockey team could exploit?
The reason for the aberration against Germany was given by Netherlands' Argentine coach Maximiliano Caldas, when he, in his booming voice and thick accent, stated that the only thing he wanted from his men against Pakistan was to keep the "base discipline intact" while playing. After all, it was a momentary collapse of composure which unsettled their well-oiled formation and passing game, and cost them the game against Germany earlier in the tournament.
The Dutch composure was never shaken against Pakistan, who played decent hockey by the way. But it is clear that anything below an 'A' game (world class 'A' game that is) would be needed to beat Caldas' side. Indian coach Harendra Singh would know that.
Read More | Golden Freedom: Legacy of Independent India's First Hockey Olympic Gold in 1948
Harendra would love to know more. During the Dutch press interaction after the Pakistan match, all attempts to bait Caldas to reveal the Netherlands' Achilles heel — if they have any — were to no avail.
Caldas answered all such questions with an analysis of what his men did against Pakistan — they held the ball, switched flanks with crisp and clean hits, played one-touch hockey at will, drew circles and squares around the defence, leaving the opposition — and the press pack — with more questions than answers.
He said "everything needs improvement at this level" among other things. That thick accent added to the mystery. During the interaction, I eventually gave up and told Caldas that my attempt to find a weakness in his side for the benefit of the Indian coach was foiled rather easily by him. "I know, that's why I never revealed anything," Caldas laughed back.
One thing is apparent here. The Dutch coach does have a good sense of humour, and wit in equal measure, which can be matched by Harendra in a straight shootout. The same can't be said about India's gameplay... The Netherlands' superior turf craft ripped apart two equally matched Asian sides without as much as breaking a sweat. If the 5-1 against Pakistan was a thrashing and a lesson (Pakistan coach Rehan Butt admitted as much), the 7-0 against Malaysia was beautiful and poetic, the highlight reel of which should only be watched with music from one of those European composers as the background score — Wagner's Ride of the Valkyries, if you are an Asian listener, is recommended.
Read More | FIH Hockey World Cup: Group Deciders at Different Times Provide Kills Fair Play
Over to India. The home side has only hit the smooth gears in patches during the group stage. Harendra knows it and hinted the initial stage was also a time to try out things. "The real tournament is just beginning, so far we were playing a four-nation tournament of sorts. We have come through that and now the serious business starts," he said after India topped Group C to enter the quarters.
Harendra insisted that he has made plans for all stages of the tournament, and has notebooks ready for any opponent, while slyly adding that neither he, nor the Indian side have any habit of "looking into other people's bedroom". The implication clearly is that his men have their own game plan and will not worry about the reputation or the tournament history of their opponents.
Please note the sense of humour and wit!
But, Harendra would be better off if he figures out a few Dutch "bedroom" secrets before their probable meeting in the quarters.
Here is one for starters. The Dutch had nine penalty corners against Pakistan and converted only one of them. A weak link in the chain? But then again — as captain Billy Bakker was keen to point out — they were also earning those PCs at will through the match. Not so weak after all.
Get the latest reports & analysis with people's perspective on Protests, movements & deep analytical videos, discussions of the current affairs in your Telegram app. Subscribe to NewsClick's Telegram channel & get Real-Time updates on stories, as they get published on our website.
Subscribe Newsclick On Telegram