Former Player Slams 'Irresponsible' Mohamed Salah and 'Cowards' in Egyptian National Team; La Liga Slashes Spending Cap for Clubs to Stave Off Covid-19 Spiral and More (Football Round-up)
Short Passes (Football News Round-up): Former Egypt football star Mido slams Mohamed Salah for contracting Covid-19 allegedly at brother's wedding and jeopardising the national team's and Liverpool FC's campaigns | La Liga slashes spending limit for clubs for the 2020-21 season | Andorran legend dropped for speaking out against federation's Covid protocols | Family of 1966 World Cup winner says football needs to address dementia | UK Government exploring potential return of fans in December.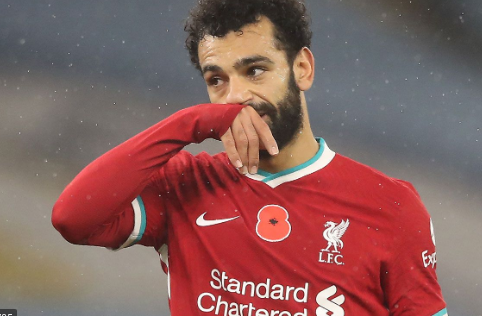 Mohamed Salah stands to miss crucial matches for Egypt as well as Liverpool, starting with a match against Leicester City.
Mohamed Salah, who reportedly contracted the coronavirus at his brother's wedding in Cairo, is under self isolation and will miss crucial matches for the Egyptian national team as well as Liverpool. While Covid-19, its virulity and nature, means that one can never blame anyone for contracting it, the circumstances after which Salah tested coronavirus positive  -- at a function that was attended by more than 800 people -- has cast a shadow on the player's commitment towards his club and country and the general safety of his teammates, feels former player Mido. 
As per reports, many of the guests at the wedding even hugged and kissed Salah while exchanging pleasantries. Some footage showed Salah dancing in a crowd wearing a mask, while in others the mask had slipped down onto his neck.
While Salah has been spared from criticism by the Egyptian management, former player Mido called that out, terming the officials as cowards, who don't want to antagonise their superstar.
Also Read | 2020 FIFA U-17 Women's World Cup Cancelled, India Awarded Hosting Rights for 2022
"Mohamed Salah made a big mistake by attending his brother's wedding a few days before the Egyptian national team match, he showed great negligence with the steps taken to prevent the coronavirus and the result was that he was infected," former Ajax and Tottenham striker Mido told Al-Nahar TV.
"The neglect of Mohamed Salah caused the Egyptian team to lose an important player in a very important match and time, and he also risked the health of his teammates," he added. "He should not have been present at his brother's wedding, especially at that time.
"The other point here is the silence of all those responsible for the player's negligence, which confirms the fact that the player is still bigger than the national team and this will lead to a great failure," Mido warned.
"Officials in Egypt did not direct any word of blame or reproach to Mohamed Salah and the harm caused by his negligence to the Egyptian team, and I name each of the Minister of Sports Ashraf Sobhi, Chairman of the EFA Amr Al-Ganayni, the coach of the national team Hossam Al-Badri, and the national team director Mohamed Barakat, all are cowards and fear Mohamed Salah fans who love the Liverpool star, but here I am speaking without calculations or fear of anyone, and what is being said should be said to me," he said.
Arsenal midfielder Mohamed Elneny also contracted Covid-19 while on international duty for Egypt and is self isolating in the country.
La Liga Slashes Spending Limit for Clubs
The financial implications of the Covid-19 pandemic has started to show with leagues taking corrective measures to ensure survival of the clubs, whose finances have gotten wobbly over the past year.
La Liga slashed spending limits for its clubs by €610 million ($724.25 million) for the 2020-2021 season, they confirmed on Tuesday.
As a result, FC Barcelona's salary cap has been cut to €382.7 million from last season's €671 million. Real Madrid can spend €468 million, down by €172.5 million from last season. 
Barcelona had already initiated a fresh round of pay cuts last month which had attracted a lot of opposition from the players. The second round of pay cuts came after the earlier imposed temporary pay cut of 70% from March to June. The club also offloaded several high-salaried players, including Luis Suarez and Ivan Rakitic in the summer transfer window. 
"This squad spending limit denotes the maximum amount that each club can spend... including spending on the first team in relation to players, the manager, assistant manager and fitness coach," La Liga said in a statement.
Andorran Player Targeted by Federation
Speaking out against the governing body for the sport in your country is a crime akin to treason — in the sense that doing so means you will instantly be cast out and made a pariah. It is a privilege reserved for few (read CR7, Lionel Messi). No matter the issues, the glaring problems, staying mum is apparently the only accepted way. Andorra's captain and longest standing international player of all time, Ildefons Lima, learnt this the hard way recently.
At a time when citizens are concerned about lax Covid-19 protocols, and governments are doing their best to ignore them, Lima did the unthinkable — he raised concerns about Covid-19 protocols just as Andorran football was getting back on its feet.
Also Read | Unoriginal But Understandable — 'Matchday: Inside FC Barcelona' Indicative of the Rut That has Swallowed Camp Nou
"We trained for 10 or 15 days without tests and that's why I said something," he told BBC Sport. "I said the protocol to start practising football wasn't enough for us and the Andorran Footballers' Association [the AFA, of which he is president]. I didn't say anything against the football federation or against any person."
The repercussions were immediate. "In September, when the national team had games, they didn't call me, and said if I wanted to go with the national team I had to leave the footballers' association and apologise for what I said," he revealed.
The controversial decision to exclude Lima, who plays for Inter Club d'Escaldes in the Andorran top division, was made against national manager Koldo Alvarez's wishes, revealed the player. 
Lima has received plenty of support from the football community. FIFPro, and AFE, the association for Spanish footballers, have asked FIFA to intervene in the matter. The federation, for their part, released a statement to Lima in September [and have declined to comment since] regarding his exclusion.
"The board stands by its decision to temporarily exclude you from the national team, owing to your responsibilities as president of the AFA, which has issued numerous baseless and inaccurate criticisms of the FAF (Andorran Football Federation)," the statement read. Lima has been fighting against the decision since. 
Football Needs to Address Dementia, Says Stiles' Kin
Nobby Stiles' family said football needs to "address the scandal" of dementia in the game and criticised the Professional Footballers' Association (PFA) for their lack of support for players.
The ex-Manchester United and England midfielder died in October, aged 78. He had dementia and prostate cancer. Stiles is the fifth member of England's World Cup-winning squad to have been diagnosed with dementia.
Also Read | SC East Bengal Fail to Meet AFC's Club Licensing Norms
Previous research has shown that ex-footballers are three and a half times more likely to die of dementia than the general population.
In a BBC documentary screened in 2017, Stiles' son John told former Newcastle striker Alan Shearer he was "utterly convinced" heading a football was responsible for his father's dementia. John also held out at a lack of support from player bodies for older players.
"How can it be that these players are left needing help when their own union has tens of millions of pounds available today?" he said to the BBC. "How can it be that these players are struggling when the Premier League receives £3bn a year? The modern player will never need the help required by the older lads. How can it be right that some of the heroes of 1966 had to sell their medals to provide for the families?"
"Many don't have medals to sell. It is right, of course to seek to identify the cause of dementia in older players but in truth the cause is irrelevant to the older players. Whatever the cause they need help now. I hope dad's death is the catalyst for this scandal to be addressed." 
UK Mulls Potential Return of Fans in December
The UK government indicated to MPs on Monday that re-opening turnstiles as soon as possible was "a personal priority" of Prime Minister Boris Johnson.
The Department of Media, Culture and Sport (DCMS) has been tasked with working on a solution to allow fans into stadia in areas where rates of infections are deemed sufficiently low — possibly before Christmas.Sport in the UK had previously been told to brace themselves for the threat of having no crowds until April.
On Tuesday, the government said it had held "constructive" talks with football leaders on the return of fans, along with issues such as governance reforms, financial sustainability, and greater diversity.
Officials are now increasingly keen to come up with a plan that would enable a phased return of fans in Tier One and possibly Tier Two areas of the country, if the lockdown is lifted, as hoped, in early December. In a devastating blow to cash-strapped sports bodies, plans for a partial return of spectators from October 1 were scrapped amid a rise in coronavirus cases.
A decision to allow art venues, such as the O2 and Royal Albert Hall, to host audiences of up to 5,000 people next month, had earlier led to accusations of inconsistency and favouritism from the sports industry. 
Get the latest reports & analysis with people's perspective on Protests, movements & deep analytical videos, discussions of the current affairs in your Telegram app. Subscribe to NewsClick's Telegram channel & get Real-Time updates on stories, as they get published on our website.
Subscribe Newsclick On Telegram