SC East Bengal Fail to Meet AFC's Club Licensing Norms, Ask for Exemption; Hollywood Actors Ryan Reynolds and Rob McElhenney Set To Complete Wrexham Takeover and More (Football Round-up)
Short Passes (Football News Round-up): SC East Bengal, the new entrants in the Indian Super League (ISL), along with Odisha FC, NorthEast United FC, Kerala Blasters and Hyderabad FC failed to meet the AFC's relaxed licensing criteria for the 2020-21 season | Wrexham fans vote in favour of takeover of the Welsh club by Holywood duo of Ryan Reynolds and Rob McElhenney | Tottenham Hotspur manager Jose Mourinho takes a dig at international break with a sarcastic Instagram post | Neymar transfer not part of FC Barcelona plans, says Victor Font | Mathieu Flamini addresses Arsenal buyout desires.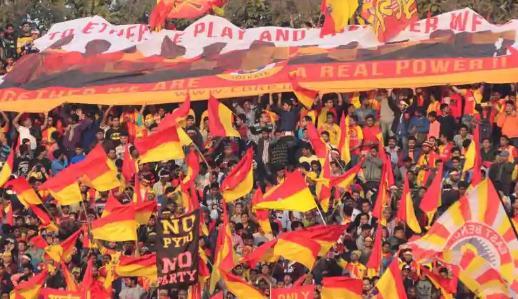 The failure of SC East Bengal and four other ISL clubs comes in a year when the AFC has removed some important licensing criteria to give the clubs breathing space.
Being SC East Bengal is all about getting exemptions and special considerations, it seems. Their entry into the Indian Super League (ISL) — the circumstances which led to the addition of SC into their name to be exact — was via recommendation from the West Bengal chief minister as per reports at the time. On Monday, club officials confirmed that they have asked for exemption to the Asian Football Confederation (AFC) for failing to meet its club licensing criteria. Who will the club turn to now since the decision — about club licensing — is taken by the continental governing body of the game, the AFC? One would like to assume the AFC is beyond such manipulations, Or is it?
The season is of leniency, thanks to the pandemic. So, the AFC may indeed grant East Bengal exemption for the 2020-21 season. They are in a nice little list of ISL clubs who failed to meet the criteria for licensing this season. Odisha FC, NorthEast United FC, Kerala Blasters and Hyderabad FC are the others part of the distinguished group.
That's odd since the ISL clubs were by-the-book entities, one thought, working hard day and night to uplift the game in the country. Perhaps, with their energies completely invested in lifting Indian football from the dumps, they missed cleaning up things in their organisations. 
Also Read | Musical Chairs and Football: The Trend of Changing Ownership in the ISL
And, the failure comes in a year when the AFC has removed some important criteria to give the clubs breathing space. This has been done with the understanding that it has not been easy this year.
The sides had to comply with five mandatory licensing criteria earlier —  sporting, infrastructure, personnel and administrative, legal and financial. Each criteria has many subheaders. The exemptions primarily are in areas such as youth development programme, medical support services, grassroots program, club youth academy, security officer, youth physiotherapist, head of youth development, youth coaches, security and safety organisations and a club development program.
In the name of supporting clubs, the AFC has more or less taken out things which are very important for their future. Immediate goals matter, it's understandable. And, the height is that the Indian clubs — the much-touted ISL sides that too — failed even with such relaxed norms.
It remains to be seen whether the other four clubs would appeal for exemption or reconsideration. Either ways, if the AFC does not show further consideration than what they have made for clubs already, then none of these sides would be able to feature in continental championships. Technically, they should not be allowed in the national championships as well. But that technicality one is sure, will be bypassed.
Reynolds-McElhenney Wrexham Takeover Confirmed
The takeover of Wrexham by Hollywood actors Ryan Reynolds and Rob McElhenney has been confirmed after the Supporters' Trust voted in favour of the acquisition. The clincher was the way in which the actors managed to get the fans to believe in the vision to make the National League team 'a global force'. That meeting took place a week ago.
A little over 2,000 trust members were eligible to vote, Out of which 1,809 approved, 26 voted against, while nine abstained. Now, that's an overwhelming majority. Wrexham fans are truly into Hollywood.
The historic north Wales club has been fan owned since 2011. A final agreement is pending, of course, besides league approval and confirmation by the FA. However, it seems that the club will soon be owned by Deadpool's Reynolds and McElhenney, known for his role in It's Always Sunny in Philadelphia.
The takeover is expected to bring £2 million of investment. The actors have promised to use their money, as well as fame and reach to bring  Wrexham back to the glory days. Add to that — and since it's the year of fly-on-the-wall documentaries, they also said about the plans for a Netflix-style documentary about the new era. 
"We're documenting it," McElhenney said. "We should be thinking about Wrexham the way Manchester United thinks about Manchester United. Engage in the club and community."
They both can take turns being the narrative voice-over in the documentary. Unlike the likes of Barcelona, which had to use the services of John Malkovich, who seemed disconnected from the Catalan giants. With big money on the line, McElhenney and Reynolds would, at least, sound convincing!
Mourinho Criticises International Break
Tottenham Hotspur manager Jose Mourinho criticized the international schedule once again, taking a dig at the scheduled friendly matches as well as the protocols and security surrounding the Covid-19 pandemic. He was at his sarcastic best to say the least. On Instagram that too. 
Of course, for a change, there was some sense in Mourinho's words. After all he was addressing concerns over a very tricky situation for all clubs in the Premier League — the packed calendar, player fatigue and injuries. The post came soon after news that Spurs right-back Matt Doherty, who played 90 minutes for Ireland against club teammates Gareth Bale and Ben Davies in Wales, tested positive for coronavirus following the match.
Also Read | Unoriginal But Understandable — 'Matchday: Inside FC Barcelona' Indicative of the Rut That has Swallowed Camp Nou
Heung-min Son, another Spurs mainstay, had a Covid-19 scare too playing for South Korea over the weekend. His test returned negative though. 
Mourinho wrote: "Amazing week of football. Great emotions in the national team matches, superb friendlies and total safety. 
"Covid test results after matches [have] been played, randomers running on the pitch while team sessions are taking place and much more... After another training session with only 6 players, it is now time to take care of myself."
He is right, of course. The organisers can justify competitive fixtures. However, friendlies when the pandemic is raging — risking the health of players and stretching resources — just because there is an international window available, could and should be avoided.
Neymar Not Part of Font's Barca Plans 
FC Barcelona presidential candidate Victor Font has no intention of attempting to re-sign Neymar from Paris Saint-Germain (PSG) should he win the election.
"Institutionally, Neymar's not in my plans," said Font, who previously said he wants to bring Pep Guardiola back to the club for a reunion with Lionel Messi. His words for Neymar cut deeper to the core of the club's problems with the Brazilian.
Neymar spent four trophy-laden seasons at Camp Nou before joining the French giants for a record €222 million (£200m/$262m) in August 2017. He has, since his transfer, been embroiled in a court battle with Barcelona over an alleged breach of contract and unpaid loyalty payments. Font left no doubt about why he wouldn't move for the Brazlilian.
"For financial reasons and for other reasons, like the lawsuit he has against the club and the fact he left the club in a tricky position days before the season started [in 2017]."
"But," Font added, "the signings will be in the hands of the sporting directorate, not as they have been made up until now."
Barcelona have been without an official president since Josep Maria Bartomeu resigned at the end of October ahead of an expected vote of no confidence. Font is the heavy favourite to win the election, scheduled to take place on January 24.
Flamini Rules Out Arsenal Bid
As a player, Mathieu Flamini may have been one of the least eye catching players of all time — he didn't after all ever command a transfer fee in his professional career — but that doesn't mean he hasn't been one of the most successful, on the pitch and off it. 
Also Read | IOC President Thomas Bach Optimistic About Fans Attending Tokyo Olympics
Flamini has, over the course of the last few years, been listed among one of the richest men in football (or off it) in the world. Recently he had to deny these facts, and clear the air about his personal fortune.
In 2018, Forbes claimed the former Arsenal midfielder had established a $30 billion fortune through his company, GF Biochemicals, which produces levulinic acid. Though he later clarified that their valuation had a projection they had for GF Biochemicals' market rather than himself, the figures have kept him in the news and the memes ever since.
In the latest, he has been linked with buying Arsenal, a fact he had to deny. Asked by The Athletic whether he expects to launch a bid for control at the Emirates, Flamini said: "No"!
"Don't ask me how I'll be involved in football, because it's not something I've thought about. But, definitely, it's something which I've been part of forever in my life. I will always want to be part of this community."
For now, he hasn't retired, but has been without a club since leaving Getafe last year. So, if not as an owner, it is more reasonable to expect that he could be back at the Emirates as a player. Or even as company for beleaguered star Mesut Ozil, with whom he has launched the Unity project — a health platform that will work with a network of athletes and elite sportspeople to bring their experiences to the masses.
Get the latest reports & analysis with people's perspective on Protests, movements & deep analytical videos, discussions of the current affairs in your Telegram app. Subscribe to NewsClick's Telegram channel & get Real-Time updates on stories, as they get published on our website.
Subscribe Newsclick On Telegram