Go For Gold. That's All I Will Say to Her: Lovlina Borgohain's First Coach on His Ward Giving India a #Friyay to Savour
Pranamika Bora and Padum Boro, Lovlina Borgohain's childhood coaches, feel tactical flexibility has kept her in good stead so far at the Tokyo Olympics. The boxer faces world champion Busenaz Surmeneli of Turkey in the semis and to overcome her, Lovlina will have to bring out a different A game.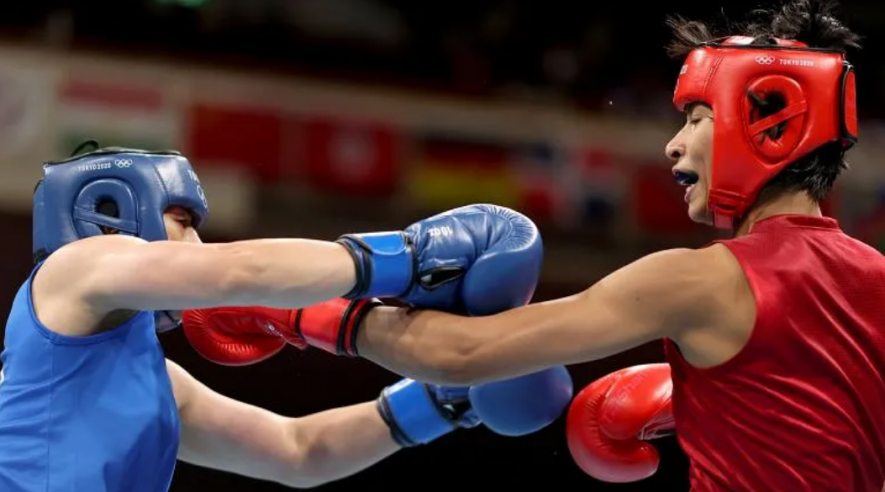 Lovlina Borgohain lands a jab on Nien-chin Chen of Chinese Taipei during their women's welterweight quarterfinal bout at the Tokyo Olympics on Friday.
At 8:50 am Friday morning, the main hall of the SAI National Boxing Academy in Rohtak was packed. Everyone was crowded around a TV in hope of seeing something special. The room had been packed for half an hour even before Lovlina Borgohain's wiry, tall, lanky figure entered the screen. 
The young boxers at the academy — handpicked over the last five years via various talent hunts, scouting camps and trials — had watched Simranjeet Kaur lose a unanimous decision to Sudaporn Seesondee in the women's lightweight (60 kg) round of 16. Simranjeet had caught Covid-19 in April, and had not competed at any event this year, recovering from the devastating effects of the virus. On her return to action she looked visibly depleted, slower and fatigued, and her Thai opponent picked her off with ease. It was India's opening bout of the day and the superstitious among the lot felt it didn't portend well. 
Ten minutes after Borgohain walked into the ring, those fears were laid to waste.
Also Read | Lovlina Borgohain's Ring Craft Needs to Be Celebrated More than the Medal it Procured. Now We Push for More
"She fought well, didn't she?" Pranamika Bora beams, "It was a good strategy. The only strategy she could employ and she did it perfectly." Bora, a coach at the academy and one of Assam's first prominent women boxers, watched the bout with keen interest not just as a supporter and patriot, but as a coach, hoping the young cadets at the academy picked up something from their viewing experience.
The legendary British sports writer Pierce Egan coined the phrase 'the sweet science' in 1813, referencing that the pugilistic arts had a methodology to it beyond mere punching and brawling. While Egan may have popularised the term itself, this scientific, method based approach to boxing was perhaps popularised by English prizefighter Daniel Mendoza, whose side stepping, blocking, damage avoiding style is now the only way to gain success in the sport. 
In real terms though, boxing's real science perhaps lies in how it allows for surprise. If person A has X powers, and person B has Y powers, then a bout between them will be decided by the strength of their X and Y. But, real world science demands variables be introduced. X & Y's efficiency is determined by a combination of factors, chief among them technical ability, endurance and mental fortitude. 
Click | For More Coverage of the Tokyo Olympics From Newsclick Sports
Chen Nien-chin had beaten Lovlina Borgohain earlier in her career, most memorably in New Delhi at the World Championships in 2018, when the Chinese Taipei boxer went on to win gold. On that occasion Borgohain was dominated completely, even earning warnings from the referee for illegal punches to the back of Chen's head. Her movement based, soft punching style was negated by Chen's power and aggression.   
"In my mind, when I was thinking about how she has to fight, I thought this is exactly what they should do. They should surprise her," Bora says, talking about the tactics employed by the Indian camp in the bout. "Lovlina has very good footwork, is taller than most girls in her category and can fight very well from the outside. If there is one fault she has it is that she starts slowly, and grows as the bout goes on."
In her quarterfinal though, a new variable was introduced into the scientific experiment. What happens if Boxer A with skill set X employs variable Y into their tactics? 
Also Read | Anatomy of a Clutch Shot: Archer Atanu Das' 10 to Beat Korean Legend Jin-Hyek Oh
"She needed to constantly be on the front foot. Not in a mindless manner without abandon, but in the way she always does, move, punch, get out. If you get in then tie up her hands, weigh them down," Bora says. "She did that to perfection. In fact on occasion when they were locked in a clinch, Lovlina managed to get some body shots in and those also helped her, especially in the opening round which would've been close otherwise."
The aggressive approach paid off because Chen, who was expecting an opponent keen to get out of the way rather than engage on equal terms, suddenly seemed baffled, desperate to impose her own. Her aggression became ungainly as she looked to land, and hopefully land with power. Lovlina, whose movement is a sight to behold, slid in and out of range with ease, all the while popping in with some crafty devastating shots of her own. 
"If you start off strong, especially if you are someone like Lovlina who has superb footwork and endurance, you ensure the opponent is constantly chasing you," Bora says. "Chasing boxers are prone to errors and sometimes their erratic movement also sways the judges' opinion."
In Guwahati, the celebrations are more muted. Padum Boro's phone has been ringing off the hook since his discovery secured India's second medal of the Games. It has been barely half an hour since that moment, but he reckons he's already got 50 calls. Graciously, he's picked up all, but his response is muted, toned down, more mauve than pink. 
Also Read | Misfiring Guns and Booming Loose Cannons: The Burden of Being an Indian Shooter in Tokyo
"Thank you for the call," he says, before quickly blurting out what seem like automated responses. "She fought very well. It was well executed. I'm proud of her." But why the emotional latency? "I want her to go further. She shouldn't be satisfied with a guaranteed medal. Mind you, it's a great achievement. Not many people have got this. But she can go to the final. When she's there, you call me then."
For that, Lovlina will go up against arguably the scariest boxer in her division, Turkey's Busenaz Surmeneli, the top seed in the competition and the 2019 World Champion. If Lovlina is all footwork and ring craft, Surmeneli is Thor's hammer. 
"The power in her punches is too much," Pranamika Bora says. "It's almost like a man's. Look at the way she lands them and the impact on the opponent. It is hugely damaging. Somehow you will have to counter that."
In Bora's contention, to do that Lovlina will have to employ a similar aggressive display, forcing the Turk on the backfoot to reduce the power of her punches. "If she can force her backwards, keep her slightly off balance and not allow her to keep weight on her front foot, then she can easily win," adds Bora. 
"She has to fight from the outside more though. She has to land regularly, even though her punches don't have the same sort of power. Precision and quantity will be key. She cannot get into the clinch or get into range because they are both equally tall and the Turkish woman is probably physically stronger. But I think she can go on from here and take a step further."
Also Read | Lovlina and Assam Boxing's Sudden Revelation
A step further. Further than anyone has ever been before. She has already opened the doors for Assam boxing (even perhaps Assam sport) but now she has a chance to do something even the great Mary Kom couldn't — earn the right to fight for gold at the Olympics. 
Egan may have labelled the sport as a science but it is the coaches of the art who explain it best. Padum Boro says it perfectly. "As a boxer you cannot be satisfied and just sit on what you have achieved. It is your duty to do better. You have to move forward. She has to go for gold. That's all I will say to her."
Lovlina, for her part, agrees.
Get the latest reports & analysis with people's perspective on Protests, movements & deep analytical videos, discussions of the current affairs in your Telegram app. Subscribe to NewsClick's Telegram channel & get Real-Time updates on stories, as they get published on our website.
Subscribe Newsclick On Telegram