Gold Medal, Cold Reality: The Famed, Forsaken & Forlorn Heroes of Indian Football
Indian football's famous past is slowly being relegated to the back pages of a new story about the game in the country. The last time the country excelled at the Asian stage was when they won the gold medal on September 4, 1962, at the Jakarta Asian Games. Those gold medallists are unknown figures in contemporary Indian football, most of them recluses living their lives away from the glare of the game's administrators and new narratives.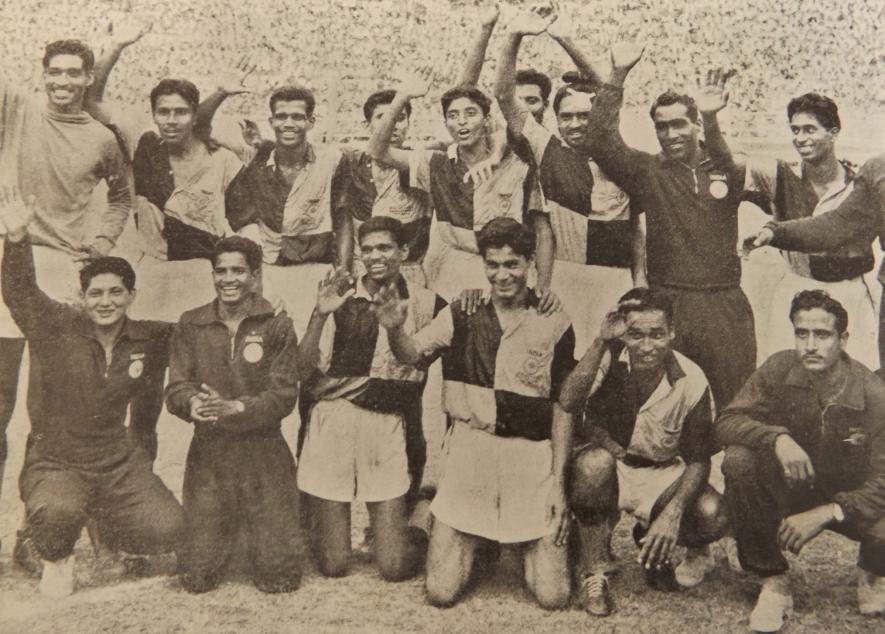 Of the 16 players of the Indian football team who returned with gold from the Jakarta Asian Games in 1962, only half a dozen are still there to narrate the fascinating tale (Pic: insidethegames.biz).
Fortunato Franco and Tulsidas Balaram were two footballers who grew up in different conditions in the 1950s. Franco, originally from Goa, made his name while playing in the midfield for Tata Sports club in the highly competitive Harwood League in Mumbai.
Balaram was born in Secunderabad, and hit the headlines as an amazingly skillful striker for Hyderabad in the Santosh Trophy and then switched over to Calcutta (now Kolkata) in search of greener pastures. But when the two became regulars in the national team, everyone discovered there was a striking similarity in their appearance.
In national camps over the years, the duo became great friends and attained immortality in Indian football as part of the 1962 Indian team, which won the Asian Games gold medal in Jakarta.
"We were the two who chose to walk back to the Games Village through the crowd after the prize distribution was over. The crowd was hostile and was rooting for India's blood throughout the match. But we walked proudly with our heads high. Not one person in the crowd passed an adverse comment. In fact, a few of them came and congratulated us," recalls Franco.
Also Read | PUBGM Ban Set to Dent Growth Rate of eSports in India
Fifty-eight years later, both Franco and Balaram are still around but in little contact with each other. Pushing 81, Franco lives with his family in a nice cottage near Colva beach in Goa. Balaram, a lifelong bachelor and a couple of years elder to Franco, spends his days quietly in his modest Uttarpara flat, 20 kilometres away from Kolkata.
Of the 16 players who returned home from Jakarta in 1962 after bagging the gold medal for the last time at the Asian Games, only half a dozen are still there to narrate the fascinating tale. A tale of India's thrilling run in the tournament that ended with a 2-1 triumph over South Korea on the memorable night of September 4.
Franco was India's midfield general, who along with versatile newcomer Prasanta Sinha marshalled the area between the defence and the attack. Having played one Olympics and two Asian Games, Franco retired from football in the late 1960s, and worked for the Tatas. 
The spirited Goan, however, was never officially acknowledged for his service to Indian football. Several of his teammates in the 1962 squad received tArjuna awards, but not Franco. Till date, the All India Football Federation (AIFF) has never recommended his name for any award whatsoever. Never has he been invited to be a part of any committee. His expertise has not been sought on any technical matter either.
While talking to this correspondent a few years back, Franco laughed at a suggestion that he could have been a selector or a member of the technical committee. "You must be kidding," he said. "They rarely invite me to watch a match, forget about the rest."
Also Read | East Bengal Get New Investors, Set For ISL Inclusion
Balaram is luckier than Franco. He was awarded the Arjuna and was a member of the selection committee in the '80s. He didn't last there long as he found merit was not always the criteria to pick a footballer. He resigned. A couple of years later, Balaram's name came up for the Padma Shri award. It was stuck off the list at the last moment mysteriously. It left the legendary striker a bitter man forever.
But then, Balaram shouldn't complain. Especially if he considers the case of his teammate O Chandrashekhar, a 1960 Olympian, gold medallist in 1962 Asian Games, silver medallist in 1964 Asia Cup, silver medallist in 1959 and 1964 Merdeka.
Chandrashekar, originally from Kerala, decided to shift to Mumbai in his early days and played many years for Caltex. He became a legendary defender for his perfect sense of position and uncanny knack of anticipation. For many seasons, Chandrashekar was the pillar of the Indian defence.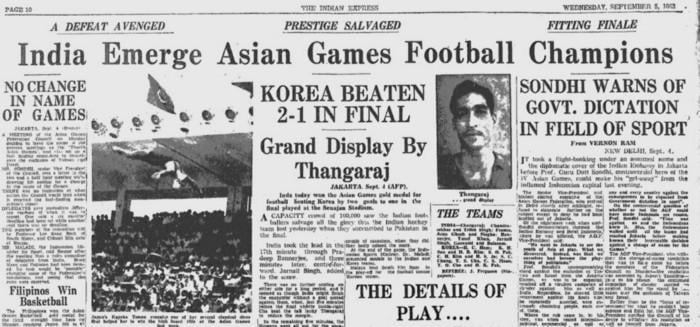 He later returned to Kerala and excelled as an officer in a nationalized bank. But he was never considered for a sporting award, neither by the government nor by the federation. Now well past 80, Chandrashekar lives a comfortable life in his Kochi home despite failing health. Not many from the football fraternity have checked on him in the last few years.
People like K Arumainayagam, DE Ethiraj or DMK Afzal aren't doing much better either. They were massive heroes during their playing days. Over the years, they have slowly been forgotten by people from their own fraternity. Indian football has an impressive presence on social media but these men from the 1962 squad are rarely remembered. 
Balaram is perhaps the happiest among all of them. Living alone in his flat, he commands tremendous respect in his locality. "In my housing complex, everyone still treats me as a hero. When I go to the market and buy something, shopkeepers don't even count the money I offer. If I insist, they say, dada, please don't embarrass us," Balaram says proudly. 
Also Read | Unstoppable Lyonnais Beat Wolfsburg 3-1 to Win 7th European Crown
The 1962 squad lost two of its most decorated soldiers during the post-March pandemic period. Chuni Goswami, the skipper of the team, and PK Banerjee, who scored one of the two goals in the final, died in a span of 41 days. 
Both received the Arjuna and Padma Shri and remained associated with Indian football as the national coach, technical director, national team manager and various other capacities. They, no doubt, were the two brightest jewels in the country's best ever combination.
The 1962 squad was an extremely talented bunch of footballers with diverse personalities. Goswami was flamboyant and proud of his fantastic talent. PK's ability to converse on almost every issue under the sun was perhaps as good as his lethal right foot. Jarnail Singh was calm and quiet but a typical central defender, who would never give an inch without challenging for it. Then there is Arun Ghosh, who, over the years, has mastered the art of retiring gracefully.  
A central defender par excellence, Ghosh was known for his cheetah-like tackles and unbelievable courage. Yet, in real life, he is a gentle soul, who never raises his voice. He sounded rather nonchalant when contacted over phone in his Kolkata residence on the eve of the 58th anniversary of India's last hoorah in Asian Games football.
"It happened so many years ago, I don't even remember the details. After all, I am now 80," the former India captain and an Arjuna awardee said. 
"We played a great game under tremendous pressure. I know that was a game of great importance for Indian football. But if you ask my honest opinion, I wish to see many more Indian teams like that. In this pandemic, I mostly stay at home and rarely go out. Believe me, I am eagerly waiting for the next bunch of boys, who will get us another gold medal. I will be the happiest man that day," says Ghosh.
Get the latest reports & analysis with people's perspective on Protests, movements & deep analytical videos, discussions of the current affairs in your Telegram app. Subscribe to NewsClick's Telegram channel & get Real-Time updates on stories, as they get published on our website.
Subscribe Newsclick On Telegram