When it Rains… A Footballer's Lot
It's a real privilege to play barefoot on wet grass. Or let us just say, for accuracy, some bit of grass and a lot of mud. Rain makes a level playing field out on an uneven, soggy, and some might even say dangerous pitch. Dangers are ignored for we, playing the beautiful game, are seeking the Dionysian dance in the rain in Kerala.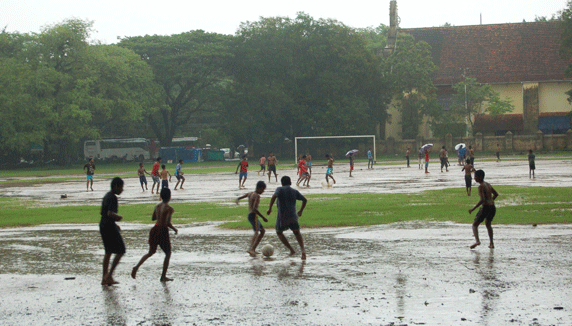 The Parade Ground in Fort Kochi where I had the privilege to watch (unfortunately from the opposing team) the great Xavier Pius, former Indian football team striker, do the sniper act, lobbing long passes at will in a rain-drenched Sunday match (Pic: anyoneforcurryandotherthings.com).
Making a short pass or even clearing the ball long on a water-soaked football pitch in a monsoon-bathed Kerala requires skill. I refrain from calling it a technique because it is not available in textbooks and never taught in academies. Beach footballers master a version of it. But theirs is more a lob, not a kick. To successfully execute a long 'un, rain footballers have to improvise further, and deal with the most untamable element known to man — water. 
There is an analogy about his form and style which the great Bruce Lee used to repeat. A true seeker of martial arts enlightenment, he said, should be like water. Water takes the shape of the cup, gives you peace, cleanses you and quenches your thirst for knowledge. Then again, it can also hit with so much force that it destroys everything in its wake. 
Kerala is blessed with water, experiences its beauty, poetry, angst, love and wrath year in, year out. And, the people here learn to play the beautiful game on water too. Improve, learn, dance, a happy dance. Brazilian historian and football philosopher Gilberto Freyre considered his country's style of play to be a version of the Dionysian dance. Kerala's football, we would dare to claim — the level of skill notwithstanding — is just as enchanting. A Dionysian dance in the rain…
In this Dionysian dance, a Malayali midfielder walks, sorry, runs on water before kicking the ball to the wings. The winger brings it down, cuts in and lets loose a lob into the box, in the process splattering both a footballing lesson and mud laced brown droplets onto the psyche and face of his wannabe tackler. The ball lands in a splash inside what is, presumably, a box. The white line demarcating it has washed away. A pool of water is the marker. The ball obeys the physics of friction. First it bounces, then skids, before coming to a standing halt. It refuses to move. The midfielder and the winger — let's call them Jesus and Mohammad, typical Malayali names — aren't amused. The chase is on between the striker and the goalkeeper. This time the goalie reaches first, dives into the pool of water around the ball — more Phelps than Louganis in his motion — gathers and laughs.
Also Read | What Went Wrong for the Indian Cricket Team at Edgbaston? Shortsightedness, Denial, and Some More Denial
Everyone laughs. One can't play with a frown in the rain, you see. Even a smile has a practical purpose. It helps keep the water off the eyes, the celebrated manipulation of the facial muscles — which is known to move mountains — makes the eyes squint enough to keep the drops out and the joy inside. 
Playing in the rain is fun. It is a pity cricketers can never experience this bliss. In his book, It Never Rains… A Cricketer's Lot, Peter Roebuck presents among many other poignant musings, how tiring it is to be a cricketer in an English summer. What they do when it rains, and the amount of time they spend watching it. We crave immersive experiences, don't we? In reality. In virtual reality or the metaverse. We can only feel for the cricketer who becomes a mere spectator to the splendour of nature. Cricketers are not alone though. Most sportspersons can't experience this bliss. And the world misses this finer loss as the narrative sticks to who won and who lost on the playing field. 
Who wins when we play in the rain? Everyone. Everyone except those who can't play in the rain. 
Wait a minute, this is not about cricket's loss and football's gain. This is about what outdoor sport entails. It makes one connect with nature in ways that are soon becoming distant dreams. Turf-boot wearing city dwellers who get their high these days on artificial grass, be aware. It may be a privilege to play in the rain on artificial turf, where the ball's trajectory is not prematurely curtailed by the hydrodynamic variables introduced by a puddle . However, fake grass plays its own tricks. The ball skids a lot, and if the rain is torrential, like we experience in Kerala, the turf shoes become skates. We can't go barefoot on turf, can we? 
Now, that's a real privilege. Barefoot on wet grass. Real grass. Or let us just say, for accuracy, some bit of grass and a lot of mud. We are in India after all. Rain makes it a level playing field on an uneven, soggy, and some might even say dangerous pitch. What danger are we talking about though — catching a non-Covid flu or a cold? Everything is non Covid these days, ain't it? Oh, an ACL tear. Back in the day they were called knee sprains. Two weeks later we would be running and wading in the same field. Pre-MRI era, you see, and we were blissfully naive, claiming placebos work even for ACL tears. You'd play on, but you'd never attempt the long pass. That required knee dexterity, after all.
Also Read | How Many Headlines Can Systemic Abuse Warrant? At What Point Should the System be Burnt for Letting its Athletes Down?
The technique of that pass isn't rocket science. You need to lob the ball once like a freestyle juggler. Before the ball drops down, you swivel. The action resembles winding a leg before executing a hook kick in karate. And then you just let go. 
The masters execute this like expert snipers. I remember the great Xavier Pius doing it at Parade Ground in Fort Kochi during a Sunday match. I was on the opposite team and was part enamoured, part annoyed. This man is a sniper. My attempts were more akin to shells coming out of a sawed off shotgun.
The romance of monsoon football was also tied to the FIFA World Cup — when sudden interest would peak among friends in Kerala to play the game. The tournament would coincide with the great South Western Monsoon in the southern part of India. This was the trend for a large part of the last millenium.
This year, we will be robbed of this chance to waltz on water — a winter World Cup in the desert beckons. But, the game will go on. A dry pitch would mean bruised egos for old timers. The youngsters are all academy trained it seems, or so the local bands claim. Maybe the long pass will still work. Or maybe we pray for some rain. The North Eastern Monsoon would be round the corner at the time in an ideal world not impacted by climate change, you see! 
Get the latest reports & analysis with people's perspective on Protests, movements & deep analytical videos, discussions of the current affairs in your Telegram app. Subscribe to NewsClick's Telegram channel & get Real-Time updates on stories, as they get published on our website.
Subscribe Newsclick On Telegram