Gross Violation of Human Rights in Bhopal Jail: SIMI Undertrials Suffer Violence, Torture and Religious Discrimination
An investigation carried out by the NHRC has revealed shocking details on human rights abuse of the undertrial prisoners.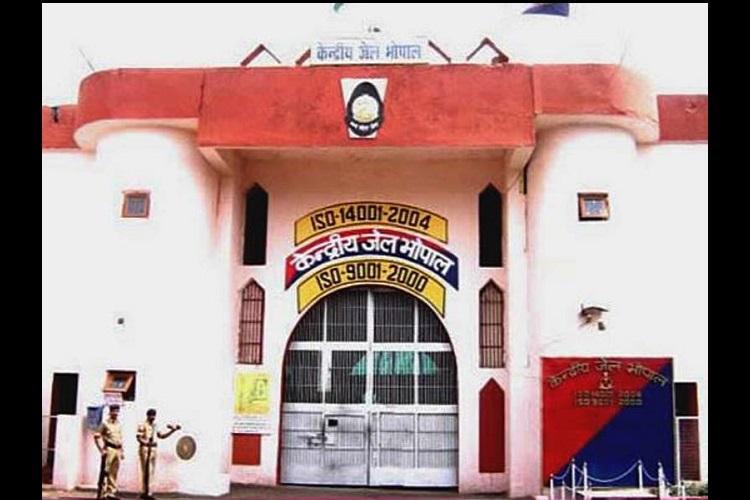 Image Courtesy: The News Minute
SIMI (Students Islamic Movement of India) undertrials lodged in Bhopal Central Jail are facing systemic harassment, severe physical assault, mental torture, religious persecution, intimidation and denial of urgent medical treatment. They are being denied basic necessities such as food, water, warm clothes etc, finds an investigation conducted by the National Human Rights Commission (NHRC).
"Prisoners are being kept in solitary confinement, which is definitely illegal. They are kept in cells measuring 5'x8'. They are allowed out of their cells only for a few minutes a day for filling water and cleaning the area outside the cells. Cells are hot and humid, and there are no fans. As a result of such confinement, prisoners are suffering from several behavioural disorders like anxiety, depression and frustration. The jail doctor has also stated that due to these conditions, some prisoners become over-aggressive, while some become depressed," said reports – accessed by Newsclick – submitted by two NHRC teams that had visited the prison in June and December last year. The visits were conducted in the wake of a complaint by family members of 21 prisoners, who are accused in cases related to the banned outfit SIMI, and have been in jail for several years as a result of the pending trial.
The report goes on to reveal that "prisoners are being brutally beaten up by jail staff. Several prisoners had injury marks which the staff could not explain. One prisoner, Mohd Ismail, who is also a heart patient, had a head injury, while another prisoner, Abdul Wahid, vomited blood after the assault. Several prisoners have injuries on hands, feet, buttocks and back. The jail doctor, Dr Premendra Sharma, has tried to protect jail staff by not recording causes of the injuries. Prisoners reported beatings with rubber strips, flour mill belt and lathis".
ALSO READ: 'Our Sons Will Come Home Only in Body Bags', Fear the Families of SIMI Suspects
The NHRC teams have reported that the prisoners are being subjected to sleep deprivation and are denied the minimum sleep required for a human beings. It adds, "There is also continuous verbal abuse and mental torture".
According to the reports, jail staff seems to "harbour religious antagonism to these prisoners, which is reflected in inhuman treatment". Prisoners complain that they are forced to chant slogans that are against their religion and are beaten up if they refuse. Disrespect is shown to the Quran during cell searches. The allegation that their beards were forcibly cut also seems to be in line with the overall pattern of torture, beating and humiliation of these prisoners. Prisoners have also alleged that they are disturbed during namaz (prayer) and are not allowed to perform it collectively".
The reports further state that prisoners have complained of several illnesses including cardiac issues, progressive blindness, asthma, stones, and piles. They are reportedly provided only symptom-specific treatment. "All prisoners have lost weight and their health has deteriorated in jail, while inadequate treatment has compounded their health problems," say the reports.
The teams noted that the families of the undertrials are not being allowed to visit the inmates for sufficient amount of time. "According to norms, undertrial prisoners are entitled to two visits of 20 minutes every week. However, it was found that families are allowed only one visit of about 5 minutes every fortnight.  Prisoners are not allowed to speak freely to their visitors or inform them of jail conditions. Women visitors are harassed about their naqabs (veil)," say the findings.
"Prisoners are not allowed adequate clothing or woollens in the winter. Clothing and other basic necessities provided by their families are not reaching them. Canteen facilities have been shut down leading to a loss in diet of all prisoners," say the reports.
The NHRC teams could not look into the details of complaints filed by 10 convicted prisoners, including Safdar Nagori – the former general secretary of SIMI, who was transferred from Ahmadabad to Bhopal, a year ago.
Lawyers for the prisoners have complained that they are not being allowed to meet their clients in private, and that there are many problems with video conferencing in court proceedings. The legal defence of the prisoners suffers, as a result.
However, the teams have not reported any findings on this aspect.
ALSO READ: SIMI Suspects Denied Legal Aid, Claim Lawyers
The follow-up visit in December 2017 found that after the investigation team's visit, there has been a slight relief from the physical violence. However, some prisoners said they were now beaten in a way that leaves no marks and were subjected to religious coercion. There is also a marginal relaxation in the time limit of the visitors' meetings, which has been extended to ten minutes. Otherwise, the situation remains the same.
The NHRC probe team has recommended "appropriate legal action against the jail authorities who have been directly or indirectly involved in beating, torture, criminal intimidation and denial of basic human rights of the 21 prisoners". It also asks for "action against the jail doctor for helping the authorities cover up the abuse".
The investigators have recommended the Commission to issue a show cause notice to the Madhya Pradesh government, asking as to why compensation should not be granted to the family members of the prisoners.
The team further recommended constitution of a high–level committee under the headship of an officer of secretary rank to look into grievances and issue guidelines to jail authorities to ensure relaxation of the solitary confinement and proper medical treatment. It should also be ensured – said the investigators – that there is no religious discrimination, harassment of visitors, denial of sleep or other basic  human rights on the pretext of security protocols . It should also be ensured that the visits to the undertrials take place in a congenial atmosphere. Prisoners should be provided with four sets of clothes, adequate food, adequate water – for both drinking and cleaning, adequate toothpaste, brushes etc for proper hygiene, warm clothes, calendars, notebooks, pens, newspapers, magazines. A grievance redressal mechanism needs to be established in the jail, according to the recommendations made by the team.
The reports were sent to the Madhya Pradesh government on October 10, 2017. The NHRC has held full bench hearings on this matter on March 3 and March 12, but has not passed orders regarding this matter yet.
Such shocking treatment of prisoners, especially of the undertrials, is not only illegal and unconstitutional, but also in gross violation of Supreme Court guidelines. It raises serious questions regarding the erosion of our democratic values in recent years.
Get the latest reports & analysis with people's perspective on Protests, movements & deep analytical videos, discussions of the current affairs in your Telegram app. Subscribe to NewsClick's Telegram channel & get Real-Time updates on stories, as they get published on our website.
Subscribe Newsclick On Telegram