Hima Das' Gold Medals and the Need for a Realistic Perspective
For a nation starved of sporting success outside of cricket, any success is glorious. But, it is time to change that culture and understand the context of victories and the standards involved. Hima Das' gold medal wins — while worthy of polite applause — need to appreciated with perspective.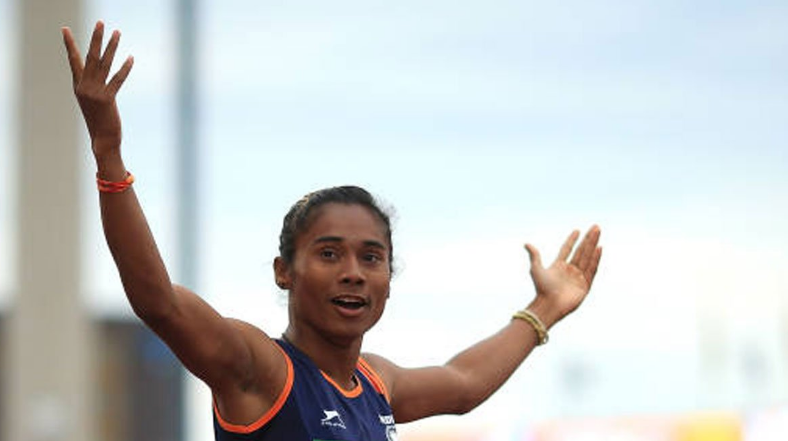 Hima Das won five gold medals in various athletics meets in Poland and the Czech Republic in July, but a closer analysis shows that her performances and the field in those meets have been below par.
Anything without a perspective and a reference point is meaningless. That's why in athletics there are records — world and Olympic marks — which provide a yardstick, an existing quantifiable mark for greatness so that when we herald new champions we do it ensuring justice to not just the young athlete, but the greats of yore and the sport as a whole. The way India has celebrated Hima Das' success over the past fortnight — her five gold medals in 15 days to be exact — lacks all of this: perspective, insight, and respect to athletics. 
In fact, it demeans our country and presents Indians in poor light — as a bunch of people with poor sporting standards who go around celebrating whatever comes our way. 
Being a cricket crazy nation, maybe we don't understand performance benchmarks in other sports. Let's start by painting Hima's performance in cricketing colours. The 19-year-old's five gold medal wins would be equivalent to winning a five-match ODI series against Afghanistan, or against one of those associate nations who never gets to play the ICC World Cup. Nothing more.
Also Read | International Cricket Establishment's Anti Expansion Drive, An Inside Story
This, by no means, is an attempt to take away what Hima has achieved in the past. Her tale, overcoming adversity, to reach where she is now, is remarkable. So is her victory out of the blue at the IAAF Junior World Championships last year. 
But that performance, or her personal bests, or her gold medals in the five events this month, are not good enough to gain her a berth at the IAAF World Championships scheduled to be held in Doha in September-October this year. The qualifying route for the Worlds is a two-pronged system, one being ranking points from IAAF sanctioned events, and two being through attaining the qualifying mark (timing in track events and distance in throws and jumps).
Only a handful of athletes have made it to the Worlds from India. Marathoner T Gopi, Avinash Sable in steeplechase, Neeraj Chopra in javelin (courtesy of being ranked in the top 10 in world rankings), Ayyasamy Dharun in 400m hurdles have managed tickets for Doha, while the rest, including Hima, Dutee Chand and many other celebrated athletes, have a little over 60 days to try and qualify. 
The attempt is on and that's why our athletes are in Europe, taking part in competitions to improve their performances. Then again, taking part in obscure meets where Indians, despite poor personal bests, lead the start list as top seeds, defies any sporting logic. By any stretch of convention, across any sport, to improve, one needs competition that is better. Taking part in events against average athletes, who are even below you in the global pecking order, serves no purpose here. It does not even serve the short-term goal of qualifying for the World Championships.
Also Read | Dutee Chand Reveals She's in Love with Another Woman; Here's Why it Matters
If the Athletics Federation of India (AFI) and the Sports Authority of India (SAI), which decides the events and manages tours of the athletes, is figuring out ways for our athletes to win events and gain ranking points, then, competing in meets where more points are offered should be the priority. 
Take for instance the five events Hima and the other Indian athletes took part and won in July — Poznan Athletics Grand Prix and Kutno Athletics meet in Poland; Kladno Memorial, Tabor athletics meet and Velká cena Nového Města nad Metují (Nove Mesto) in the Czech Republic. Out of the five events only three are listed by the International Association of Athletics Federations (IAAF) as eligible for ranking points, the ones in the Czech Republic. And, these events are graded as Category 'E' by the IAAF in the ranking system. 
Besides the Worlds, Olympics and continental events, the IAAF ranking system has six grades for competitions (A to F). The 'F' category events are the lowest in the pecking order and comprises of national-level competitions. Hima, in essence, won gold medals in events which were international, no doubt, but only slightly above our nationals in grading. 
That's just one half of the story. In Nove Mesto, where Hima won her fifth gold medal, the 400m women's start list had seven Indian athletes in the top 10, with Hima being the topper. That presents a real and not-so-rosy picture. If it's a national level competition that we are seeking, then why spend so much money on travelling across Eastern Europe when our athletes could have competed against each other at home? The national athletics body, and not the athletes, should answer and try and justify this.
One can't find any justification or logic to be clear.
These instances clearly demonstrate why Neeraj Chopra, India's only world class athlete at the moment, and his coach Uwe Hohn, prefers charting the events themselves, which has, in the past, put them at loggerheads with the country's sports babus.
Also Read | Jithin Paul vs NADA: Doping and the Indian Athlete
As far as Hima's personal performances are concerned, her career best in 200m is 23.10 seconds. Her best gold-winning time in the distance (season's best) is 23.25. The World Championships qualifying mark for 200m is 23.02 and the championship record is 21.63. The World & Olympic Record is 21.34 while the winning time at the Rio Olympics in 2016 was 21.78.
The disparity is equally glaring in the 400 event. She managed a season's best time of 52.09 seconds in Nove Mesto, which is slower than her personal best of 50.79 (Asian Games last year). The World Championships qualifying mark is 51.80 and the world mark is 47.64. A time of 49.44 earned Shaunae Miller gold in the event at the Rio Olympics.
On a personal front, Hima's gold would definitely be a confidence boost for the young athlete. Then again, an athlete's psyche would get a better boost when he or she knows that the glitter around the neck comes with the backing of a solid performance on the track or field and not by default because the competition was substandard.
Hima, at 19, is hitting a critical juncture in her career. She was the junior world champion last year and should make that big leap from age-group to senior benchmarks round about now. That leap can only be made through systematic exposure and moulding. The fact that she was sidelined by injuries through the best part of offseason, and has only started competing and trying to improve mid-season, is proof of the gross mismanagement of our athletes by the sport's governing mechanism. 
Showering them with accolades and applause will do little other than provide an ego boost. Any world class athlete will corroborate this. A short-term wound to the ego is a long term gain for their performance. The path is clear. What would we rather chart for? Accolades, applause and congratulations for substandard meets on Twitter? Or meaningful records, medals and a legacy that will stand for longer than the press of a refresh key?
Get the latest reports & analysis with people's perspective on Protests, movements & deep analytical videos, discussions of the current affairs in your Telegram app. Subscribe to NewsClick's Telegram channel & get Real-Time updates on stories, as they get published on our website.
Subscribe Newsclick On Telegram