International Cricket Establishment's Anti Expansion Drive, An Inside Story
Even as the grande finale of the ICC World Cup 2019, England vs New Zealand clash, is played out at Lord's, criticism of the 10-team tournament, with zero Associate nations being part of it, is raging. It seems – at least to those that didn't get there – that perhaps the International Cricket Council isn't interested in growing the game as much as their press releases claim.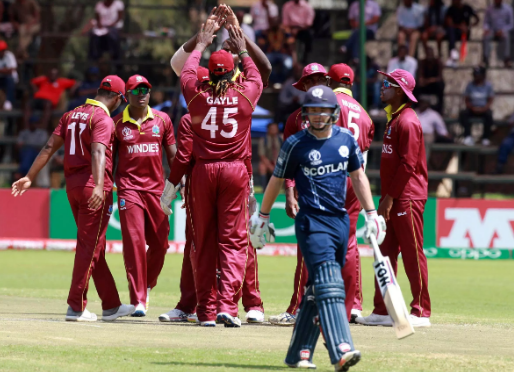 Scotland cricket team, which narrowly missed qualifying for the ICC World Cup 2019 after a controversial and unlucky loss against the West Indies, feel helping Associate Members improve by giving chances to play is key to game's survival and expansion.
Kyle Coetzer was 15 when the ICC Cricket World Cup was played in England in 1999. Scotland were in the competition. "I got a jersey. If I wasn't at the stadium then I'd be in front of the TV watching every game," he says. Coetzer went on to play cricket professionally, and is the captain of Scotland today. "It's the perfect example of what happens if you give countries an opportunity on the biggest stage. You create aspirations among the kids." 
When England take on New Zealand in the final of the 2019 edition at Lord's, it will be the culmination of the longest cricket World Cup in history. And also one without any Associate nations in it. For Coetzer and Scotland, the highest ranked Associate Nation, the hurt is magnified by the circumstances that caused it.
"A 10-team World Cup is hard in itself to understand," Coetzer, says. "And the fact that we have missed out because of just a couple of umpiring calls is even tougher…" 
When Scotland took on the West Indies in their World Cup qualification match last year, they went in knowing that a win would give them a spot in the tournament. Chasing 197 to win, they fell to 67 for 4 before Richie Berrington and Calum Macleod set to the task of rebuilding the innings. Berrington was on 33, and Scotland on 105 for 4, when Ashley Nurse's gentle off-spin struck him on the pad. No matter how many times you watch this (the delivery is at the 4:05 mark), it is clear the ball was going down leg. Nurse appealed hopefully and Berrington was out. A few overs later, rain stopped play. The West Indies won by five runs via the DLS method.
Also Read | The Inevitable Loss That Hit Indian Cricket Team at ICC World Cup Semis
Coetzer would later express his disappointment at the lack of technology at the game. "It showed that there was a lack of importance given to the tournament…." he said in a subsequent interview.
That wicket, and the result perfectly summed up a lot of cricket's problems today.
"For us, the smaller nations, that tournament ends up being like the World Cup, " he says, his voice not betraying his inner outrage at the hand dealt him. "We train hard, we go for a cut throat competition decided by fine margins, and only two teams can deem it a success."
For an Associate nation like Scotland, making the World Cup is as much an issue of finance as it is of achievement. Despite the fact that cricket has been played in Scotland longer than football – and far longer than a lot of countries at the top level of the sport – cricket is a 'minority sport' there. More funding comes from participation at higher levels. Competing at higher levels increases popularity. If Scotland had qualified for the World Cup, they would have received an extra $1 million – as much as they receive annually from the ICC.
Even player contracts and careers hinge on the amount of money a board has. Scotland have 14 players on full contracts. All of them men. Everyone outside of this is playing cricket without the guarantee of any sort of income. Even the contract, though, means nothing if you cannot guarantee them game time. 
"When we played Afghanistan earlier this year, as part of their warm up for the World Cup, it was our first ODI in almost a year," Coetzer exclaims. "It is a huge source of frustration for us, that we cannot get enough games. What it means conversely, is that every time we get a game we have to be up for it from the start. No second chances."
In an ICC world, where contraction is seemingly the way ahead, Scotland are one of many who have suffered. The idea of a 10 team World Cup, with zero Associate nations, has faced significant criticism and makes it seem – at least to those that didn't get there – that perhaps the ICC isn't actually interested in growing the game as much as their press releases claim (Newsclick mailed the ICC asking questions about funding and development of the sport, but received no response).
Also Read | That '90s Show at Old Trafford: New Zealand Beat India to Enter World Cup Final
"Look, honestly, we receive a great deal of excellent support from ICC not only in terms of funding, but also access to shared projects like coach support, introductory programmes, leadership training etc," CEO of Scotland Cricket, Malcolm Cannon says. This, he acknowledges is perhaps because Scotland are the highest ranked Associate Member and therefore a little more privileged.
Even then, there are problems. Associate Nations are audited annually and have to report regularly on  the way they are spending their money, where Full Members are free to do as they please.
Additionally, for Associates, the funding is allocated annually, which, as Cannon says, 'makes it difficult to plan strategically as we would like to have greater certainty for longer periods of time'.
Lack of Cricket
Supporters of a 10 nation World Cup point out how the format eliminates one-sided shellackings or pointless dead rubbers with no consequence. There is another argument: that Associate nations were given a chance to qualify. They didn't and so they don't deserve to be there.
Cannon does not mince his words when confronted with this. "I shall try to stay both calm and polite with my response! That is absolutely fair as an argument IF and ONLY IF all nations have to qualify! If, as is the case of this Cricket World Cup, eight teams are protected and "qualify" without having to qualify, how can the argument be made that the Associate Members are not there because they failed to qualify?" he says.  
There is an additional problem – the never ending loop. You can't better if you don't play is fairly obvious. But, in cricket, you can't play unless you get better. Playing is inextricably linked to economics of sport. Can the national bodies afford to consistently hold matches? Can they put players on permanent contracts and help them sustain a livelihood? Can they draw enough crowds, and revenue to manage both? 
"Travelling and playing other nations costs money," says Coetzer. " We obviously want to test ourselves against the best teams in the world, but the question becomes whether the other nations see playing us, as an advantage."
In cricket's commercially minded world this is tougher than you'd imagine. The gap between the amount of cricket played between those at the top and those in the lower rungs, is massive.
Consider the case of Afghanistan, the lowest ranked nation at the World Cup. Since they qualified for the 2019 tournament (on 25 March 2018 via the qualifiers), Afghanistan played 17 ODIs. A mere five of those games were against Full Members. In that same time period, India, England and Australia played 27, 26 and 21 ODIs.
Go back to the period between the two World Cups (which, as argued, is when the lower ranked nations must seek to 'improve themselves') and the statistics are even more damning. In the four years between 2015 and 2019 World Cups, Afghanistan have played members of the top 10 a mere 12 times. The sole member of the top five they have played was India, once, at the 2018 Asia Cup. In 2019, as part of the build up to the World Cup, they played a total of nine games, seven against Ireland and two against Scotland, both teams ranked below them, and, more ironically, teams that did not qualify for the World Cup.
It is plainly obvious that sport thrives on close competition. But cricket's bigger problem is the big three ensuring that the close competition exists almost exclusively within their clique. By denying other 'weaker' nations the opportunity to compete against them, they ensure fans stay keen, broadcasters stay on board, and advertisers stay interested in the sport. The problem though is how it has diluted everyone around that axis of influence.
Afghanistan's plight though is nothing compared to the those of Associate Members and nations that did not qualify for the World Cup. Scotland have played three ODIs since the conclusion of the qualifiers. They beat England in June 2018. It was a momentous result for them. The next ODI they played was almost a year later against Afghanistan.
Video | ISL, I-League, or Bust. Who Cares About the Football? (420 Grams S-1, Ep.36)
"Constantly playing against other Associate Members, though vital in terms of game management and experience, will not allow us to close the gap between Associate Members and Full Members…and even though in reality this gap has closed considerably it would close still further if these opportunities were afforded us more regularly," Cannon says.
Coetzer and Cannon both agree that giving players game time goes beyond just helping them improve the standard of their game. There is no point of tying players to contracts if you cannot provide them with the opportunity to fulfill their professional obligations. Many choose to leave and ply their game in the English counties. Some just give up the game for good.
The Bangla Example
Bangladesh perfectly epitomizes what happens when a nation is given ample opportunity to play cricket. They played their first World Cup in 1999 beating Pakistan in a group stage encounter that would go down in legend as one of the biggest upsets of the tournament. In the period between 1999 and 2003 World Cups, they played a mere 26 ODIs and lost each and every one of them.
Each and every one of their opponents, though, were teams ranked above them. In the one year leading up to the 2003 World Cup they played, Pakistan, Sri Lanka, South Africa and the West Indies, in three match series. Those matches did not immediately translate into improved results at the 2003 World Cup, but it helped boost the image of Bangladeshi cricketers, help prop up the popularity of the sport in the country and give their players a certain amount of legitimacy at home. International acclaim would follow.
Also Read | MS Dhoni, Chris Gayle and the 'Old' Tradition: ICC World Cup Swansongs
Fahim Razzaq, who grew up in that 1990s period of Bangladesh cricket, remembers the stars those players grew to become, by losing sure, but by losing with pride.
Razzaq went on to work for Duronto Rajshahi (as the Rajshahi Kings were called in the earlier years) as part of their media team in the first edition of the Bangladesh Premier League in 2012. It was a season tainted by match fixing, player payments being delayed, and even confusion in the structure of the league itself, but Razzaq remembers it as a seminal moment in Bangladesh cricket's domestic fortunes.
"In that first season, Rajshahi had Abdul Razzaq, Mohammed Sami, Marlon Samuels, Imran Tahir, guys who we had only seen turn up for internationals, playing for weeks in Bangladesh," Razzaq says, "Sure they weren't any Australians, Indians, or English guys, but they joined next season. For Bangladesh, cricket was already mainstream, but the BPL did the exact same thing for us, what the IPL did for India. It gave our boys confidence. It made them feel worthy and convinced them, you know what, we can take on and beat the best in the world."
Additionally, it opened up Bangladesh cricket to the world. In essence, other cricket bodies realised that inviting Bangladesh for a tour – or going there for one – was perhaps useful commercially. Bangladesh started playing more cricket, and subsequently playing better cricket.
There is evidence for this (below).
South Africa beat Bangladesh (in Dhaka) by over 200 runs in 2011, rolling them for 78.

In the 8 years since they've played 119 more ODIS, in the last 4 years they've won more than half of them.

Today they beat South Africa in England.

When you let teams play, they improve.

— Jarrod Kimber (@ajarrodkimber) June 2, 2019
For the most part though Bangladesh's  growth spurt must also be attributed to the area of the world they come from. Being a part of the subcontinent guarantees them a certain amount of cricketing privilege. Geography has been assisted their rise. They are Full Members of the ICC.
No Icing and No Cake
 "The ICC don't even follow us on Twitter," Kit Harris says, "Although that's probably a good thing." Harris is Iceland's only cricket writer and broadcaster. It says so on his Twitter profile. Crucially, he is also Iceland Cricket's secretary.
Iceland Cricket's Twitter posts have become a thing of cult legend – one that has only grown through this World Cup – and Harris readily admits that social media is part of their strategy to grow the game, and acquire fans and funding for it in the country.
"This was a conscious decision to not be a part of the regular, sanitised, correct Twitter feed of a sports organisation and instead be quirky so that people notice us. Most of the time it works out, sometimes it backfires." The strategy's initial focus was on a crowdfunding campaign to help Iceland cricket team travel and play matches abroad. Now, it has evolved with the objective to gain maximum visibility so that occasionally when they do air their concerns about the way the game is being governed, or even the absurdity of it, people take note.
And sometimes the gags go further than the Twittersphere.
Also Read | "Cricket World Cup? Here In England? Are You Sure?"
"If cricket had a Facebook profile, it would say, born Iceland, home England and lives in India," Harris intones, very, very seriously. "We invented cricket." 
Their website reasserts this fact. "In the saga of Egill Skallagrímsson, the eponymous hero participates in a game by the river Hvítá in south-west Iceland in the year 911," it says, "The Saga recounts when they reached the games meeting, the players were divided up into teams, which is exactly how domestic Icelandic cricket is played today."
Modern cricket's entry in Iceland is fairly recent. It starts in 1999, when Ragnar Kristinsson, a former professor at the University of Reykjavik captivated by the semi final between Australia and South Africa went back to start the first cricket club in his country.
As beautiful as that story is, unfortunately, the truth is that Iceland isn't part of the ICC. It isn't even an Associate Member, despite, according to Harris, fulfilling criteria that other  Associate members do not. The problems for this have arisen from the administrative level.
Till 2017, cricket nations were divided into three sub categories: Full Member, Associate Member and Affiliate Member – jokes about how this is an absurd Victorian era gymkhana club rule may be directed to on Twitter. In 2017, the ICC got rid of the Affiliate Member status and instead merged all Affiliate Members into the Associate bracket.
The requirements, before the 2017 amendment, to be accepted as an Affiliate were fairly basic. Countries needed to play the game according to the Laws of the Game. That's it. If you did so, the ICC would provide funding to help you to the next stage of the Membership ladder.
"The problem is that to join the lowest tier [Associate member] now, you have several more requirements, many of which are very difficult for a country just growing into cricket to do," says Harris.
Additional requirements for an Associate Member are, that a country needs to have two functioning cricket grounds, a minimum of an eight-team domestic tournament, a junior pathway, a women's pathway, and a training programme for coaches, scorers and groundsmen. For Iceland, most of these requirements are almost impossible to fulfill, especially without the funding that comes with being recognised by the ICC.
Also Read | Indian Football's Unnatural Evolution: The Survival of the Richest
Right now, Icelandic cricket's operations are crowd funded. All the crowdfunding is directed towards developing community facilities for cricket. None of the players, coaches, trainers, administrators get any money. The concept of the sport is spread word of mouth. The grounds are open for public access. Members pay to play, but children use it for free. Cricket is growing, but for the ICC it's not enough.
"For a country like Iceland, with a population of about 300,000, introducing and then putting up and fielding out eight teams with a minimum of 200 players is a seriously tall ask," Harris says. "Additionally, if we could fulfill all the criteria regarding basic development, grassroots, coaching etc then basically all we need to go to the ICC for is the stamp of approval and access to tournaments."
What irritates Harris more is the subjective application of these regulations across the board. 
"Take the case of Mali. They were an Affiliate member, without a single cricket ground or an eight team domestic structure. Yet they are in the ICC now, an Associate Member at that, just because they were at the right place at the right time," he says. "I don't begrudge them, don't get me wrong. Knowing everything that we do about Mali, and all the troubles they have it is great that in that space they get to play cricket and get recognition to do so. But the application of the rule is problematic. You cannot have two countries at two different levels just because of the timing of their application."
For Iceland, the timing of the application is a huge regret. The country has been playing cricket since 2004, but had never heard of the ICC, or even that they were required to apply for membership till British expats came in and explained it to them. "As a culture they are very inward looking. It was only in 2014 that British expats came in, explained all this that Iceland looked out to the world."
Almost immediately Iceland were accepted into the European Cricket Council (ECC), and received kits, and coaches for free. Touring teams were contacted and Iceland cricket was on the radar. But when the ICC took over the ECC, the ICC stipulations came in, and Iceland were left out.
Also Read | ICC World Cup: Beauty and Charm of an Underdog Victory
Not being a part of the ICC poses greater problems that just that of funding. Initially Iceland cricket would travel to different countries to play 50 over games. Now, they find those invitations declining.
"The problem again stems from a lack of ICC recognition. If you are an ICC member nation, then playing another member nation gives you ranking points. Playing Iceland comes with no such benefit," Harris says.
Iceland's case is a classic example of an infinite loop, created out administrative inconsistency. Another theory may propose that the ICC's policy is to only expand with a guarantee of commercial benefit, else they are not handing money out.
Harris doesn't not buy into this. "I don't believe for one minute that the ICC is in it only for commercial benefit. That it is all about increased profits and not about growing the game. It implies that there is a separation between profits and growth. Which is a good example of a category mistake."
The Axis of Awesome
"Cricket has to want to grow!" Malcom Cannon says, when confronted with the question that perhaps the sport is happy standing still. He points out that basketball, rugby and evene ESports are constantly growing and taking over traditional cricket spheres, and football's grip is all powerful. In such a situation, standing still is akin to going backwards.
"In my mind, Test cricket is not the be all and end all!" he says. "I realise that to some it is, but I prefer to buy into the ICC strategy that says that shorter formats are the way to growing the sport worldwide."
Cannon points out that allowing the shortest format to be worldwide may help bring in the larger audiences from China and the USA. He also hopes that technology that allows cricket to be played irrespective of weather is someday looked into. "This would open up vast geographical areas and prevent wash-outs, lost revenues, frustrated players, fans and parents…."
Also Read | World Cup 2019: India vs Pakistan, the Ghost of Matches Past
The larger point, though, is the obligation and responsibility that bigger nations have to play smaller nations and help them grow. Cannon points out how infrequently their neighbours and closest rivals play them, and how that in itself is detrimental to the sport. 
England have played Scotland in bilateral cricket only three times over the past decade, as part of a contract that obliged them to because they owned Scotland's broadcast rights. The contract comes to an end in 2019 and may spell the end of bilateral series between the two.
"What a crying shame," Cannon says. "This would be dreadfully sad and in my mind lacks ambition.  An England vs Scotland match at Lords would be a sell-out. It would be an attractive commercial opportunity and a chance for a leading Full Member to do its part to grow the sport outside its own borders - but sadly this is not part of the FTP and not something England wish to undertake."
"Playing against a close rival regularly would also mean we would be able to create a home base," Coetzer says, "a place where we train, we play, a place to come back to. Much like our very own Murrayfield Stadium."
Talking to people involved in cricket outside the Big three, it is clear that there is trepidation. People playing, coaching and watching the game seem very unsure about the job the ICC is doing in looking after its own community.
"The ICC is not allowed or given enough authority by its members to govern international cricket," a former representative says, without wishing to be named.
This points to trouble ahead. Despite their control on the game, at least one member of the big three is slowly coming to terms with how cricket's reach is shrinking within its own borders. The cash cow will at some time stop giving, and constantly catering to its demands isn't any good for the sport itself. If anything, finding more influential players from outside could help the ICC in the long run.
"When you love something then you want more and more people to follow it," Kit Harris says right at the end of our interview. "You want people to experience it. Cricket isn't all about growing profits. It is more."
Get the latest reports & analysis with people's perspective on Protests, movements & deep analytical videos, discussions of the current affairs in your Telegram app. Subscribe to NewsClick's Telegram channel & get Real-Time updates on stories, as they get published on our website.
Subscribe Newsclick On Telegram