Hockey India: Ruling With an Iron Fist
Is Hockey India's modus operandi, particularly with regard to how it handles players, consistent with acceptable standards of professionalism and transparency? Incidents on the sidelines of the sport's showpiece event, the FIH Men's Hockey World Cup in Odisha, seem to indicate otherwise.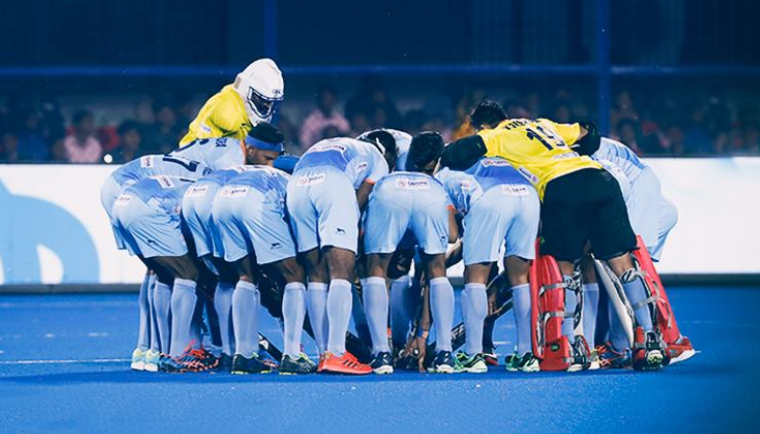 The Indian hockey team players are forced to bend over backwards to accommodate any and all demands the federation makes of them. The reverse is never acceptable (Pic: Hockey India).
Now that India's role as a participant in the FIH Hockey World Cup 2018 has concluded, the opportunity to examine off-field events has presented itself. India went out in a closely contested quarterfinal to the Netherlands on December 13. Two days before that defeat an incident took place in one of the hospitality lounges at the Kalinga Stadium in Bhubaneshwar that shocked those who were privy to it.
While coach Harendra Singh was trying his best to keep his men in a rarefied zone — a delightful-sounding "circle of positivity" to quote him — Hockey India and its top brass didn't seem to have received the memo.
The incident in question involved the CEO of Hockey India, Elena Norman, and a group of players from India, including captain Manpreet, Mandeep Singh, Gurjant Singh and Krishan Pathak. The players were in the hospitality area engaging with guests who had come to see the crossover matches. Among them were former players, including a couple of Olympians and Arjuna awardees. As per eye-witness accounts, including this very descriptive one on Facebook, Norman stormed into the lounge, walked straight to the group of players, took no heed of their surroundings or of people around and began a stern dressing-down. The transgression, we were informed, was that players are not supposed to be in hospitality areas.  
"Get out of here, how dare you come here. Now just shut up and get out," Norman was quoted as saying in the FB post by Leo Devadoss, who was present at the sponsor's lounge.
Video | FIH Men's Hockey World Cup: For the Fans, By the Fans
Norman, apparently, didn't stop at that and then had a heated verbal exchange with the Odisha government officials present, and even threw in the "F" word a few times.
While Hockey India and Manpreet were quick to brand Devadoss' post as gross exaggeration, a former India goalkeeper Ashish Ballal, who was present, corroborated the sequence of events to the media. Ballal termed the CEO's behaviour as "unwarranted and unfortunate".
"The fact that the captain apologised for the transgression, but the official has not, says it all. What kind of example does it set for youngsters looking up to him," said another former India international on the condition of anonymity. "Hockey India will always take action against players and coaches, if they perform badly, or don't get the correct results, or do something that they don't like. The same rules aren't applied to the officials. They are never held accountable."
On the eve of India's quarterfinal, coach Harendra, Manpreet, and goalkeeper PR Sreejesh took turns to explain how focused the side is and how they don't want any negativity in camp. The incident came up, obviously. Manpreet's answer was all-revealing. He kept repeating the word "mistake", as though he was standing up for an error on the turf that cost his team a match. Then came the rhetoric we were all expecting.
"It was our own mistake that we went to the restricted area without our knowledge," he said. "It is not that we were taken there forcibly by someone. Anyway, when we realised our mistake we just came out. Players from the teams are not allowed [in the VIP area]. It was not a big thing. I didn't even remember about it when I woke up this morning. Then I heard about a Facebook post where a lot of things have been mentioned which never happened."
Read More | Golden Freedom: Legacy of Independent India's First Hockey Olympic Gold in 1948
Hockey India's damage control mechanism was already in motion. "There is no pressure on me," insisted Manpreet. "It is not like someone has told me to talk [about this incident in a particular way]. Personally, we were not supposed to be there, the mistake happened. After the incident, I had a normal chat [over texts] with the official. If I had brought my phone here I could have shown you [those chats]. In the end it is our colleague, we have always had good relationship and there is no issue here."
Fair enough, Manpreet was not personally offended. But that cannot stop the rest of us from being concerned not only on his behalf, but for all the players who spend their entire careers governed by the whims of an autocratic machinery. This bizarre, very public, castigation of the captain of the national team — a team that Hockey India is asking us to shower with love, attention, respect and a portion of the contents of our wallets — leads us to question the equation between players and officials in the sport of hockey.
As we have indicated on multiple occasions, the sport is in all sorts of financial trouble. It is battling for scraps in a hyperinflated sports broadcast market; almost devoid of an audience, it has come to place all its eggs in India's basket. All this makes the people at Hockey India the de facto kings of world hockey.
In that microcosm, they are all powerful.  Ms. Norman has, perhaps, forgotten that her fat paycheck comes from and is owed to the passion which Manpreet, for that matter any player who wields a hockey stick anywhere in the country, invokes. But, today, she is the one signing the paychecks going out to players in an increasingly impoverished industry. They are grateful to the point of subservience. When they cross the line the punishment comes quick. The mai-baap attitude is glaringly disturbing.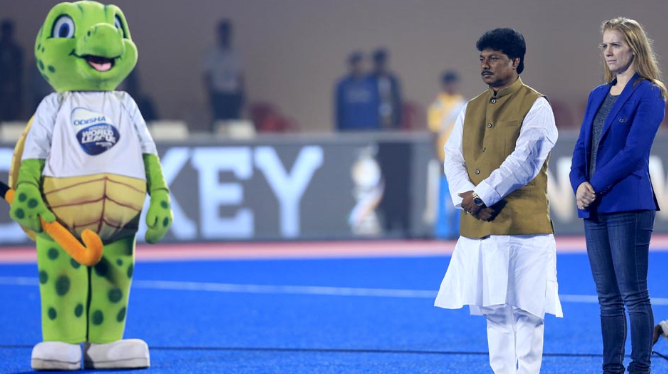 Hockey India CEO Elena Norman (right) at the FIH Men's Hockey World Cup (Pic: FIH).
To start with, one is left wondering about the level of self respect these players actually possess, or rather sadly, not possess. Manpreet is the Indian hockey team skipper, the latest to hold a mantle proudly carried once by Major Dhyan Chand, and down the years by many great Indian players. He should know the responsibility he carries on his shoulders.
Video | Shooting Ace Gagan Narang on Mentoring, Competing, Olympic Dreams and Indian Hockey
He has a responsibility to not allow any entity or individual humiliate him, or his teammates. An attack on him, personal or otherwise, or on the players, would amount to an attack on Indian hockey.
What if an FIH protocol was broken by the skipper. The ideal way for the CEO to handle it would have been to have a quiet chat about the so-called mistake to Manpreet and ask the players to leave without any fuss. But, the CEO chose to show her "authority", and the skipper took it on his chin. Perhaps it's just another day in the life of an Indian hockey player under Hockey India, and a dressing down in front of the public by an highly paid babu with a fancy job title is par for the course for the Indian captain.
Players with spunk, who raise their voice or show dissent, have always faced harsh repercussions under Hockey India, International Hockey Federation (FIH) president Narinder Batra's "home" association. It requires no rocket science to figure out that Batra, though not associated with Hockey India in a direct official capacity now, still enjoys his say in the organisation.
In Hockey India's 10 years of existence, there have been many instances where senior players have got bans, or got sidelined just because they voiced their opinion or stood up for a cause. While across the world, players from many sport including football are uniting to form bodies to fight for their rights, Indian hockey players are put down even at the slightest hint of them forming a unified front.
The Rajpal Singh-led player revolt in 2010 is a classic example. Rajpal, then skipper, along with the squad, decided to boycott the national camp, demanding clearance of dues in tournament payouts. Batra was the HI treasurer then. Needless to say, Rajpal was slowly pushed to the background after that season where India hosted the World Cup and the Commonwealth Games.
"Hockey India's policy towards players has always been simple. Play. Stay silent. If not, you would be left out," said a senior player who was part of the revolt. "Outspoken players and coaches, or even guys with some personality are to be avoided. That's what happened to the main players who were involved in the protest during our time."
Next came the Gurbaj Singh bans. The right wing-half, one of India's best ever, was banned two times for prolonged periods citing "indiscipline" and for "creating factions". His teammates found the allegations surprising at the time. Gurbaj has been out of the national side since 2015, despite good performances at the Hockey India League (HIL) and domestic tournaments.
Video | AFC Asian Cup: Recounting India's 2011 trip with Renedy Singh (420 Grams Season 1 Ep. 2)
"It is a big thing for any hockey player to represent the country and they are aware of the responsibilities involved," said Gurbaj, 30. "The players also have the responsibility and the right to speak out if they see anything wrong. Something is very wrong when the player says something he feels is unjust and he is shunted out of the team for that."
Gurbaj points out how senior players have always been targeted by the hockey authorities down the years.
"Have you noticed something odd?" he said. "In Indian hockey, when a player becomes senior, and is capable of playing their best hockey, and has also developed a mind of his own to judge what's right or wrong and speak out if needed, he is removed. This no matter how good a form he is in, or how important he is for the team. For the authorities, winning or losing is not a priority. They want to keep the younger players in the mix because they can control them, as the youngsters won't speak out as they would be scared about the repercussions on their careers."
"In Indian hockey players have no right to speak out," added Gurbaj, who is based in Jalandhar, working with Punjab Police.
"As far as my case is concerned, there was no reason for my removal," he elaborated. "Hockey India took action, and Jude Felix [then assistant coach] had made the complaint. But the real reason was that they had an agenda to remove me and went ahead with it. A player should be removed or retained based on his form. That was not the reason in my case."
Read More | FIH Hockey World Cup: Group Deciders at Different Times Provide Unfair Edge to Some Teams, Kill Fair Play
Early in 2018, PR Sreejesh, the skipper who led India to Asian Games gold in 2014 and who is also an integral part of the squad since 2009, was put on probation on "disciplinary grounds" for attending a celebrity football match without taking prior permission from Hockey India. The authorities said the goalkeeper had just finished rehab for a knee injury and was not supposed to indulge in physical exertion like a football match. But, being a senior pro, there is no doubt that Sreejesh would not have done anything that would jeopardize his hockey career.  
It is apparent that the men in the national team set-up now, through "examples" and disciplining (as seen at the World Cup venue), have been reduced to glorified bonded labourers, with no scope to express freely. A senior player of the current squad said he is off Facebook or Instagram for a while now. If he puts out something, he is afraid he could get rapped for breaking some rule or the other. Hockey India monitors and controls everything, micromanaged, apparently, by the CEO.
With Hockey India on hyperdrive to brush the latest incident under the carpet, and Manpreet, under no pressure of course, insisting that the "get out" was 'friendly banter', we naturally questioned the skipper on whether he was comfortable with the tone of Norman's voice at the time.
Before Manpreet could answer, he was interrupted by a PR personnel who was present there to coordinate the interaction. Yes, Manpreet was stopped mid conversation by a PR personnel, who, it is apparent, feels more entitled than the Indian hockey team skipper.
Get the latest reports & analysis with people's perspective on Protests, movements & deep analytical videos, discussions of the current affairs in your Telegram app. Subscribe to NewsClick's Telegram channel & get Real-Time updates on stories, as they get published on our website.
Subscribe Newsclick On Telegram