World Cup 2019: India vs Pakistan, the Ghost of Matches Past | On the Ball
A historic rivalry resumes on Sunday, one where Indian cricket team will look to maintain its perfect record against Pakistan at the ICC World Cup. Virat Kohli's men are calm and composed, while now we wait to watch which Pakistan will turn up.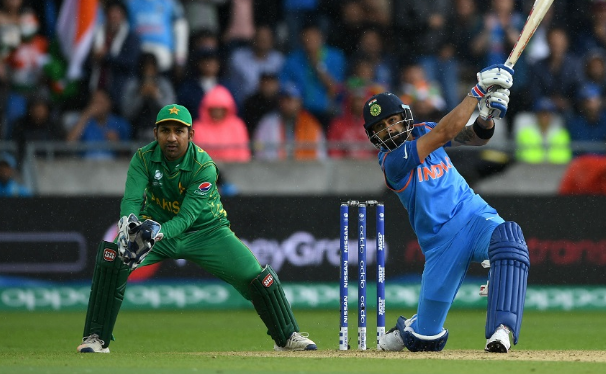 Virat Kohli-led Indian cricket team will take on Sarfaraz Ahmed's Pakistan in their ICC World Cup 2019 group game at Old Trafford on June 16, their seventh meeting at the global meet with all previous matches won by the Indians.
It's a rivalry that seems to have existed for the length of time. So, it might come as a bit of a surprise that Indian cricket team's first One-Day International against Pakistan was only a little over 40 years ago. That thriller, at the Ayub National Stadium in Quetta in October 1978, was to set the tone for the narrative to follow. Mohinder Amarnath's momentum-infusing 51 lifted India to 170 for seven in a 40-over contest, Amarnath and Bishan Bedi – yes, he did play ODIs – then took two wickets apiece to restrict the hosts to 166 for eight.
In what has become their calling card over the years, Pakistan cricket team bounced back from that defeat to surge to a 2-1 series win, bowling India out for 79 in the next game in Sialkot and easing home by 22 runs in the decider in Sahiwal. After that Quetta defeat, Pakistan were on the winning side in six of the next seven showdowns between the neighbours, riding both on home advantage and on a greater understanding and experience of the limited-overs format as it existed then.
Pakistan are the clear front-runners in ODI head-to-heads, with 73 wins in 131 matches; 18 of those wins have come in Sharjah alone, where India often felt they weren't allowed to compete on an equal footing. India have prevailed in 54 matches, and their fans, proud and passionate, seldom fail to point out that in the ICC World Cup, their heroes have bagelled Pakistan 6-0.
Should the weather gods put on their benevolent face, Sunday at Old Trafford should herald another chapter in a rivalry with no equal on the cricketing landscape. England versus Australia is the oldest if not the most storied battle, dating back to 1877 when the first ever Test match was played. Over the last two decades, Australia versus India has drawn abreast of the Ashes in the eyeballs stakes. But for sheer groundswell of emotion, for the undying passion of the supporters, for the bloody-willed determination of the protagonists and for the rollercoaster ride of a lifetime that the contest transports one to, India versus Pakistan will remain in a league of its own.
Also Read | Opener Down: Shikhar Dhawan Ruled Out of ICC World Cup 2019
The diplomatic upsurge of the mid-2000s, when India and Pakistan played each other nearly once every month and a half – 27 times in three and a half years between March 2004 and November 2007 – was just about threatening to kill the goose that lays the golden egg when old off-field issues reared their head and normal service was restored. Between June 2008 and September 2018, there have been only 18 matches – less than two a year on average – and all but three of them have had a non-bilateral hue to them. Given the increasing infrequency with which the two most colourful cricketing nations come face to face these days, a showdown at the World Cup is like the gift of a cup that never empties.
Pakistan are a force of nature, of their own nature, their pendulous performance-swings mirroring the state of their collective mind. They can be jaw-droppingly out-of-the-world one day, exasperatingly pedestrian the next. Cricket gurus talk about bridging the gap between one's best day and one's worst; clearly, generations of Pakistani cricketers haven't paid any attention as they stunningly oscillate between the outrageously subliminal and the outlandishly ridiculous.
India are the more stable, steady, composed unit, aware of the magnitude of the occasion every time they run into Pakistan, but able to rule their nerves rather than the other way round. VVS Laxman, the former India batting bulwark, told me a while back of the need for players to be 'emotionally detached' when confronted with a situation such as an Indo-Pak game.
Also Read | ICC World Cup: Home is Where the Asian Fans Are in England
"The moment you begin to think of the outcomes, of the what-ifs, you are selling yourself short," he said. "We often talk about playing the ball, not the bowler. If you start playing the name of the opposition rather than the opposition itself, you are already at a disadvantage. The great teams are the ones which are aware of what the opponent brings, but always internalize and look inwards. Once your focus drifts away from yourself and starts to hover around the other team, you stop adhering to the processes because your eyes are fixated on the outcome. That seldom ends well."
The surmise has to be that India have managed to keep themselves more emotionally detached than Pakistan for longer periods of time during their World Cup games. The teams first met in a world event at the World Championship of Cricket in Australia in February 1985, when Mohammad Azharuddin's unbeaten 93 muscled India to a six-wicket triumph. Eighteen dates later, also at the Melbourne Cricket Ground, in a match that the locals insensitively dubbed as between 'taxi drivers and bus conductors', India pulled off an encore with a commanding eight-wicket victory as Sunil Gavaskar held the trophy aloft in his final appearance as the national skipper.
That catalyzed the rush of Indian successes against Pakistan in global 50-over competitions, the odd defeat in the Champions Trophy a mere blip. The charged-up yet remarkably self-contained presence of Sachin Tendulkar, man of the match in three of his five World Cup appearances against Pakistan, served as the plumb-line around which India charted spectacular scripts. Pakistan were possibly too charged up, too focussed on victory at the expense of all else, and therefore imploded in a rash of mistakes every time they were pushed to a corner. India, internalizing their ambitions but never at the expense of allowing it to overwhelm their thinking, have been the more consistent by a distance, MS Dhoni's composure filling the breach created by Tendulkar's absence even as Pakistan have struggled to find suitable replacements for their stalwarts of yore who too found India a step too high.
Also Read | ICC World Cup: Ben Stokes' Redemption Arc
With the stage set for Sunday's Act 7, Pakistan will no doubt attempt to seek inspiration from their stunning victory in the final of the Champions Trophy at The Oval in 2017. India blinked first in that game, Jasprit Bumrah's no-ball non-dismissal of Fakhar Zaman coming at a huge cost. That defeat forced Virat Kohli to revisit his focus and turn to wrist spin instead of the finger spinners that he thought weren't as incisive in the middle overs. Yuzvendra Chahal and Kuldeep Yadav have justified their captain's faith, in the process taking a little bit of the wind out of Pakistan's sails. Just how much, we will know on Sunday.
(Kaushik is a veteran cricket writer who has reported on over 100 Tests. He co-authored VVS Laxman's autobiography '281 and Beyond')
Get the latest reports & analysis with people's perspective on Protests, movements & deep analytical videos, discussions of the current affairs in your Telegram app. Subscribe to NewsClick's Telegram channel & get Real-Time updates on stories, as they get published on our website.
Subscribe Newsclick On Telegram