India, Belgium Seek Victory and Efficiency in Crucial Group Match at FIH Hockey World Cup
With an atrocious penalty corner conversion ratio in their opening games, both Indian hockey team and Belgium brace for a battle for outfield dominance in what could prove to be the Group C decider at the FIH Men's Hockey World Cup.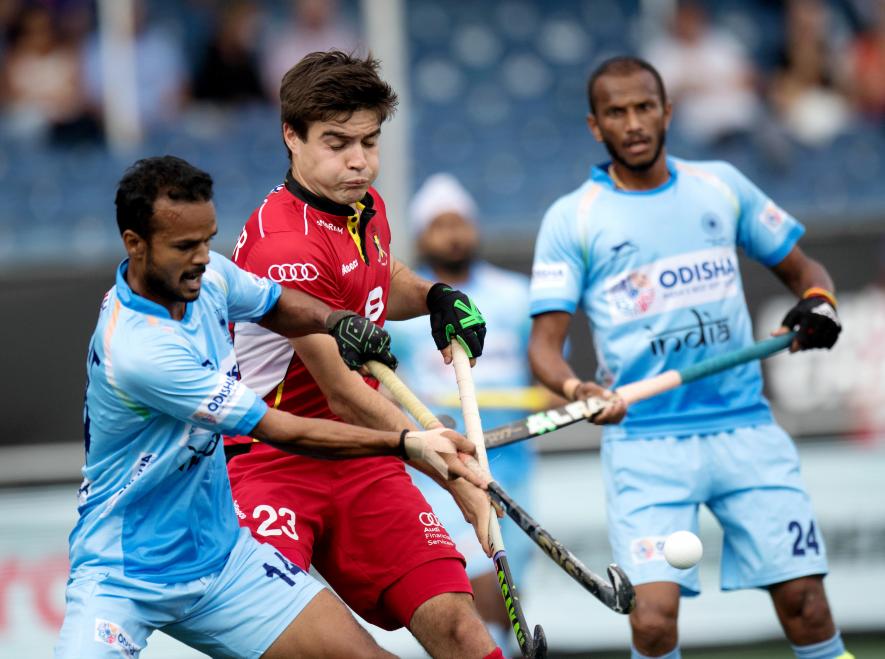 At the Champions Trophy in Breda, the Netherlands, earlier this year, Indian hockey team and Belgium (set to play at the FIH Men's Hockey World Cup on December 2) played out an entertaining 1-1 draw in the league stage of the tournament. (Pic: HI)
Despite the sheen of a 5-0 scoreline against South Africa in the FIH Men's Hockey World Cup opener, much was wrong. Rather than focus on the number of penalty corners wasted in a game of huge consequence but very little risk, Indian hockey team coach Harendra Singh chose to reflect on the impact his wing players had on a desolate South African defence. Akashdeep Singh's profligacy was highlighted. Additionally highlighted was the fact that even in the period of the game South Africa surprisingly dominated, India made adjustments and did not panic.
"South Africa created openings by introducing an additional player in their midfield," Harendra said in the post-match press interaction. The threat was analysed and neutralized. "It took us three minutes to understand it and decide what to do," he said.
Other teams may not be kind enough to allow that.
For all the talk of India's lack of PC conversions, the truth is that perhaps everyone is still warming up. India aren't the only ones guilty of missing them. Belgium missed an incredible seven penalty corners against Canada (the only goal from a PC in that game came from Canada). In the six games played before this piece was written, there were 20 goals scored. A mere eight came from penalty corners. Three of those eight came in the outstanding Spain-Argentina game.
Also Read | IOC Puts Boxing on Hold for Tokyo Olympics, Starts Probe into AIBA
Two of those three courtesy of perhaps the best drag flicker in the game right now — Gonzalo Peillat. With the Netherlands and Germany yet to play, the number could increase and perhaps Mink van der Weerden will have to say something about Peillat's swift ascension on our list of 'best ever'.
All of this — the lack of PC goals — of course makes for outstandingly open hockey. Ironically, field hockey over the past few years has been reduced, at times, to PC hockey. But, like Sir Isaac said, for every action, resistance will be offered. And it has taken a while, but now finally, the drag flicks counter point has taken hold.
A drag flickers greatest advantage is his range. The more the time given for him to find it, the greater the chances he will score. Imagine playing an old 16-bit Tekken game. When receiving a boost, your character freezes for a few seconds, the power bar replenishing for a big boom. Once the bar turns green, you could shoot your power move. Game Over. That's what drag-flickers think like. A inch-perfect injection, the well placed trap, and boom.
Watch | FIH Men's Hockey World Cup 2018: The What and What Nots of Hockey's Biggest Party
The way to counter it — much like the way to counter the Tekken boost — then, is to charge up front and deny the flicker the range. And now, with protective equipment, maverick players and perhaps simply, just more initiative, first chargers have become vital cogs in the defensive machine. India's captain Manpreet Singh is at the forefront of the drag-flick resistance. A new age Poe Dameron fighting the evil empire.
Now, then it is time for the Empire to resist. Build a Deathstar. Or if not, at least create a distraction while they can build it.  
Let us go back to that Argentina vs Spain encounter. Pay attention to the Spain PC, because it offers that escape route India rarely seem to employ. Variation. The injection is perfect. The trap exquisite. Pau Quemada, shapes up and sweeps thin air. In the meanwhile, Sergi Enrique, the trapper, has nudged the ball to Quemada's left, where Josep Romeu is perfectly placed, without obstruction to let loose his range. The ruse is unbelievably simple, but it works.
Read More | Golden Freedom: Legacy of Independent India's First Hockey Olympic Gold in 1948
It will the key to victory against Belgium. Where the better PCs lie. In their Champions Trophy encounter, Belgium made an awful day of it, scoring one of eleven attempts. Harendra is keen to point that out, and desires credit where it is due, in the fact that India defended them well. The statement is only partly true though. Belgium hit the post once, and Sreejesh made five spectacular saves. When the goalkeeper is called to action the defence iis at fault.
Maybe, there is also reason to look at the flip side. "Yes, we didn't score direct from penalty corners but how we score doesn't matter," Harendra said when quizzed about their failure against South Africa.
Here then, are two teams awful at the PC. Two teams that couldn't find the back of the net via drag flick if an Uber took them there. Then, in this situation, it is the field game, the wing play and the constructive midfields that will wreak damage. And India seem to have warmed up well, Akashdeep and Simranjeet making hay while the South Africans toiled. Will they have so much space to run into though against Belgium, a team known for skill in organisation and speed in possession.
Harendra, ever bullish has a response for that too. "Mera pehla mantra hai, ki woh kab goal karenge? Jab yeh ball unko denge. To kyun nahi is ball se kal Hindustan khele aur unhe us ball ke peeche bhageye (My first mantra is this, when do they score? When we give the ball to him. So why don't India play with the ball and let them (Belgians) chase it the entire match."
Read More | How Will Young India Do Without Sardar Singh
Forget the rhetoric, and you will see that what Harendra is talking about is the need to be strong in organising their structure. And if there is one highlight from the game against South Africa, it is this: Despite his failures at PCs, Harmanpreet Singh, India's de-facto marshall at the back, despite his age, never let his shoulders drop. Where other players would have been shaken, he did his first job right. He defended hard. He defended clean. More of the same please.
In truth, a low scoring draw would also do for India if they are willing to accept the pressure of going into the final group game looking over their shoulder, and with no room for error. A +5 goal difference gives them room to breathe. Not too much though. All losses, eventually, lead to the exit door.
Get the latest reports & analysis with people's perspective on Protests, movements & deep analytical videos, discussions of the current affairs in your Telegram app. Subscribe to NewsClick's Telegram channel & get Real-Time updates on stories, as they get published on our website.
Subscribe Newsclick On Telegram