The Indian Athlete and the Trappings of an Olympic Qualification
Even as we celebrate the expansion of our Olympic contingent over the past few weeks thanks to last minute qualifiers, it is worth asking the question: what really are we celebrating? For the individuals who go to Tokyo, it is the chance of a lifetime, but they reach there propped up by an indifferent system that fails them and encourages mediocrity.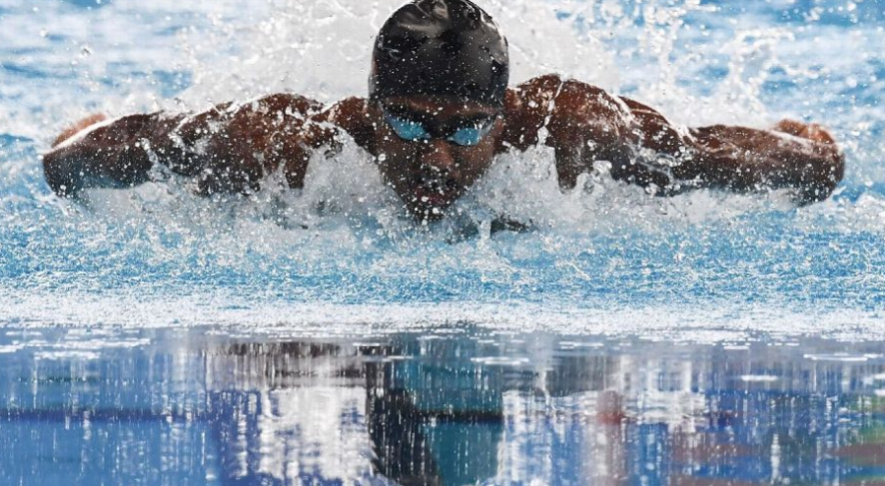 Sajan Prakash was one of the many Indian athletes who managed to qualify for the Tokyo Olympics in a last-stop competition. He clocked 1:56:38 seconds in the men's 200m butterfly event at the Sette Colli Trophy in Rome last week to make the 'A' cut for the Tokyo Games, becoming the first Indian swimmer to earn direct Olympic qualification (Pic: ESPN, Twitter).
The concept of IST, Indian Stretchable Time, is very amusing. Especially for foreigners, and for those among us capable of laughing at our shortcomings. We, as a people, seem to have a genetic predisposition to leave things late. And our athletes are no different. Over the past two weeks, we have had many making the cut for the Tokyo Olympics in last-stop tournaments and qualifiers. And we have also been celebrating these qualifications as well — in some cases outlandishly.  
We are, in a way, celebrating the larger idea of the Olympian, the exalted position these athletes stand to achieve just by turning up for their competition in Tokyo. Becoming an Olympian is not a mean achievement. It provides immortality, in a way. You are never a former Olympian, you see. You're an Olympian your entire life. Your career will be defined in a freeze frame that depicts the moment you became one. 
This is the idea imprinted in our impressionable minds while growing up in the sporting ecosystem of the 1990s or before that, an entirely different world to what it is now. Back then, arguably, the limited aspiration had its justification. The resources were much more scarce than now. 
Also Read | Free Agent Lionel Messi's New FC Barcelona Deal Stuck in La Liga's Wage Rule
We all know our athletes now can go faster, higher and longer in any part of the world they want. Through a season, through seasons. There are government and private entities backing them. They get the funding, and while the system is imperfect, it is accommodating too, to the demands of a modern athlete. 
While a lot has moved ahead, aspirations seem to be stuck in the past, a time when making it to the Olympics was a mark of success, and finishing fourth reserved you immortality through lores. 
Our athletes booking a late flight for Tokyo should be applauded but with a pinch of salt. The attitude is a problem that needs a good amount of introspection. 
When we delve deeper into Indian sports, beyond the results, beyond records or personal bests which earn athletes berths for the Olympic Games, we hit upon a stark reality at play. The bare truth is that most of the 115 athletes who have booked tickets for the Tokyo Games so far do not have what it takes to even progress to the latter stages of their respective events. Forget medals. Forget those trendsetting hashtags.
Let that reality sink in. We are nowhere close to where the world of sport is — this common knowledge which we choose to ignore, hiding behind our sensibilities and empathy toward the struggling athletes (and to be clear, their struggles are pretty real). But calling a spade a spade would serve Indian sport more, won't it?
Is that enough to boil up some cynicism? There is more. A far more telling reality appears deeper in the Indian sport cauldron, stirred and kept steaming hot by headline managers guised as sports officials and ministers, and PR stuntmasters whose sole job seems to be to keep the ecosystem upbeat, even if it means celebrating mediocrity.
Also Read | Neeraj Chopra, Bajrang Punia and How to and Not to Zero in on an Indian Medal in Tokyo
The average Indian athlete is a spent force by the Olympics. Their emotions, performance, their personal peaks, their aspirations even, are all invested so heavily into making it to the venue that it becomes very difficult for them to refocus to try and go better at the Games. 
Take for instance the National Inter State Athletics Championships that wound up in Patiala last week. We had a few athletes qualify from there as well, including Dutee Chand (100m and 200m), MP Jabir (400m hurdles) and Seema Punia (shot put). Chand and Jabir qualified by virtue of garnering enough points with their performance to make it via their world rankings, while Punia made it by throwing a tad over the qualifying standard.
Sadly though, their Olympic Games seem to have peaked and ended in Patiala. It is hard to imagine them furthering what they achieved in Patiala in a month's time in Tokyo. That's not how performance increment happens in elite level athletics. But punching their ticket to Tokyo is a really big deal. Why? The second reality comes out just about now. One of the athletes — who missed out by a whisker — spoke to me about what they stand to lose, having failed to make it to Tokyo. 
A home.
He was planning to build a house back in his village. He has a government job. But now, he will not get that promotion. And, to build a house for his parents he will now have to take a loan. Like all of us salaried Indians, he is also part of that big percentage in the demography forced to take credit to meet demands that fall beyond the daily rations of existence. 
Also Read | Two UAE Cricketers Banned by ICC for Accepting Bribe From Indian Bookie
A house is understandable, but what about building a legacy, I thought, but did not ask. For legacy is a lofty idea lost on most athletes, their vision stymied by the struggles that they grew up with, the strifes they continue to live with, and a system which fails to show them anything better. 
Bettering performance is not as simple as refocusing. It is a process that takes years. Citius, Altius, Fortius, has to be planned. The benchmark is set at least six years prior to the Games. That is the time when an athlete should know what marks and achievements he or she should be hitting at this particular time. That's goal-setting. 
In Indian sport, the goal-setting idea is pretty skewed for most events, primed for modest achievements at best. We, as a nation, applaud modesty and humility, perhaps because these attributes serve many of us in life. 
Humility and modesty are double edged swords though. You can be humble in your demeanour or approach toward life, but in sport, you can never be humble while setting out what you want to achieve in a career that has a shelf life of two Olympic cycles max. That is eight years. 
The athlete's modest approach toward goal setting, however, begins much before that. In all probability, a little after he left the grassroots. A little after the time he experienced the exhilaration of sport for the first time — at a village ground, or on an uneven school playground, or a nearby pool. 
He or she gets picked up and assimilated into the overrated Indian sports system — where things get jumbled, and skewed. The kid, running in a school yard, or swimming in a neighbourhood pool, has nothing but an instinct to excel and win. Much like the instinct that gives us the urge to breathe and live from the moment we are born. We are ready for victories from that point on, having tasted the first, having tasted only life.  
The system reels it all in, while introducing him or her to better technique and equipment and all the frills to make him or her an international athlete. In that process, in the transition which takes place over a decade, familiar trappings surface — the flaws in goal setting, the idea of where they want to be when they hang up their spikes, boots, shoes or gloves, and what their mission in sport is. There is no system to forge the athlete from within, and this I could say with surety because I was also part of that for over a decade. 
Also Read | Milkha Singh Retrospective: The Hero The Country Needed, At the Cost Of Others
It is not the athletes who are at fault because they maintain limited aspirations while planning this journey. It is the larger parameters at play around them which fail them. They are provided training, but not direction in the long term. The stimuli they receive are ones that take in an entirely different direction to what their instincts should be as sports champions of India. 
They eventually end up trying to make the cut, scraping through literally, becoming an Olympian. Then it boils down to the basics — build a house. The real legacy, the great Indian reality.
Of course, there are sports which have climbed out of this spiral and have woven themselves ecosystems which seem to be churning out champions. Sports like badminton, wrestling, shooting and boxing. While their growth trajectory seems to be powered by a complex algorithm, the base is forged in the minds of the young athlete traversing up the system. They have goals which are set beyond the qualification flag. They know about medals. They understand victory. And they also realise that victory is a possible target to have and they need not be modest about both setting that target, and also talking about it.
The others are going wrong somewhere. A disconnect with where the system can potentially take the athletes, and where they end up finishing. And it, like all things imperfect or wrong in Indian sport, begins from where things start.
By nature 'starts' are bound strictly to time, be it at the blocks on race day, or on Day 1 in a sports hostel. Time is uncompromisingly unstretchable here. You cannot push off the blocks too late, and neither should you defer the development of a young athlete for Day 2. The former will ruin a race, the latter will leave a country's sporting legacy in an unfulfilled pile marked as talent and promises. A pile that will grow further post Tokyo. It has been growing since London 1948!
Get the latest reports & analysis with people's perspective on Protests, movements & deep analytical videos, discussions of the current affairs in your Telegram app. Subscribe to NewsClick's Telegram channel & get Real-Time updates on stories, as they get published on our website.
Subscribe Newsclick On Telegram