Indian Basketball Deserves a Pro League, Built Around a Systematic Grassroots Programme
With the trend of pro leagues in full swing in India, it is a surprise that basketball, a game which epitomises the idea of professional league thanks to the popularity of the NBA, and with a huge player, cultural presence and fanbase in the country, is yet to have an Indian pro competition.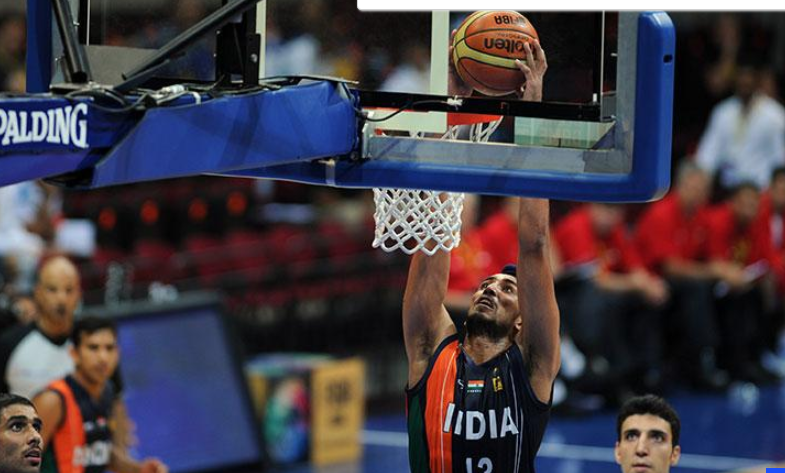 India has always produced players with potential with Amjyot Singh being the latest basketball player from the country to get signed up by the NBA G-League, and is currently playing his second season in the US (Pic: Twitter, Amjyot).
Over the past decade, India has seen a proliferation of pro leagues ranging from cricket, kabaddi, wrestling, tennis, hockey, badminton, football and volleyball. Some of these leagues (volleyball for instance) are still in their nascent years, while others (such as tennis and hockey) have floundered, or are struggling to stay afloat. But a select few are doing well, activating traditional but previously non-catered to audiences (kabaddi), drawing in new spectators, sparking exciting regional rivalries (cricket through the Indian Premier League), acting as a feeder system of new talent into the national teams, and most importantly, giving its elite practitioners both fame and financial windfalls.
In this ongoing wave of IPL-isation of Indian sports, basketball is getting left behind. Despite boasting of internationally recognizable athletes — LeBron James, Stephen Curry and the likes are household names — and a globally renowned pro league, the NBA, when it comes to India, basketball is yet to make a mark.
As a new generation of young basketball talent emerges from around the country, and with the rise of a middle class demographic that is increasingly looking towards sports as a career choice and not merely as a hobby, the clamour for a professional basketball league in India is only becoming louder.
A Case for Basketball
Because of the small size of the court, basketball is a fast, explosive and exciting game. Since it involves constant motion of all its players, youngsters find it a more exciting alternative to say cricket, the default sport for most Indian kids.
Video | Satnam Singh: One in a Billion? Not Anymore
Basketball is one of  the fastest growing sports in the world, and contrary to notions, enjoys a huge following in India. Virtually every school and college boasts of a basketball court. At college level sports fests, basketball is a major crowd puller. In large part, this is because spectators can get really up close to the sidelines and share in the energy of the players. At times, they can even influence the outcome of the game, by heckling away teams or cheering their own.
Basketball also enjoys a very favourable and distinct international perception. Among the two most popular team sports globally, if football is the "beautiful" game, then basketball surely is the "cool" game.
Basketball in India
India has a long history in basketball, though the game's pioneers hardly get their due in the popular sporting lores.
The game was introduced in India in the 1930s thanks to organisations such as the YMCA, and through Army cantonments and barracks, where it was played as a means to stay fit. From nurseries like YMCA Nandanam in Chennai, Tamil Nadu, the Bachookhan Municipal Playground in Nagpada, Mumbai, and Kapurthala in Punjab, hoops slowly spread its wings across the length and breadth of India.
Also Read | Donald Trump Using Sports to Divide America, Says LeBron James
Thanks to early names like Ranbir Chopra in the 1950s, Abbas Moontasir and Khushi Ram through the 1960s and '70s (which is often regarded as the golden era of Indian basketball), our national teams were among the top five in Asia. Thereafter, the men's team suffered a lull in the '80s and '90s despite individual brilliance of players like Ajmer Singh Chopra and later on Jayasankar Menon and Shahid Qureshi.
The first decade of the new millenium witnessed the outlandish brilliance of southern stars Geethu Anna Jose and S Robinson, but team results remained mediocre. India finally started making an impact as a "team" in the early part of this decade after the influx of finances (partly due to the commercial deal struck between IMG-Reliance and the Basketball Federation of India (BFI) in 2010) and the induction of elite American coaches into the system.
The Indian men's team finally proved its potential on the international stage in 2014 by beating Asian giants China for the first time in history. Over the last decade, individual stars like Geethu, Satnam Singh, Amjyot Singh and Palpreet Singh, have managed to get within striking distance of playing in the WNBA and the NBA.
So, whether collectively as a team, or individually as players, Indians have shown tremendous potential in basketball.
But despite showing all this promise, basketball in India still seems to be waiting for a defining breakout moment. One dominant school of thought to increase basketball's popularity in India has been to try and replicate the Yao Ming phenomenon in China. Simply put, to focus all our energy on finding and nurturing one superstar from India, who can subsequently make the game more popular.
The 'one superstar' strategy was tried in Indian basketball, and it failed. In 2015, amidst huge hype and after a lot of personalized coaching and international exposure, the 7' 1'' Satnam Singh became the first Indian player to be drafted by the NBA. If people thought that this would be the much heralded tipping point for Indian basketball, they were mistaken. The slow-footed Satnam found himself shunted down to the minor G-League, and even there only got limited playing time. Two seasons later, a crestfallen and frustrated Satnam had to return to India and anonymity.
Also Read | Indian Cricket Selectors Hit Sweet Spot in Squad for ICC World Cup
In Satnam's wake, fellow Punjab ballers Palpreet Singh and Amjyot Singh too got drafted into the G-League. While Palpreet was waived within a fortnight, Amjyot persevered and is now in his second season in the G-League. With his 6' 8'' frame and an uncanny shooting ability, he has the outside chance of getting elevated into the NBA a few years down the road. While Amjyot's prospects are undoubtedly exciting, the reality is that sheer bad luck or injury is enough to bring India's search for a 'face' back to square one.
The Pro Push
This is where a pro basketball league in India could make a difference. Whatever progress could possibly be made — reaching the top 4 in Asia, having players on the verge of getting selected to the WNBA/NBA — without having structured domestic competition, has already happened.
A well thought-out competitive pan Indian league for both men and women will ensure players like Amjyot or Geethu become the rule rather than the exception. It will also ensure talent that will be spotted and honed in a systematic way from an early age, rather than as a lottery.
Also Read | Tiger Woods Completes Major Comeback, Wins 5th Augusta Masters Crown
Admittedly, the argument that a national pro league will help find and hone local sporting talent is one which is bound to raise skepticism, considering the track record in other sports. Barring cricket, a game which enjoys a enviable domestic structure in the country and churned out talent like a conveyor belt even before the IPL era dawned, no other pro league has created a system which would ensure grassroots development.
That said, it is perhaps still to early to judge the grassroots impact of national pro leagues which are still only a few seasons old. Also, to imply that a national basketball league will prove not viable simply because a league in another sport may be failing is premature and akin to comparing chalk and cheese. Every sport has its own unique fan following and it comes down to how a particular league is envisioned and structured, how long of a run it is given to break even, and how well it has been adapted to accommodate local realities around that sport.
It is also fair to reason that maybe India might be better off with starting pan India leagues at the school and college level (mirroring the system in the US) before venturing into the high risk-high reward world of pro sports. Interestingly, this was the approach that the Basketball Federation of India (BFI) took with the launch of the very promising Indian School Basketball League (ISBL) and Indian College Basketball League (ICBL) in 2010 and 2011 respectively. However, due to a freeze in funds by IMG-Reliance, these leagues were discontinued after a few years. Even in the absence of school/college leagues in India, a national pro league at the senior level remains an enticing prospect.
Video | Critical Decision for Indian Football Over Next Few Weeks (420 Grams Ground Report)
Lately, an interesting new strategy doing the rounds is to launch a league in direct collaboration with the NBA, something that the NBA recently announced in Africa. This drastically reduces, if not wholly eliminates, the financial investment risks, while simultaneously benefiting from NBA's operational know how. Additionally, such a tie up will create a direct pathway for a promising player from his local neighbourhood court right to the NB. However, for such a league to materialize, the current long drawn out mediation between BFI and IMG-Reliance, which is keeping the sport in limbo in India, will first need to be resolved.
There are passionate basketball cities in India steeped in hoops culture and perfectly suited to host individual franchises. Chennai down south (with its robust school and college tournaments), Bengaluru (with its eclectic and vibrant startup community), Delhi (excellent infrastructure), Mumbai (storied Nagpada-Mastan rivalries), Ludhiana (factory of international talent) and Aizawl (which has some of the most passionate basketball fans in India) are all worthy entry points to start a league from where you can expand thereafter.
The talent is there, the fan following is there, the promise is there. We also have 80 odd years of proven hoops culture. A pro league could be the engine Indian ballers need to take flight.
(Gopalakrishnan R is an independent writer and the founder of Ekalavyas, a basketball media & promotion company)
Get the latest reports & analysis with people's perspective on Protests, movements & deep analytical videos, discussions of the current affairs in your Telegram app. Subscribe to NewsClick's Telegram channel & get Real-Time updates on stories, as they get published on our website.
Subscribe Newsclick On Telegram