Indian Cricket Selectors Hit Sweet Spot in Squad for ICC World Cup
BCCI selectors have picked the best possible 15-member Indian cricket team for the ICC World Cup in England, taking into account all the relevant variables — from form, reputation and play conditions to balance in the line-up.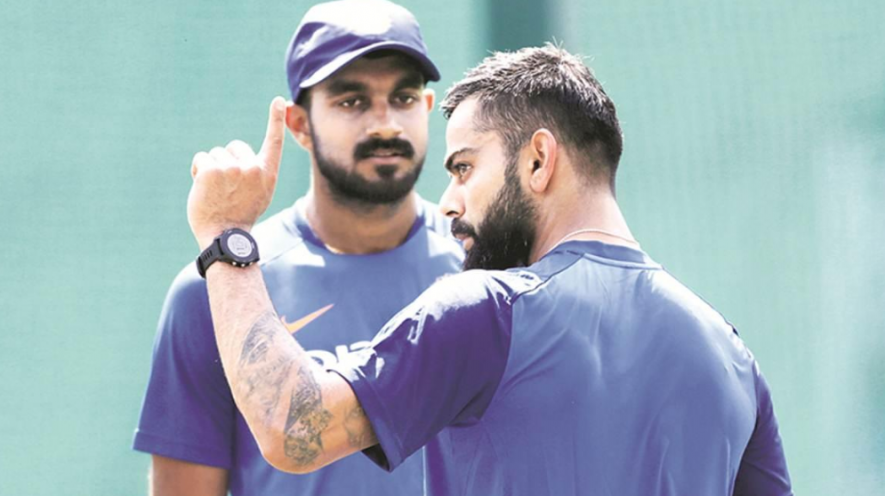 Vijay Shankar, a technically brilliant, fast bowling allrounder, will give Indian cricket team skipper Virat Kohli a solid batting option to shore the middle order without offsetting the balance of the bowling attack at the ICC World Cup in England.
Have India's cricket selectors picked a squad that is guaranteed to bring home the ICC World Cup from the United Kingdom three months hence? The crystal ball having gone missing, it's difficult to suffix that question with an emphatic 'yes'. But have the five wise men selected the squad best equipped to emulate the Classes of 1983 and 2011? Most definitely, yes.
No matter what one's personal choices and preferences might be, you look at the 15 named by MSK Prasad and his four co-selectors, with no little help from Virat Kohli and Ravi Shastri, and you nod your head in approval. There might be one or two on the outside who could, with a little luck, have made their way in, but no one can say with any conviction that X should not have been in the mix. Or that Y was fortunate to win the nod. That's always the hallmark of a good selection process — if you disagree with the picks, it is only because you want to.
Also Read | Dinesh Karthik Back-Up for MS Dhoni in Indian Cricket Squad for ICC World Cup
The one explanation that has particularly stayed with me is the reasoning behind the choice of Dinesh Karthik over the ebullient Rishabh Pant as the reserve wicketkeeper-batsman. Prasad, himself a 'keeping all-rounder in his halcyon days, made it clear that at no stage had the decision-making group looked at Pant as a specialist batsman.
They had never considered him for the irksome No. 4 position, Prasad observed, adding that Karthik's experience and expertise behind the stumps had carried the day. "DK will only play if MS is injured," Prasad said. Or, at least, words to that effect. He then added, "Wicket-keeping also matters. That is the reason why we went with Dinesh Karthik, otherwise Rishabh Pant was also there."
It's a fascinating observation, especially because Pant has been India's Test stumper since the Nottingham game against England in August last year, most notably having won his Test cap at Karthik's expense. Karthik didn't do enough in front of the sticks or behind it in two Tests since taking over the big gloves from an injured Wriddhiman Saha at the start of the England series last August.
By plumping for Karthik's 'keeping skills ahead of Pant at an event like the World Cup —  and that too in only the capacity of a back-up — is Prasad, the limited-overs chairman, scoffing at Prasad, the Test chairman? How else does one interpret his interesting take on Karthik versus Pant when it comes to wicket-keeping?
Also Read | On The Ball - Cricket's Big Technology Problem
Karthik has proved himself to be the more versatile, inventive and level-headed performer in front of the stumps, too. He may not trigger as many oohs and aahs as the 21-year-old Pant, and his penchant for hitting the ball long and clean might not win the ready approbation of many easily-swayed pundits, but Karthik is a far more evolved batsman than the young tyro at the moment. The left-hander from Delhi will get better, of course; by the next World Cup in the sub-continent in 2023, he will be the unalloyed superstar if he can keep his body and mind injury-free. But that's for another day.
Once the selectors had decided that they needed a back-up stumper to MS Dhoni, Ambati Rayudu automatically went out of contention. Of all the men in the running to fill the remaining batting slots beyond the established order, Rayudu was the most vulnerable not just because he was the oldest, but also because he had just one string to his bow. His action has been deemed illegal and he has been suspended from bowling at the international level since this January. KL Rahul and Vijay Shankar both have greater versatility, so they were automatically the preferred choices.
There is no disputing the fact that Rahul's Indian Premier League (IPL) runs have assisted his World Cup call-up. He isn't in the squad merely because he is perched high on the list of leading run-scorers in the T20 competition. But his current form, coupled with the immense faith his captain has in his skills, made it easier for him to earn his maiden World Cup spurs. Indications at this point are that Rahul will have to bide his time because he has only been selected as the reserve opener, but that could change rapidly.
While he hasn't been allowed to flourish in the upper middle-order in 50-over cricket, Rahul has shown in the less forgiving Twenty20 format that he can be an explosive force even when he is not opening the batting. His two T20I hundreds have come at No. 4 and No. 3 respectively; it won't be a shock if, at some stage during the World Cup, he gently slots into the middle-order, particularly if the openers are having a grand run and the nominated No. 4 doesn't quite get going.
Also Read | On the Ball - Numbers Finally Catch Up With Test Cricket
The man earmarked for the No. 4 spot — it's probably the last of the fixed positions, because any slot after that will most likely be dictated by the match-situation — is one of the more recent success stories of Indian cricket. At the start of this year, Vijay Shankar would have been in nobody's World Cup 15, not even his own, I suspect. And yet here he is, the 28-year-old from Tamil Nadu, having made a late surge to steady a dodgy, creaking No. 4 chair.
So, how did this metamorphosis transpire? Through pleasing runs in New Zealand and then back home against Australia, though in five innings, his highest score is 46 and he hasn't ever batted higher than No. 5. His only two ODI wickets came in successive deliveries in the final over of a tense game against Australia in Nagpur that Vijay tilted India's way, and he has bowled more than five overs just twice in his nine 50-over appearances. Yet, his calmness at the batting crease, his tightly coiled, deceptive explosiveness that sends the ball sailing into the straight field, his intelligence if not incisiveness with the ball, and his electric fielding combine to elevate him to the three-dimensional entity that limited-overs think-tanks so crave.
Vijay is no Hardik Pandya, but India were never looking for another Hardik Pandya, were they? They were looking for a technically proficient batsman who could steady the innings should the need arise, but who is also capable of shifting gears and hitting a long ball. If he could bowl the odd heavy ball during a three or four-over spell when one of the frontline bowlers is having an off-day, more power to him. QED, Vijay Shankar.
Vijay and Pandya's presence precluded the need for a fourth seamer in the 15 — it's unlikely that India will play more than two specialist quicks apart from the odd game — and firmed up iteration of Ravindra Jadeja's re-emergence as a pivotal white-ball exponent. It will take a brave man to leave him out of the final XI if there is the slightest hint of dryness, or sustained moisture.
A prudent, straightforward selection process, with little scope for ambiguity and roles outlined clearly. India have ticked the first box in their quest for the World Cup. It doesn't matter if well begun is only half done.
Kaushik is a veteran cricket writer who has reported on over 100 Tests. He co-authored VVS Laxman's autobiography '281 and Beyond'.
Get the latest reports & analysis with people's perspective on Protests, movements & deep analytical videos, discussions of the current affairs in your Telegram app. Subscribe to NewsClick's Telegram channel & get Real-Time updates on stories, as they get published on our website.
Subscribe Newsclick On Telegram