Indian Women's Hockey Team Yawns Short of Goals, History at World Cup
Indian women's hockey team squandered a chance to become the first side from the country to reach the semi-finals of a FIH World Cup since 1975, losing to Ireland via shootout in the quarterfinals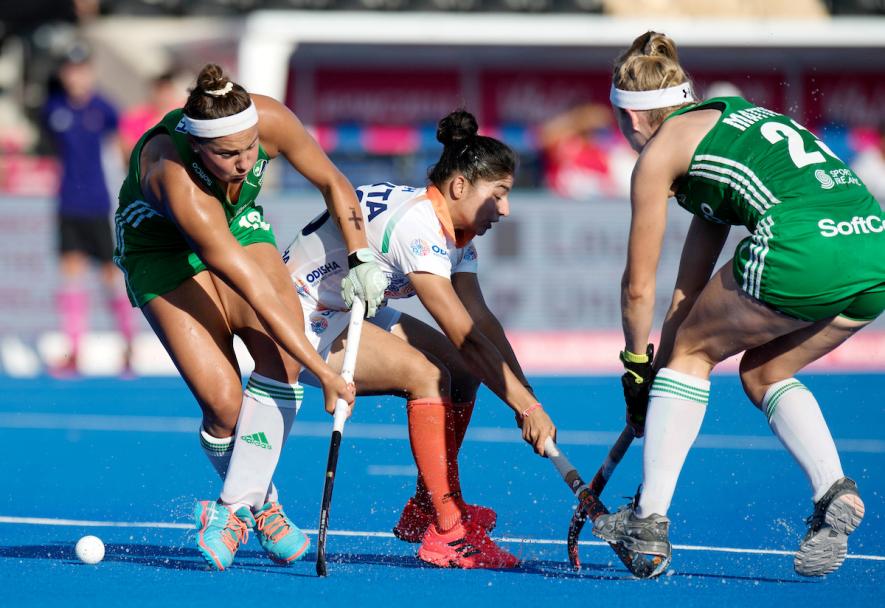 There is a reason why the golden pages of history are reserved for just a special few. The Indian women's hockey team came close – as close as a shootout in fact -- in their FIH Women's World Cup quarterfinal against Ireland on August 2. But in the end, India fell short, and the country's wait for the first semi-final appearance at a FIH Hockey World Cup since 1975 will continue a little longer.
In an attritional game of hockey, India out-passed their opponents (without purpose at most times), out ran their opponents (without direction), and even out fought the Irish, but lost in the only way that would have rendered the heartbreak complete – via a shootout.
The game itself, played at the Lee Valley Hockey Centre in London, was as dull a stalemate as one could get from a sport known for its speed and attacking precision. The teams didn't so much attack each other as negate each other. At half time, coach Sjoerd Marijne's analysis seemed almost petulant.
Also Read | Donald Trump Using Sports to Divide America, Says LeBron James
"If we can keep the ball moving, and keep shuffling the possession, we could open up the Irish. There is no reason to lose patience and cross into the circle from absurd angles. We have to have patience," he raged.
But, that is what India had done throughout the game. They showed remarkable patience and kept the possession. They shuffled and twisted, and turned and wrenched, but the opening remained elusive.
Unfortunately a gameplan like that requires either an ultra-inventive playmaker, or an opposition willing to chase the ball and break ranks. The game had neither. Rani Rampal dropping back deep to pick up the ball and shuffle past Irish players only meant there was no one to receive the final pass in the circle.
Also Read | Gibraltar United's Cryptocurrency Plunge Too Rushed to Be a Football Revolution
The one time that Vandana Katariya – whose side glance dribble, caught out by the Irish, was negated by body checks – managed to find the space necessary for an incisive pass, Rani was loping not two yards from her. It was comedic tragedy. Perhaps a good old approach of pumping forward into the box and smashing crosses may have provided more divvidends.It took till the final quarter for that strategy to finally kick in, but by then, everyone's legs and arms had gone to make any real contact.
Even so, the crosses caused mayhem in the Irish defence, and one finally won India a penalty corner (the only one of the match for either side).
All the analysis before the game had pointed towards how India had played within themselves the first time these teams met at the World Cup in the group stage (Ireland edged out a 1-0 victory). They were wasteful from open chances and mostly from their penalty corners – they scored zero of nine PCs in that game. The trick then was for India to make the most of their chances, and put away the PCs when they got them.
Also Read | Gautam Gambhir, Virender Sehwag in DDCA's New Conflict of Interest Controversy
Unfortunately, no one seems to have paid any attention to the Irish themselves, and we can only hope Spain, Ireland's semi-final opponents, would do so ahead of the match. A single penalty corner in an attritional game of knockout hockey points to two things. One, that both teams were content with sneaking a field goal, and two, both had defenders whose legs levitated a few inches above the turf at the best of times.
It was remarkable to see both sets of attackers content with trying to dribble their opponents in the circle, a sense of fair play outlying the need for a goal. This was pre-Abbassian hockey (Sohail Abbas of Pakistan revolutionised penalty corners with his drag flicks in the 1990s), where the penalty corner was an aberration in play, not a goal scoring tactic.
In any case, it was what it was. India finally had a PC, but no cigar. Rampal took the shot, and despite the fact that it was weakly struck, forced a save from Ayeisha McFerran. It was the only meaningful action the Irish goalkeeper saw in regulation time. The same was true for her Indian counterpart Savita, who's smart dive denied Anna O'Flanagan's deflection in the 23rd minute. A few midfield scuffles, a green cards, and bouts of fatigue later, the game went to a shootout.
Also Read | What Indian Sports Stars Can Learn From Socrates
Even there, everyone seemed to like missing the goal. Till suddenly, the Irish didn't. Savita made two smart saves straight out of her men's team counterpart PR Sreejesh's playbook, but comedic tragedy was at hand to deny her the heroine-of-the-night honours. That would go to McFerran, who saved not once, not twice, but three times, to send India out.
A few years ago, one got the pleasure of catching Australia's stalwart defender Mark Knowles on the sidelines of a Hockey Indian League (HIL) game, and engaged him in conversation about the absurdity of the hockey shootout. The discussion revolved around why the Australians were so good at the shootout, and India so average, when we could all agree that in a one-on-one battle, the Indians were more skilled and slick?
Knowles doled out the regular tripe on psychological strength and wilting under pressure, before dropping what would become a striking point for shootouts involving India.
"In a shootout," he said, "it is important to remember that you have only one person to beat. Don't complexify the situation. I think us Australians are good at that. We see the one guy to beat, we pick a strategy and go all in with that. Indians like to improvise, which makes them terrific dribblers, but useless at the simple philosophy of a shootout. Just pull the trigger, mate, I sometimes hear myself saying."
Also Read | Immigrant Father On What France's World Cup Win Means for Him and His Son
Now, if only someone had said that to the Indian women. With history on the horizon, they stood, pistol cocked, finger on the trigger, squinting, twisting, turning, adjusting constantly, to really nail the target. By the time, they did find one, the Irish had taken the game home. And a chance of breaking new ground.
And so the wait continues, next stop Bhubaneswar in December (the FIH Men's Hockey World Cup), and another shot at history.
Get the latest reports & analysis with people's perspective on Protests, movements & deep analytical videos, discussions of the current affairs in your Telegram app. Subscribe to NewsClick's Telegram channel & get Real-Time updates on stories, as they get published on our website.
Subscribe Newsclick On Telegram