Indian Workers Headed Towards a 'Vulnerable' Future, Confirms New ILO Report
77% of Indian workers will have vulnerable employment by 2019; labour experts say increase in contract labour and own-account work coupled with declining unemployment is the reason.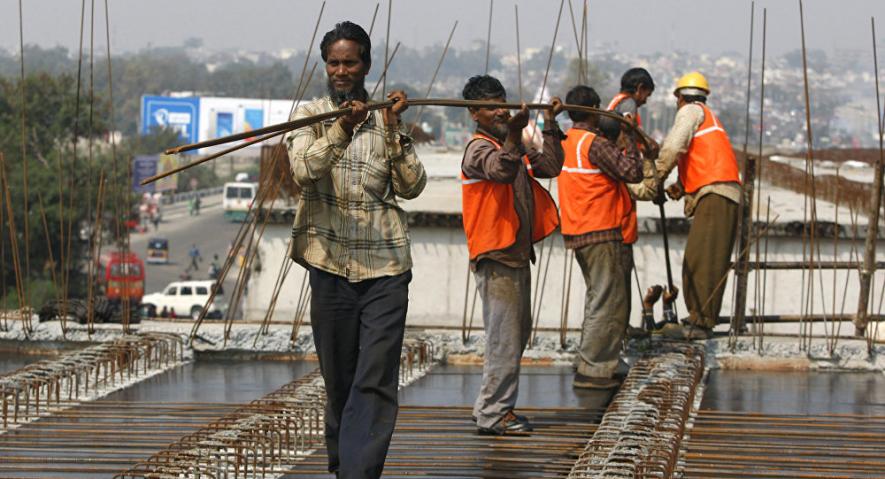 The death of 17 workers trapped inside an illegal firecracker warehouse that caught fire in Bawana Industrial Area of Delhi on 20 January is only among the recent examples of the tragedies caused by vulnerable employment.
But a new report by the International Labour Organization (ILO) says that 77% of Indian workers will be engaged in vulnerable employment by 2019.
This is in keeping with what labour experts in India have been cautioning against for years now — the alarming increase in the turn towards vulnerable forms of employment.
In fact, there is a rise the world over in vulnerable employment, as noted by the ILO report. Globally, around 1.4 billion workers are estimated to be in vulnerable employment in 2017, with an additional 17 million expected to join per year in 2018 and 2019.
'Vulnerable employment' is characterised by meagre earnings (below minimum wage), difficult and insecure working conditions (for example, workers are made to work long and taxing shifts; they can be hired and fired without notice at any point), unsafe work environments, and complete violation of labour laws.
The workers at the Bawana factory, for example, were being paid a paltry Rs 150-200 per day for a 10-hour work shift, without any other benefit or social security, while all labour laws and safety norms were obviously being violated.
However, the ILO report—titled World Employment and Social Outlook: Trends 2018—defines 'vulnerable employment' narrowly as the sum of own-account workers [self-employed without paid employees, usually a one-person enterprise] and contributing family workers. 
But most labour experts and economists in India define 'vulnerable employment' as encompassing contractual workers in the organised sector as well as workers in the unorganised sector.
Speaking to Newsclick, Satyaki Roy, associate professor as the Institute for Studies in Industrial Development, said that according to the Annual Survey of Industries (ASI) data between March 2014 and July 2015, total employment in manufacturing sector—both organised and unorganised—had declined.
In the organised manufacturing sector, there was an increase of 0.32 million in employment. However, 85% of this increase in employment was on the basis of contracts.
Now, the NSSO divides the unorganised manufacturing sector into three segments — Own Account Manufacturing Enterprises (one-person enterprises), Non-Directory Manufacturing Enterprises (using hired labour of 1 to 6 people) and Directory Manufacturing Enterprises (using hired labour of more than 6 to 10 people).
Roy said as far as the unorganised manufacturing sector was concerned, the only segment that recorded a rise in employment was the Own Account Manufacturing Enterprises (OAMEs).
As per the NSSO survey on Unincorporated Non-agricultural Enterprises (excluding construction) for the period between 2010-11 and 2015-16, the employment in OAMEs saw a rise of 1.84 million.
Meanwhile, employment in the other two segments in the unregistered manufacturing enterprises declined by 0.67 million.
As the ILO report notes, the share of manufacturing employment is expected to continue its decline in upper middle-income and developed countries, and to grow only marginally in lower middle-income ones (which include India).
"This confirms the ongoing trend of "premature deindustrialization", whereby lower-income countries are seeing declining shares of industrial employment at earlier stages of development compared to developed countries," says the report.
Roy said the decline in total employment in the country was contributing to the rising informality in the Indian labour market.
"According to the annual labour bureau survey, total employment in the country has declined from 480.4 million in 2013-14 to 467.6 million in 2015-16. This along with the massive scale of contractualisation in the organised sector as well as increasing fragmentation in the unorganised sector are the leading causes of the increasing vulnerability," he said.
The ILO report says that whatever progress was achieved in the past in reducing vulnerable employment had essentially stalled since 2012.
In the Asia-Pacific, vulnerable employment affects almost half of all workers, or more than 900 million men and women, the report said.
"Projections indicate that 72% of workers in Southern Asia, 46% in South-Eastern Asia and the Pacific, and 31% in Eastern Asia will have vulnerable employment by 2019, showing very little change from 2017," said the ILO.
As for unemployment, the report notes that the global unemployment rate is expected to fall slightly to 5.5% in 2018 from 5.6% in 2017.
However, the total number of unemployed people worldwide is expected to remain stable in 2018, at more than 192 million, what with a growing number of people entering the labour market. In 2019 too, the global unemployment rate would remain essentially unchanged, while the number of unemployed is projected to grow by 1.3 million, the report estimates.
Get the latest reports & analysis with people's perspective on Protests, movements & deep analytical videos, discussions of the current affairs in your Telegram app. Subscribe to NewsClick's Telegram channel & get Real-Time updates on stories, as they get published on our website.
Subscribe Newsclick On Telegram