India's First Voter Will Miss an Election at Last
Going to vote always reminded Shyam Saran Negi that India is no longer a colony or part of a kingdom but an independent country.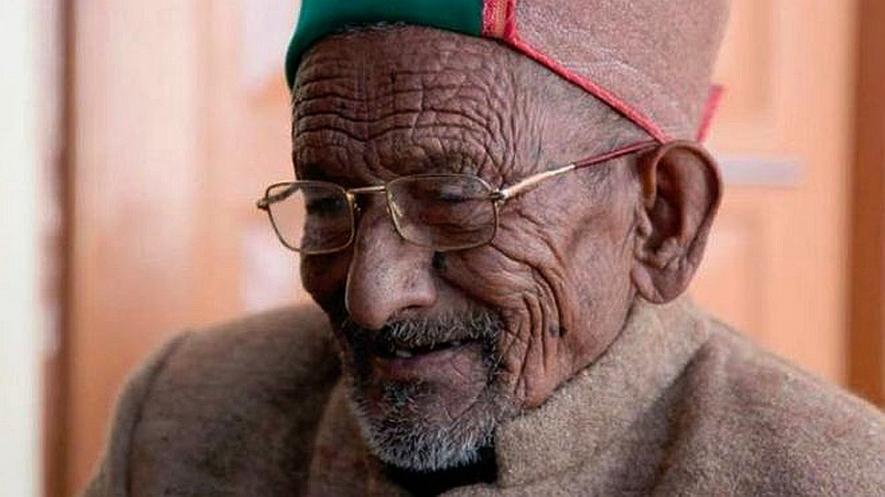 Image credit: Himachal Watcher
In December 2018, just before the first snowfall in Himachal Pradesh, I travelled from Delhi to Kalpa, a village in the Kinnaur district, to meet India's first voter—Shyam Saran Negi. He was 102 years old then. He died on November 5, but not before using the postal ballot to vote in this year's Assembly election in Himachal Pradesh. With him has also passed the memories of independent India's first general election of 1951-52.
Negi was the last of seven brothers born to four mothers in a common marriage system that prevails among Kinnauris. His wife, Heera Mani Negi, had died the year before Negi turned 103. A tribal area here, almost every family, including Negi's, is Buddhist.
Frail and skinny at the time I met him, Negi moved from one sunny spot on the roof of his wooden house to another to keep warm. He was mentally quite agile. Pointing to the rust-coloured woollen coat he wore, he said, "The coat is from those days. I spun and wove the wool with my own hands, and it was stitched by my family. It is still warm."
Quite obviously, Gandhi's advocacy of the spinning wheel inspired him to weave and stitch his coat at home. "Mahatma Gandhi emphasised that we should not leave khadi, for this is where our money is—in spinning wool, weaving cloth, selling some and wearing the rest," Negi said.
From thereon, it felt like I was walking with him into India's past. Negi recalled the village of his youth, then named Chini, where people laboured under the oppressive agents of the British and those of the ruler who lived in Rampur-Bushahr or Shimla. "In those hard days, there was gurbat, gurbat, gurbat—nothing but hardship," Negi said.
He said he had heard of secret meetings organised by those who wished to join Subhas Chandra Bose's Azad Hind Fauj and waited expectantly for them to overthrow the British. For him, Bose was a real heavyweight: "Mukabla karney wala tha—one who was capable of taking on the British."
Negi wanted the British raj ousted, for it "kept us in the dark, gave us no schools and never undertook any expenses". To him, the biggest travesty of the British era was that "the rajas remained in their comfortable positions" while ordinary people were perpetually in dire straits.
Yet, after the country became independent, a new problem arose. During Partition, there were bloody Hindu-Muslim fights in Himachal Pradesh, especially in Shimla, a town Negi said he had never visited. "At the time of Partition, our raja would not let us trouble the Muslims," he told me. Why? "The raja would say, what have Muslims ever done to us? The ones who have harmed us are the English."
To Negi, the biggest change since Independence was that people now decided who ruled the country. This belief had him vote in every election since he became India's first voter. "Now the raj has come into our own hands. We have to manage it," he told me.
In his youth, Negi had a part-time job in the education department and recalled how hard life was then. "From small girls to old people, there was nothing for us but work, work, and work from dawn to dusk." But two decades after Independence, to help people raise their income, the apple tree was introduced in the region. Negi told me his family grows apple worth around Rs 4-5 lakh every year, an income that places them among families with modest means in the area.
When Negi was young, women did not go to school. Nor had technology or science entered Kinnaur's life. "We never thought we would educate women. [In fact], we did not know how to educate women," he said, grinning. "Today, girls are going forward. This is development," Negi said.
Negi's family has not joined others in turning their houses into hotels or letting out a few rooms of their homes to tourists. Prema, Negi's daughter-in-law, said, "Tourists want rooms with attached baths and staff to attend to their needs. We have land we are barely able to maintain. Running a hotel is not possible for us," she said.
But the apple trees, Negi complained, had made his children and the village lazy. "After all, nothing grows under these apple trees. We no longer raise jau (barley), gandam (a local millet), and other crops as in the past," he says. "Aaj-kal sab-kuch khareed ke chal raha hai—people buy everything from the markets now. Nothing is self-produced."
Call him sentimental, but Negi's notions of village self-sufficiency are rooted in his ideas defining India's fight for Independence from colonial oppression. Inspired by Gandhi, Negi would in his young days spin and weave for hours daily, along with schoolchildren (who did it according to the school timetable), housewives, farmers, and workers." He cribbed against the economic culture of buying fertiliser and fodder from the market and wished people would still value village-based production.
Negi recalled, "In those days, some of what was produced was kept by people, and the rest sold. But everything had a value, from brand new pattis (foot-wide handloom cloths stitched together to make wider material) to the oldest cloth. If we had not abandoned that lifestyle, there would have been a possibility of better income here in Kalpa."
He was sure about the kind of leaders people must vote for. "If we elect a good MP or MLA, the country will improve just as much as the leader is good. But if greedy and selfish people get elected, they will eat up the money meant for development," he said, adding that he votes for a candidate who supports development—proper roads, schools and other public infrastructure. And he roots for that government that "provides jobs" too.
Just as I was about to leave, Negi said, "People are free to do as they wish, but right now, there's nothing to be happy about in politics. There's no good candidate—something or the other keeps happening: notebandi, new taxes... The common person was suffering in the past, and even today, they are facing hardships."
At the death of India's first voter, you and I can only hope our democracy not only survives—but also thrives.
Get the latest reports & analysis with people's perspective on Protests, movements & deep analytical videos, discussions of the current affairs in your Telegram app. Subscribe to NewsClick's Telegram channel & get Real-Time updates on stories, as they get published on our website.
Subscribe Newsclick On Telegram