IPL Auction: Where Talent Meets Opportunism, and Privilege Holds Court
Arguments about the privilege of birth at an IPL (Indian Premier League) auction are truly out of place and out of context today. The modern day slave market, which places values on individuals with little but skill and desire into the hands of judges who will 'own them' is a perfect encapsulation of modern day India, where the 84 percent feed on the scraps of the elite — and are often chastised for asking more.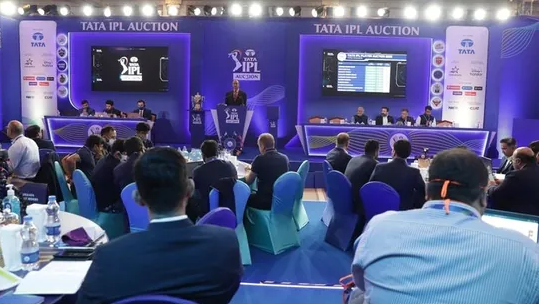 You do not necessarily need to come through the dusty ranks of the domestic system to get into the IPL. It wholly depends on your marketability and ability (specifically in short format).
Suhana and Aryan Khan look so like their father that even somebody who has stopped following showbiz and news, shall know they are Shah Rukh Khan's children the moment he/she sees them. But this Saturday afternoon, while watching the Indian Premier League (IPL) auction I was wondering who the other girl beside them was at the Kolkata Knight Riders table. Wonder does not last in the age of social media. Within a few minutes, I came to know that she is Juhi Chawla's daughter Jhanvi. The revelation came through a Twitter thread where people were arguing over dynasty. Some were scandalised that Jhanvi, Suhana and Aryan were judging the ability of some hard-working professionals whilst being present at the auction just by privilege of birth. The other lot argued, it was not their fault that they were born to rich and famous parents. Some went to the extent of saying: their parents worked hard, yours didn't. Deal with it.
I found the conversation more comical than caustic because it reminded me what Rahul Gandhi, India's most hated dynast, had said in Parliament just ten days ago. "There are two Indias -- one for the rich, one for the poor -- and the gap between the two was widening," he had said. "Today, the earnings of 84 percent of Indians have dwindled, pushing them towards poverty." I couldn't help laughing. The IPL auction was making people from this 84 percent argue for and against the privilege of the 16 per cent.
We came to know in 2019 that India's unemployment rate is at a 45-year-old high. The pandemic has only worsened the situation. If Gautama Buddha were alive today and the mother of a jobless youth went to him asking for her son's/daughter's job, Buddha would have asked her to bring a handful of mustard from a home where joblessness or pay cuts have not hit. The lady's only hope would be the hotel where the IPL auction was held. Even during this distress, 204 cricketers found themselves worth Rs. 550 crore.
Also Read | How Did Saudi Arabia Make it to the Winter Olympics?
I am not going to put you off by talking about migrant labourers. I don't need to. Because even Indian cricketers outside the IPL fold are part of the 84 per cent. If you look around, you will find enough reports about domestic cricketers deep in debt running their family in absence of first-class cricket. But IPL, supposedly, is the fountain that feeds the stream of domestic cricket. That fountain kept flowing during the pandemic, even shifting countries in the midst of waves of crisis. Which all means that the Ranji Trophy not taking place should matter little financially to cricketers, groundsmen, umpires, scorers et al. But it did. The Board, busy keeping the fountain alive, did not care about the stream. Compensation (and a much-needed hike) was announced only in September 2021. One can clearly see the two Indias here. IPL's India deals in hundreds of crores, the rest of Indian cricket has to suffer an agonising wait for a few lakhs.
Like the debate over dynasty, the point about hard work and talent will obviously rear its beautiful head here. Some will definitely say, "Those who have enough talent and work hard play IPL." Of course, T20 is the best form of cricket to judge talent and hard work. Don't let banal commentators and star cricketers doing lip service tell you otherwise. This is not the era where cricketers will be happy receiving Rs one lakh each from a Lata Mangeshkar-led fundraiser, after winning the World Cup. It is the age of Chris Gayle and Kieron Pollard, who are comfortable not playing for their country as they can make a killing playing in T20 leagues all over the world. It is also the age of Liam Livingstone and Tim David, who may never stake a claim to cricketing immortality but are treasured more than World Cup-winning Eoin Morgan and the Bradmanesque Steve Smith. Talent and hard work are so key to IPL success that Paul Valthaty, Manvinder Bisla became footnotes soon after big success; Pravin Tambe succeeded at an age when life insurance policies mature, with a physique Virat Kohli still has nightmares about. There is also the story of hat-trick man Ajit Chandila, who like many others, shone only in IPL. But we shall not talk about these forgottens lest it opens a can of worms.
Also Read | Hijabophobia and More: France Playing a Divisive, Discriminative, and Dangerous Game With Ban of Hijab in Sport
After every IPL auction, we invariably read some rags to riches stories. A player who has played only tennis ball cricket, someone who was not a professional cricketer even six months back or somebody who has never been selected for any first-class side. In short, you do not necessarily need to come through the dusty ranks of the domestic system to get into the IPL. It wholly depends on your marketability and ability (specifically in short format). A modern day, glorified slave market, the IPL auction is. Then you land on the biggest stage possible and rake in the moolah. Through a system that reduces a rigorous discipline into a TRP-driven melodrama. The other, and more problematic aspect of IPL is that nobody is sure of the logic with which and IPL auction plays out. 
Obviously, it would be wrong to grudge young men of this poor, jobless country the chance to get rich. But we tend to forget, rags to riches stories hold charm only because there are more rags than riches. Today India has more billionaires than ever, along with unprecedented unemployment. Talent needs opportunity, to announce its presence and work, to work hard. Both are in short supply for us -- the 84 per cent. Celebrating the pomp of IPL and arguing about the privilege of its elite is actually a nice way to laugh at ourselves. The joke actually is on us.
(Pratik is an independent journalist based in Kolkata. He loves to write on politics, society and sports.)
Get the latest reports & analysis with people's perspective on Protests, movements & deep analytical videos, discussions of the current affairs in your Telegram app. Subscribe to NewsClick's Telegram channel & get Real-Time updates on stories, as they get published on our website.
Subscribe Newsclick On Telegram