Kashmir's 'Poet of Silence'- Winner of the Jnanpith Award, Dies at 98
Professor Rahman Rahi, revered for his excellence in Kashmiri poetry, passed away on Monday leaving behind a trail of rich legacy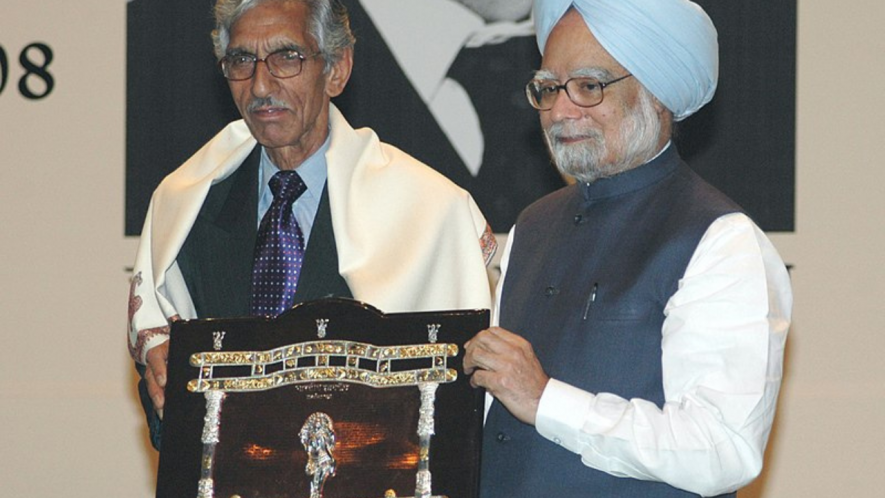 The then Prime Minister, Dr. Manmohan Singh presenting the 40th Jnanpith Award to Rahman Rahi, in New Delhi on November 06, 2008. | Image Courtesy: Wikimedia Commons
Srinagar: Renowned Kashmiri poet Professor Rahman Rahi, revered for his excellence in Kashmiri poetry, passed away on Monday leaving behind a trail of the rich legacy and literary devotees. He was 98.
Rahi died in the morning hours at his Vicharnag residence in Srinagar following which scores of his followers attended his final rites. His death was widely mourned in literary circles across the Kashmir valley with many terming his death 'the end of an era'.
Born in 1925, Rahi joined a government department as a clerk but later worked as a sub-editor in Urdu daily Khidmat. He went on to pursue a master's in Persian and English and later taught and headed the department of Kashmiri at the University of Kashmir until his retirement.
Following his death, the University of Kashmir held a condolence meeting that was attended by teachers, non-teachers and the students of the university. Rahi is also credited for writing the University's anthem 'Mouj Kasheer' (Mother Kashmir).
Rahi, considered a stalwart in literary circles, was awarded many literary awards including the prestigious 40th Jnanpith award in 2007 for his work titled Siyah Roodeh Jaeren Manz (In Black Drizzle). Earlier, he had received the Sahitya Akademi Award in 1961 for his poetic collection Nawroz-i-Saba and also received the Padma Shri award in 2000.
Many of the poets considered Rahi's passing away a personal loss. Zeeshan Jaipuri, an emerging poet from Kashmir, considered Rahi a poet of "emotions and feelings". His reverence for the poet reaches to the extent that Zeeshan compares the literary genius of Rahi with that of Mirza Ghalib.
"It can be easily said that Rahi was Mirza Ghalib of the Kashmiri language. There is no doubt in saying that no other poet matched the stature of Rahman Rahi. His death is a big loss for us," Zeeshan told NewsClick.
Rahi's death was widely condoled by the Jammu and Kashmir administrations and political leadership terming his death a 'colossal loss'.
Former chief minister Omar Abdullah said that the poet will be remembered for his pre-eminent contribution as a poet and as a critic enriching Kashmiri language and literature in a "profound manner".
"With his memorable poetry, he has left an indelible mark on the hearts of people. Today the literary world has suffered a great loss. May the departed soul rest in eternal peace. My condolences to his loved ones in this hour of grief," Omar was quoted as saying in a party statement.
Communist Party of India (Marxist) (CPI(M) member Muhammad Yousuf Tarigami took to the microblogging site Twitter and called Rahi the most outstanding figure in Kashmiri literature. "His creative brilliance found expression in various genres of literature. His works reflect the cultural and political vicissitudes of Kashmir. They'll continue to influence young bards and writers. Deep condolences," Tarigami Tweeted. 
But, Rahi, widely revered in literary circles, was not as popular as he should have been, something that Zeeshan acknowledged, will take time.
"It will take time for people to understand his work and contribution. His popularity will increase gradually along with the evolution in our society," he said. 
One of the key widely believed contributions of Rahi is that he asserted Kashmiri identity and constructed an imagination strict to Kashmiri ethos – that many considered symbolised a 'homecoming' of Kashmiri poetry from Persian and Urdu traditions.  
Dr Mufti Mudasir Farooqi, faculty of the Department of English, University of Kashmir, told NewsClick that Rahi was one of the most important poetic voices of the 20th Century even though the poet has not written much in the corpus. 
"He was able to give immense depth to Kashmiri," Mufti said.  
Much of Rahi's work was sung by prominent artists who composed various songs through his poetry. It was a song sung by versatile Raj Begum in the early 1960s called Rang Tchati Na Meani Jawani (My youthfulness longs in bloom) that brought initial popularity to Rahi among the masses. 
In one his works Zind Rozne Bapat, che Maran Luk – Tch Marakh Na! (Death for survival, will ye not embrace) popularised by late singer Vijay Kumar Malla struck a chord as the poet delves into the hard work common people do for survival. 
His known socialistic proclivities perhaps were the reason why Rahi chose to write predominantly in Kashmiri and reinforce the indigenity. With time, however, Rahi isolated himself from his surroundings as he passed several literary stages from being a participant in the progressive writing movement towards complexity. In his later years, he began choosing too many elements from Sanskrit in his poetry, which made his work more complex and challenging for his Kashmiri readers. 
Others called him "lucky" or the "poet of silence" perhaps for being indifferent or maintaining silence over pressing issues that marred the local populace. One of the reasons that he is called that, Mufti Mudasir says, is because he chose not to speak where he should have spoken which does not go to his credit from the point of view of his critics. 
"When he writes in the 1950s and 1960s, he does elude to the politics and situation. He is through and through a modern poet who is influenced by western modernism and he outgrew his fascination with progressive movement and moved towards cultivating a kind of ambiguity in his poetry," Mufti adds.  
Mufti Mudasir, who has translated much of Rahi's work himself, considers him through and through a "modern poet" who is influenced by western modernism. 
"He outgrew his fascination with progressive movement and moved towards cultivating a kind of ambiguity like TS Eliot in his poetry and you see he becomes increasingly difficult and Rahi's reader needs to be well versed with the past," he points out. 
The KU's English department is currently working on a volume that will publish a selection from Rahi's poetry in both Kashmiri and English translation. 
Get the latest reports & analysis with people's perspective on Protests, movements & deep analytical videos, discussions of the current affairs in your Telegram app. Subscribe to NewsClick's Telegram channel & get Real-Time updates on stories, as they get published on our website.
Subscribe Newsclick On Telegram