The Warne Supremacy: A Life With Some Spin on It | Obituary
There will never be another Shane Warne, that much is clear. But in a time when cricket was evolving into the behemoth it is today, He stood out for his outrageous talent, contempt for the mundane and a profligacy for the insane. It was something he wore with pride, and something we should all remember him for.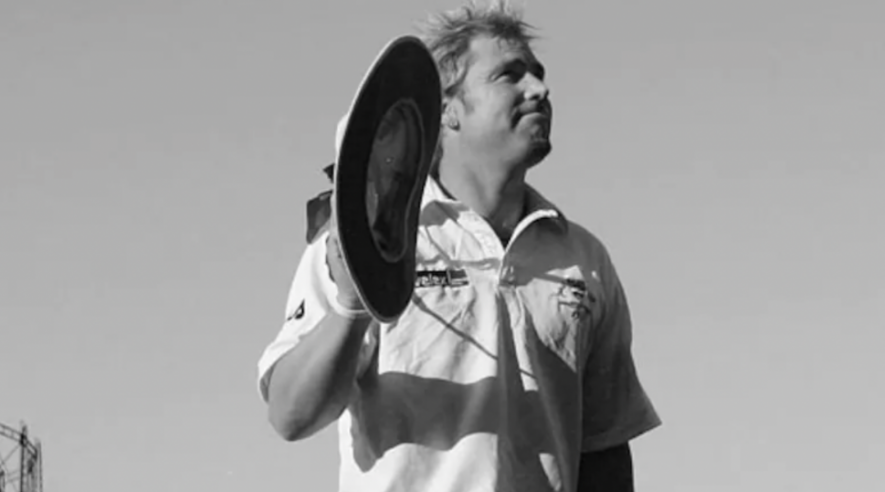 There is no point in judging Shane Warne's greatness by numbers. His greatness lies in the way he mastered not just the craft of leg-spin, but also the craft to spin the world fast enough that it bent or changed the pace of time.
No matter how conservative a disposition we maintain in life —  weighing the pros and cons of every turn, combining caution with gay abandon — we still are a product of chance. Life is a collection of gambles that pay off, and some that do not. It is a game of fine margins. It is our tryst with probability, inexplicably so. That is, perhaps, the main reason when something unexpected happens, it shocks us. Of course, it should not have happened, is how we start bantering with fate, before trying to rationalise it, balance the probability. Is probability rational? Now, that is a million dollar question. But the larger question here is, can we rationalise untimely death? 
We should not attempt to talk about the degree of probability in the sudden death of Shane Warne. He was 52. Young. Young enough by all conventions despite Covid-19 throwing all our expectations of life, out for a toss. Those who have lost close souls at a young age — I personally know dear ones who have — would wake up in a cold sweat, still trying to come to grips with the void, or find rationale behind the sudden demise. And fail. Next morning, life happens again, hopefully under a sunny sky.
Many years ago, on one such sunny day, I bumped into Shane Warne at Chepauk. It was long enough for me to forget the exact date, or even the context that facilitated the presence of the king of spin in Chennai. He was there, friendly enough to check with a "how you're doing, mate", before finishing his smoke to head back to the dressing room. 
Also Read | Russia-Ukraine War: Big Sport's Hard Hypocrisy as the World Uses its Soft Power
In sport, unlike life, we are excused for wishing failure on others and I am guilty of wishing Warne did not do well against India. In hindsight, I wish I had not for what he represents as far as purity of intent in sport is concerned. However, sport is forgiving, for failure or victory on the playing field lasts a few seconds — when heads droop or fists are pumped. Beyond that, hands are held. And Warne, fierce competitor that he used to be, would invariably be the first person to head to the other side of the fence to greet the competition, graceful in defeat, charming in victory.
It is probable that the person he shook hands with, and even hugged, was at the receiving end of some sharp remarks in the middle — a bit of an attack on the mind while his craft left the man guessing, second guessing, and eventually walking back to the pavilion. After almost each Warne wicket, the lovingly rebellious man probably extracted this question. Now, what was the chance of that?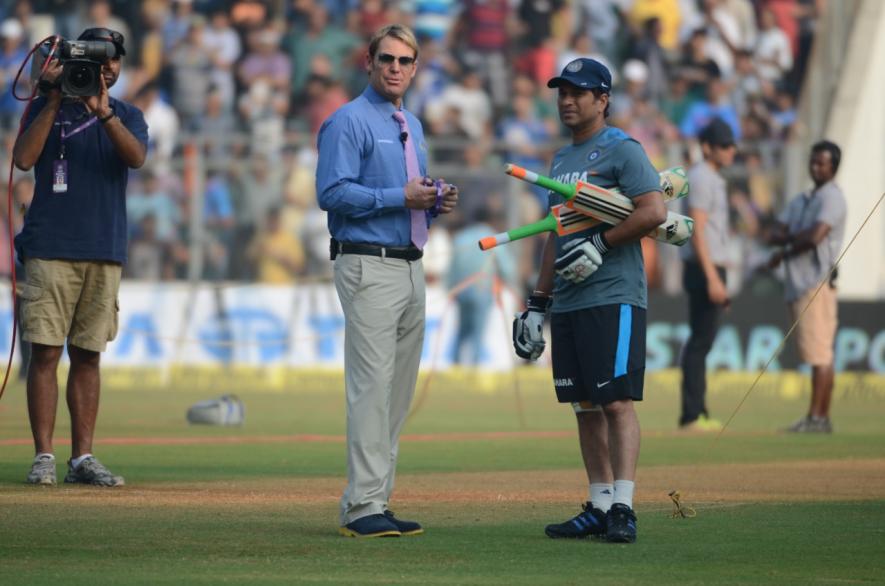 Shane Warne with Sachin Tendulkar during the Indian legend's farewell Test match (Pic: Vaibhav Raghunandan).
Irony indeed, that in death he leaves us with the same question.
Legspin is not rare but Warne's craft was. It is as ancient as the game itself and as eccentric as life itself. Now, this is not an attempt to say cricket is life, with 22 individuals acting as accomplices of fate, and perpetrators of probability. But, in many ways it is. And Warne was incredibly accomplished at sealing a batter's fate by extracting the vestiges of spin from the worst pitches.
There is no point in judging his greatness by numbers. His greatness lies in the way he mastered not just the craft of leg-spin, but also the craft to spin the world fast enough that it bent or changed the pace of time. Have you seen the ball hang when he twirls it towards your favourite batsmen at the other end of the pitch? In those brief milliseconds —  always measured in eternity — the revolution of the ball makes it unpredictable as life if not more. Then again, Warne, despite him leaving the ball up in the air, and beyond the control of his magical fingers, still seemed to hold the threads to its trajectory. He seemed to control its flight, its destiny and the fate of others in the mix. He knew where it would land, oh, on that ever so slight crack just outside the leg stump. The death rattle! Oh how did he do that?
Also Read | Cryptocurrency and Football's Perfect Match Causes Concerns
How did he end up doing that all the time? How consistent was he? So consistent that two days after his death, sitting to type out this piece, it still feels surreal. Of course it is real. It is a suspected heart attack. Warne, erratic in matters of health, was known for taking extreme diets quite whimsically, and even had a history of heart ailments, reports say. Did everything else catch up to him, much like those grand batsmen used to, stepping out to his wily deliveries?
Everyone gets caught at some point in time. And passed. But Warne won't.
His growth into the pinnacle of cricket was extraordinary even if he was also a product of the way the game was evolving at that time. No individual is bigger than the game, they say. But it is also true that there will not be another Warne. Not because there is a dearth of talent now or even that his records will stand for all time. Greatness isn't always measured in records and numbers. 
We are inclined to believe in Warne's exclusivity because of the grand stature he sculpted for himself. The game itself has evolved so much that it won't facilitate the moulding and growth of another Warne — personal eccentricities, and unique and novel technical brilliance intact. We believe in conveyor belt cricketers now, and the numbers they churn out. We have stopped believing in the twirl of fate, but are keen on the percentages that flat linear trajectories bring in. 
Warne was an aberration even during his time in the game. He broke the stereotype of the hyper fit Aussie cricketer. He smoked outside the dressing room during the warm up. Loved his beer too. He was an enigma in the game, arguably, the best cricketing brain of the day and a skipper Australian cricket missed out on. Ask the youngsters who broke through as part of the Rajasthan Royals side which he led to the title in the inaugural edition of the Indian Premier League.   
Warne led them to the title with such panache that despite it being a team triumph, we were inclined to acknowledge the great Aussie's sorcery — not just with the ball. Of course, he had been a world champion with one of the greatest teams in cricketing history. But his title with Royals warranted another type of acknowledgment. 'The Warne Supremacy', read my championship headline at the publication I was working for at the time, a play on a popular Hollywood movie of the time, but also a salute to what he brought to his team as a leader in this new experiment that ended up revolutionising the way cricket is played and consumed now. 
Supremacy and beyond indeed. But with rationale. Unlike his life and his death.
Get the latest reports & analysis with people's perspective on Protests, movements & deep analytical videos, discussions of the current affairs in your Telegram app. Subscribe to NewsClick's Telegram channel & get Real-Time updates on stories, as they get published on our website.
Subscribe Newsclick On Telegram