Kolkata's Safai Karamcharis: A Gritty Tale of Neglect and Hardship
Most of the Corporation's sanitation workers belong to Scheduled Caste communities and are allegedly mistreated by authorities.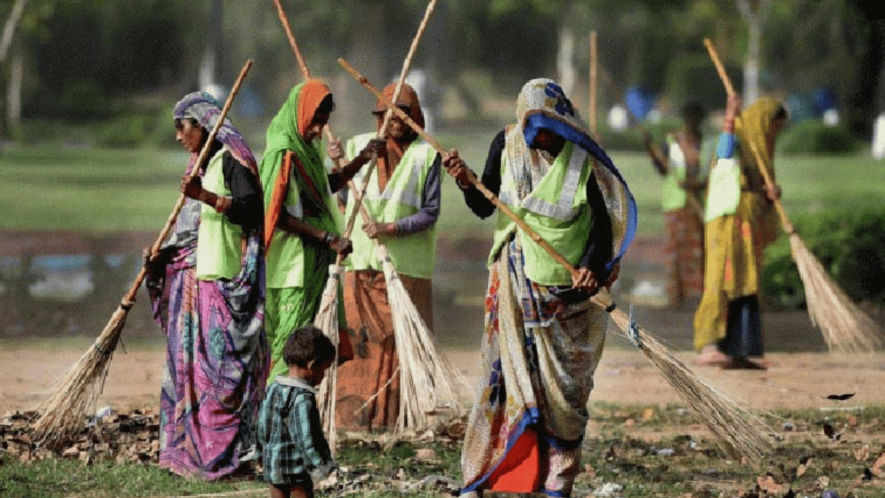 Representational Image. Image Courtesy: PTI
Kolkata: In Kolkata, the capital of Trinamool Congress-ruled West Bengal, safai karamcharis, or sanitation workers, face dire living and labour conditions.
Rajkumar Dosad (55), alias Bajrangi, is a safai karamchari of Kolkata Municipal Corporation. Originally hailing from Jharkhand, he has worked in sanitation for the last 30 years with Kolkata Municipal Corporation (KMC). He is now a supervisor in the department. 
"Our quarters are dilapidated, and most of the residents of the safai karamchari quarters are in proximity with the ruling party of the state, the Trinamool Congress. In one small dingy room, two to three persons have to stay with no amenities of running water or toilet facilities are also not clean. We live the life of third-grade citizens in the country," said Dosad, who belongs to a dalit community, while speaking to NewsClick.
A significant number of safai karamcharis in the city come from the dalit community and allegedly face mistreatment from KMC authorities. They are required to work 365 days a year without any additional benefits. Previously, there was a provision for weekly holiday wages to supplement the income of safai karamcharis. However, after the advent of COVID-19, all such provisions ceased. They are no longer entitled to holiday wages and must work throughout the year.
Dosad's primary responsibility is maintaining the city's cleanliness by removing waste. Most of them have to transport waste from designated bins to the KMC's compression machines using hand carts, covering distances of around three kilometres with six to seven quintals of filth. This demands considerable physical strength from the workers.
Most of the Corporation's sanitation workers belong to Scheduled Caste communities, hailing from Bihar, Jharkhand, and Uttar Pradesh. Some receive wages as low as Rs 202 daily for eight hours of strenuous work. 
KMC has about 14,000 permanent positions for conservancy mazdoors; of these posts, only 6,000 are currently filled. The remaining positions are temporarily occupied through the 100-day urban work program, with workers receiving meagre wages of Rs 202 per day. They perform the same duties as permanent conservancy mazdoors.
"We toil under stringent conditions; frequently, authorities use foul language to compel us to work. Instead of cleaning a single road, we are often tasked with sweeping two to three roads, which is demanding for a safai mazdoor," Dosad informed NewsClick.
"At times, we don't have access to water for a proper bath, and our quarters lack bathrooms. These quarters are in a state of disrepair, with some even lacking doors and windows, which were broken long ago. In these cramped 8x8 rooms, we place khatias (small cots) one by one or use mattresses on the floor for sleeping at night. Each 8x8 room accommodates four to six mazdoors. The quarters have not seen repairs since 2011, during the time of the Left Front government."
The practice of replacing retiring permanent conservancy mazdoors with badli workers, many of whom are family members of mazdoors, has nearly ceased. External recruitment is now the norm. "There is also a category of badli workers who receive Rs 404 per day, but their numbers are dwindling rapidly," Dosad added.
For Murli Paswan (58), another dalit worker from Jharkhand, life in Kolkata is demanding. His main concern is that since 2020, conservancy mazdoors have not been granted any holidays, be it calendar holidays or paid leaves. "This system has also been discontinued, and now there are no holidays for conservancy mazdoors in Kolkata city. It is physically impossible to work without any time off. Even if we are unwell or have fever, we are expected to work as tirelessly as a bullock in the field," Paswan remarked.
Another challenge facing conservancy mazdoors is that many of them are denied access to the dingy quarters, which are now occupied by outsiders. "If you were to survey our quarters, you would find that over 60% of the rooms are occupied by outsiders, and we are compelled to live in shanties near our work area," Paswan added.
In a conversation with NewsClick, Manas Sinha, Secretary of KMC Engineers and Allied Services Association, echoed Dosad's complaints and indicated that his organisation was actively mobilising to support conservancy mazdoors. "They are denied holidays, and during the COVID period, they were not provided with PPE kits and were forced to handle sanitation waste without protection. If any of them contracted COVID-19, the Corporation would not cover their treatment costs," Sinha alleged.
"Under the earlier Left Front-controlled boards (which lasted until 2010), workers used to receive two shirts, raincoats, and gumboots as their work was hazardous. However, all of these benefits have now been discontinued. We are urging the Corporation to reinstate the provision of safety kits," Sinhas said. 
He further said that previously, there were efforts to improve the living conditions of conservancy workers' quarters, but now, all such efforts have ceased. The present board is employing conservancy mazdoors through the 100-day urban employment generation program. "The workers get a mere Rs 202 per day, despite their performing permanent nature jobs in the 144 wards of Kolkata Corporation. This contradicts the Supreme Court's 'same work, same pay' ruling. Casual leaves, earned leaves, and medical leaves for mazdoors also exist only on paper," Sinha added.
The union is also advocating for permanent status for contract workers of the KMC, a matter with which the present board is currently procrastinating.
Get the latest reports & analysis with people's perspective on Protests, movements & deep analytical videos, discussions of the current affairs in your Telegram app. Subscribe to NewsClick's Telegram channel & get Real-Time updates on stories, as they get published on our website.
Subscribe Newsclick On Telegram