Playing Patience on an Island: Story of Andaman and Nicobar's Elite, Yet Poor, Cyclists
Despite minimum resources, a support system fraught with delays, and the hardships that follow, cycling on Andaman and Nicobar island endures, not because of the system but despite it. The narrative is the same even if you are Esow Alben, a world medallist, or B Neeta, a coach with a job that doesn't pay.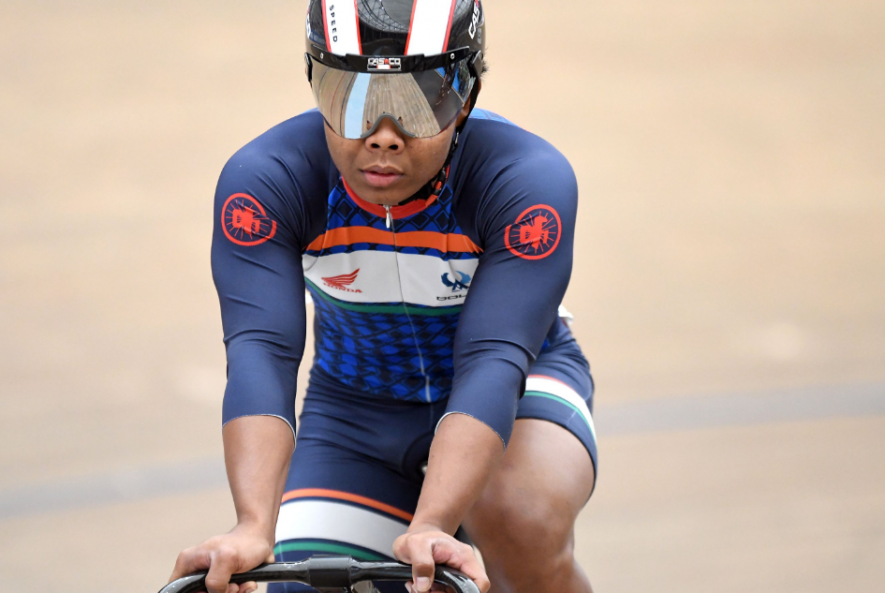 Esow Alben of Andaman and Nicobar islands claimed India's first ever medal at a world championships, a silver at the UCI Junior Track Cycling Worlds in Aigle, Switzerland, in 2018 (Pic: UCI).
Esow Alben has just finished a workout improvised with a little help from a younger sibling. You could feel the adrenaline through the phone. He had pumped out some pushups, spot jogged, skipped and played badminton, all in the hope that his legs are churning. "I don't want to put on too much weight," he laughs, "there is always that danger when you are around your mother's cooking."
50 kilometers away, on the island of Bombooflat, N Nikita has just returned from the market. "I kind of look forward to going out to get supplies,"she says. On a phone line that is crackling and constantly threatening to disconnect, she painstakingly tries to explain how this simple exercise is joyful in the strange times we are all stuck in. "The lines outside the ration shops are very long, often enough we stand for hours, but it's reassuring. You get to see a lot more people, it gives you some perspective on what is happening. It bursts your bubble."
Coronavirus is the great leveller. Rich, poor, athlete and couch potato alike have been plunged into insecurity in isolation. Humanity has been bound together by an inability to imagine what life will be like in two weeks, let alone two months. That is the myth being sold to us.
Ask B Neeta, sitting in a corner of Port Blair, not too far away from Alben, trying desperately to get her phone working. "You called on the other number I know," she says, her voice sucked into its own desperation. "I haven't paid the bill, so I can't receive calls. What can I do? I don't have the money." 
Also Read | Kerala's Sports System Adds Massive Volunteer Base to Covid-19 Containment Effort
The pandemic isn't equal. It has amplified existing inequalities, injustices and insecurities. A scroll through social media will show you that. The first week of the lockdown and the mass exodus of migrant workers that followed. The second week and the 'workout from home' videos that infected your feed. Sprinkled in between is the Indian National Circus. At the call of a ringmaster, you either clap, bang your plates together or light candles around your home. To what end no one knows. How does this help those most affected by the crisis? It is another subtle reminder that nobody really cares as long as the TV is working. 
Meanwhile, on an island isolated by geography first and governance later, a trio of cyclists negotiate life in ways only they know best. 
They perfectly illustrate the extremities of life in lockdown. Esow, the prodigy, is being mentored via the internet, his training regimes set and disseminated from Delhi. Nikita, the enterprising prospect, is figuring out solutions for her problems in her own way. And far away from all this, B Neeta, a first generation Indian cycling star, a coach in the present, is stuck in a lockdown without a future and a past that refuses to pay up. 
The heartwarming tale of cycling in Andaman and Nicobar, its abundant talent in absolute obscurity, is one of Indian sport's enduring narratives. It is a shining example of how diverse our country is and how deep the pockets that can produce champions are. But, as it is with all sports — there is also something darker. Beneath the puff pieces, the beautiful features and the documentaries is a gritty reality. A sporting inequality that refuses to change.
                                                                                    ***
Neeta's troubles started somewhere around Independence Day in 2018. A multiple national medallist, Neeta was working on contract as a cycling coach for the Andaman & Nicobar State Sports Council since 2014. Every few months she would receive an extension — one that would occasionally be sprinkled with an increase in her salary. But that year, despite all the paperwork going through, the extension never arrived. 
Neeta, meanwhile, remained a part of the coaching setup — Esow, Nikita and many more cyclists currently who were part of the national camp have all come through under her tutelage — without getting a salary. For the first few months, Subhendu Sengupta, some of the other coaches supported her, helping her out with money and food. Neeta moved in with her friend, Maggie, a former cyclist herself who works as a peon in the State Olympic Association, in the hope that as soon as hre contract came through, she would pay everyone back. 
"I understand everyone is struggling right now," Neeta says, "But things get tougher when you have no money at all. I haven't been paid for two years now. In times like these, even people's goodwill will dry up. I have no money for rations, no money to contribute to the household. Basically I am living off Maggie's Rs. 7000 monthly income. It is an awful feeling."
The problem, in the way Subhendu Sengupta tells it, is the isolation itself. With access comes privilege. In being separated from the mainland, the Andaman & Nicobar islands live in a bubble of their own. Delays are a regular occurrence. Coordinating with Delhi — which is where the Director was often based — would cause a time lag that everyone on the island had learnt to live with. People worked under the assumed assurance that things would work out. 
"It is a regular system. Salaries get delayed by six months, sometimes they only come along with a new contract, it is how it goes," Sengupta, the head cycling coach at the Andamans State Sport Council (SSC) says. "This happens to all of us. Some of us get help, but mostly this is how things go."
Also Read | Caste, Creed, Corporation: A Brief History of Bias in Indian Football
Increased pressure and scrutiny on the SSC has not made things any easier. Ever since the SAI Special Area Games Centre in Port Blair was rocked by sexual molestation allegations in May 2018, parents and children alike have stopped enrolling in the hostel. This has spiralled into the SSC's own hostellers, many of whom were first stuffed in with the SAI trainees and then left of their own accord. The SSC hostel programme is more or less abandoned. 
Even as Andamans cycling has maintained a consistency in quality, funding has never really gone up. Coaches who spoke on condition of anonymity, say cycles and equipment was last bought in 2005, most of which has not been upgraded since. Five years back, some of the coaches rallied together and  bought two new cycles, a few tyres and rims, and wrote a letter to the Lieutenant Governor, casually informing him of what had been done. If the idea was to ensure attention was focussed on what had been done, it worked. Almost immediately, the SSC went in to damage control. But it wasn't the kind, you would expect. 
"We were asked to shut up and not create a ruckus," a coach says. "We thought they might be spurred into action. And they were, but it wasn't the kind we expected."
                                                                                         ***
"You have to remember that this is a small island, people here know each other intimately. Over generations. Mainlanders come and go, leaving a trail of breadcrumbs they never have to pick up," Sengupta says. The coach himself was sent to the Andamans as a 'punishment posting' for asking too many questions and ruffling too many feathers in Kolkata. He has been in the Andamans for over a decade now. 
"I may have been here for a long while but I am at heart from the mainland. If I see injustice, I call it out," he says. Multiple times, Sengupta says he has reached out to the Director Sports for A&N, asking about Neeta's contract extension. He has been assured that the papers have been cleared and signed and sent over. Nothing has moved since. (Newsclick's attempts to reach Kamlesh Kumar, the Director of Sports for A&N, for comment were met with no response).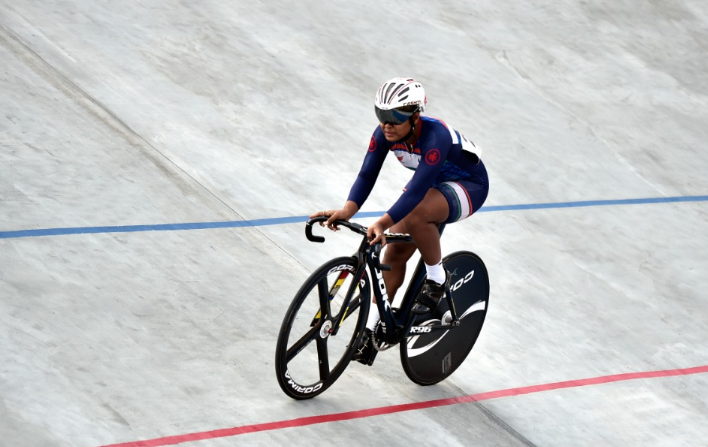 N Nikita in action at the velodrome during the Khelo India Youth Games (Pic: Vaibhav Raghunandan).
"I can't tell you sir why this extension has not yet come through," Neeta mourns, "It is not like I'm the only one. There is a football coach, L Joseph, who is stuck in a similar quandary. We had both sent over a letter asking for information about this at the end of last year. We have received no response."
"Do you want me to tell you why this is happening?" Sengupta asks, a conspiratorial tone evident in his voice. "Even the smallest of paper pushers assume great importance when it comes to something like this. Any idiot with a 12th class degree is put into posts they don't deserve and they get the power to affect other people's lives with it. If the papers have been signed in Delhi, then obviously they are with the BDO right? So do the math. Who do you think is the problem?"
In the meantime, Neeta and her colleagues are stuck in a limbo with no respite. Those with confirmed contracts are not devoid of fear either. Payments, anyway delayed may be delayed further because of the lockdown. Contractual employment means none of them get wire transfers and instead have to rely on the dated method of a signed cheque to get paid. With state borders closed, and all transport services suspended, these cheques could take a long while to get through. 
"All of us have families reliant on us. Sport venues have been shut down indefinitely. None of us are coaching. Who can say that they won't just cut us off?" Sengupta complains. "As worried as I am about our coaches, I am also worried about the kids. The training, the cycling, would keep them busy. Keep them occupied."
Also Read | Future Sense: A Window of Opportunity That Could Change eSports Forever
If you look closely, sport is just a bad romance. Despite the worst of situations sometimes it prevails. Despite the best circumstance, it fails. Working on minimum resources, the Andamans have produced some of India's greatest cyclists. Despite those minimum resources and the hardships that follow, Andamans cycling endures. It endures not because of the system but despite it.
It endures because of the enterprise of its athletes. Esow's younger sibling is part barbell, part pupil, taught the basics of the sport as a reward for being a good companion. Esow, after all, started the same way, coached by family first. "It is entertaining to do that. Gives you something else to do besides focussing on yourself." 
Nikita has bought herself a cycle with the money she was awarded by the state for winning a silver in the team sprint at the Junior Asian Track Cycling Championships last year. It was her first purchase after being released from the camp and sent back home in February, much before everything shut down. It was almost like she had preempted it. Every evening she takes it out, dusts it down, puts it on rollers and pedals away. "It isn't the same as being on the track, but if you close your eyes you can pretend, at least for a short while, that it is," she says. 
Neeta has no such illusions. She is a coach, only useful with someone to coach. While athletes find solace in training in solitude, coaches twiddle their thumbs. She waits in the hope that help will come from some quarter, because, if she doesn't she finds it difficult to get through the day. "I haven't spoken to the kids about this. No," she says, "What's the point of bothering them? They are kids. They have their own troubles. Everyone does. We all just want to survive."
Get the latest reports & analysis with people's perspective on Protests, movements & deep analytical videos, discussions of the current affairs in your Telegram app. Subscribe to NewsClick's Telegram channel & get Real-Time updates on stories, as they get published on our website.
Subscribe Newsclick On Telegram