Kerala's Sports System Adds Massive Volunteer Base to Covid-19 Containment Effort; Stars like CK Vineeth Pitch In
Jamshedpur FC's midfielder and Kannur's very own CK Vineeth is at the frontlines of a state emergency, manning relief efforts during the lockdown. He is one of many sportspersons in Kerala who have come together to fight the crisis head on and aid the state departments in any way possible.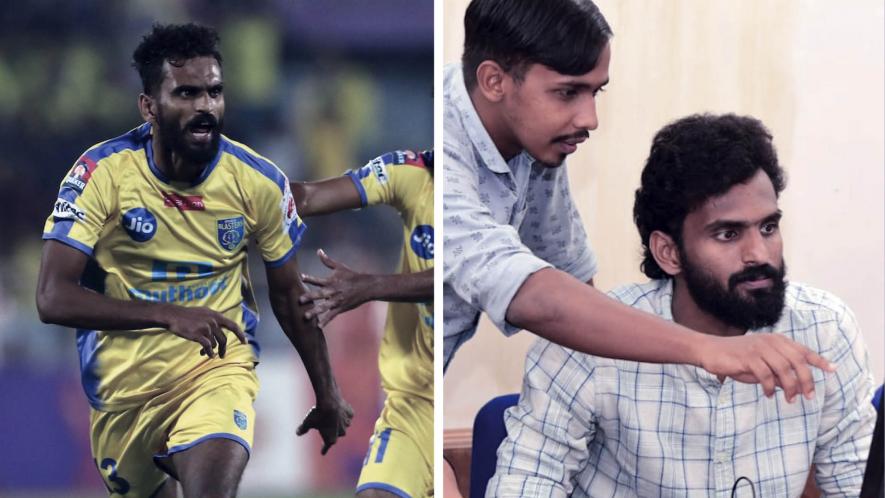 CK Vineeth, who plays in the Indian Super League, volunteers at the Covid-19 call centre which coordinates supply of essentials to rural and semi-rural population in Kannur, Kerala.
The premise or notion that sport is an important cog in society, intrinsically woven into the social fabric, and integral to its well being as well as its future is something we have grown believing. However, superstardom — akin to the Bollywood typecast — while making athletes and their sport familiar, has at the same time also made them increasingly distant, aloof even. A global pandemic, physical distancing and nationwide lockdowns have highlighted the gulf further as the athletes we adore remain in silos, becoming faces behind social media goodwill messages and campaigns. Sport as an establishment — and this cuts across political borders — is digging trenches for the economic winter ahead, furloughing itself, playing into a survival game perhaps of its own making. Organised sport is stuck in a dystopian dimension while life and death situations are being played out in a very real world. 
Then, there is Kerala.
"I seriously do not understand why they are intrigued by what I do," asks Indian footballer CK Vineeth. One could sense a bit of a rush in the player's voice. He has taken a lunch break and is keen to get back to his station, manning one of the phone and computer terminals of a Covid-19 essential commodity distribution network set up by the Kannur District Panchayat in North Kerala.
Read More | There is Something About Mary Kom
Vineeth, who played for Jamshedpur FC in the recently concluded Indian Super League (ISL) season, has been involved in the effort of the district panchayat as a volunteer from the second day of the countrywide lockdown which began on March 22. His village, Vengad, and adjoining areas, has relatively high numbers of Covid-19 cases, owing perhaps to the fact that Kannur, and north Kerala in general, has a sizable population who work in West Asia. 
"Kannur, as we know, is one of the worst hit districts in Kerala," says Vineet. Of course, when he says worst, the number is relative to other places in a state that has been the most successful and systematic in dealing with the Covid-19 crisis. As of April 10, Kannur had 61 reported cases and 32 active ones, while the state has 258 active cases in 14 districts (total reported: 357).  
Understandably, the highly evolved healthcare mechanism which encompasses the ideal of universal care, district authorities, along with the strong local governing bodies and their networks — an hallmark of the state which has been widely discussed and applauded — swung into hyperdrive. Vineeth was not going to be benched for this one. The footballer was very actively involved in relief work during the devastating floods that crippled the state in 2018. This, however, is testing the resolve and resilience of the people of Kerala to newer levels, and Vineeth was never going to sit it out. 
Read More | Ode to the Nameless, Faceless Sports Empowerer Set to Lose From a No-Show IPL
"In fact, I am not the only one," he says. "That is why I ask again, why talk about what I am doing at the moment when there are many others who are doing much more important and possibly risky jobs. And I am talking specifically about sports persons here," adds Vineet, trying to tone down the talk about the symbolism of a professional footballer — a star in his own right in Kerala — getting hands on in the fight against Covid-19.
This sidestepping has nothing to do with his inherent humility, which makes him trivialise his own efforts be it during the floods or now. He was trying to present the real picture in Kerala — how the entire sporting mechanism of a state known for its production line of athletes has gotten behind its society in an hour of crisis. 
Vineeth is part of a team set up by the Kannur District Sports Council, while across the state, the Kerala State Sports Council has pledged its entire might — from assets to athletes, coaches and officials — to volunteer for the plans set up by the state government.  
OK Vineesh, Kerala State Sports Council vice president, provided Newsclick with an overall picture of the micro-level involvement of athletes in what has become a collective front facing the virus. He directly oversees the effort in Kannur, with around 30 sportspersons including Vineeth working as a team.  
"The effort by the state government and other agencies right up to the local and panchayat level is pretty complex and involves a lot of coordination and planning," he says. "And, the Sports Council, has dedicated our resources to the effort. Of course, the role we play is different in various districts and areas."
"For instance in Kannur, where Vineeth and V Midhun (Kerala Santosh Trophy captain) are part of the efforts, the entire supply chain for essential commodities from groceries to medicines is managed by the district sports council and its athletes and affiliated clubs and units. In the coming days, we also have plans to extend supply of essentials to health workers who would be going under self quarantine," he elaborates. "In Thiruvananthapuram, the capital district, the sports council is involved in maintaining the supply chain for the community kitchen set up for preparing food for migrant labourers and the underprivileged who depend on it. The effort in the state capital is led by coaches and the District Council president. The Sports Council has also pledged hostels and stadiums which could be taken over and used by the government — be it for quarantine or for setting up temporary hospital units for Covid-19 patients in case the situation escalates."
So far, though, the efforts have been so on the dot that escalation is unlikely in Kerala. The state has the lowest mortality rate, with only two deaths so far, while the containment and monitoring efforts have yielded results quite visibly. It is in this specific effort — containment — that Vineeth, a midfielder on field, has found his role. 
"Our job in the district is to ensure people don't have to get out of their homes and potentially expose themselves," says Vineeth. 
"The athletes and youngsters involved in maintaining this supply chain deliver the goods, guided by us at the call centre. As athletes, we are doing our part in this collective. It is a significant role, just like the ones they execute on the playing field."
Read More | Caste, Creed, Corporation: A Brief History of Bias in Indian Football
This is not a game, though. Vineeth as well as the athletes involved know that. Hours of training to meet the stringent demands of professional or elite level sport (or any level for that matter) doesn't prepare anyone for manning a call centre for relief coordination or running errands for an old couple in a remote village, exposing oneself to a deadly virus. That requires a conviction and a sense of social responsibility that is not forged in gyms, neither can it be triggered by voice conferencing with the premier of the country. It comes out when one is true to the society that made him or her an athlete, and then later, a star. 
Coaches, sports administrators and athletes in Kerala — young, old internationals or district level trainees — also tell us that the question is not about being an exemplary role model on the field. The question is the role you are willing to play beyond it. And nothing like a crisis to show us the ones with the real gold medals in their cabinets.
Get the latest reports & analysis with people's perspective on Protests, movements & deep analytical videos, discussions of the current affairs in your Telegram app. Subscribe to NewsClick's Telegram channel & get Real-Time updates on stories, as they get published on our website.
Subscribe Newsclick On Telegram