Lost in Ladakh: The Cold Truth Wrapped in a Feel Good Khelo India Story
Archers Nusrat Rehman and Yasmeen Batool, who were given wildcard entries to represent Ladakh, the newly-formed Union Territory, at Khelo India Youth Games 2020, talk about the lack of, well, anything, for an athlete to train back home. While the Games, in turn, failed to fulfill the promises made to them.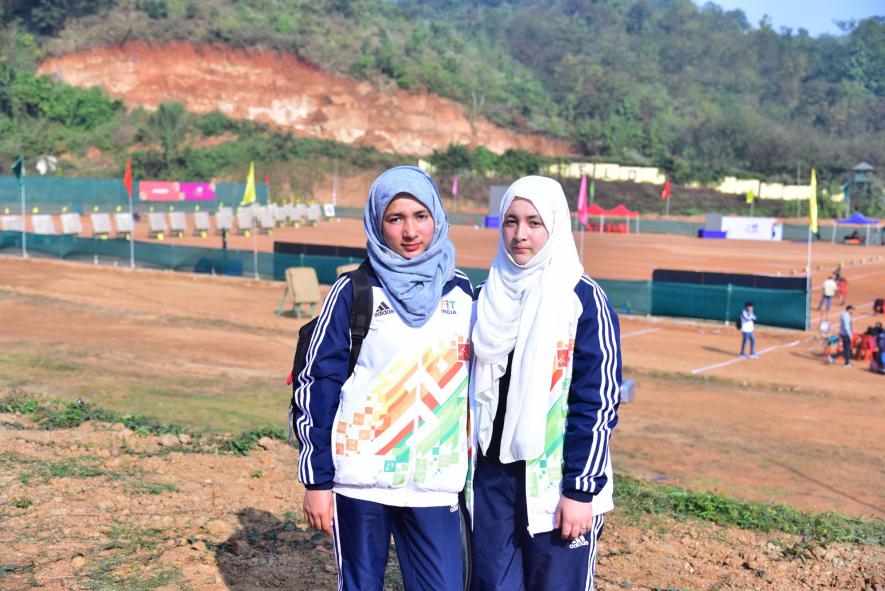 Archers Nusrat Rehman and Yasmeen Batool from Ladakh at the Khelo India Youth Games 2020 archery venue.
One of the most eye-catching images of the Khelo India Youth Games 2020 in Guwahati was that of two girls wearing headscarves walking around the archery course – dragging their equipment bags behind them, while a manager in tow was handing out dry fruits to anyone who cared enough to venture close and say hello.
Much before the Khelo India Games were declared officially open, the story of the Games had been cemented in stone. As much as the event is sporting it is also meant to be good PR. Everyone acknowledges this. The posters across the city aren't an invitation to attend the Games. It is a reminder that they are happening 'at the sporting capital of the country'. 
There are over 2,74,000 people in the freshly minted Union Territory of Ladakh. In Guwahati, two of them become its first competitors at a national sporting event.
Also Read | Fidel, Raegan and a Game of Table Tennis In Guwahati
"Archery is a traditional sport in Ladakh. My uncle was an archer, an elder cousin has also been an archer," Nusrat Rehman shrugs. Rehman and Yasmeen Batool were part of a seven member Ladakh contingent invited for the Khelo India Games in Guwahati. The two, recurve archers, were granted a wildcard for the Under-17 event.
The mood is buoyant. They are excited about everything. They walk around looking at the venue in awe, eyeing the equipment their competitors are using, posing for a few pictures before settling down on a patch of grass in the sun. Their manager Khalida Bano drops some water bottles beside them.
"This is great weather," Bano says, "As you must know, right now its freezing up there [in Ladakh]. The girls haven't actually had much time and space to practice."
Batool confides that she hasn't trained for a few months now. She is from Kargil. The Youth Department arena she uses as a training facility was shut for the winter. When the invite came through, she initially considered declining it.
"There was no scope for me to practice," she complains, "But my parents and the coaches there, everyone said I should grab this opportunity with both hands and make sure I am here. But I am a bit nervous."
Also Read | Hum Khelenge: Football Becomes a Medium of Protest Against CAA-NRC and State Brutality
The next day, she pulls a muscle in the warmup and is forced to withdraw from competition.
Rehman is the more experienced. She competed at the Jr. Nationals before the Games, and has extensive experience at state [Jammu and Kashmir] level competitions. She started archery four years ago when a teacher at Islamia Public School in Leh introduced her to the sport. 
"Girls don't usually do archery there," she says. "But my parents encouraged me. They built a small course for me at home, and even capitulated when I forced them to buy equipment. It is second hand, but it is mine!" 
She doesn't say much about what will happen in the competition. She'd rather just focus on what she can do about it. All the while, basking in the sun, talking in spurts, she is eyeing a Haryana competitor practicing around 10 yards away.
Finally, she talks not about herself but the archer on the practice course. "That is Tisha Punia from Haryana. She should be one of the favourites for the event. She is a very good archer, won the gold at the 2018 Nationals…"
Bano passes around some dried apricots. Everyone chews on them for a while. After a long silence, Bano speaks up. "When they train at home, they are clad in layers of clothing, jackets, mufflers, gloves and what not. This is summer." She says this as she adjusts her sunglasses. The two girls stare impassively in the distance. 
Also Read | Khelo India: Why PM Modi Decided not to Show up to His Own Games
The next day, just after the qualifiers for the recurve, the three are huddled in the sun again. In the same spot. But things are very different. Batool, who dropped out very early, has a shawl draped over her injured shoulder. She is on her phone. Bano is wearing a cap today and is also looking downcast. Nusrat is in a mood that can best be described, perhaps not so much as 'black cloud hanging over a head' but the black cloud itself.
"Aao, baitho," Bano graciously offers, moving a bag away. I want to ask them about their coaches, their facilities, I want a little more detail, I start. "Chalo, ab saari bhadaas nikal do (now you open up everything)," Bano laughs at her wards.
The mask drops. PR be damned, truth must be told. Ladakh was carved out to mainstream the marginalised. To help those ostracized by their own state apparently. At the first opportunity they get then, they let loose. 
"That is the biggest problem, we have no facilities. No coaches who can make us better. Our equipment is so old and so low on quality I don't know what to say." Nusrat has been waiting perhaps her whole life to say this. The PR is over. If you felt good, this is where the story ends. 
Batool chips in. "At the Youth Department, the equipment is damaged and hugely faulty. The bows all the archers are using here have stabilisers. The one I got from Kargil, is embarassing."
Also Read | A Quick Reminder on the Realities of Life: You Never Walk Alone, So Don't Try
Nusrat goes again. "Forget the bows, our arrows are of varied quality. Some are good, some are bad, most are terrible. You have no idea which way they will go. Not only do you have to adjust your technique to the conditions, now I also have to do it arrow by arrow."
Bano isn't a coach. She is a former shot-putter, who has been assigned as manager for the two girls for the Khelo India Games. She says the organisers insisted that the girls travel to Guwahati – they flew in on a special Spice Jet aircraft from Delhi – and said they would provide the equipment for competition.
"In the Games guidebook it says that equipment will be provided. Nonetheless, I had asked the girls to carry their own. You know, I figured maybe they were more comfortable with it," she says. "Thankfully they did. If they hadn't they wouldn't have been able to take part. These guys had nothing." The glasses are off. She is scowling now.
"If there is one complaint that is what we have. We don't have any coaches there," Nusrat says. "And we don't have good equipment either," Batool chips in.
"Yes. We don't have coaches and we don't have equipment. So we train by ourselves. We can get better, but only if someone helps us out," Nusrat goes again.
Bano concedes that the budget allocated to the sports department was so minimal, that almost nothing was spent on infrastructure. There is a vague sense of hope, despite everything indicating the contrary, that the new Union Territory of Ladakh will be in line for a windfall courtesy the Central government. Sport in places such as Leh, Drass and Kargil isn't high on any priority list even in good times. When you consider the economic and political realities of today, from this correspondent's perspective, hope maybe the most they get.
Nusrat looks away in the distance. She has qualified for the next round – the pre-quarterfinals – not by virtue of having shot well, but because there are just sixteen archers in competition. A few hours later, she goes up against Tisha Punia and loses tamely. 85-34. Punia goes on to win gold.
Later in an interview Punia confesses she expected much more from the field at the Games. "I mean, I don't want to sound arrogant, but I genuinely thought it will be tough for me to win gold. With my exams coming up, I've also been a bit wayward with my training. But, it was very easy…" she laughs.
Two days later, sitting on the grass, under a warm Assam sun, Nusrat's black cloud is still hanging. "It is impossible for us to get better with the facilities we have. I mean, what is the point…"
Also Read | There is Something About Mary Kom
"Well at least we came on a flight. A special one!" Bano laughs. She is trying desperately to inject some positivity here. The candidness was a pleasant change, but eventually some good PR is the need of the hour. "I mean, it's already a huge step forward. Earlier we had to take a bus to Srinagar, then get to Jammu, and then take a train to Delhi and go wherever." Fair point. However, one might ask what purpose flying all the way to Guwahati serves for hundreds of young athletes if at the other end even the basics aren't up to scratch. 
Nusrat took the overland route to the Nationals in Chhattisgarh two years ago. The flight was good PR. It was comfort, but also PR. It may never happen again. I point this out.  
"We also got to meet Mary Kom," Bano triumphantly says. She pulls out a phone to show me a photo. The girls disappear into theirs.
Get the latest reports & analysis with people's perspective on Protests, movements & deep analytical videos, discussions of the current affairs in your Telegram app. Subscribe to NewsClick's Telegram channel & get Real-Time updates on stories, as they get published on our website.
Subscribe Newsclick On Telegram