Marcus Rashford Campaigns Hard for Free Meals for Children; Hundreds of Unpaid Football Players Seek Help From FIFA Fund and More (Football Round-up)
Short Passes (Football News Round-up): England's Marcus Rashford steps up his campaign for free meals for children | Hundreds of unpaid football players seek help from FIFA find to tide over crisis | East Bengal's Johnny Acosta leaves for home | Cesc Fàbregas opens up on racism | FIFA urges 'tolerance' after Donald Trump's anthem kneeling rebuke.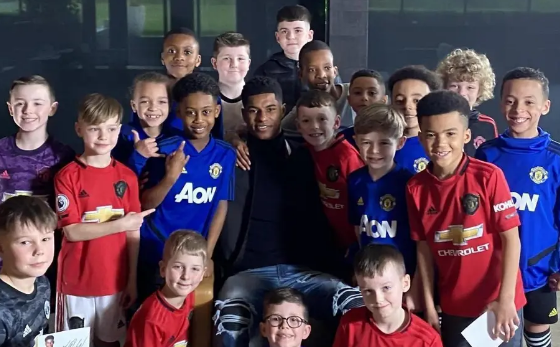 Marcus Rashford's contribution helped raise around $25 million for the charity, FareShare UK, to provide meals to those families that are existing on a knife's edge (Pic: The Independent, Twitter).
Manchester United and England forward Marcus Rashford has sped up his campaign for the government to fund free meals for struggling children through the lockdown in summer. 
The 22-year-old striker's contribution helped raise around $25 million for the charity, FareShare UK, to provide meals to those families that are existing on a knife's edge. He has asked for the government's food scheme to continue when the schools remain shut in summer. 
Also Read | The Indian Premier League: A Monster That Threatens To Consume Its Maker, And Cricket Itself
"Whilst 1.3 million children in England are registered for free school meals, one quarter of these children have not been given any support since the school closures were ordered." he wrote in a letter to the government posted on Twitter.
"Food banks and soup kitchens were not alien to us; I recall very clearly our visits to Northern Moor to collect our Christmas dinners every year," he added. 
"As a black man from a low-income family in Wythenshawe, Manchester, I could have been just another statistic. Instead, due to the selfless actions of my mum, my family, my neighbours, and my coaches, the only stats I'm associated with are goals, appearances and caps. I would be doing myself, my family and my community an injustice if I didn't stand here today with my voice and my platform and ask you for help." 
A spokesperson for Boris Johnson stated that the prime minister would respond as soon as he could. He further added that the government has approved to give  63 million pounds ($79 million)  to local authorities to help families in need.
Players Seek Help From FIFA Fund
FIFA has received more than 400 applications for financial assistance from players with a bulk of them coming from Europe. A total of 441 players were confirmed with FIFA Fund for Football Players (FFP), that has been designed to help players to claim for unpaid wages from the clubs. 
Also Read | Chronicle of a Merger Foretold: The Swift Death of the Legacy of Mohun Bagan
Around 89 per cent  of those who applied were from clubs in Europe with the remaining 11 per cent from other parts of the world. Players can still apply until the end of June through the world players union FIFPRO. 
FIFA has put aside $16 million up till 2022. This includes $3 million for 2020, plus a pot of $5 million to reimburse players.
The funds were originally set up in February before the coronavirus pandemic. The scheme is designed to help players at clubs that are out of business and avoid paying wages before reforming and leaving former employees unable to reclaim what they are due.
While the Football Association of Ireland (FAI) and League of Ireland clubs are set to continue their talk on financial packages to pay the players this week, there are some clubs who have raised their concerns on the FAI's proposal. 
Johnny Acosta Leaves for Costa Rica
Costa Rican World Cupper Johnny Acosta left  East Bengal on a sour note on June 15, expressing his disappointment for the club's 'apathetic' attitude after his contract was terminated by former investor Quess Corp.
The 36-year old  central defender played a major role in East Bengal's runners-up finish in 2018-19. A month into the coronavirus lockdown, Quess Corp terminated the players 'contract citing the Force Majeure and sent eviction notices to some of them in May. 
"I close a cycle of my life, this time a little different. In a great institution to which I have a lot of love and respect, Quess East Bengal FC, but that in the end there were contract and salary issues that failed to comply," Acosta wrote on his Instagram page.
"In addition, little help for my return to Costa Rica where the club showed little disposition and [was] apathetic to my situation!," he added.
East Bengal have now terminated their partnership with Quess Corp, who acquired 70 per cent stake in the club. They had a three-year deal but the Bengaluru-based investor made its exit on May 31. Former head coach Alejandro Menendez did not retain Acosta for the 2019-20 season but he finally made a comeback after the Spaniard left midway into the season.
Cesc Fabregas on Racism 
Ever since the protest against the murder of George Flyod took to streets, many footballers have come forwards in the support of the #BlackLivesMatter movement. Spanish footballer  Cesc Farbregas, on a Zoom video, explained racism has been going on for years and years. 
"In the stadiums, there is ignorance, people insulting you about the colour of your skin; it's stupid," Fàbregas said.
Fàbregas is just one of the few footballers taking a stand against racism or are coming forward about the tough measures that need to be implemented to completely eradicate it. From Bundesliga where players displayed anti-racism messages during games, to players from Liverpool, Chelsea, Arsenal taking a knee, and Raheem Sterling asking that there be more representation from the black, Asian and minority ethnic community in coaching and administrative roles, they are making their voices heard.
"Unfortunately it's been happening for years and years and it is time to speak up and act. If you have to close the stadiums and hand out bans, we should. They need to go to jail – let them go to jail – but whatever needs to be done has to be done once and for all," he adds.
FIFA asked national associations not to punish those taking a stand on the pitch against racism and discrimination.
Footballers often get criticised for taking a stand on societal issues and Fàbregas said he firmly believes "We have this platform, through the media, that can be positive for the world. We are all fighting for a better place – a better world."
Fàbregas also expressed how he is impressed by Premier League's "perfect and very British" approach to restarting matches that are "cautious" but "professional".
FIFA Urges 'Tolerance' After Trump's Rebuke
FIFA appealed for "tolerance, mutual respect, and common sense" after the US President Donald Trump condemned the annulment of a policy that required players to stand during the national anthem.
"I won't be watching much anymore!" Trump tweeted on Saturday.
Trump also retweeted a tweet by Florida Republican Rep. Matt Gaetz, who wrote: "I'd rather the US not have a soccer [Football] team than have a soccer [Football] team that won't stand for the National Anthem."
In the United States, women's team captain Megan Rapinoe took the knee for the first time in support of Colin Kaepernick that led to the US Soccer Federation adopting the rule in 2017. The rule was annulled last week after American football leaders acknowledged there was a change in sentiments in the public since the death of George Floyd sparked global anti-racism protests.
"FIFA strongly advocates for tolerance, mutual respect and common sense when such important matters are debated. FIFA has a zero-tolerance approach to incidents of all forms of discrimination in football, as outlined in the FIFA Statutes. We must all say no to racism and no to violence." world soccer's governing body said when Trump's comments.
Get the latest reports & analysis with people's perspective on Protests, movements & deep analytical videos, discussions of the current affairs in your Telegram app. Subscribe to NewsClick's Telegram channel & get Real-Time updates on stories, as they get published on our website.
Subscribe Newsclick On Telegram