The Chains Of Sport: Passion, Emotion and a Ruthless Disregard for the Worker Branded a Sportsman
Big Sport has never encouraged its workforce, the athlete, to band together and unionise. Whether amateur or professional, player unions and the powers they have over the sport associations are minimal — more tuned to suggest change than forcefully implement it.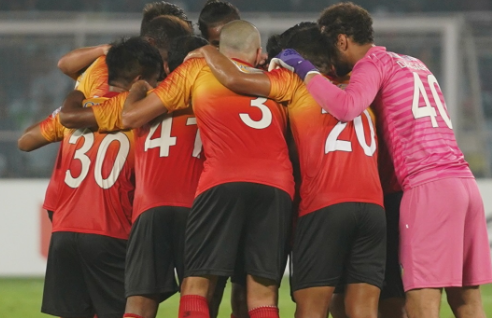 East Bengal, citing force majeure, have terminated existing player contracts, forcing them to approach the FPAI in the hopes a middle ground could be found.
There is a Carl Lewis in Kochi. An athlete. The similarity begins and ends with the name, though. Lewis from Fort Kochi was a middle distance runner, not a sprinter. He had a diminutive marathoner's frame as well. He never made it to the Olympic Games. Apart from running, the only thing that connects him with the American legend was that he has black skin — a much darker tone than the typical Malayali. First things first, let me present the context of the nickname here before you brand the whole of Fort Kochi's sports loving gentry racist.     
For close to three decades (the 1980s, '90s and 2000s), we only saw Lewis — his parents christened him Peter; the colonial beach town in central Kerala rechristened him after the greatest athlete of the generation — either running on the roads, or pedalling his rickety BSA bicycle enroute to the uneven track next to INS Dronacharya, the naval facility in Fort Kochi where he used to train as well as coach some kids. 
For Peter, the nickname was an honour, his version of a Khel Ratna. The name caught on in a way that many in Kochi do not know him as Peter anymore. Looking back, Lewis himself does not respond to Peter anymore. He is used to answering to "Lewis-eh," the 'eh' syllable with a Malayali twang carried with it love and adulation in equal measure. He responds to that call with a wide grin each and every time. 
The legend of Lewis is not skin deep though, pun intended. He earned reverence in Kochi because of his victories at local road races as a youngster, and as a grassroots coach later, where he initiated many into running. Between these two distinct sporting roles, Lewis lived a life struggling to make ends meet. At one point he used to work as a labourer at one of the many construction sites which sprung across the east part of Kochi in the 1990s. The city suddenly took a liking to high rises and Lewis found himself running from Fort Kochi to Kakkanad, 30 km one way everyday. It saved him the bus fare and kept him fit for races. After reaching his workplace, he would change, drink a lunchbox full of kanji (rice broth), before reporting for his eight-hour shift carrying brick and mortar. 
Also Read | Chuni Goswami Obituary: A Perfectionist with a Midas Touch
On one such day, with little carbs in the system, and no time to recover from the almost marathon distance effort, he fainted at the site. The supervisor figured out why and from the next day, he was given a two-hour exemption to rest and recover. 
Kerala reveres its athletes, you see. They believed Lewis was destined for bigger things and the supervisor wanted to do his part for sport. In the state, the belief is that every kid who takes up sport is no less than an Olympian in the making, or a footballing hero. Of course, as sport sagas play out, not many end up at the Olympic Games, or at the big football or cricket leagues, or the Sports Authority of India (SAI) camps and centres. Yes, SAI centres are also a dream for many youngsters taking up sport in Kerala for it guarantees training, good diet, and subsequently, a government job. For those who fall behind, there is always West Asia — the Gulf. The Plan B. 
Then there are many like Carl Lewis. They run anyway. There is no definite tomorrow in store, but on a given day, running, or playing a sevens match, or coaching a school team, earns them a daily wage and the motivation to keep at it.
When I think of working-class athletes, Lewis' face pops out. He represents the quintessential labourer athlete, who toils for sustenance — from occasional prize money and odd coaching stints — and not the riches reserved for professional sport. In stints around the amateur circuit, the Lewises of the world find solace, and bread. They remain united in their struggle in upholding the idea of sport obscured by the much more loud, and ruthless market-driven idea of competition. That latter idea, predominant and pushed by a capitalist economic framework, also ensures the work force which rakes in the riches, remains divided. 
                                                                                      ******
Sport provides a level playing field, the system says. It is a big unifier, it repeats. That is the lore that has been drilled in by sport marketers working in tandem with the big investors. But the truth is that sport — arguably the biggest industry in the world with the largest organised and unorganised workforce at its disposal — has one of the worst HR track records of all. Organised sport doesn't want its workforce united. The big leagues have always resisted players getting organised under a union or association. They fear revolt. 
The whole history of labour movement across industries in the 19th and 20th century is, in fact, getting played out in the bleachers across the world. Amidst the powerplay — between the 'owners' and the 'owned' — a fancy form of slavery exists in professional sport, with no safety net even for the elites barring the few superstars. Meanwhile, uncertainty is the predominant reality every single day, for the ones who do not make it to the top rung.
In the past 10 years, things have changed. Or so is the belief. Football has a global players' body — FIFPro. India has its own national body for footballers — Football Players Association of India (FPAI). However, these bodies have very little power beyond presenting suggestions and remarks on player-unfriendly scenarios. They don't have a say, for instance, in setting an assured basic pay structure, or in ensuring contracts are honoured, especially by clubs in non-elite footballing nations, where structures for the game are ad-hoc. This includes India. 
Last week, several I-League clubs terminated player contracts prematurely citing the pandemic and lockdown to invoke force majeure. Now we know the precarious condition of the finances of the I-League clubs. In a cruel game of survival, the clubs decided to pass the parcel to the players, who for their part, have approached the FPAI to intervene in the matter. A legal course could be pursued, or even mediation. Whatever be the case, the fact remains that the players' body in the country is not exactly in a position to demand justice. It can only urge or plead the clubs listen. 
Having said that, a union — toothless as it is — at least exists in football. In cricket, the richest sport in the country, players stand divided about the need for an organisation for themselves. The Board of Control for Cricket in India (BCCI) was always against players unifying under a banner fearing rebellion and loss of control over the game. Cricket establishment in the country is run on the fumes of a colonial culture fueling it alongside political and corporate hegemony — a molotov cocktail for suppression to say the least.
Till last year, the BCCI was against a players' body. Finally, when it got approval — thanks to the body being one of the reforms suggested by the Justice RM Lodha Panel — the BCCI ensured the current players never fell into its ambit. The Indian Cricketers' Association (ICA) is practically an alumni association for ex-cricketers. The old boys' club has its own exclusivity. Former players need an international tag or a certain number of First Class or Ranji matches to qualify for membership. Cricket created a body for players after ensuring a certain level of exclusivity was maintained. Is it a form of colonialism at play here or just sheer discrimination, one is left wondering.
Also Read | Impossible to Quarantine Politics in Indian Football
The irony of cricket is that the players themselves don't want a strong body to represent them. Part of that is due to the fear of reprisal from the all-powerful Board. The other side of the story is equally telling of the nature of the establishment. The star players are against a players' union simply because they might end up losing the individual clout they have in the organisation which serves their purpose perfectly. Caught in between this selfish nexus of interests, the lesser cricketers, who form the majority in the country, lose out on security. Things are not so different in countries such as England, pioneers of a players' body. The ground reality is that the organisation there too caters to privilege. It hasn't been established with the idea of universal welfare, where the ambit extends beyond First Class cricketers to cricketers across the tiers.
Things are a bit different for the majority of Indian athletes who belong to Olympic sport, since their disciplines have no professional leagues like cricket or football. During the ongoing Covid-19 lockdown, I tried to get in touch with many athletes who are part of the SAI camps system. Many are employed with government departments, public sector undertakings or the Armed Forces. They are not worried about job security. Their training is taken care of by the state at the moment. This system is an evolved version of the Communist or socialist welfare states of the 20th century. It ensures security for athletes, despite having no representation or a body to uphold their rights. 
The system in India, however, is not perfect either. It caters to those who are in their prime and tends to forget those who are no longer available for national duty. Of course, their government jobs ensure a certain level of dignified existence. The biggest drawback, though, of the system is that it only takes care of those good enough to reach a certain level in the sporting hierarchy. The rest fall off into lesser existence, banking on other acquired skills for sustenance or become migrant workforce — from Central and South East Asia to big cities within the country.
We all have heard stories of former wrestlers turning to a career as bouncers or hired muscle for politicians in North India, to many athletes becoming personal trainers for the upper middle class. Many others leave everything they sweated for to start from scratch in a new trade. Many in Kerala, the biggest exporter of migrant athletes for various states and departments, end up in the Gulf, sport having prepared them well for tougher physical and mental tests in the desert.  Sport, luckily, is also a game of survival and it teaches everyone how to adapt. 
While adapting and evolving is good practice, when forced upon individuals because a blind system fails to take care of its own, it is hypocrisy. Sport is hypocritical to the hilt. However, at the ground level, each and every individual in the system is blind to that hypocrisy. Unaware of their rights, they are stuck in a state of elemental existence; like the proletarian before Karl Marx. 
                                                                                    ******
I remember the last time I met Carl Lewis, around five years back. He was not in his usual sports attire dressed instead in a freshly-ironed crisp white shirt tucked into grey pants, and black shoes. A nice change, I joked. He was headed to a local private school where he was working as an assistant physical education teacher — a job which earned him around Rs. 10,000 per month. He is earning "enough". 
Also Read | The Lockdown Lives of Football's Marginalised Essential Service Providers
I showed him a picture of me with the original Carl Lewis, whom I had interviewed during his visit to India. He smiled, that trademark wide grin. I told him about the hypocrisy in sport. He smiled again, this time with a blank expression in his eyes which betrayed he didn't fully comprehend or agree with what I was hinting at. This from someone well aware of labour rights. He, after all, is from Kerala. 
Lewis explained he runs not because he expects money at the end of the effort. "Most of my races never carried prize money." He reminded me of how he ran to reach work — eight hours of manual labour for which he got paid. He ran back again not just to save commute money but to loosen the burden of toil. Sport for him was a release. Sport for many, including spectators, is a release, an easing of burden. And Lewis (Peter) believes there is a certain level of freedom when you are running, or playing football or volleyball, with nothing to gain, but more importantly, nothing to lose either. You just play for the joy of it. 
Think deeper, then Lewis' words make sense. Sport, in its most idealistic form, was never about winning or losing, but about playing it right. It was always about equity of sweat on the field. It was always about a level playing field, in other words. Now, the Olympic movement itself has forgotten this premise with which it started something which has now become the biggest commercial, and thereby hypocritical, enterprise in the world — a quadrennial extravaganza.
Lewis will always find it impossible to brand sporting endeavour and pursuit as labour. Passion gets mixed in it. Emotions too. And this is the basic idealism he adapted as a philosophy at some point in his selfless, seemingly tireless, and more importantly, not pointless, running career. That is what is sold by the businesses, which, while promoting sporting idealism via the athletes, numbs and subdues any form of enlightenment or organised movement from its large and much squeezed workforce.
Will the athletes of the world unite? I missed asking this question to Carl Lewis when I met him, both the Carls, in fact. I am intrigued about the answer I might get from the two representing the two sides of the great sports workforce divide — the pro vs the amateur, the elite vs the ordinary and last but not the least, the rich vs the poor!
Get the latest reports & analysis with people's perspective on Protests, movements & deep analytical videos, discussions of the current affairs in your Telegram app. Subscribe to NewsClick's Telegram channel & get Real-Time updates on stories, as they get published on our website.
Subscribe Newsclick On Telegram