The Lockdown Lives of Football's Marginalised Essential Service Providers
Football's shut down was necessary and unavoidable. But the resultant loss of livelihood has been huge with no one being immune -- from players, coaches and support staff to the odd job workers and daily wagers. For the referees, an unorganised workforce within the football setup and almost an afterthought in India, the situation is that much more grim.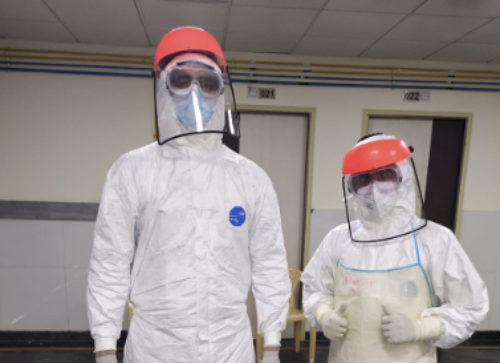 For Kannan Udayan (left) a healthcare professional directly working with Covid-19 patients in the ICU at AIIMS in Delhi, refereeing was a means to fuel his passion, and learn about the game he has loved his whole life.
Kannan Udayan has a message for everyone reading this story. "Please don't stigmatise Covid-19 patients," he says. "Whenever we get a vaccine, there is a chance it will eliminate the virus from the planet. But a vaccine will never cure the stigma. Please stop disgracing those who are affected. It will help them come out, admit to having it and reduce the spread."
He does not speak lightly. Udayan has been watching the news around the crisis carefully. Not just watching, in fact: He has been helping treat, protect and control the number of those infected in the country. Udayan is a nursing officer at the All India Institute of Medical Sciences (AIIMS) in New Delhi, in charge of attending to Covid-19 patients in the ICU. His six-hour shift entails maximum contact with patients who have been tested positive for Covid-19, and often he finds himself cleaning up, taking care of and medicating them. The most important part, though, is communication. Communication removes doubt, opens up bridges and puts a stop to confusion and commotion.
Kannan Udayan is also a football referee. 
He is one among the hundreds of part-time football referees in India, working other jobs while helping sustain competitive football at all levels and fuelling their love for the game. Udayan, who was posted to Delhi eight years ago, took the plunge in 2015, and despite his irregularity understands enough about football in India to know refereeing isn't a sustainable career choice in itself. "Medicine is a vocation," he says. "Football is a passion, something refereeing will help you learn more about."
Also Read | The Price of Power: Modesty, Decadence And Inevitability
Udayan's concerns are far from refereeing right now. He is, appropriately, focussed on the pandemic, the patients and his colleagues in the frontline. "You've heard about those medical professionals being evicted from their houses right?" he says, "It took a government order to ensure basic civility. That's correct. What does that tell you? People only respect you if they are made to do so by some higher power."  
Udayan's profession and passion both do not seem to elicit much respect from those around. Not even enough for a second thought in times of crises. 
Football's shut down was necessary and unavoidable. But, where basic sense has prevailed, the resultant loss of livelihood cannot be overlooked. Clubs operating on meagre budgets have been forced into negotiations with players over paying out the remainder of their contacts. Players have been forced into isolation and minimal contact with families. The thread that held the community together — the guarantee of football — has come undone. Referees, almost an afterthought in India, are also suffering.
27 year old 'D' is stuck alone in his flat in North Delhi. A BP.Ed student, D is a former footballer who turned to refereeing after a career-ending injury in 2015. D is a Category 3 referee, which means they often take charge of Youth I-League Games as well as A and B Division Delhi league games.
"What do you want me to say?" D laughs, when asked how it is, coping with the lockdown. "Chal raha hai. Refereeing would subsidise my expenditure in the city. I was coaching also on the side, at the Bal Sudhar Grah [where Delhi football runs football clinics] but obviously all that has shut down." Having seen the football season cut short by the pandemic, D is now reliant on handouts from an elder brother, a small dairy owner in UP. (Almost all the referees Newsclick spoke to preferred to maintain anonymity, fearful of the repercussions they may face for speaking to the media).
J, another Category 3 referee, considers themselves lucky right now. Another former player turned referee, J a Bachelor of Science, lives with parents. For J, the loneliness of a lockdown is mitigated by family. A coaching career on the side has helped save money for exactly this kind of emergency. Even while on the job, J often thought about the financial difficulties of refereeing at the bottom of the food chain, and never came out of that thought bubble greatly energised. The crisis has magnified and there is no solution on the horizon.
Some referees complained that their payments (from the AIFF as well as the state federation) had not yet been released. The delays ranged from three to six months. A majority, though, did say that payments at the state level were made swiftly and arrears were only because of the rushed lockdown.
Also Read | Limba Ram's Condition Worsens; Authorities Intervene to Restart Life-Saving Injections
"We are not permanent employees. We get paid if and only when we officiate games. That is what it is. No point of fighting this and creating a ruckus," J says.
The theme is repeated in conversation about relief too. Jagdish Malhotra, Head of Referees at Football Delhi, is fairly clear about what the federation can and cannot do to help them financially in this crisis. "Referees are not permanent employees of the federation. They are affiliated to the federation and contracted for games. When there are no games there is no question of pay. How can we pay them when Football Delhi is in itself not generating income from football? You understand the problem right?"
The interesting thing about this contract arrangement is that referees cannot seek work outside of the federation's ambit. Affiliation means, anyone organising a game or a league in the country needs to approach the state association for referees. The state association will analyse the details of the job and assign referees accordingly. If an organiser approaches a referee directly, the referee is obliged to inform the association. The process is repeated for allocation. 
No permanent employment also means referees have no social security net. That means no paid leave, medical, insurance and other basic benefits. Despite being as fundamental to the game as players, coaches and other staff, the referees are, in most cases, daily wagers. 
The biggest problem, as an elite National level referee explains, is that referees have never banded together as a group to unionise.
Also Read | FIFA Proposes Five Substitutes Once Football Resumes
"The players have the Football Players Association of India (FPAI) right? As an organisation its job is to look after their members," the referee says. "Whenever players have any troubles with their employers, the FPAI is expected to act as a mediator. In England, the referees have an association that uses its voice. We referees unfortunately have nothing of the sort in India. An association of our own will remove the almost dictatorial control the federation has over us." 
The referee further explains that any attempts to unionise and bring together referees and their concerns under one umbrella have never received much enthusiasm. Factionalism and lobbying dominate refereeing at the national federation and any hint of dissent results in immediate reprisal against those involved. Already marginalised and broken, most referees are consumed by fighting for whatever little they get. Speaking out is a punishable offence. The punishment, metaphorically, by death. 
"Most referees have other jobs," an elite senior referee explains, "They are employed in the government sector. Very few, and most of them are at National level, are full time referees". 
Fewer than 20 referees (most of them on the FIFA panel) have permanent contracts with guaranteed pay from the All India Football Federation (AIFF). Junior referees like D, J and many others supplement their incomes (match fees ranging from Rs. 300 to 1500 for games outside the top two leagues, paid out in hand after games) with coaching jobs at academies across the country. Refereeing is referred to, even by many refs, as a passion and treated as a hobby.
"Furthermore, we are not allowed to speak. It is a huge burden," the referee says. "If we make a mistake and are getting castigated from all sides, the expectation is that the federation will come out and support us. Most of the time this doesn't happen."
Also Read | SAI And TOPS Hope To Equip Athletes In Lockdown
The majority view among referees at the grassroots levels is that state associations are doing a lot of work to educate, improve and keep referee standards high, even in times of the pandemic. Football Delhi has been regularly giving referees tests to keep them engaged. The tests, sent in the form of a google form (with a time limit, after which the form locks automatically) are not just rule based, but also work on replicating match situations. Financial aid, though, is a distant dream.
An official spoke about a time when several referees had banded together to create a welfare fund for retired referees facing financial difficulties. The idea was to pool together some money and approach the federation and ask them for help. It was immediately rebuffed. "Not only was it rebuffed, they thought this was some sort of coup to take over!"
The idea of helping the official conductors of the game seems almost blasphemous. D freely admitted that they had thoughts about taking up a job when things get back to normal. "I have thought about it. I will continue to referee no doubt. But I have to keep other options open. I don't want to be in this situation again."
Udayan hasn't taken charge of a football game for over a year now but remembers clearly his first experience refereeing in India. "I come from Kerala, where people love the game, and not just that they respect everyone associated with it. No matter what form," he says. "Here referees only get abuse. I've been in matches where players have openly threatened me, saying 'dekhta hoon tujhe, game ke baad' and I've laughed it away. But still! Imagine that!"
In Udayan's head, while the difficulties referees face may pale in comparison to healthcare workers' vanguard of our response to Covid-19, it boils down to one problem: a lack of respect for the job. 
"These professions don't get recognition. They don't ask for recognition either. Just an acknowledgement that there is a job being done," he says. "Don't stigmatise them. Do not alienate them. Talk to them. Just follow the Kerala model, na."
Get the latest reports & analysis with people's perspective on Protests, movements & deep analytical videos, discussions of the current affairs in your Telegram app. Subscribe to NewsClick's Telegram channel & get Real-Time updates on stories, as they get published on our website.
Subscribe Newsclick On Telegram