Chuni Goswami Obituary: A Perfectionist with a Midas Touch
Chuni Goswami had an innate ability to turn everything he touched into gold. As a footballer, he led the Indian team to its best ever performance, and his club Mohun Bagan to many title conquests. On the cricket pitch, he led the Bengal Ranji team and once ripped through the Gary Sobers-led West Indies side. A complete sportsman, boasting a fan following which included Bollywood actors, politicians and the youth who simply wanted to emulate his grace and poise on the playing field, Goswami was truly Indian football's original superstar.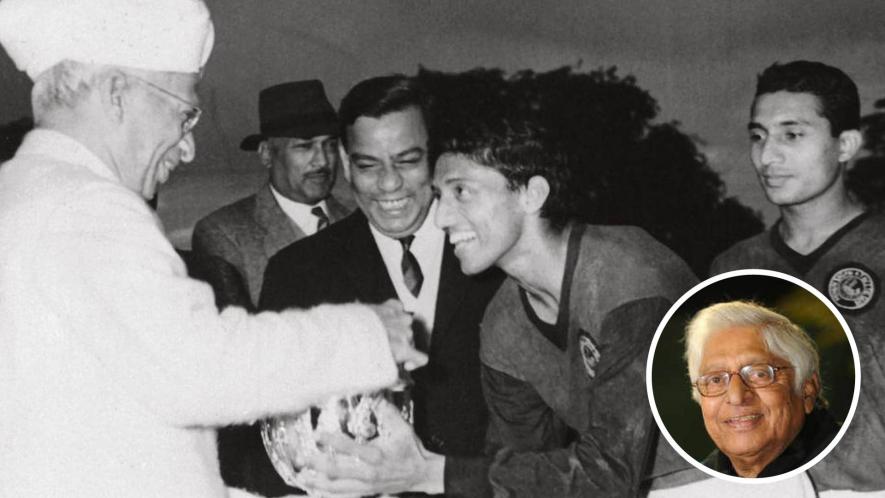 Impressive height, good looks and dazzling skills made him the poster boy of football while the fact that he never played for any other club except Mohun Bagan added to his charm (Pics: Courtesy: Mohammed Shafiq and Twitter, Indian football).
It was a rainy evening on January 15, 1997, when four of us entered the dimly-lit but well-decorated restaurant in Jabalpur. The occasion was to celebrate the 59th birthday of Chuni Goswami, who, along with his wife, was part of our group.
The cream of Indian football was present in the city that week. The National championship for the Santosh Trophy was in progress. The tournament had already reached the penultimate stage. An international channel was in charge of the television coverage and they roped in Chuni as one of the commentators in English.
"Hiring Chuni Goswami is a conscious decision. We wanted the biggest glamour boy of Indian football to be associated with us," one of the channel executives told me during the course of the tournament. 
Midway through the dinner, a well-dressed gentleman in his 60s, came and stood beside our table. After some initial hesitations, he said: "Mr. Goswami, I watched you running through the West Indies batting line-up in Indore in 1966. It was great bowling, sir…" 
Also Read | Impossible to Quarantine Politics in Indian Football
Chuni, as he always was, looked hardly overwhelmed. He offered a polite but measured smile and spoke to the gentleman for a couple of minutes before returning to his drinks. "Whether it is football or cricket, I have too many fans all over the country," he said rather nonchalantly once the man left after getting Chuni's autograph on a tissue paper. 
It was not a hollow boast. India has produced great sportspersons, but none have played both football and cricket with such masterly ease. No doubt he was primarily a footballer, perhaps the finest inside forward in India's history. As the captain of the team, who bagged the gold medal in 1962 Asian Games, he was an everlasting member of the country's football folklore. 
Extremely graceful, his dribbling skills made him a living legend. His extraordinary passing ability, amazing ball control and quick body feints often left defenders stunned. In a country starved of football successes, his international achievements were truly enviable.
He was the captain and the key player when India won the Asian Games gold medal in 1962. He once again wore the captain's armband when India finished runners-up in 1964 Asian Cup and 1964 Merdeka. He was the true glamour boy of Indian football. When he retired from international football, Dilip Kumar and Pran requested him to review the decision. SD Burman, Hemant Kumar were his fans in Mumbai. In Delhi, Dr. Sarvepalli Radhakrishnan always had a special word of praise for him.
Things were different in Kolkata. Life in Bengal in the 60s was not exactly smooth. The partition of the country ruined the state's economy, the influx of people from East Bengal (now Bangladesh) further complicated the matter, the employment was scarce and the youth restless. Yet, the state had a couple of personalities, who were like merchants of dreams, capable of stopping the traffic at any time of the day. Every average Bengali youth dreamt of emulating Uttam Kumar on the silver screen and Chuni Goswami at the lush green pitch of the Mohun Bagan ground.
Impressive height, good looks and dazzling skills made him the poster boy of the game. That he never played for any other club except Mohun Bagan also added to his charm. With Chuni at the front, Mohun Bagan won Calcutta Football League four years in a row, IFA Shield three years in a row and Durand Cup three years in a row. Between 1960 and 1965, Indian club football was largely dominated by the green and maroon squad. Chuni was the biggest star and the captain for five seasons on the trot from 1960 to 1964.
Chuni was born with the inborn ability to turn everything he touched into gold. His interest in cricket grew when he entered the college. Soon he led Calcutta University in both football and cricket in the same year. In 1963, when he was drafted into the Bengal Ranji Trophy team, he made his mark almost immediately. Against Hyderabad, which had Roy Gilchrist bowling with a vengeance, his patient innings immediately attracted attention. 
Chuni's best came for the combined team of Central and East Zone, who inflicted the historic innings defeat on Gary Sobers' West Indies in December 1966. Chuni's gentle medium pace brought him eight wickets in the match at Indore.
Also Read | The Price of Power: Modesty, Decadence And Inevitability
"Getting out Rohan Kanhai was my biggest prize," Chuni once told me. "Kanhai was truly beaten by my first delivery. He looked at me and said keenly 'you have got a f….ing swing man' and laughed. He was on 4 when he misjudged one of my deliveries and (CG) Joshi took the catch."
Once during a Subroto Cup football match in Delhi, where he was present as a spotter, I asked him how the gold medal triumph at the 1962 Jakarta Asian Games impacted his life. He thought for a couple of minutes and said: "It made me a complete man. In the final against South Korea, close to a lakh spectators were rooting against us. Still we won. I felt like a general, who was leading an army. For once, I was not afraid to die. I thought I must snatch victory at any cost. It changed my outlook towards life."
All said and done, Chuni's biggest quality was his sense of balance; he knew when to stop. He was not even 27 and at the top of his form when he decided to quit international football in 1964. It was a decision that stunned Indian football fraternity. No amount of cajoling by his teammates, officials and fans could make him change the decision. He felt his time was over.
Equally shocking was his decision to hang up his boots at the end of 1967 season. Mohun Bagan officials pleaded with him to reconsider. It was of no avail. Chuni, by that time, had decided to pursue only cricket.
He excelled there also. A decent all-rounder, he led Bengal to the 1971-72 Ranji Trophy final before losing to Ajit Wadekar's Bombay. Chuni was leading a side, who had Gopal Bose, Ambar Roy, Subroto Guha, Rusi Jeejeebhoy, Dilip Doshi — all of whom represented India at some time or the other. A couple of seasons prior to that, in the final against Bombay, Chuni scored 96 in the first innings and 84 in the second.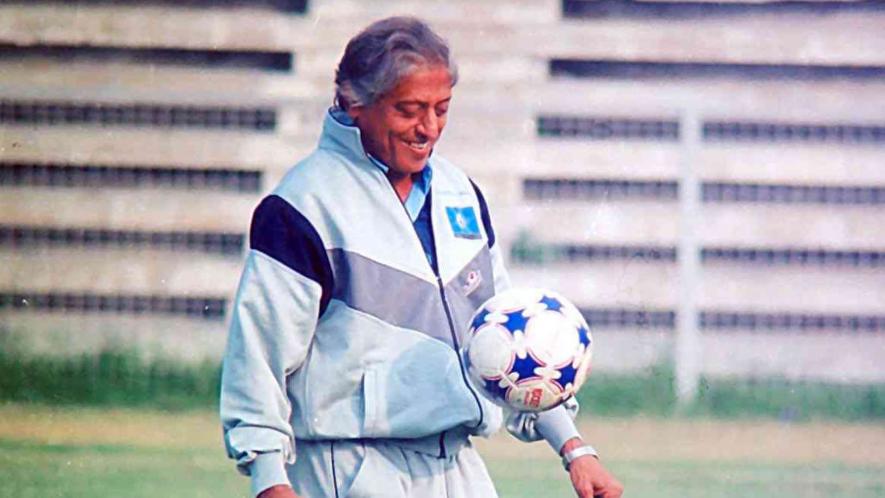 Chuni Goswami, Indian football legend
No wonder, Chuni was a proud man, who refused to suffer fools. Much aware of his glamour, Chuni was often mistaken as someone who rarely mixed up with his fans. Sadly, it wasn't exactly untrue. Those who knew him closely realised he was a friendly man, who liked to stay in his preferred circle. He could never stand shallow knowledge and half-hearted efforts in the sporting arena. 
"Sport is all about skills," he told me in an interview many years ago. "Having skills is the prime criteria. Those who lack it, shouldn't come anywhere near it. They better leave and try something else as a career option. I set a benchmark for myself at a young age. I won't like to compromise it at any point," remained his philosophy in life.
Get the latest reports & analysis with people's perspective on Protests, movements & deep analytical videos, discussions of the current affairs in your Telegram app. Subscribe to NewsClick's Telegram channel & get Real-Time updates on stories, as they get published on our website.
Subscribe Newsclick On Telegram