Modi in Global Pantheon of Electoral Autocrats
Founded on a deeply hate-driven vote base, Project Modi is powered by massive corporate funding, big-budget social media and ground network, and finally, the Hindi news channel bigots.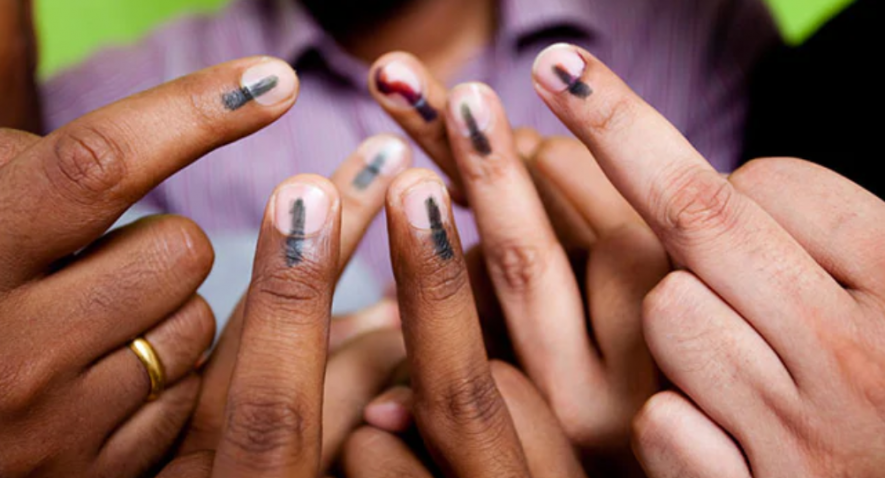 There have been over a dozen informed commentaries on the outcome of the recent Assembly elections. Both the establishment writers and liberals seem to broadly agree on the four factors that helped the ruling party, BJP, sweep the polls in four out of five states -- Narendra Modi's imposing persona, support from beneficiaries of the Centre's welfare schemes or labharthis, the BJP's superior election machinery and an awfully divided Opposition.
However, the real import of the Bharatiya Janata Party's stunning success has been that it heralded the formal consecration of Narendra Modi as an electoral autocrat. V-dem (which measures democracy globally) had last year classified India as an 'elected autocracy'.
Every aspect of the recent Assembly elections — creation of a hate-driven vote base, monopolising business funds, support of the corporate-controlled Hindi news channels and thus making the elections an instrument to legitimise and ensure another term for Modi — confirms the rise of another electoral autocrat, as defined by political scientists.
Clinching another term in 2024 will find Modi in the exalted company of Turkey's Recep Tayyip Erdogan, Hungary's Victor Orban and Russia's Vladimir Putin.
Explaining how authoritarians use elections to gain legitimacy, Young Diplomats (a global think tank) way back in 2018 cited how Chad's Idris Debv continued in office for 28 years. Look at the score of others: Syria's Bashar Assad 18 years, Burundi's Pierre N'Kurunziza (Burundi) 13 years, Rwanda's Paul Kageme 18 years and Sudan's Omar Bashir 29 years. A victory in 2024 will make Modi's score 15 years.
Political scientist Enrique Peruzzotti illustrates how charismatic strong leaders across the world 'instrumentalise' electoral democracy to undermine liberal democracies. Populists, Peruzzotti says, make elections as a means to ratify their claim of being the embodiment of people. They, as under Modi's India, interpret electoral victories as a momentous occasion that confirms the authority of the only leader.
In his book, Elections without Democracy: The Menu of Manipulation, celebrated political scientist Andreas Schedler had two decades ago, vividly explained the distinction between liberal democracies and electoral democracies under populist authoritarians. The autocrats hold elections under 'tight authoritarian control to cement their continued hold on power.' They create political fluidity and take advantage of it to 'split or marginalize the inexperienced' opposition groups. Under the populists, barring elections, all other structures of democracy remain authoritarian.
Pune-based political scientist Suhas Palshikar concurs with Schedler and finds India has been moving fast toward electoral autocracy. In an interview last month with Indian Express, he referred to the global trend and mentioned Brazil and the Philippines where democracy was being 'corroded'. "Modi's India could be the third," he said.
Brown University professor Ashutosh Varshney calls the aftermath of Modi's sweep in Uttar Pradesh as a battle between electoral democracy and constitutional democracy. Now that Modi has legitimised his authority, it is going to pose bigger challenges to the constitutional or liberal democracy. To begin with, he warns, the winners will claim public approval for the UP government's anti-Muslim rhetoric like Love Jihad, harassment of anti-Citizenship Act agitators and intimidation of minorities in the name of cow slaughter. The winners could also claim public endorsement of Yogi Adityanath's campaign themes like '80-20', 'kabaristan-shamshan' and 'Ali-Bajrangbali'.
The biggest challenge for democracy, Varshney warns, will be that an emboldened Modi establishment will now intensify such divisive campaigns and resort to harsher executive orders, majoritarian legislations and street vigilantism.
Soon after romping back after the 2019 Lok Sabha polls, BJP leader Amit Shah had brazenly pushed a series of similar measures like abolition of Article 270, CAA and National Register of Citizens.
Already, other BJP chief ministers have started replicating the UP model. Shivraj Singh Chauhan, who faces Assembly polls in Madhya Pradesh next year, has been quick to shed his moderate image and take to Hindutva hardline — from restoring 'women's and passing anti-conversion Bill.  
The Uttarakhand CM's first pledge after taking oath was to enforce the controversial Uniform Civil Code in the state. Haryana passed the anti-conversion Bill within q0 days of the election results. Even Vice President Venkaiah Naidu was emboldened to publicly justify saffronisation and 'revaluation' of Indian history.
Karnataka, already a champion of hate politics, announced ban on stalls by Muslims traders at temple. The trend seems to be spreading fast.
Pumping Hindu Supremacist Sentiments
Modi's electoral sweep in UP has all the attributes of the classical winning strategies employed by other electoral autocrats. With their own innovations and 'indigenisation', the Modi-Shah duo did it so cleverly that their critics did not even realise what was really happening on the ground. Modi's authoritarian model is built on audacious promotion of latent Hindu supremacist sentiments and personality cult for re-election and then use state power to further stifle dissent.
 "Modi has altered the 'culture of politics' in India," BJP president J.P. Nadda bragged soon after the UP results. He is right. In the past eight years, Nadda's party has done well coordinated ground work to alter the very dictionary and grammar of politics. After Gujarat, the hate-driven winning model was found most successful in UP where Hindu supremacist sentiments have taken deep roots. This has been established by four successive elections — in 2014, 2017, 2019 and 2022. 
UP under Adityanath has been one of the worse administered states. It figures at the bottom of all human development indicators. With diminishing employment opportunities, youths in large numbers are migrating to other states. Remember the chaotic scenes during railway recruitment tests. There have been innumerable field reports of people's dissatisfaction over COVID management with enduring visuals of floating corpses in river Ganga.
Modi himself has acknowledged the gravity of the menace of stray cattle which ravage crops. Apart from the farmers's agitation, rising prices of essential items, falling cane prices and mounting arrears to growers have made people's life miserable.
Yet, when it comes to voting, the communalised UP voters go by the distrust of the 'other'. Mohammed Sajjad who teaches at Aligarh Muslim University, and made extensive field visits, attributes this deep societal polarisation to the systematic campaigns round the year. "When they spoke about crackdown on gangsters, the unsaid message was anti-Muslim," he says.
Read Also: Uttar Pradesh Verdict: Hatred of Muslims was the Only Plank
Throughout the last election, BJP stalwarts, including Adityanath, repeatedly sought re-election in terms of the religious divide. As a result, the AMU teacher says, the proportion of liberal and secular sections was declining and people have begun rationalising Hindutva. Mundane concerns like economy and jobs got overwhelmed by issues of cultural gratification like Ayodhya temple, renaming Allahabad and subjugating, marginalising and invisibilising the minorities. Thus even without the 'labharthi' schemes, the poor might have voted for Hindutva, he asserts.
Ram Dutt Tripathi, a former BBC correspondent who covered UP elections from 1990, says BJP managed to convince a majority of the Hindus that if the Samajwadi Party came to power, there will be 'goonda raj' and Muslims will dominate the state. "Sadhus, Sants, Mahants and Godmen and Godwomen and other assorted religious leaders actively participate in this communal project," Tripathi recounts.
Read Also : Polarisation, Round-the-Year Groundwork & Modi Helped BJP Win Uttar Pradesh
It is this process that Palshikar defines as 'solidification' of BJP vote base in Hindi heartland with a social core bound by Hindutva or 'exploitation of the Hindu-Muslim fault line'
"The question as to what this means to the Muslims in UP is deeply disturbing. They are at a dead end. Their dignity has been trampled upon," Palshikar who is also the co-director of Lokniti, says.
Long before the Assembly polls, this writer had mentioned the saffron strategy of garnering 50% of the country's 80% Hindu votes as a winning strategy
Watch: Are We Moving Towards an Electoral Autocracy?
Now Modi has already crossed the target.
A CSDS-Lokniti survey has found that in 2022 polls, 54% of Hindus in UP voted for BJP. Against this, SP got only 26%. The best testimony of the efficacy of the Hidutvisation project has been that now BJP has increased its Hindu vote share by 7% from 47% in the 2017 elections.
Flood of Corporate Funds
Massive corporate funding has been the second pillar of the Project Modi. The electoral bond scheme introduced by late Arun Jaitely in 2017 has been a master stroke. It facilitated unlimited flow of corporate funds to BJP's kitty even while maintaining perfect secrecy about the donor identity. Last year, a Justice SA Bobde-led Supreme Court bench refused to stay the bonds. As per a Parliament answer, so far Rs 9,200 crore worth bonds were issued to political parties under the scheme
In 2019-20, BJP got over 75% of the Rs 3,435 crore worth bonds issued. The Congress share was just 9%. Apart from the bonds, the ruling party also received Rs. 276 crore worth donations from electoral trusts. The total amounts of funds at the disposal of BJP could be staggering, if one includes direct contributions by the large number of favoured business houses.
Like with other charismatic strong leaders, domestic corporates maintained a symbiotic relationship with the Modi regime. The corporate media's full-throated support — both the print and electronic — to BJP is widely known. This benevolence is now being extended to other arms of the corporate behemoths. Like a Reliance subsidiary NEWJ extending Rs. 5.2 million surrogate advertisements on Facebook lampooning the Opposition during the last Lok Sabha polls. This was not an isolated case. An analysis by Altnews found that a high proportion of such advertisements during the period were run by pro-BJP pages.
Investigations by The Reporters Collective also found that at least 23 ghost advertisers paid more than Rs.5.8 crore to Facebook to run 34,884 advertisements either to promote the BJP or lampoon the Opposition. This garnered a staggering 1.31 billion views. It found that Facebook promoted such ads at rates 29% less than what other Opposition parties paid 
Read Also:23 Facebook Ghost Advertisers Pumped Rs 5 Crore into 'Promoting' BJP
Much of the corporate massive bankroll is being used to finance the Modi regime's gigantic social media machine and the round the year booth management network. And this forms the third pillar. The BJP maintains a big budget nationwide vote catching network at the ground level. In this scheme of things, 'panna pramukhs' (incharge of each page of the voters' list) are assigned a crucial role. There has been great synergy between the BJP's social media managers and panna pramukhs.
While the former are mostly professionals with saffron inclinations, the latter are local level BJP-RSS cadre. Both run on funding. A minimum of 50 persons at each booth take care of the BJP's 1.75 lakh WhatsApp groups in UP. Voters were also being connected through Telegram, Facebook and Twitter with the former accounted for over a claimed 50 lakh. That is the magnitude and reach of BJP's public opinion engineering
Role of Pro-Modi Hindi TV Channels
Political analysts seem to have invariably overlooked the fourth factor: the role of the pro-Modi Hindi TV channels in turning the tide in BJP's favour. They have a wide reach even in the interiors of the Hindi hinterland.
Communication is instant, direct and downright. Their pugnacious propagandist style is actually appealing to the gullible. When a dozen established channels blare out similar themes again and again, that becomes the popular narrative.
Owned by BJP politicians or pro-Modi tycoons, the Right-wing anchors compete to outdo one another as loudest Modi supporters. A BARC (Broadcasting Audience Research Council) study said during the last Lok Sabha polls, Modi addressed 64 rallies and Rahul Gandhi 65. Yet these channels gave 722 hours to Modi and 251 hours to Rahul Gandhi. 
More than the hours, the imageries being generated by the channel warriors have far more pernicious consequences. They portray Modi as Superman while Rahul Gandhi and other Opposition leaders are caricatured. The format is such that presenters and anchors persistently lampoon the Opposition players. Described as godi (lapdog) channels by Ramon Magsaysay award winner Ravish Kumar, the Hindi channels are playing a crucial role in the Hindutva project.
A Caravan survey found that of the 1,136 political debates by Republic TV, 33.4% were anti-Opposition with the politics neutral ones forming just 16.2%. A 2020 study by NYT describes how the channel owners made direct interventions to ensure that the content remained always pro-Modi and anti-Opposition. In one case, it quotes a senior executive who sent recorded directions to editors to avoid any critical comments on the Modi government's Kashmir decision.   
For the channel owners, this is also a good business model. Of the government's advertising spend of Rs. 713.20 crore in the 2019-20 election year, electronic media got as much as Rs. 317.05 crore. A Newslaundry report said the Adityanath government in UP, the main battlefield of Hindutva, released Rs.160.31 crore for TV advertisements in 2020-21. The breakup showed the mercenary channels as the biggest beneficiaries
The writer is a Delhi-based veteran journalist who has been covering politics since the late 1970s. The views are personal.
Get the latest reports & analysis with people's perspective on Protests, movements & deep analytical videos, discussions of the current affairs in your Telegram app. Subscribe to NewsClick's Telegram channel & get Real-Time updates on stories, as they get published on our website.
Subscribe Newsclick On Telegram