'Modi Government's Only Religion is to Help Corporates'—Lachhman Singh Sewewala
Agricultural labourers feel the three farm laws will further automate agriculture to their detriment. That is why they support the farmer movement.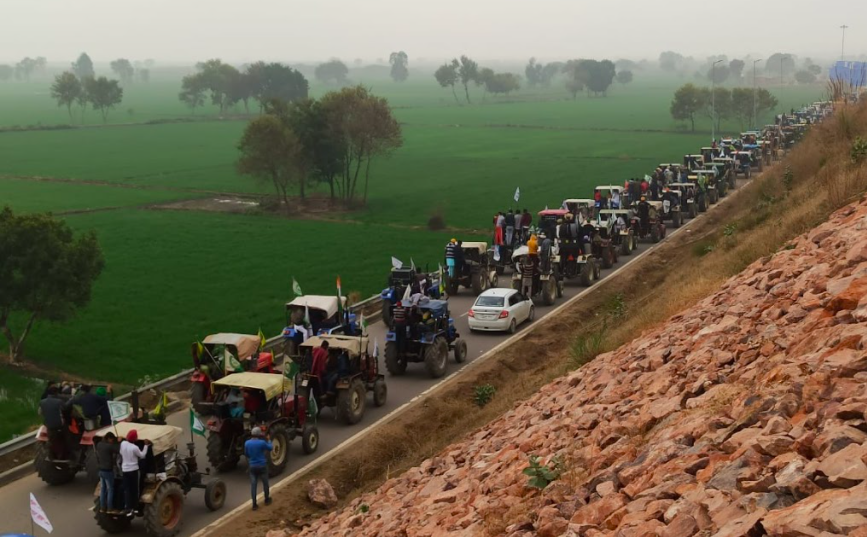 A massive tractor march was held on 7th January 2020 on the call of the farmers organisations
Lachhman Singh Sewewala is the general secretary of Punjab Khet Mazdoor Union, which represents the interests of agriculture labourers, who are mostly Dalit by caste. The PKMU is among the most steadfast supporters of the farmer agitation, turning on its head the theory that the interests of landowners and agriculture labour are irreconcilably antagonistic. 
Born in 1972 in Sewewala village, Faridkot district, to parents who owned just two acres of land, Lachhman was in his early life influenced by cousins who were members of the Naujawan Bharat Sabha, an outfit of the revolutionary leader Bhagat Singh that was revived in the 1970s, and by Meghraj Bhagtuana, a social activist of great repute who had floated the Front Against Communalism and State Repression. On 9 April 1991, Lachhman was in the second year of college when a band of armed militants attacked Sewewala village at the time its residents were watching a play. A bloody battle ensued; Bhagtuana and 17 others died. On the next day, Lachhman dropped out from college and became a social activist.
In this interview with Ajaz Ashraf, Lachhman Singh Sewewala explains how the mechanisation of agriculture has imperilled the livelihood of landless labourers, why the three new farm laws will further aggravate their problems, the dynamics driving the alliance between the labourers and marginal and small farmers, and why he finds it hard to trust Prime Minister Narendra Modi and his government. Excerpts: 
Given that the interests of farmers are different from those of agriculture labourers, why have the latter joined the agitation against the three new farm laws?
The adverse impact of the Modi government's three farm laws will be far greater on agricultural labourers than farmers. In Punjab, there are around seven lakh landless labour families. They are mostly Dalits; their livelihood is crucially dependent on the wellbeing of farmers. Which is why even a small change in the method of farming has a huge impact on their lives. Over the years, we have seen the Green Revolution imperil and even snatch our livelihood.
How?
The Green Revolution led to the mechanisation of farming. Before the Green Revolution, most agricultural operations were manual. Then the thresher came in, but wheat was still harvested manually. Labourers were assured of 40-45 days of employment during the harvest season. But crops today, because of the kind of seeds used, must be harvested within 10-15 days of attaining maturity, or grains start to fall on the ground. This feature, in turn, has made the use of the harvester more or less a compulsion. 
A team of four experienced workers can, at best, harvest an acre of wheat a day. The harvester can complete the same work in a jiffy; it can harvest acres upon acres of crops daily. The number of days of employment available to the labourer automatically shrank. This was compounded by the indirect consequences of mechanisation. For instance, the labourer no longer gets chaff free, as he would earlier. Free chaff was free fodder for the cattle the labourer reared. 
Why does the labourer not get chaff free?
It is because of the progressive mechanisation of agriculture. Earlier, on a farm of, say, 10 acres, labourers would cut the crops and deposit these at a spot every one acre. The thresher would be taken to the 10 deposit points for separating the grain from the chaff. The custom was that mounds of grain and chaff at the thresher belonged to the farm-owner. However, the thresher ejected chaff with such pressure that a portion of it would get sprayed to a distance of about 20 to 30 feet. Chaff collected from the field would belong to labourers.
What happens now?
Once crops ripen, the combine harvester is brought in. The harvester lops off the top 6-8 inches of the stalk. Once the harvester goes away, the mechanised chaff-maker is brought in. It scythes the stalks in the field, leaving behind six to eight inches of stubble. The stalks are turned into chaff, which are emptied into the trolley attached to it. No chaff for labourers to collect. They have to now buy fodder for their cattle.
Or take Punjab's Malwa belt, where cotton was an important crop until two decades ago. Women would be hired in large numbers to pick cotton. But then paddy was brought to Malwa and the acreage under cotton cultivation began to rapidly shrink—and with that, employment opportunities for labourers.
But farmers chose to switch over from cotton to paddy, right?
Farmers were enticed to switch over to paddy, for which the government was willing to pay a far higher price in comparison to that of cotton. The cotton plant makes for very good fuel wood. It was used for cooking purposes. To clear the land for growing wheat, farmers would tell labourers to uproot and take away the cotton plants, free. After the area under cotton cultivation began to shrink, not only did employment opportunities shrink, labourers were also deprived of the benefit of free fuel.
Earlier, labourers were employed for de-weeding agriculture land. Weeds were used for fodder. Now, herbicide is used to tackle weeds. Medical research has also shown that the rampant use of pesticide, as is done today, has been harmful for health. Again, the stubbles that the chaff-maker leaves behind is burnt. It has had a terrible impact on the environment. Earlier, when harvesting was done manually, the problem of stubbles was not there, because labourers would scythe the plant from its base.
But mechanisation is an inevitable aspect of our lives. What sense does it make to oppose it?
We are not against science and mechanisation, which we think are useful for decreasing the workload of labourers. Should mechanisation jeopardise our livelihood? Should the most vulnerable bear the burden of mechanisation and automation? Look at our plight: employment opportunities have shrunk; we have lost out on free fodder and fuel; we are spending more on medical treatment. Factories are mechanised, so is the construction sector, which is where unskilled labourers are most likely to find employment. Cities do not have enough jobs for us, do they? This has led to the indebtedness of agricultural labourers. This is why they have been committing suicide at more or less the same rate as small and marginal farmers do.
Horrors of farm laws
What are your specific problems with the three new farm laws? 
The three new farm laws will aggravate the horrific impact of the Green Revolution on agriculture labour. These three laws pertaining to mandis, contract farming and essential commodities together create a poisonous trishul [trident] for us labourers.
Why do you say that?
When foodgrains are taken to mandis, labourers get employed to clean the grains, put them in sacks, which they then stitch up. They load sacks of foodgrains in wagons, which are driven to warehouses, where these are unloaded. Labourers get work when foodgrains are transported from one state to another.
In Moga district, the Adanis [a family-controlled conglomerate] operate a warehouse for the Food Corporation of India. Foodgrains are not taken to mandis, but straight to the Adanis' silo, which is highly mechanised. They do not need hundreds of workers. Our livelihood will be snatched. Again, giant corporates will exploit contract farming to determine what farmers will grow. Corporates will not take into account what the needs of people are, because profit will determine their decisions on what crops should be grown.
But why should that affect labour?
For one, the entry of corporates will lead to an even higher degree of mechanisation. The army of labourers will only grow. For the other, private players, in the long run, will procure foodgrains, not the government. This will have an adverse impact on the public distribution system, through which labourers get cheap ration. In Punjab alone, 36.57 lakh families have ration cards. Once the government hands over the procurement of foodgrains to private players, the PDS will gradually cease to function—and food prices will rise. 
Dalit-jat Sikh alliance
Do farmers stand up for labourers so that your union, on its part, should also support their agitation? 
There are different categories among farmers. There are those who own less than one hectare of land. There are those who own up to two hectares. You also have big landlords. Whenever big landlords committed atrocities on agricultural labourers, or sexually assaulted Dalit women, the organisations of small and marginal farmers came to our support.
Are not big farmers primarily jat Sikh?
Yes.
Are not small and marginal farmers also mostly jat Sikh? Are not agricultural labourers mostly Dalit? 
Yes, you are right.
When big landlords sexually assault Dalit women, do they not rally small farmers on the basis of belonging to the same caste of jat Sikh?
What you say happens in those areas where farmer organisations are not there. But wherever there are farmer organisations, they do not let the logic of caste justify acts of criminality.
It was not always like this. When did this change come about?
Say, around 2002-03.
Can you cite me an example of farmer unions coming out in support of agricultural labourers?
There is a law stating that one-third of the panchayati land should be cultivated by Dalits. Often, though, the landlord would have the land allotted to a dummy Dalit nominee of his and cultivate it himself. After 2013-14, labour unions raised the demand to implement the law in spirit. The landlords, however, engaged in propaganda that today Dalits were demanding the panchayati land; tomorrow they would want to snatch the land of landlords. Their propaganda was aimed at fanning the fear of small farmers belonging to the jat Sikh community. 
We organised a powerful agitation to implement the law in 2016 October, when a confrontation took place in Jalur village, Sangrur district. Labourers returning after protesting at the tehsildar's office were attacked brutally. Dozens were wounded. One Scheduled Caste woman, Mata Gurdev Kaur, died. Worse, the administration arrested Dalits, who took to fleeing from the village.
It was then that Joginder Singh Ugrahan, president of the Bharatiya Kisan Union (Ekta Ugrahan) and his team came to the village. We from the PKMU, too, sent our team. We asked the labourers what had happened. Ugrahan did the same with the marginal and small farmers. 
Ugrahan and his team convened a meeting of landowners at the local gurdwara. He told them that Dalits had been wronged, and that his union, even though representing the interests of landowners, could not support the oppression of Dalits, not least because it violated the Sikh religion and the preaching of gurus. His intervention led to Dalits to gradually return to Jhalur. With the help of BKU (Ekta Ugrahan), Kirti Kisan Union and such like, we demanded the release of those arrested and punishment be meted to the culprits responsible for the murderous assault on the labourers. We achieved these goals.
Ugrahan and other union leaders made small farmers understand that their opponents were not Dalits and agricultural labourers, but moneylenders and the state that is indifferent to the interests of small farmers. Their intervention ended the oppression of Dalits in Sangrur.
Have small farmers belonging to the jat Sikh community joined labour unions in their fight against the sexual exploitation of Dalit women?
In 2014, a Dalit minor was gang raped by caste landlords in Gandhar village of Muktsar Sahib district. They were not arrested, because of their connections with the Akalis, who were then in power. We launched an agitation for their arrest. The BKU (Ekta Ugrahan) sided with us. Our Union president Zora Singh was arrested, as were BKU leaders. Men and women courted arrest. The agitation continued for a month. Because of the public pressure, the culprits were arrested, convicted and sentenced to 20 years of imprisonment.
Has the gap between jat Sikhs and Dalits decreased?
It is definitely decreasing.
Do Dalits and jat Sikhs eat together?
Earlier, Dalits were not allowed to touch the food or cook for jat Sikhs. To a great extent, that taboo is no longer there. Dalit women do cook for jat Sikhs, even in villages. 
No question of inter-caste marriages?
That still remains a very big issue. But then, even marriages between Dalit subcastes do not take place. 
How is the conflict between farmers and labourers over wages addressed?
Suppose labourers demand an increase of Rs.50 in their wages. How many labourers does a small farmer need in a year? At best, 20, signifying an outflow of just Rs.1,000 a year. By contrast, big landlords employ labourers in hundreds, even thousands. Their outflow of money is relatively far higher. We try to make small farmers understand that a marginal increase in the wages of labourers does not undermine their interests. We also tell them that the rise in input cost zooms up when the prices of fertiliser, urea, seed, tractor, etc increase. They understand that. Our successes in getting a better deal for labourers could not have been possible without the assistance of farmer unions.
Modi's oppressive agenda 
Do you trust the Supreme Court to find a solution to the conflict over the three farm laws?
Your question reminds me of the press conference of the judges in 2018. They felt the Supreme Court was under pressure from forces external to that institution. I am also reminded about the Rajya Sabha seat that was given to the Chief Justice of India soon after he retired.
Do you trust the Modi government to do good for farmers and labourers?
I trust the Modi government to oppress and undermine the interest of marginalised groups, Dalits, Adivasis, women, Muslims. They will only benefit the Ambanis, the Adanis, the Bayers and the Walmarts of the world. For centuries, atrocities have been committed on Dalits. But ever since the Modi government came into power, the atrocities against Dalits have only increased. Remember Una, Bhima Koregaon, the Hathras rape case? The Modi government does not have a religion. Its only religion is to help corporates.
How come the presence of agricultural labourers is not very visible in the ongoing protest outside Delhi?
Labourers have to earn their daily wage. Working daily is their compulsion. It is not possible for them to protest far away from where they live. There is also the cost of travelling to Delhi. Our union members and agricultural labourers went to Delhi between 7 and 10 January, after others financed our journey. But we have been part of the agitation from the very beginning; we went from village to village, door to door, to explain how the three laws will ruin their lives.
At the moment, we are campaigning against the canard that the BJP has been spreading among Dalit labourers in Punjab. They say the agitation is over the Minimum Support Price and the land issue. Neither has anything to do with the labourers. We have been telling labourers that the three farm laws will first impact the labourers. Farmers can survive for three-four years. Labourers cannot. We also tell them to not trust Modi, who had promised Rs 15 lakh to every person in 2014. We tell them that Modi's intention is to establish a Hindu rashtra, which has as its basis the Manusmriti. Dalits know that Manusmriti justifies oppression.
Get the latest reports & analysis with people's perspective on Protests, movements & deep analytical videos, discussions of the current affairs in your Telegram app. Subscribe to NewsClick's Telegram channel & get Real-Time updates on stories, as they get published on our website.
Subscribe Newsclick On Telegram