Modi Govt. Claims it is Set to Cross Disinvestment Target, But It's Not Good News
Besides selling off national assets into private hands, the Modi government continues with its modus operandi of getting one government-owned company to buy another and getting government companies to buy back their own shares.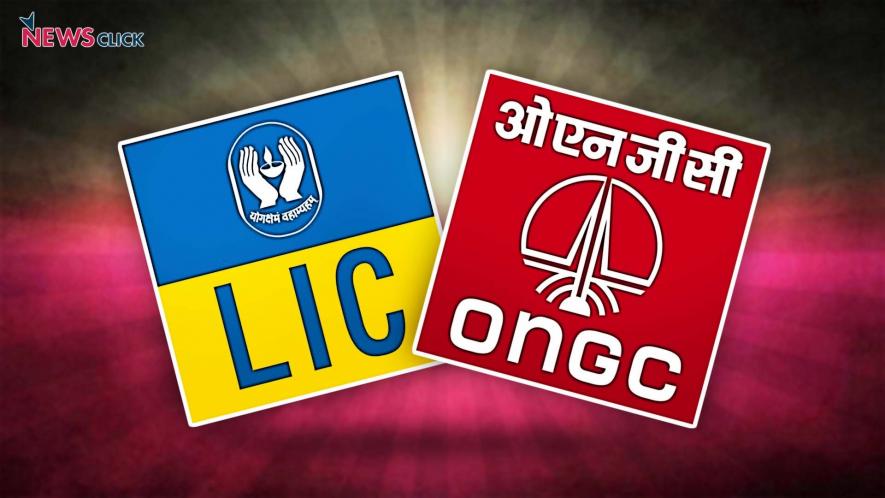 The Modi government set a target of selling off national assets worth Rs. 80,000 crore in the ongoing financial year 2018-19 — and according to a report in the Business Standard, the government "is confident of crossing the disinvestment target".
In fact, the report quoted a government official as saying, "We may even go up to Rs. 850 billion (Rs. 85,000 crore)."
How does the government plan to get there? And why is the Modi government bent on disinvesting companies owned by the Government of India? Let us first answer the first question.
Besides selling to private players, the government plans to meet a substantial part of the disinvestment target by following the same modus operandi that it has been — getting one cash-rich government-owned company to buy another government-owned company. For example, in the case of the LIC-IDBI deal this financial year, whereby LIC was made to buy the majority stake in the sinking IDBI Bank, and the ONGC-HPCL deal last financial year, which left ONGC indebted.
Also Read: ONGC-HPCL Deal: BJP Govt's Jugglery to Meet Fiscal Deficit Target
This is a way to generate cash to inch closer to the disinvestment target — especially when there is a dearth of private buyers because the offer is not considered lucrative enough, and/or where there is stiff and successful opposition by the companies' employees to privatisation (as in the case of the Dredging Corporation of India, which is now being sold to a consortium of four state-owned ports).
Then there is the method of getting government-owned companies to buy back their own shares, as NewsClick has written about earlier, but more on that in a bit.
So far, the total disinvestment proceeds this financial year have come to Rs. 34,000 crore.
And as the Business Standard mentions, after the "planned" purchase of the REC (Rural Electrification Corporation) by the Power Finance Corporation (PFC), the disinvestment amount would reach Rs. 50,000 crore.
Both PFC and REC are non-banking financial companies (NBFCs) in the power sector, and as the report said, this "will be the single biggest disinvestment move of the year", requiring regulatory approvals that the government seems confident of obtaining.
Asset Sales
Among other assets, the BJP-led NDA regime is also trying to sell off helicopter services company Pawan Hans; engineering company Central Electronics; Air India's ground handling subsidiary (after the privatisation of Air India failed), and even Scooters India.
Besides, the government plans to have another follow-on public offering of its Bharat-22 exchange-traded fund (ETF) — "which could rake in upwards of Rs. 100 billion (Rs. 10,000 crore)", said the report.
What are exchange-traded funds (ETFs)? A portion of stocks of different companies are taken and bundled together and then sold on the stock exchange.
The Bharat 22 ETF comprises 22 stocks of mostly Central Public Sector Enterprises (CPSE), Public Sector Banks and a few private companies (in which the Specified Undertaking of Unit Trust of India has strategic holdings).
Basically, chunks of government companies and government shareholdings are being sold.
"A chunk of disinvestment till now has come from follow-on offerings in the Centre's two ETFs, Bharat-22 and CPSE. These earned Rs. 83 billion (Rs. 8,300 crore) and Rs 170 billion (Rs. 17,000 crore), respectively," said the Business Standard report.
The CPSE ETF is made up of stocks of only government-owned companies.
The government will also make initial public offerings of "Mazagaon Docks, rail companies RVNL and IRFC (in which 10 per cent each will be divested), and MSTC", said the Business Standard.
There is also a possibility of state-owned general insurance companies, the General Insurance Corporation and the New India Assurance being offered for sale.
And the Centre is "still trying to push through the acquisition of its stake in SJVN (Satluj Jal Vidyut Nigam Limited) by NTPC (National Thermal Power Corporation), valued at Rs. 70 billion (Rs 7,000 crore)," as the report said.
Also Read: Talks of possible merger of SJVNL and NTPC?
Share Buybacks
Then, of course, there are the government-owned companies buying back shares from their existing shareholders, usually at a price higher than the market price — a practice known as 'share buybacks'.
The Business Standard report said "buybacks by public sector units could get the exchequer between Rs. 120 billion (Rs. 12,000 crore) and Rs. 150 billion (Rs. 15,000 crore)."
But why are companies buying back shares? While there could be other reasons, in this case it is because the Modi government is forcing them to — in order to generate cash to meet its disinvestment target.
What's more, the report said the Cabinet has cleared the selling of "enemy shares", that are currently with the Custodian of Enemy Property for India (CEPI), in 996 companies. The CEPI is a department empowered to appropriate property in India owned by Pakistani nationals.
And as mentioned earlier, the government has already approved the sale of its entire stake in the Dredging Corporation of India (DCI) to a consortium of four state-owned ports.
The report said that the sale of these two — DCI and the "enemy shares" — "could add around Rs. 30.7 billion (Rs. 3, 070 crore) to the disinvestment kitty."
But what is the point of disinvestment?
The justification for disinvestment according to neoliberal logic is — it is needed to raise funds for the government exchequer and to help the government stick to its fiscal deficit limits as dictated by the international financial institutions (such as International Monetary Fund, World Bank, etc).
But is selling off nationally owned companies to private players — or even to other nationally owned companies, which is to the detriment of the buying company — the best way to raise finances?
As economist Prabhat Patnaik elaborates, this way of "fiscal consolidation" is destructive for the country and its people in the long run.
In the meantime, the government continues giving massive tax concessions to corporates, amounting to Rs. 86,145 crore in 2016-17, while getting the public sector banks to write off staggeringly high bad loans (Rs. 2.41 lakh crore between April 2014 and September 2017).
At the same time, the government continues cutting down its public expenditure on necessities like health, education, etc. So, what are the finances being raised for? To grant further tax concessions to corporates and write off more bad loans? Or to build more hyper-expensive statues out of public money?
Last financial year too, the Modi government exceeded its disinvestment target of Rs. 72,500 crore by actually generating a whopping Rs. 100,000 crore — helped in large part by the ONGC-HPCL deal, which generated Rs. 39,600 crore, as the Business Standard report mentions.
Also Read: As Modi Sucks Cash From Public Sector Companies, Dividend Payment to National Coffers Declines
Already, as NewsClick has reported, the Modi government in its four-and-a-half years of rule has sold off public-sector assets worth more than Rs. 2 lakh crore — a staggering 58 per cent of all disinvestment done since 1991, when the economy was opened up to neoliberal policies.
Clearly, the agenda is to sell off the entire country — while boasting about as having achieved or even crossed the 'disinvestment target'.
Get the latest reports & analysis with people's perspective on Protests, movements & deep analytical videos, discussions of the current affairs in your Telegram app. Subscribe to NewsClick's Telegram channel & get Real-Time updates on stories, as they get published on our website.
Subscribe Newsclick On Telegram