'Modi Govt Talks Clean Energy But Boosts Coal Mining, Dilutes Mining Laws'
As India gives an ambitious push to renewables, it also continues its reliance on coal while incentivising corporate interest in the fossil fuel industry.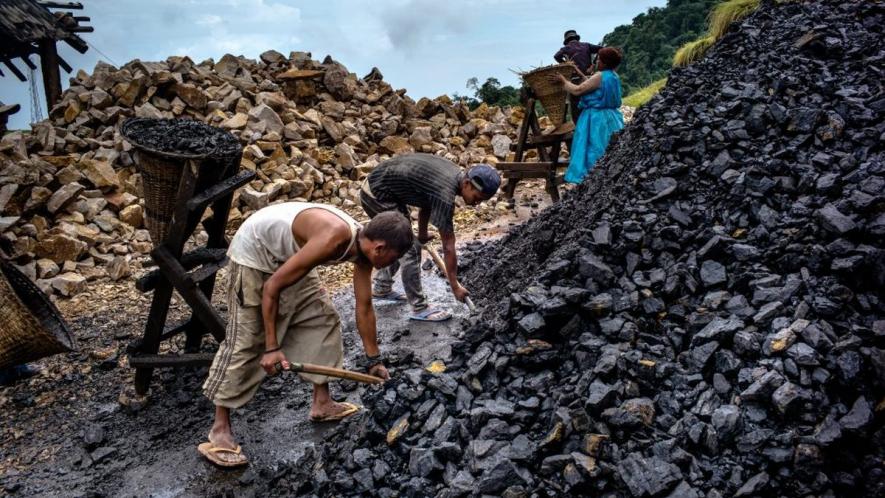 Representational Image. Image Courtesy: Bloomberg
New Delhi: As the world awaits the global climate meet, COP26, India is slated to stake claim and emerge as a global leader in clean energy and renewables. However, while India talks renewables, its policies still maintain high dependence on coal. 
As much as 25% of India's revenue comes from fossil fuels while coal-fired power output is set to double by 2040. Concessional tax benefits continue to be the largest subsidy to the coal sector; newer acts and amendments continue to make a big push towards coal--making it the centerpiece of India's energy system, despite both higher financial and social costs. 
India recently held its second round of coal block auctions offering 67 blocks against which it had received interest for only 19 coal mines. During the first round, wherein 38 blocks were up for grabs, only 20 managed to be auctioned. It is the first time since the 1970s that coal blocks have been up for auction. As India deepens its ties to coal, dilution in policies aid easier clearances, paving the way for environmental degradation and land acquisition, say activists.
'Dilution' of policy, degradation of environmental norms 
In its latest move, the Central government has pushed through the Coal Bearing Areas (Acquisition & Development) Amendment Bill, 2021. The Bill, while exempting private parties from conducting social impact assessments and paying compensation or seeking the consent of locals, also sets a precedent for land acquisition. The original act of 1957 did not allow permanent structures or projects. Through these proposed amendments, once the lease is granted to a mine, private companies would continue to have control over the acquired land even after mining activities are completed and would be able to continue ancillary activities and build coal-related infrastructure. This means that provisions of the watershed land acquisition Bil,l enacted in 2013—popularly known as the LARR Act, 2013—will no longer apply to thevcorporate bigwigs when they take over land for extracting coal from the blocks won through bids.
The reading down of the environmental regulations was triggered in March 2020, when the Ministry of environment issued two notifications to provide easier forest and environmental clearances to mine owners. This meant that once the corporate firm had mining rights they no longer needed to seek fresh approvals and could ignore any previous damage that had occurred to the environment. 
Environmental researchers, Manju Menon and Kanchi Kohli argue: "This extension of environmental approvals to mines that are being granted fresh leases assumes a fait accompli of projects. It takes away the opportunity to address the legacy of mine impacts, such as contamination of farm lands or water sources, degradation of forest areas or loss of lives due to mining accidents, before change of ownership of mines."
As a final nail in the coffin, the Narendra Modi government triggered a complete policy overhaul in March 2020, by passing the Mineral Laws (Amendment) Bill, 2020, which amended two Central laws that governed mining in India-- The Mines and Mineral (Development and Regulation) Act (MMDR), 1957 and the Coal Mines (Special Provisions) Act (CMSP), 2015. 
The amendments opened a gateway of reforms that further commercialised coal. The Acts meant that corporate firms won land rights along with mining rights coupled with an extension on who could mine. The amendments mean anyone -- with or without mining experience -- could now participate in the process of mine acquisition. The second, more dangerous change, was the relaxation of the CMSP Act's (Coal Mines (Special Provisions) Act) norms on the end-use of coal, which was limited to specified uses, such as power generation and steel production. The amendment has removed this pre-condition. 
The government coupled these changes with mining reforms, which altered the definition of what constitutes illegal mining. The reforms, introduced at the end of 2020, removed a limit on the extraction of minerals as long as it did not violate the territorial limit. 
"By this understanding, the over-extraction of minerals that amounts to a loss of royalty to the state exchequer or results in damage to land, forests, water or livelihoods during the time of extraction and transportation will not be considered an illegality by the mining law," say activists.
Speaking  with NewsClick, Kanchi Kohli, a senior fellow at the Centre For Policy Research, said: "Reforms in both the mining sector laws and environmental regulations are directed at incentivising private sector commercial coal mining in the country. However, participation in auction processes, especially that of coal has not been encouraging. In fact, publicly available information indicates the opposite." 
Kohli further added: "In mining geographies, there has been a complete breakdown of environmental oversight, which has not just increased public health risks during the COVID-19 outbreak, but has also intensified conflicts. There has been news of both protests and industrial accidents that can be attributed to unresolved legacy issues related to pollution, land grab and non-fulfilment of conditions of land acquisition."  
Dilution of the laws has led to increased environmental degradation as the government continues to maintain its silence on policy, she added.
As India privatises coal and increases its dependence on the domestic product, the generation of toxic fly ash and its management has taken a backseat for industrial profit. This happens even as fly ash accidents continue to wreak havoc on the environment and livelihoods of local communities. The annual fly ash generated from Indian coal power plants witnessed an increase from 123 million tonnes in 2009–10 to 217 million tonnes in 2018–19 – an increase of almost 76%. Thus, fly ash breaches continue even though it is known to contain a variety of harmful metals, such as  arsenic, boron and cadmium. It could also have hazardous organic pollutants. Despite this, draft policies have focused only on the disposal of the ash and not on its toxicity and management. 
In a gazette notification in May 2020, the Ministry of Environment, Forests and Climate Change amended the Environment Protection Act to drop mandatory washing coal for supply to thermal power plants. According to industry calculations, washing improves the quality of coal by reducing ash content to 33-34% from the earlier 40-45% in average Indian coal. 
"Despite fly ash breaches and accidents, the government moved a gazette to stop coal washing," environmental lawyer Rahul Choudhary told NewsClick. He said:  "India maintains a complete contradiction on coal. While the Supreme Court had quashed the mining leases previously, the government has revived the auctioning of blocks to private parties. Despite significant achievements in the clean energy sector, we are not stopping the usage of fossil fuels. Rather, we are proceeding in a bizarre way. Moreover, the policies are paving the way for (environmental) degradation."
As India aims to steer ahead with its 175 GW (giga watt) clean energy target, the government's silence on policy, contradictions over and commitment to the fossil fuel industry stand exposed. 
Meanwhile, the local communities continue to battle the loss of their lands and livelihoods and dismissal of their consent. Most importantly, they are fighting for a chance to become equitable partners in India's energy transition process, but the government is yet to pay heed to them.
Read More: Modi Government Introduces Amendment Bill to Help Corporates Profit from Coal Mining 
Get the latest reports & analysis with people's perspective on Protests, movements & deep analytical videos, discussions of the current affairs in your Telegram app. Subscribe to NewsClick's Telegram channel & get Real-Time updates on stories, as they get published on our website.
Subscribe Newsclick On Telegram