Mohammedan Keep Top 6 Hopes Alive; Subplots Unravel in the I-League
By Sunday the next phase of the 2021 I-League Season will be known. Here is a look back on a week of drama gone by -- from the only Kolkata club in the competition managing to keep its season worth fighting for to a disappointing mini-implosion at Sudeva Delhi FC.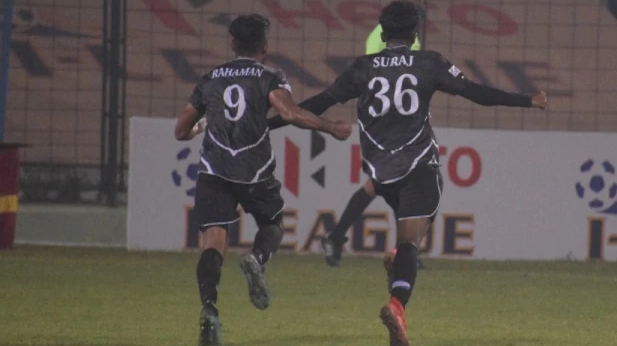 Suraj Rawat of Mohammedan Sporting celebrates after scoring against Chennai City FC in their I-League match in Kolkata.
How much does one goal matter? It is, after all, just one goal. But sometimes it's not. It was the 92nd minute and it's the winner, dramatic and desperate, but that's not it either. It shouldn't be this good, maybe shouldn't be good at all, but bloody hell it was good too. Time was slipping away, tension tearing at them, and then it happened: the ball came in from the left, Tirthankar Sarkar cushions a first time pass in Suraj Rawat's path, and the youngster lets rip. Mohammedan Sporting have beaten Chennai City and many dreams have collapsed in the process.
At 8:49 pm on Wednesday, five teams were fighting to enter the top six mini-tournament of the I-League. When the fourth official's board went up, to show four minutes of added time, Sankarlal Chakraborty — the man who has unofficially and perhaps officially been in charge of this team for a while now — remonstrates, asking for more. Turns out they didn't need it at all. With the win, Mohammedan knocked Chennai City's hopes of a top six to the ground but also did for Sudeva Delhi FC's slim chances of getting there too. A five horse race had become a three horse sprint, and crucially, Mohammedan were still in it. 
Also Read | Olympic Hopefuls Bajrang and Vinesh Lead Indian Challenge at Matteo Pellicone
All of this despite losing to an unfancied Indian Arrows (a 'humiliation' they called it outside the bio bubble) and being destroyed by Yan Law's Aizawl FC (the word used inside the bubble was 'karma') they had managed to get those elusive points to keep them in it. If not to win it, then at least to compete. Anything can happen in the I-League is a cliche statement, but in this new format, few things can happen and most of them seem to be happening mid table. Everyone except NEROCA (right at the bottom of the table) had a chance at the top six. But the math was upended by a 21-year-old Sikkimese midfielder, who had only come on as a substitute in the 67th minute, replacing Jamal Bhuyan — an attacking change made with the single intention of forcing a game that was, till then meaningless if not won. 
Aizawl had not managed to repeat their heroics from the Mohammedan game against Real Kashmir. David Robertson's immovable force had crushed Yan Law's irresistible objects 3-1. If that sounds too cynical, then here's some more. The world has changed in the last year. Social interactions, basic etiquette, professional sport, eating schedules…. But Mason Robertson still has Aizawl's number. A simple fact (acquired courtesy social media): Mason Robertson's second goal, a free kick from 30 yards out, was the second time he has done this to Zothanmawia, in the Aizawls goal, in a year. 
Well, not exactly one year. He scored his first freekick on February 29, 2020. And it wasn't the same goal either. Because that first goal was scored in Kashmir, in front of fans. And goals in front of fans matter. In the end they are just that, goals, but somehow they mean more. Indian football doesn't always get stadiums filled with fans, but these goals deserve them.
Also Read | Indian Football Team to End Covid-19-Forced Hiatus with Friendlies in Dubai 
The players know this too. Rawat's first instinct upon scoring that brilliant injury time screamer was to rush to the stands. There weren't many people there, just some officials from the club with VIP passes, but all the celebrations were there. It was poignant and reflective of Mohammedan right now. The club had been stuck in a mire through the season, plodding through draws, with winners scored by unlikely sources. Dues were not being paid on time, but big name signings were arriving without much trouble. And then came that 3-0 Aizawl shellacking and Jose Heivia was gone, sacked silently, pushed out of the bubble in the dead of the night. Sankarlal was in charge (varied accounts suggest he always had been). Rawat's winner was attributed to Sankarlal's ingenuity (the commentator's exact words: a super substitution by the Bengali tactician…) but it is worth wondering if it was so much different from what had already happened. An unlikely winner, in squeaky bum time, scored by an unlikely source. Mohammedan, sportingly, march on.
Talking points
Sudeva Delhi FC took on Gokulam Kerala in what was a huge game for the Delhi side. They needed, at the very least, a point to stay in the race for the top six. In what will probably count as one of the most surprising decisions of the season though, they ended up fielding a side with seven U-22 players (four from their academy) for the biggest game of their season. If the idea was to surprise Kerala, it worked… for fifteen minutes; the Malabarians were caught unaware but adjusted brilliantly to dominate the game, squander multiple chances, and finally score a tap in to get the winner. The real winner though was goalkeeper Sachin Jha, a Delhi youngster making his debut in the I-League. Jha was always going to be tested by the likes of Denny Antwi and Philip Adjah up front, and came through with aplomb. The stats say it all. Kerala had 25 shots on Sudeva's goal. Ten of them were on target. One went in.
Goals matter, but players matter more. If you haven't heard of Komron Tursanov yet, you've been distracted easily. The Tajikistani international has scored five goals (which include the two fastest goals in this edition of the I-League) and has three assists in this season of the I-League alone. On Wednesday he put in a performance that was an absolute masterclass. He had a role in all five goals TRAU scored against Indian Arrows. Surely a record of some sort. 
Get the latest reports & analysis with people's perspective on Protests, movements & deep analytical videos, discussions of the current affairs in your Telegram app. Subscribe to NewsClick's Telegram channel & get Real-Time updates on stories, as they get published on our website.
Subscribe Newsclick On Telegram