No Country for Adventure: Challenges Extreme Sports Athletes Face in India
During Commander Abhilash Tomy's rescue operation, the Indian Navy utilized its resources, including the P-8I maritime reconnaissance and anti-submarine aircraft, to ensure the safety of its officer. However, civilians taking part in adventure sports in India, often have to use their own ingenuity and resources to weave a safety net around themselves.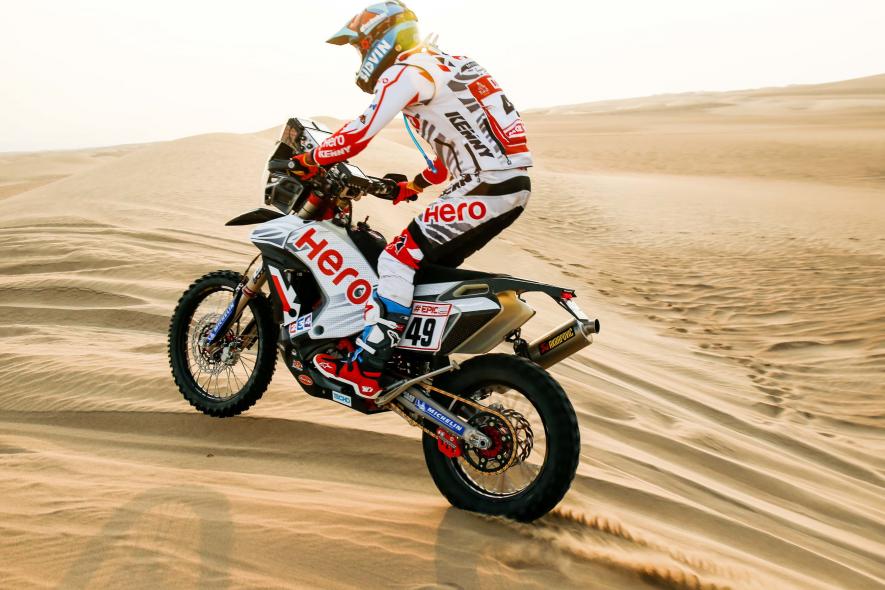 CS Santosh, India's top cross country rally rider, races on a Spanish license that costs €1,000 (Rs. 84,000) as it comes with an insurance cover of €30,000 ( Rs 25 lakh), including air evacuation from any part of the world to any country of choice.
It was an eight-word message that triggered off an intensive search and rescue mission in one of the remotest places on the planet that kept the news cycle in a state of furious churn for the next 72 hours. On September 21, around 5.39 pm IST, India's most decorated long-distance ocean sailor, Abhilash Tomy, pinged the race control of the Golden Globe Race in Australia: "Rolled. Dismasted. Severe back injury. Cannot get up."  The coordinate stamp on the message indicated it originated from 39'38.20S, 77'22.565E. In other words, Tomy was stuck within a degree of the turbulent 'roaring forties' after his boat, Thuriya, was knocked down by gale force winds.
The Southern Indian Ocean is one of the loneliest stretches of water on the planet. Tomy was trapped inside his damaged boat almost 3,200 km off the coast of Western Australia. After receiving the SOS, the Australian Rescue Coordination Centre based in Canberra activated search and rescue protocols and issued the Red Code.
It meant all ships in the area — naval, merchant and fishing vessels — were obligated to pitch in to rescue the Indian Navy commander as per established maritime norms. It was at this stage that the Indian Navy voluntarily offered to deploy its assets to rescue Tomy and requested its Australian counterparts to help as well. Over the next three days, Indian Navy's P-8I maritime reconnaissance and anti-submarine aircraft, which, according to the Pentagon, costs $ 2,100 per flying hour, remained aloft for 50 hours, keeping watch on Tomy before the French fishing vessel, Osiris, rescued him.
Also Read | Virat Kohli Should Stick To Batting and Spare India His Cricket Nationalism
As expected, the extensive nature of Tomy's rescue operation turned the focus on the occupational hazards extreme sports athletes face when they set out to challenge the vast and wide unknown. It would be churlish to take the high moral ground and ask whether the Indian Navy should have undertaken such an expensive mission at a time when India's defence spending, as a percentage of GDP, has dropped alarmingly to 1.52 percent, on par with what it was in 1962.
Armed forces around the world encourage their men and women to take part in extreme sports because it's in sync with their ethos of acting with valour in the face of adversity. And, when these men and women get caught up in adverse situations, they move their men and machines to rescue their colleagues with a sense of esprit de corps. That's the reason people from the armed forces in India have been at the forefront of adventure sports. They have the necessary support system in place that's needed to pursue high-cost and high-risk adventure sports.  
The first successful Indian expedition to the Everest in 1965 was led by Lt. Cmd. MS Kohli, and comprised mostly of members drawn from the armed forces and paramilitary units. It put nine men on the summit — a world record at the time. If today, India enjoys an upper hand in Siachin, it's because of Col. N. Kumar's pioneering army expedition to the world's highest battlefield that planted the tri-colour on the hostile glacier, dominating the Pakistani army in the Eastern Karakoram.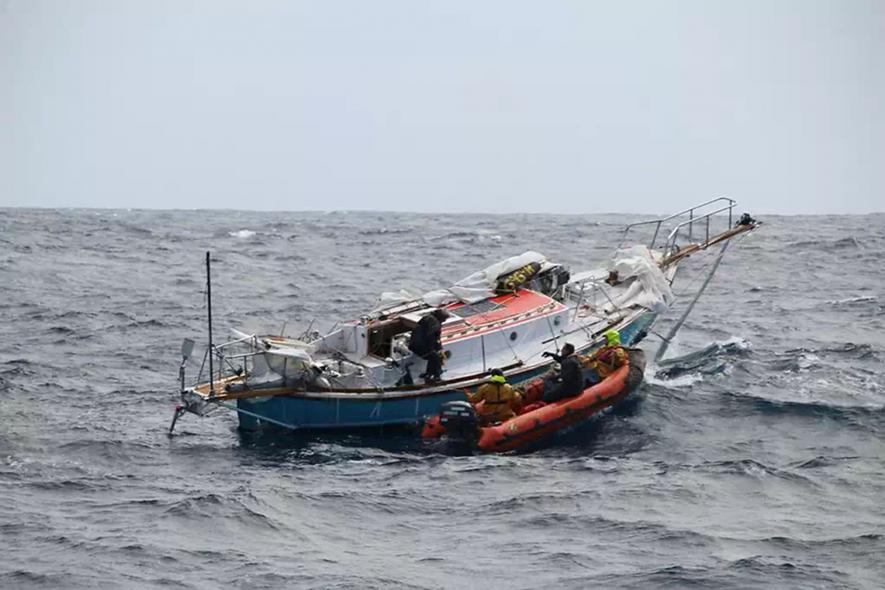 Commander Abhilash Tomy being rescued from his vessel Thuriya.
Tomy's rescue operation, in fact, should serve as an opportunity to dissect the anomalies and the lack of support systems that act as a serious impediment for civilians who pursue extreme sports in India. In every instance, they are left to their own ingenuity and resources to weave a safety net around themselves.
Video | Real Football in Real Kashmir: Giving Girls a Chance
India's top cross-country motorcycle racer, CS Santosh's professional life is defined by racing across some of the most hostile terrain on the planet in excess of 150 kmph on two wheels. The first Indian to break the glass ceiling by taking part in the iconic Dakar Rally (2015) competes with a Spanish racing licence that costs €1,000 (Rs. 84,000), because, unlike an Indian racing licence, it comes with an insurance cover of  €30,000 ( Rs 25 lakh), including air evacuation from any part of the world to any country of choice.
Communication gaps
Though, there is slow change in the air, top extreme sports athletes point to very basic issues that plague safety and rescue operations in extreme sports in India. It starts with communication.
Mohit Oberoi, one of India's pioneering rock climbers and founder of the Outdoor School, points out that the unavailability of satellite phones for civilian use as the first big hurdle.
Also Read | United on the Pitch: North and South Korea in Move to Build Combined Hockey Team
"If you are stuck in a remote place with no cellphone coverage there is no way one can communicate with the outside world. A remote place need not necessarily be a high Himalayan mountain top, it could be the cliffs of Dhauj (Haryana) or Susunia (West Bengal)," says Oberoi.
The Delhi-based climber recalls how he once had to carry his climbing partner (who fractured his leg after a nasty fall) on his back to the roadhead because there was no way he could communicate to outside world. It's not that they were scaling the rock faces in some boondocks. It happened in Dhauj, which is in the border area of Faridabad and Gurgaon in the NCR region.
No Air Support
This communication blackhole gets further exacerbated for activities such as mountaineering and paragliding. Love Raj Dharmshaktu, India's best contemporary mountaineer who holds the record of seven Everest summits — highest number by an Indian — besides more than 40 successful climbs, including Kanchenjunga (8,586 metres), takes the point even further.
"Due to the lack of communication in remote regions, the only option in case of a mishap is to come down the mountain to the base camp, gather more people, before going up again to rescue the affected people. It's the loss of the critical time window which is the main difference between life and death," he says.
Also Read | No Beef, Please! BCCI Asks Cricket Australia to 'Indianise' Menu for Indian Cricket Team
"The second issue, unlike in Nepal, is the lack of proper airborne rescue operations in India for civilians, because in most of the places where mountaineering happens, private choppers are not allowed to fly or they don't have the right choppers that can fly above 6,500 metres," adds Dharmshaktu. "Also, in Nepal, for instance, you can buy a satellite phone off the shelf or rent it without any hassle."
However, things are progressing in India. In some places like Uttarakhand and Himachal Pradesh, the government has allowed limited use of satellite phone through state-owned telecom operator BSNL.
Also Read | India's Star Junior Golfer Shubham Jaglan in Fight with Reliance General Insurance
Another critical shortcoming Dharmshaktu points out is the lack of professionally trained rescuers in India. Most of the people, including from the armed forces, who are pressed to carry out rescue operations in hostile conditions are not equipped with the wherewithals in terms of training or equipment.       
In many cases in the past, those with the right contacts, and money, have managed to press Army or Air Force choppers for civilian rescue operations. But the time it takes to activate them, due to the long-winding chain of command, has often proved to be a fatal delay.
Insurance Roadblock
Then comes the issue of insurance. Until 2016, none of the Indian insurance companies, including the multinational ones, offered high-risk cover. The maximum they provided was the standard Rs. 2 lakh cover for risky activities. It left athletes like Dhramshaktu with no option other than to rely on international companies such as Global Rescue for evacuation and medical insurance.
It is this wide chasm between the growing trend for adventure activities and the lack of safety infrastructure that a start-up such as Adventure Sports Cover 360 (ASC 360) aims to bridge. Based on the nature of the sport, ASC 360 offers five categories of insurance and rescue cover that include more than 200 activities ranging from simple treks to 8,000 metre plus expeditions and BASE jumping.
Also Read | Bajrang Punia's New-Found 'Strengths' Cost Him Gold at Wrestling World Championships
To make their Insurance Regulatory and Development Authority of India (IRDAI) approved policies easily accessible, the packages start with premiums as low as Rs 99 for simple treks to customised cover for elite athletes.
"It has taken us close to eight years to put the necessary infrastructure in place. Today, we have tie-ups with most of the air ambulances and operators of medical choppers, hospitals and rescue operators. We can now provide both land-based and airborne rescue support anywhere in India," says Pratik Gupta, founder of ASC 360.
This year, they set up a permanent medical and rescue camp for 45 days and a helipad at the base of Stok Kangri — a popular 6,153-metre trekking peak in Ladakh.
"Anybody going to Stok Kangri could buy a 10-day rescue and medical insurance package for just Rs 1,500. Also, we carried out three successful helicopter evacuations. During those 45 days of our operation, there were no casualties on Stok Kangri. This is apart from 31 evacuations that we carried out in Nepal during the 2018 climbing season, including from the Everest," adds Gupta.
Video | Chasing Perfection: Garry Kasparov, Mo Farah, AB de Villers, Ric Charlesworth on Greatness
Given that this market is growing in India; other insurance companies like Bajaj Allianz have started shedding their moribund mindsets. Since last year, they began offering customised medical insurance cover for extreme activities such as Everest expeditions; though for evacuation, top Indian mountaineers still prefer to go with international operators such as Global Rescue or World Nomads.
It's a no-brainer that the Indian Himalaya, which stretches from Jammu and Kashmir in the north to Arunachal Pradesh in the east, and a coastline that's more than 7,000 km long, extreme sports is here to stay and grow with the ever increasing awareness about outdoor lifestyle. Therefore, it's imperative that India develops its indigenous rescue, insurance and medical protocols.
Get the latest reports & analysis with people's perspective on Protests, movements & deep analytical videos, discussions of the current affairs in your Telegram app. Subscribe to NewsClick's Telegram channel & get Real-Time updates on stories, as they get published on our website.
Subscribe Newsclick On Telegram