India's Star Junior Golfer Shubham Jaglan in Fight with Reliance General Insurance
Is the 14-year-old, whose father sells milk for a living, being denied claims of over Rs 2 lakh for abiding by international rules defining 'amateur' and 'professional' golfer?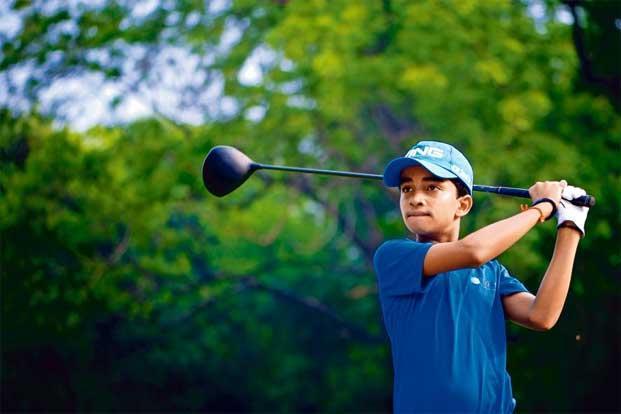 Image Courtesy: dailyhunt
Shubham Jaglan's journey from the fields of Israna village near Panipat in Haryana to the Delhi Golf Club to international competition and a CNN feature has been something of a fairy tale. The youngster, who turned 14 this year, has started playing in tournaments organised for senior amateur golfers by the Indian Golf Union, and has already registered his maiden title. He comes from an underprivileged background. His father sells milk for a living.
Until last year, Jaglan was the rising Indian star in the junior golf circuit, and between 2015 and 2017 won two major titles each in the United States and in Europe. Arguably, the most prestigious of his junior titles is the IMG Junior World Championship title, which he won in San Diego in 2015. Former winners of the same trophy include golf legends Tiger Woods and Phil Mickelson.
It was to play in the same tournament, the IMG Junior World Championship, that Jaglan was travelling to the US in July 2017 when he sustained a back injury that prevented him from participating in the tournament and kept him out of action for over three months. In the US, after attempting to train for a few days, Jaglan realised the extent of his injury, pulled out of the championship, and sought medical attention at the University of California San Diego Medical Center. His hospital bill, of $3,719 (or ₹2.55 lakh at the then prevailing exchange rate), was supposed to be covered under health insurance that he had bought from Reliance General Insurance in India before travelling, and his insurance details were accepted by the hospital.
Several months later, however, Jaglan was informed by the company that it would not pay his bill. Reliance General Insurance claimed that Jaglan had committed a "breach of trust" in filling out his details while buying the insurance policy – stating "no" to the question of whether he is a "professional sports person." As a result of this "breach of trust," the company repudiated Jaglan's claim.
Jaglan was informed of his claim being repudiated on February 26, 2018. From there onward, Jaglan's mentor Amit Luthra – a former Asian Games golf gold medalist for India, and the founder of The Golf Foundation, which has supported Jaglan since he was nine years old – took it on himself to attempt to explain to officials of Reliance General Insurance the difference between a "professional" and an "amateur" golfer, and why their claim that Jaglan had mis-represented himself was incorrect.
Jaglan obtained written confirmation from IMG of his status as an amateur, and in a meeting with two company officials, Luthra presented his case, and was asked to put it in writing. When he did, however, the company appeared to have changed its mind. Luthra and Jaglan escalated the claim through the company's hierarchy, and despite two reviews, the claim was continuously denied.
It is worth noting that the difference between an amateur and a professional golfer is quite significant. In simple terms, an amateur is a player who does not earn any income through golf. However, the reality for amateur golfers is much more regulated than one might expect. International golfing associations specify detailed rules about how an amateur golfer is to conduct and represent themselves, including rules on the terms under which amateurs may participate in competitions also involving professional golfers.
These rules include bans on receiving prize money, sponsorships or affiliations, fees for teaching or coaching and a host of other restrictions. In any case, all junior players are amateurs, as is the case across most sports. An IMG official, responding to Jaglan's query wrote: "In all my years with this event, I have not heard of a professional junior." Seen in this light, for Jaglan to claim that he is a "professional sports person" when buying insurance may have constituted a violation of rules governing his position as an amateur player.
In July 2018, having exhausted all recourse for redress of his grievances within the company, Jaglan and Luthra took their claim against Reliance General Insurance before the consumer court and the insurance regulator. Asking for the claim to be fulfilled and a further ₹ 2 lakh in damages, the cases are presently proceeding before the two fora.
When contacted for comment, a Reliance General Insurance spokesperson declined, as the case is sub-judice.
(With editorial inputs from Paranjoy Guha Thakurta)
Get the latest reports & analysis with people's perspective on Protests, movements & deep analytical videos, discussions of the current affairs in your Telegram app. Subscribe to NewsClick's Telegram channel & get Real-Time updates on stories, as they get published on our website.
Subscribe Newsclick On Telegram