One Hundred Indian Farmers Go Landless Every Hour
A more sustainable and just farming system is needed. The strengthening farmers' movement is a symptom of that desire.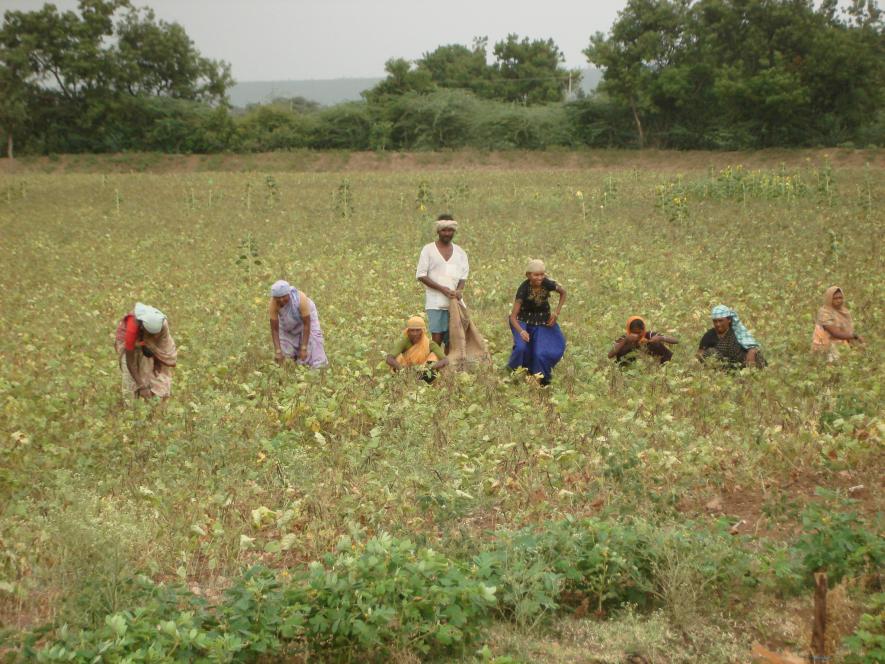 The ongoing protests on the borders of Delhi reflect the growing discontent among farmers in India. The reason for their anguish is that small and medium farmers, who constitute an overwhelming majority of farmers, need a more sustainable and just agricultural system—one in which the government plays an important protective role.
The difficulties of a very large number of farmers are evident from a very telling figure, that nearly 100 small farmers are becoming landless farmers every hour in our country. If it takes 15 minutes to read and reflect on this article, in just that much time 25 farmers would have lost their land. Clearly this is not a sustainable situation for any farming system that is largely based on small holdings. That is why India must find ways and means to move towards more sustainability.
Let us consider these statistics in more detail: Data from the 2011 Census and the one preceding it in 2001 shows that there were 127.3 million (1,273 lakh) landowning farmers in 2001 whose numbers reduced to 118.7 million (1,187 lakh) in 2011. In other words, in those 10 years the number of farmers declined by a whopping 8.6 million (86 lakh). 
On the other hand, there was an increase in the number of landless farm workers. "The number of landless agricultural workers in India as per Census 2001 was 10.67 crore and as per Census 2011 it was 14.43 crore," then Union Labour Minister Bandaru Dattatreya told the Rajya Sabha in a written reply in May 2016. Therefore, millions of farmers and, to some extent, artisans moved to the category of landless workers over the same period. 
The reduction in the numbers of farmers is therefore higher than accounted for by the increase in the numbers of landless farm workers. Therefore, we can reasonably assume that all or most of the nearly 8.6 million or 86 lakh farmers moved from the category of farmers into landless farm labour or other work over this decade. This means a loss of 0.86 million (8.6 lakh) owner-farmers every year, which is around 72,000 in one month and 2,400 in one day. This is how 100 owner-farmers could be moving into the category of landless farm workers every hour in India.
And when Census 2021 data becomes available, further comparisons will be possible with the trend seen from 1991 to 2011. It is a reasonable guess that an even more disturbing trend will reveal itself, as the pressures of rising costs and debts has only intensified during this period, especially for small and marginal farmers.
Some people say the trend of reducing numbers of farmers is largely due to the sub-division and fragmentation of land holdings. Yet, this is only half the picture. It is also likely to result in marginalisation rather than complete loss of land. The resultant pressure on families—which is also a result of wrong and badly-implemented policies in rural India and agriculture—are another critical factor that is pushing people into daily-wage work, in farms or the unorganised sector.
Adverse weather conditions and lack of protection against natural disasters, including the failure and mismanagement of corruption-ridden insurance schemes, have also intensified the impact of climate change on the vulnerable. Add to this the inability of a very large number of small farmers to get fair prices for their produce; and you will understand why farmers have been to vociferously demand the repeal of the new farm laws. The Minimum Support Price-based government procurement system reaches a relatively small number of farmers, and that too largely wheat and rice-growers.
Due to indiscriminate use of chemical fertilisers and pesticides, the natural fertility of soil has declined, while nutrient-enhancing mixed farming systems have been replaced by harmful monocultures. Farmer-friendly earthworms and micro-organisms which improve soil quality have suffered genocidal harm, pollinators like bees and butterflies have declined greatly, water sources are depleted and polluted too. This has made farmers desperate for remedies, but those raise their expenses and still do not bring desirable results. With the accentuation of climate change some of these problems are likely to accentuate.
Unmindful of the real issues and solutions, there is growing domination of business interests on agriculture, which is worsening an already distressing situation. Multinational companies in particular have been pushing for genetically-modified crops despite mounting evidence of the serious risks associated with them. Big business interests are seeking to dictate crop choices via contract farming and trying to secure a much bigger role in marketing and stocking—hoarding—of farm produce. The government is also friendly to big business interests, leaving sustainable farming to dwindle out of currency and the small farmers to suffer.
For all these reasons, the distress and discontent of small and medium farmers should not surprise anybody. Sustainable farming can still come to the aid of landless farm workers, sharecroppers, tenants and small traders, as also women farmers and farm workers. Of the 10.6 crore agricultural labourers recorded in Census 2011, 4.9 crore (38.9% of the total number of female workers in the country) are women, and their role is hardly ever recognised. 
This is why the farmers' movement needs to be supported in its demand for repeal of the three controversial laws, while the procurement system needs to be improved to reach more small farmers and cover a greater variety of crops such as oilseeds, pulses and millet. Eco-friendly farming has been implemented in countries such as Cuba, so there is no reason why it would not work elsewhere, including in India. The agenda of land reform needs to be revived as well, along with the assurance of fair wages and proper implementation of the rural employment guarantee scheme.
The writer is a journalist and author. His recent books include Planet in Peril and Protecting Earth for Children. The views are personal.
Get the latest reports & analysis with people's perspective on Protests, movements & deep analytical videos, discussions of the current affairs in your Telegram app. Subscribe to NewsClick's Telegram channel & get Real-Time updates on stories, as they get published on our website.
Subscribe Newsclick On Telegram