PM's Rapid-Fire Announcements: Job Creation or Corporate Handouts?
With Lok Sabha elections round the corner, Reliance wins contract to build airport in Gujarat despite being lowest bidder, while 5 airports are handed over to Adani Group, including land for power plant in Jharkhand.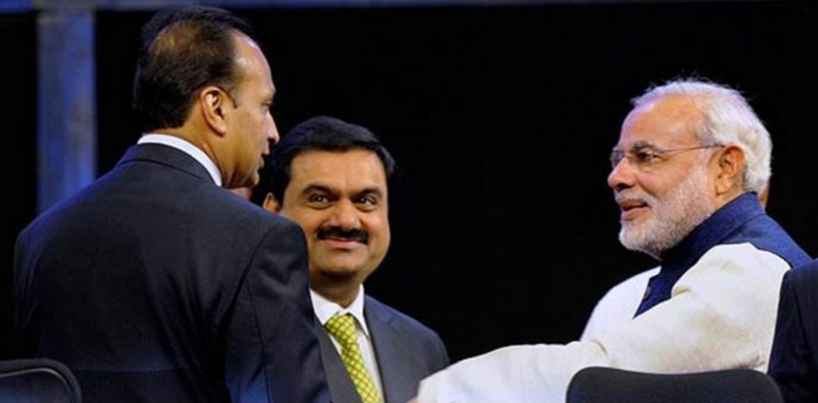 Image Courtesy: The Times Headline
With just days to go for announcement of the electoral schedule and the Model Code of Conduct coming into force, Prime Minister Narendra Modi will make a whistle-stop tour of Uttar Pradesh and lay foundation stones of several projects in Varanasi, Kanpur and Ghaziabad. In his constituency Varanasi, he will lay the foundation of the flagship Kashi Vishwanath Temple expansion (corridor) project.
From Varanasi, the Prime Minister will head to Kanpur where he will unveil the Panki Power Plant, a 660 megawatt electricity generation and distribution unit. He will also inaugurate the Lucknow Metro Rail Project and also lay the foundation stone for Agra Metro Rail Project.
Modi will also lay the foundation stone of Delhi-Ghaziabad-Meerut Regional Rapid Transit System, which is one of the first, high-speed and high-frequency rail-based RRTS project. The prime minister will also unveil various development projects for education, housing, drinking water, sanitation and sewerage management in Ghaziabad.
According to UP's Industrial Development Minister Satish Mahana, setting up of new industrial units would draw investment of Rs 65,000 crore.
That's not all. Modi laid the foundation stone and dedicated to the nation various schemes worth Rs 33,000 crore at a public function in Begusarai on February 17, 2019.
Also Read: Opposition Questions Jharkhand Nod for 16 Acres for Adani Power Ahead of Polls
Work on major schemes was launched at the programme including the long-awaited Patna metro rail project, costing about Rs 13,400 crore, construction of ammonia-urea complex at Barauni and extension of liquefied petroleum gas (LPG) pipe network to Patna and Muzaffarpur.
Some of the schemes to be launched are part of Rs 1.25 lakh crore special package announced for Bihar during the 2014 election rally. In keeping with the general elections, the Union Cabinet hurriedly cleared the metro rail project, which was pending for clearance at different levels for the past four years.
Handouts to Corporate Cronies?
While the announcement of such projects means possible job creation in the area, another trend simultaneously following these announcements is handouts of existing and new (possibly such) projects to Modi's corporate friends, such as the Adani group and the Ambani group.
Recently, Anil Ambani's Reliance Infrastructure won a contract to build a new airport at Hirasar, in Gujrat's Rajkot district. The contract is worth Rs 648 crore, while the airport is to be built at a cost of over Rs 1,400 crore, as reported by The Hindu Business Line.
The report added that Reliance Infra was the lowest bidder for the contract, and cited unidentified officials as saying that the company had bid Rs 650 crore against the Airports Authority of India's estimated cost of around Rs 797 crore. The report also said that the airport was planned as a single-runway airport with the aim of supporting the development of trade and tourism, and improving regional connectivity in the state.
Also Read: EXCLUSIVE: French Order for 28 Rafale Gives Away What Modi Wants to Hide
Incidentally, this comes at a time when Opposition parties have said that the Rafale defence offsets contract had unfairly favoured Anil Ambani's company as the 36-Rafale jet contract had earlier been expected to be awarded to Hindustan Aeronautics Limited.
Not only this, last month, the Adani Group won a bid to operate five airports, in Ahmedabad, Thiruvananthapuram, Lucknow, Mangaluru and Jaipur. On February 28, Kerala Chief Minister Pinarayi Vijayan had written to Modi, asking him not to hand over the Thiruvananthapuram airport contract to businessman Gautam Adani.
"It's surprising how come a private company has bagged the right to run the airport even when this particular company has no experience in running airports," the chief minister had said. Vijayan pointed out that the Kerala State Industrial Development Corporation had already moved the High Court challenging the tender process through which Adani was chosen as the winning bidder.
Who will bear the real cost of land?
Another possibility of a threat looming over the current spree of announcements involves the nature and the cost of the land that will be acquired for such projects. Recently, the Bharatiya Janata Party (BJP)- led Jharkhand government approved 16.35 acres of land to Adani Thermal Power Limited for setting up a 1,600 MW power plant in Godda district when local residents and opposition questioned the decision to serve the interests of the Adani Group.
The State Cabinet Coordination department Principal Secretary SKG Rahate had said the cabinet chaired by Chief Minister Raghuvar Das on March 6 cleared 16 acres of land to Adani Power at a cost of Rs 58 lakh for a period of 30 years. The opposition leaders in Jharkhand repeatedly raised the issue of Adani Power proposed plant at Godda that will supply power directly to Bangladesh but will not give even 25% of power generation to Jharkhand.
Another example can be taken of the BJP-led Jairam Thakur's government in Himachal Pradesh, which decided to give Baba Ramdev's Patanjali a lease of 96 bigha land for 99 years by taking a meagre lumpsum of Rs. 2.39 Crore.
Also Read: Himachal Pradesh: Land Taken from Poor Farmers Distributed to Benefit Big Businessmen
What is common between both is that several acres of land were taken from tribals and orchardists, respectively, to furnish the move by both the BJP-led state governments.
While in Himachal, landless farmers were evicted to make way for Patanjali. Landless farmers had started growing apples on barren lands as a last resort, and had been working hard on this land for a long time when their apple trees were cut off and the sole means of livelihood of these families virtually ended. However, the government did nothing to provide any alternative means of occupation. These landless farmers in the state have for a long time been fighting for 5 bigha land, but not a single government has picked up the issue till now.
While the announcements made by the PM do not mention full details of the projects, the "crony- friendly" nature of the BJP in the Centre and several states could prove to be worrisome for the general masses, who are struggling to get jobs and also stand to lose their land and livelihoods.
Read More: Modi's ABC: Avoiding, Burying, Confusing
Get the latest reports & analysis with people's perspective on Protests, movements & deep analytical videos, discussions of the current affairs in your Telegram app. Subscribe to NewsClick's Telegram channel & get Real-Time updates on stories, as they get published on our website.
Subscribe Newsclick On Telegram