Pumped Storage Project Laws Diluted Without Assessment
The projects, which generate electricity during high demand, will be exempted from mandatory environmental impact assessment studies.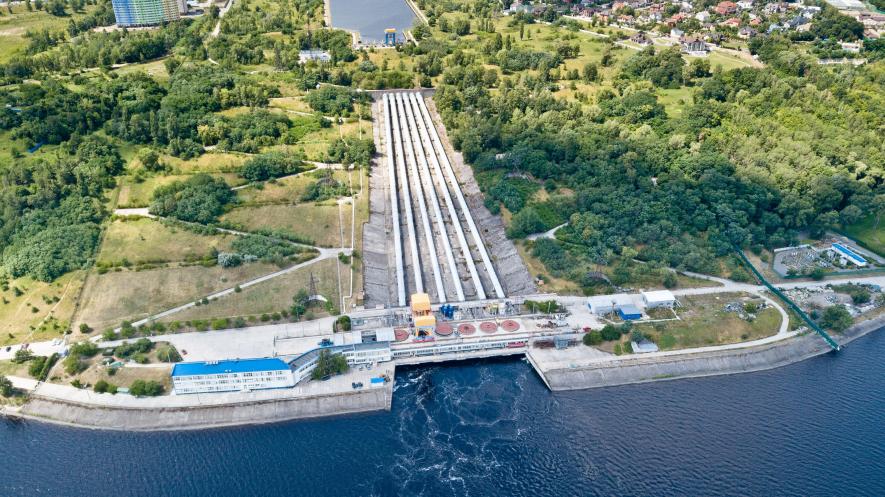 Representational use only.Image Courtesy: Wikimedia Commons
New Delhi: The Centre has diluted environmental laws for the pumped storage industry without assessing the potential social and ecological costs even as several projects have been vehemently opposed.
A pumped storage project is a hydroelectric system that generates electricity during high demand by using water pumped into a reservoir at a higher altitude during low demand. In simpler terms, pumped storage is like a giant battery that stores power to be released during high demand.
The industry's regulatory regime has been progressively relaxed despite the mismatch between the number of projects approved vis-à-vis targeted capacity addition in the sector increasing.
On May 18, the Union Ministry of Environment, Forest and Climate Change exempted most categories of pumped storage projects from the rigours of the Environment Impact Assessment (EIA) process, mandatory for obtaining environmental clearance.
The ministry's notification stated: "Pump storage projects, including off-stream closed loop, shall be appraised based on specific terms of reference issued by the Central government for pump storage projects. Pump storage projects which meet all the criteria specified below shall be appraised as B2 category [industries that require no environmental clearance] irrespective of power generation capacity: (a) Projects which do not attract forest clearance and/or wildlife clearance, (b) Projects wherein no new reservoir is created (c) Projects wherein there is no increase in capacity of the existing reservoir and the submergence area of the reservoir."
Exemption from EIA has been provided merely because pumped storage projects entail lesser environmental impact than hydroelectric power plants.
" … the environmental impacts of such projects are less than classical hydro projects as well as irrigation and water supply projects and, therefore, there is a need to rationalise environmental clearance process for pump storage projects," the notification further states.
The exemption comes close on the heels of a set of guidelines, including GST reimbursement, concessional loans, and exemption from free power obligation and the creation of local area developmental funds, issued by the Union ministry of power apparently to develop the fledgling sector.
However, experts argue that data or empirical studies do not back the dilution of the sector's regulatory regime.
"The Central government is justifying pump storage projects on several grounds like increasing solar and wind power capacity connected to the grid, stabilising the grid, storing power to make it available during non-solar and non-wind power hours and for peaking power and reactive power," Himanshu Thakkar, of South Asia Network of Dams, Rivers and People, tells Newsclick.
"The ministry has assumed, rather simplistically, that these projects are environment friendly. No studies were conducted to arrive at this sweeping conclusion," he adds.
According to Thakkar, whenever a major infrastructure project, like a pumped storage project, is taken up, it "will have a significant social and environmental impact. Unfounded claims about the ecologically friendly nature of hydropower projects were also made. But those claims were wrong".
In fact, the ministry's Expert Appraisal Committee, which assesses river valley and hydropower projects, has been recommending environment clearance at random for pumped storage projects.
The September 2022 draft National Electricity Plan envisages a capacity addition of 18.8 gigawatts (GW) from renewable energy sources, including pumped storage plants, and solar, wind and biomass plants from 2022 to 2027.
The plan also envisages a capacity addition of 40.632 GW from conventional sources like coal, gas and nuclear during this period.
The total installed capacity of pumped storage projects, as per this policy document, was 4.75 GW as of March 2022. The capacity addition plan for the pumped storage sector is 2.06 GW for 2022-27 and 12.02 GW for 2027-32.
However, as per the Central Electricity Authority (CEA) data, the countrywide total installed capacity of 30 pumped storage projects under construction added to the current capacity of six operational projects is much higher at 34.16 GW.
In March 2019, the Centre declared that large hydropower projects, including pumped storage projects with a capacity above 25 megawatts (MW), would be considered renewable energy sources. In 2021, interstate transmission system charges (excluding losses) for electricity supplied by hydro-powered pumped storage projects commissioned till June 2025 were further waived.
Were the relaxations provided to facilitate big corporate houses that have made a beeline to the industry? Exemption from EIA implies no public consultation on ecology in establishing pumped storage projects.
On several occasions, local communities in areas where certain projects have been proposed opposed them over land and environmental issues.
The YS Jagan Mohan Reddy-led Andhra Pradesh government has faced opposition from local communities and political parties in the Kurnool district over land acquired for an integrated renewable project, including a pumped storage plant, in Pinnapuram.
In July 2022, state CPI (M) leaders were arrested on their way to meet the project-affected families of Pinnapuram. Party members alleged that the rights of farming and forest-dependent communities were compromised during land acquisition.
"Compensation was not evenly disbursed to hundreds of project-affected families after nearly 2,500 hectares were acquired. Several families got compensation lower than the entitled amount," Kurnool CPI (M) leader K Prabhakar Reddy tells Newsclick.
Besides, around 800 hectares of forestland on which local communities were dependent for livelihood for several generations was also "acquired without settling the rights of traditional dwellers", he adds.
Notwithstanding complaints that the Right to Fair Compensation and Transparency in Land Acquisition, Rehabilitation and Resettlement Act, 2013 (LARR Act) and the Scheduled Tribes and Other Traditional Forest Dwellers (Recognition of Forest Rights) Act, 2006 (Forest Rights Act) were violated in the execution of the project, Reddy inaugurated the project in May 2022.
In West Bengal's Purulia district, forest rights of traditional dwellers were allegedly violated when the Mamata Banerjee-led Trinamool Congress government cleared a 1,000 MW pumped storage project in Baghmundi block.
The Turga Pumped Storage Project is being developed by the West Bengal State Electricity Development Corporation in Ajodhya Hills, home to a wide variety of flora and fauna. The hills are also a part of the Dalma Elephant Corridor, used by pachyderms since immemorial.
In July 2019, a Calcutta High Court Bench quashed all Gram Sabha resolutions about the project based on a writ petition by affected communities. Approvals granted to the project by the Centre and the state were also quashed. The single-Judge Bench stayed the project which the state government challenged before a Division Bench. Final forest clearance for the project was awaited as of October 2022, as per the CEA data.
The local communities are disappointed because large swathes of land were submerged and thousands of trees felled many years ago for another 900 MW pumped storage project in Baghmundi block but the number of jobs and livelihood promised by the then-CPI (M) government under Buddhadeb Bhattacharya never materialised.
In the recent past, the Telangana government has objected to numerous pumped storage projects planned by neighbouring Andhra Pradesh on grounds of equitable water sharing between the two states.
In October 2021, Telangana's irrigation department wrote to the Krishna River Management Board to restrain Andhra Pradesh from going ahead with the 500 MW Chitravathi pumped storage project in Ananthapuram district. The state-owned enterprise New & Renewable Energy Development Corporation of Andhra Pradesh Limited is executing the project.
Notably, the Andhra Pradesh government has undertaken a couple of mega irrigation and drinking water supply projects in which excess water of Krishna river will be drawn through canals from the Srisailam Reservoir. The reservoir is spread over Nagarkurnool and Nandyal districts, respectively, across the inter-state boundaries of Telangana and Andhra Pradesh.
The Telangana irrigation department wrote that the proposed pumped storage project, which will utilise water diverted from the reservoir in the Krishna Basin by depriving in-basin needs, violated provisions of the Andhra Pradesh Reorganisation Act, 2014, because it lacked the Board's consent.
The writer is an independent journalist.
Get the latest reports & analysis with people's perspective on Protests, movements & deep analytical videos, discussions of the current affairs in your Telegram app. Subscribe to NewsClick's Telegram channel & get Real-Time updates on stories, as they get published on our website.
Subscribe Newsclick On Telegram