Punjab Farmers Demand Reopening of Attari, Hussainiwala Trade Routes
Farmers said that India-Pakistan trade through Dubai is costly compared to the two land routes.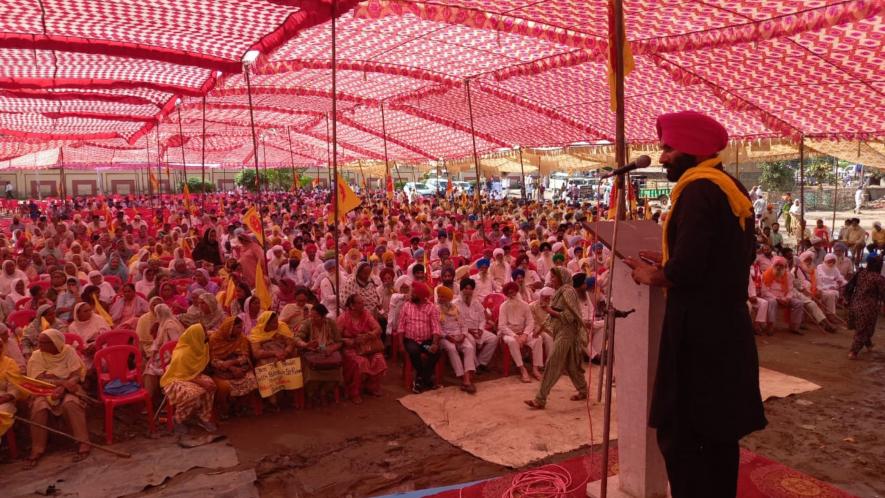 Punjab farmers are preparing for a long struggle to demand the resumption of India-Pakistan trade through the Attari-Wagah and Hussainiwala routes. India revoked Pakistan's Most Favoured Nation (MFN) status and imposed a 200% duty on non-essential goods following the 2019 Pulwama attack.
The farmers, who claim to have been impacted the most following the closure of the two routes, said that bilateral trade continues through Dubai though trade through the land routes would be cheaper.
Kirti Kisan Union, one of Punjab's leading farmer organisations, held rallies across the state on Wednesday to demand that the farmers should be allowed to sell their produce directly using passports. They termed the $1,200 per tonne (Rs 125/kg) duty on the export of basmati rice "anti-farmer" and demanded its immediate withdrawal.
"The suspension of trade is not helping either country," union spokesman Raminder Singh Patiala told Newsclick over the phone.
"We have ample examples suggesting that trade among nations helps communities prosper and de-escalates tension. Any Indian can enter Nepal by showing his/her Aadhaar card, trade there and come back by evening. Even American and Canadian traders show their passports at border checking points and exchange goods. It is happening between several European countries," he said.
Describing how bilateral trade continues through the Dubai route, he said, "Goods are first brought to the Mundra Port, then shifted to Dubai and finally the Karachi Port. Much of the perishable items are lost in this transit."
Claiming that Punjab suffered a big blow, Patiala alleged, "The bilateral trade increased to $1.35 billion in April-December 2022. Adani's Mundra Port is mostly used for trade. Why is the Centre giving a stepmotherly treatment to Punjab while serving the interests of Adani"?
When asked about security threats and chances of drug smuggling, he said, "It could happen through sea routes as well. Heroine worth thousands of crores was seized at Mundra Port. Stopping trade is no option."
At a gathering of farmers at the Hussainiwala border, union vice-president Jatinder Singh Chhina said that 80% of the trade between the two countries is through sea routes or indirectly through Dubai, which is very expensive.
"Direct trade through the Attari-Wagah and Hussainiwala routes will not only be cheaper but a source of new employment and economic prosperity for farmers, traders, artisans who make agricultural implements, truck operators and labourers of north India, especially Punjab," he said.
Trade can "become the lifeblood of Punjab's distressed economy. Therefore, the Punjab government and its people should vigorously strive to resume trade through road corridors".
Chinna said that the two countries already trade in about 350 items, which proves their closeness and interdependence.
"The demand for our agricultural implements, kinnu and apple, potato, basmati rice and mustard, among other crops in Pakistan and the Middle East is the reason for boosting horticulture and small-scale industries. Due to this, we can achieve our goal of crop diversification," he said.
Experts maintain that the suspension of trade between India and Pakistan hurt the interests of about 50,000 people from the Amritsar, Gurdaspur and Tarn Taran districts. These people worked as truck drivers, mechanics, painters, clerks and dealers.
Nikita Singla, associate director at the Bureau of Research on Industry and Economic Fundamentals, an independent think tank in New Delhi, writes in her book Unilateral Decisions, Bilateral Losses that these districts lost Rs 30 crore a month after the suspension of trade.
The book noted that 9,354 families, including 1,724 traders, 4,050 truck drivers, 2,507 workers and 126 customs agents, among others, were hit. Revoking Pakistan's MFN status triggered a significant drop in exports from Pakistan to India.
Besides, bilateral trade was valued at $2.6 billion in 2018-19. India's exports to Pakistan accounted for $2.06 billion and India's imports $495 million. "The Indian government's decisions—withdrawal of MFN status and imposing 200% duty—hurt Pakistan's exports to India, which fell from about $45 million per month in 2018 to $2.6 million per month in March-July 2019," she writes.
Get the latest reports & analysis with people's perspective on Protests, movements & deep analytical videos, discussions of the current affairs in your Telegram app. Subscribe to NewsClick's Telegram channel & get Real-Time updates on stories, as they get published on our website.
Subscribe Newsclick On Telegram