Relook at a Book: Sushila Didi – Life of a Quiet Revolutionary
The book by Satyadev Vidyalankar includes not just memories of Sushila Didi by her fellow HSRA revolutionaries but also an autobiographical note written by her.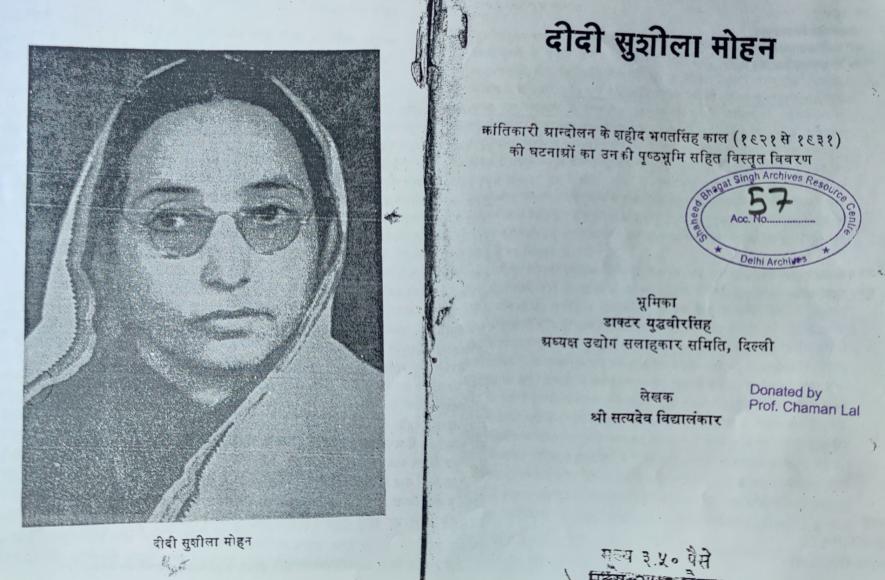 Vidyalankar, Satyadev, Didi Sushila Mohan (Hindi Biography), 1965, Delhi Marwari Prakashan, Pages 390, Price 2/rupees and half Introduction by Dr. Yudhveer Singh
Sushila Didi, in the revolutionary circles, was almost as important as Durga Bhabhi, but she did not get as much fame. Sushila Didi, who later came to be known as Sushila Mohan, after marrying her friend Shyam ji Mohan, who provided her protection when the police were after her.
It was in the late 1960s that some very important books were published on the life and activities of revolutionaries. Many of these books were not republished and slowly became oblivious, except some old libraries holding on to their copies, which are rarely looked upon by readers. Only researchers or some diehard activists read such books, but due to lack of upkeep with modern technology, these too are withering away. Some such books include Manmath Nath Gupt's They Lived Dangerously in English and Didi Sushila Mohan in Hindi among others. Several special issues of journals on Bhagat Singh, Azad and other revolutionaries also came out in the 1970s, but only a few of these are found now.
The Hindi book Didi Sushila Mohan is authored by Satyadev Vidyalankar and was first published in 1965 by Marwari Prakashan, Delhi at the printed price of just Rs.2.5, having 386 pages and several photographs. This is not just a biography of Sushila Didi, as she was known among fellow revolutionaries, it is also an edited volume, as it includes memoirs of Didi by fellow revolutionaries and an autobiographical note by Sushila Didi herself.
When the book was under print, the editor got the copy of the autobiography by Sushila Mohan written in English, which was included in the volume's Hindi translation. Thus, this big volume has four sections-- the first is written by Satyadev Vidyalankar as Jivan Darshan (Philosophy of Life) of Sushila Didi in 16 chapters of nearly 170 pages. The first 20 pages are an Introduction by the author/editor and Blessings from well known Delhi freedom fighter, Dr. Yudhvir Singh.
The second section includes photographs of contemporary freedom fighters and Didi's family in about 25 pages. The third section is devoted to memoirs of Didi's fellow revolutionaries in nearly 135 pages and the fourth section, or as appendix, is Didi's own biographical narration in 20 pages plus some other material.
The whole volume, though somewhat spread out and not tightly edited, is a rich source of authentic information of Bhagat Singh, Hindustan Socialist Republic Association/Army and his comrades, of which Sushila Didi herself was a major, but quiet participant.
One should begin looking at the book from the appendix- the autobiographical narration by Sushila Didi. In his editorial note, Vidyalankar underlined her meeting with Mahatma Gandhi in connection with Bhagat Singh's impending execution, which, as per the editor, clears the doubts about Gandhi's indifference toward Bhagat Singh execution.
Sushila Didi's autobiographical narration is in simple style. She begins with referring to her birth on March 5, 1905 at Datto Chuhar village of Gujarat district of pre-partition Punjab. Her father Karam Chand was a medical officer in the Army, who retired in 1927. He was an Arya Samajist and a staunch nationalist. After retirement, due to his selfless social service, the British government offered to confer 'Rai Sahib''s title on him, which he declined. He was an admirer of Bal Gangadhar Tilak. He arranged education for all his children in DAV schools, as these were considered nationalist education centres.
Sushila Didi was only 14 years old at the time of the Jallianwala Bagh massacre in Amritsar. At that time Gujranwala railway station (now in Pakistan) was burnt and British forces in retaliation air-bombed the city and committed extreme tortures on the people. Mahatma Gandhi visited Gujranwala and while addressing a public meeting asked people to boycott foreign clothes and wear khadi. Sushila Didi was deeply impressed and gave her gold ring to Gandhi. She also started wearing khadi (hand-spun cotton), which she wore throughout her life except when she went underground. She was sent to a nationalist school, Kanya Mahavidyalaya, (set up by Lala Devraj) in Jalandhar in 1921, where she stayed till 1927. Another sympathiser of revolutionaries and Congress activist Kumari Lajjawati was the principal of the school, which later was upgraded to a college and continues till date.
Sushila Didi used to sing her own written poems and songs to spread nationalist feelings. During the visit of radical Congress leader Deshbandhu Chittaranjan Das to her school, to greet him, she recited her poem, which was so emotional that he could not control his tears. On the arrest of Lala Lajpat Rai, a Punjabi song written by her was distributed throughout Punjab.
During her nationalist activities, in a letter to her, her father advised her not to do anything would affect his Army job. She wrote back that rather than quitting her mission, she would prefer not to visit home. So, for two years she did not go home. When she was to appear for her graduation papers, the trial of the Kakori case accused was going on. On the day of her paper, she heard about the death sentence to four Kakori case accused -- Bismil, Ashfaq, Roshan Singh and Rajinder Lahiri. She fainted in the examination hall and could not complete her first paper.
Sushila Didi was already in touch with the revolutionaries. In 1926, on the occasion of the annual function of Hindi Sahitya Sammelan in Dehradun, the students of KMV Jalandhar and National College Lahore met each other. Pandit Chet Ram, who was lecturer in Hindi at National College Lahore (teacher of Bhagat Singh) was the link among the students. Everyone then decided to dedicate themselves to the service of Mother India.
HSRA was in the process of formation then, and she had met Bhagwati Charan Vohra and his wife Durga Bhabhi at the Dehradun conference. Vohar wanted her to distribute HSRA pamphlets that advocated freedom of India by all means, including using violence, if need be. Sushila, with her close friends, secretly and carefully distributed the pamphlets in Jalandhar and sent its copies to officials through post. This created a sensation in Jalandhar.
After completing graduation, Sushila offered her services to KMV for a year, but remained in close contact with the revolutionaries. Vohra introduced her to Jai Chander Vidyalankar (professor of history at National College Lahore and well known historian of ancient India later), who was in charge of the Punjab branch of HSRA. He said that to get the Kakori prisoners released, HSRA needed money. Sushila's father had given more than 10gm of gold to her for her marriage, which she had kept in safe custody of Kumari Lajjawati. She passed it on to Vidyalankar.
Sushila also came into close contact with other revolutionaries like Yashpal (Hindi fiction writer), Sampuran Singh Tandon (Delhi college Professor), Dhanwantri etc. This made a radical change in her mental outlook.
Sushila Didi then narrates the well-known incident of Bhagat Singh's escape from Lahore after Saunders' murder and she and Vohra receiving them at Calcutta station and providing him shelter. Bhagat Singh was accompanied by Durga Bhabhi as his 'wife'. Sushila Didi was then working as a tutor to Savitri, daughter of Chaudhary Chhaju Ram in Calcutta. He narrates:
"Annual Congress session was to be held in Calcutta. Shri Bhagwaticharan had reached Calcutta to my place prior to Saunders assassination. His aim was to contact Bengal revolutionaries. I got a telegram from Bhabhi Durga that she is reaching Calcutta with his brother. I could not make out anything of that telegram, but Bhai Bhagwaticharan immediately understood that Durga ji is coming with Sardar Bhagat Singh. I made arrangements for their stay here.
We reached station to welcome them. Bhai Bhagwati immediately recognised Sardar. Since having clean shaved and hair cut and being in European attire, I could not immediately recognise him. We hugged each other and I brought all to my residence in Sir Chhaju Ram ji's place. Bhagat Singh stayed with me in Calcutta and Bhai Bhagwaticharn along with Bhabhi Durga returned to Lahore, as the staying together of all in Calcutta was not considered safe……."
There is further narration of the story, including police raids at the house where Bhagat Singh was staying. Bhagat Singh went to some unknown place, but in February, he again visited Sushila Didi in Calcutta, as he had come to meet Jatin Das for making bombs. There is some contrary narration of events related to th action of bomb throwing in the Assembly. As per Sushila Didi, Bhagat Singh offered himself for this action, but Chandershekhar Azad was not in favour of it. Sukhdev was also of a similar view. This is contrary to other revolutionaries' accounts, which all say that Bhagat Singh did offer to go, but others rejected it and selected two other revolutionaries for this action, as they did not wish to lose his leadership at a crucial time and knowing well that he is involved in Saunders assassination, which will risk his life.
Since Sukhdev was not present in that meeting, he met Bhagat Singh later and taunted him for 'trying to save his life', as he knew that he was the best person for this action. Bhagat Singh called meetings of the group again and despite resistance from other evolutionaries, forced them to send him along with Batukeshwar Dutt for this action. Either there has been a mistranslation of this sentence in Hindi or Sushila Didi was not aware of this fact. She mentions that Sukhdev brought negatives of Bhagat Singh Dutt's jointly clicked photographs.
Sushila Didi lived with Vohra and Durga Bhabhi in Lahore. In one instance, there was police raid at the house in the absence of Vohra, but Sukhdev was there along with both Durga Bhabhi and Sushila Didi. How both managed to get Sukhdev to escape is an interesting episode.
Another episode completely forgotten now is how Sushila Didi was got involved in the Viceroy bomb attack on December 23, 1929, by Vohra, who had planned this action with Yashpal. He got Sushila Didi to wear a very expensive foreign saree and asked her to inspect the train in which the Viceroy was to travel. At the station, as the Viceroy's train was standing, Sushila Didi sought permission to just see the beauty of the train from inside, which she was allowed as she looked like a rich lady. She later informed Vohra which compartment the Viceroy was to sit in.
Sushila Didi was also involved with the plan to rescue Bhagat Singh from jail, in which Vohra lost his life while bomb-testing in the house that was rented for this purpose. Durga Bhabhi could not get a last glimpse of her husband, as he was buried by the revolutionaries on the banks of river Ravi in Lahore, as it was risky to get his body home.
After Bhagat Singh, Rajguru and Sukhdev were sentenced to death, there were huge protests in the country. The Gandhi-Irwin talks were on. Chandrashekhar Azad deputed Durga Bhabhi and Sushila Didi to go to Delhi and meet Mahatma Gandhi to save the lives of the three revolutionaries. As per Sushila Didi, she and Durga Bhabhi met Gandhi and conveyed Azad's message that if he saved their lives, the revolutionary party would surrender to Gandhi. Sushila Didi mentions that they later came to know that Gandhi tried his best in this regard. But again, Durga Bhabhi's account differs. She had clearly spoken about Gandhi telling Durga to surrender, as she was an absconder in the Lamington Road Bombay shooting incident. (The detailed account of this is included in the appendix of the book written by Baba Prithvi Singh Azad). Durga said they had not come to seek help for Durga, but for saving the lives of three sentenced revolutionaries. As per Durga Bhabhi's account, Gandhi point blank refused to intervene in the matter. Though Sushila Didi is partly correct that Mahatma Gandhi made some efforts unsuccessfully at the personal level with the Viceroy to get the death sentence commuted.
Sushila Didi first met her husband Shyam ji Mohan in 1929 at Congress leader Shanno Devi's house in 1929 at Jalandhar, when she was working for the revolutionary party. Mohan was a colleague of another revolutionary Sampuran Singh Tandon, who was teaching in Ramjas College, Delhi. In her absconding period, she took shelter at Mohan's house, too, who suffered for giving her shelter. Later, they got married.
Sushila Didi joined the Congress party and went to jail during the Quit India movement with a fictitious name, Indumati. (Her inter-caste marriage with Mohan was on January 1, 1933, after she came out of jail). She adopted an orphan boy even before her marriage who remained part of their family.
After coming out of jail, Sushila Didi became active in the Congress party and remained an office bearer of Delhi district party. Her account of life is not complete, it is up to 1942 only, though she lived till January 13, 1963. For her last 20 years' account, one has to refer back to the author Vidyalankar. In the appendix, there are two letters of January 1954, one by poet Harivansh Rai Bachchan and another by Rudardatt from Ajmer, addressed to her. Then there is Baba Prithvi Singh Azad's account of the Lamington Road Bombay shooting case of 1930, in which Durga Bhabhi had taken part prominently.
To fill the gaps of Sushila Didi's brief account of her life, Vidyalankar mentions that she was the eldest among six brothers and sisters. The problem with the biographer is that he had penned this in memoir form, which are otherwise authentic historic accounts, fascinating to read, but not in chronological order. So, one has to look through the chronology.
One important fact underlined by author in his introduction is that Bhagat Singh and Sukhdev used to send letters through Sushila Didi from jail to their comrades or other people. He emphatically says that perhaps two dozen such letters of Bhagat Singh had been lost. If so, there is still a possibility of Bhagat Singh's writings getting discovered from unknown sources. But, now this possibility is becoming dimmer, except that the Lahore conspiracy case's most important 134 files from Punjab archives, Lahore, are still not fully explored.
Vidyalankar mentions how Sushila Didi made efforts to make the socialist convention successful in 1946 and also helped in organising an old revolutionaries conference in Delhi in 1958, in which over 400 living revolutionaries participated and the then Prime Minister Jawahar Lal Nehru had a long meeting with them.
Sushila was also associated with the Madan Mohan Skill institute for girls for a long time. In the last year of her life, she was the first Alderman (an old term, next only to Mayor, no more in use now) of the Delhi Municipal Corporation. She died on January 13, 1963, before she could complete her term. On her first death anniversary in January 1964, Delhi Congress President Mir Mushtaq Ahmad named a road as Sushila Mohan Marg and Delhi Mayor Nooruddin Ahmad named a high school in her name as Sushila Mohan Girls High School.
Some notable incidents of her life have been narrated in loose style, such as Sushila Didi had sent a rakhi to Bhagat Singh in 1929 with a letter so full of patriotic feelings that Calcutta Hindi daily Swatantar editor had to face sedition charges for publishing it.
There are historic pictures in the book, but since the pnes published here are photocopied from Shiv Verma's collection, which is now part of Bhagat Singh Archives and Resource Centre, New Delhi, their quality may not be so good.
In the memoirs section one can see almost every well-known revolutionary of those times, who were alive at the time of compiling this book. Beginning from Batukeshwar Dutt, this section includes names like Bejoy Kumar Sinha, Bhagwandas Mahaur, Jogesh Chatterjee, Vishawnath Vaishampayan, Durga Devi Vohra (Bhabhi), Shanno Devi, Satyavati, Subhadra Devi (Joshi?), Kamalnath Tiwari, Pandit Parmanand Jhansi, Banarsidas Chaturvedi, Sita Devi (wife of Principal Chhabil Das), Chaudhary Brahma Prakash(First Chief Minister of Delhi), Sucheta Kriplani (UP Chief Minister) Aruna Asaf Ali and few more.
Banarsidas Chaturvedi, an ex-MP and editor of many books on revolutionaries, had certified author/editor's claim that Sushila Didi had told him about having many letters of Bhagat Singh that were taken away by some volunteer who did not return them, and she felt very anguished about that. Another interesting incident mentioned is that during Bhagat Singh's stay in Calcutta after Saunders' assassination, a torn and worn-out shirt was hanging outside the bathroom. Sushila took away that shirt and brought a new one. As Bhagat Singh returned and enquired about his shirt, in a bit of irritation, she told him that it had been confiscated and gave him a new shirt. She kept that shirt in her own cloth box.
Sitaram Seksaria, an eminent Hindi protagonist of Calcutta, had mentioned that Sushila Didi helped collect funds for Chittagong revolutionaries also. Chhaju Ram Chaudhary's daughter Savitri Devi, for whom Sushila Didi, was invited as guardian teacher, remembers her bringing an orphan child home and her mother Luxmi Devi (Mrs Chhaju Ram) bringing out that child during Sushila Didi's underground period. Sushila had placed her younger sister Shanta as guardian teacher of Savitri Devi, after going underground. Luxmi Devi was so impressed by Sushila, that she had agreed to shelter Bhagat Singh without letting her husband know.
The volume is a good and authentic source of historical events of Bhagat Singh and his comrade's life and actions, HSRA activities and of Sushila Didi's role in all these activities. But it lacks good editing. A new edition of this volume, more tightly edited, should be brought out, as an authentic source of revolutionaries' lives is more required in present circumstances of fake and mythical stories being spread as 'history' by certain sections of society.
The is a retired Professor from JNU and Honorary Advisor to Bhagat Singh Archives and Resource Centre, New Delhi. He writes on some important books for Newsclick. [email protected]
Get the latest reports & analysis with people's perspective on Protests, movements & deep analytical videos, discussions of the current affairs in your Telegram app. Subscribe to NewsClick's Telegram channel & get Real-Time updates on stories, as they get published on our website.
Subscribe Newsclick On Telegram