Right To Play: The Unsuspecting Casualty of a Pandemic | Outside Edge
For the young, sport is about indulgence, and for the old, it is a drink in hand and a big match on the telly. The latter is fun, but it is the former that sustains and fuels sport as well as a healthy society. Unfortunately in these absurd times, Big Sport would prefer to protect the TV watchers, while the children's playgrounds stay empty.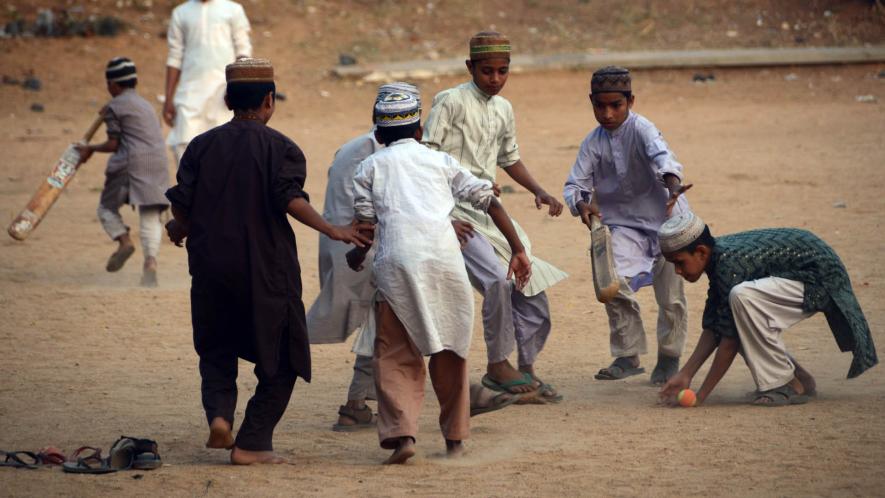 Children hit the playground for the most basic and most natural purpose of sport ― to play. They play by the rules or by making their own rules, exploring the possibilities within them and also of the surroundings (Pic: By Vaibhav Raghunandan)
The rectangular piece of land, bordered on two sides by classrooms repurposed and refurbished from a colonial era godown in Fort Kochi, was completely bald. On the days it did not rain, playing football, cricket, or even plain running on it, would create a dust storm. But it was our school playground and tasting a bit of dust as seven-year-old boys was normal even though now, 30-odd years hence, reeling from allergies gifted by a sanitized existence, we may shudder at what we exposed ourselves to back in the day. 
On that ground, my friends and I learnt kicking and passing the ball, scoring goals, getting tackled as well as giving it back, hitting sixes, fours, and much more… Starting with the hierarchies of life ― from athletic ability to social skills and everything in between. We would enter the field with a ball, gleaming in our clean uniforms, and leave with a brown layer of dust, and ― with the power of hindsight ― a layer of wisdom on us as well. We were learning life, understanding victories, defeats, coping mechanisms. We were playing ball but the goals struck, runs scored, wickets taken or friendships forged were making our pockets deep too. I still reach into 'em, banking on the riches, layered in nostalgia and some dust.
Limited as things were at the time ― the pre-liberalisation India of the 1980s ― we played with a football that was torn, unstitched and stitched so precariously that it would deflate mid-match, invariably mid-flight. It rolled with a dull wobble but we never had a dull moment chasing it. 
Talking about being dull, does anyone have an idea what has happened to that much abused proverb in the English language? Oh yes, more of a cliche now than a proverb, whose meaning and far-reaching implications in our lives is lost in its commonality. A case of familiarity breeding less gravitas, if not complete contempt. 
All work and no play will make Jack a very dull boy! 
Also Read | Sania Mirza: Women Still Have it Tough to Pursue Sport as a Career in India
The proverb encompasses a truth that has been accepted as well as ignored in the same breath it takes to complete the sentence. That would explain the lack of interest at the moment in making Jack, or Jill, less dull. The world is more interested in getting big spectacles ― the leagues, the World Cups and the Grand Slams ― up and running. All the while, a very fundamental principle to the survival of playing fields as well as the quality of human life and society in the long run is ignored… The right for a child to play!
Yes, the indefinite postponement of the Indian Premier League (IPL) is a big loss and so are the cancelled bilateral series and the World Test Championship fixtures of the Indian cricket team. Yes, the Premier League or La Liga will bleed money if pending matches of the season are not completed. A cancelled Tokyo Olympics will leave a major dent on the Japanese economy as well as many athletic dreams. Yes, organised sport is on the verge of getting lost in a financial maze of its own doing. The coronavirus happens to be the reason, but it is incidental as well. These tournaments which are in jeopardy ― meaningful and important indeed ― are not the biggest and most important sporting casualty to Covid-19. 
The biggest casualties are the children and their right and ability to play freely. 
The pandemic and subsequent lockdowns have snatched playgrounds away from kids. We don't see boys or girls sidestepping cars and jostling scooters while negotiating a wrong-un in a gully cricket match. We don't see football wizardry from nine-year-olds in a back alley. No neighbourhood basketball matches, no kabaddi tussles. The swings and playing stations at the park remain eerily empty… 
Covid-19 has shut kids indoors, and, even as parents and educators complain about the difficulties dealing with hyperactive children, they fail to register or understand the big blot in the picture that has been painted. 
The primary blame falls on the prevalent and religiously followed notions as well as science of fitness. We are so hooked to the energy-taken and calorie-burnt approach towards sport and exercise that we tend to measure children on the playground with the same set of variables. A kid playing in a park or a street is not just expending energy to become less hyper and docile at home. That's the adult idea of physical activity we make a mistake of imposing on kids. If we pause our busy lives to look up and observe kids at play, we realise that jogging, taking a walk, doing pilates or sweating through cross training drills is not a child's idea of physical activity or sport. A child hits the park for the most basic, the truest and most natural purpose of sport ― to play. He or she plays by the rules or by making impromptu and unique rules, exploring the possibilities within and also of the surroundings. Be it a tree, a swing, a rubber ball or a hoop, or a football. Geniuses in sport are discovered as corollary on the childhood playground, but the most important purpose it serves is to forge life skills, impart life lessons for the soon-to-be adult, along with a well-rounded development of the body and mind.
Also Read | I-League Clubs Terminating Player Contracts: The Legal Implications
Sport, of course, means different things for different people. The focus or meaning varies primarily with age. For the young, sport is about indulgence, and for the oldest, it is a beer in hand and a big match on the telly. While the fun element in the latter is not in doubt, it is the former that sustains and fuels sport as well as a healthy society.
A playground plays an equally important role as a classroom for the kids to grow up as healthy, complete individuals. The emphasis now while planning curriculum for young kids (kindergarten to the various stages of primary school) is on learning via playing. Child psychologists, physiologists and educationists alike have realised how play affects the development of the main cognitive centres of the brain, while physical activities ensure healthy growth of muscles, the frame, and the much talked about attribute these days ― immunity.
UNICEF, in its guidelines on the right to play, has explained the various factors that make it an important right to uphold and fight for across societies. However, as Covid-19 gripped the world, this right was one of the first that was taken away among many other basic human rights in various countries ― some as necessity, some for pure political gains.
One is definitely aware of the crisis at hand and the dangers involved. Covid-19 is a tricky situation and it is definitely not the right time to let kids run freely on streets and the parks. Playgrounds, however, have played a constructive role for preparing kids for new normals much more than lessons drilled in at home or in a classroom. A classic example of this was during the Ebola outbreak in Africa. An important problem global agencies and authorities had to address during the fightback against Ebola was safety of the kids. Playgrounds offered that. Kids were taught valuable safety lessons. Behavioral and habitual changes, including sanitary protocols, were imparted while playing sport. It also helped many who were directly affected by the outbreak to deal with the trauma and move on in life.
On the scale of contagions, Covid-19 is much more virulent than Ebola, no doubt. However, much more than the virus and its potential for inflicting fatalities, it is shortsighted approaches ― from the random application of unproven healthcare protocols as seen in the US to hasty and unplanned implementation of lockdown measures as seen in India ― that would eventually end up damaging more in the long run. 
And, on the long list of myopic measures and stances, the ones pushed for by the sporting bodies across the world ― from the International Olympic Committee (IOC), the professional football leagues to the Board of Control for Cricket in India (BCCI) ― feature somewhere at the top. One can understand where it comes from. A business sense which revolves around big shows, stars and television rights. PPVs and sponsorships have set the priorities as the sporting world settles into a new normal cutting across borders. 
But, in the new normal, the right to play, it seems, is only reserved for pro athletes and those with contracts and big teams to play for. One is yet to see or hear a meaningful discussion on children and sport. Boys and girls, young and old, can and should stay put at home, watch sport on the streaming channels, and settle into a new normal, imposed by the sporting establishments. This new normal is potentially unhealthy with perhaps the only avenue for play being mobile phones or virtual reality. One need not elaborate on the very real hazards of that. 
Also Read | Jarnail Singh: The Tough Guy of Indian Football's Golden Era
All of this would set off the kind of evolution that would well and truly make humans adept at living in a forever state of lockdown even after official shutdown measures are lifted. It will take just a generation of virtual-classroom trained, video-game playing young adults to set the new normal in concrete even after Covid-19 gets transformed into one of the many viral fevers around, and lockdown measures became chapters in textbooks of history.
Talking about books, will the new normal replace the textbook with a digital device? Back in school, the textbook ― hardbound in my case to keep it together for the academic year ― was also a tool to play. A hardbound book was a perfect bat for paper-ball cricket. But a more math-centric game was in vogue too back then. The batter flips the pages and the last digit in the left hand side page number is the runs scored. Six, Four, two… You hit zero, you are out. I was a decent batsman. 
Now, while desperately trying to figure out a life lesson learnt by flipping textbook pages for runs, I can't exactly think up one. But it was fun. We celebrated wickets and sixes as if we were winning the World Cup. That's exactly the whole point of playing a game, any game. Primarily, it is all about what we feel at the moment. And our feelings from one moment to the other builds our psyche and our being ― a recurring deposit of sorts with cumulative gains. It gives us our unique identity and personality en route a pursuit of excellence. 
We are born with this right to pursue and reach our potential. And right to play prepares the child for that pursuit in the larger game in life, with a bigger role to play (pun intended) in the future of our world.      
Click here for more Outside Edge cricket columns
Get the latest reports & analysis with people's perspective on Protests, movements & deep analytical videos, discussions of the current affairs in your Telegram app. Subscribe to NewsClick's Telegram channel & get Real-Time updates on stories, as they get published on our website.
Subscribe Newsclick On Telegram