Jarnail Singh: The Tough Guy of Indian Football's Golden Era
Forged in the life-and-death struggle of partition, Jarnail Singh, arguably India's best ever defender, never knew fear – be it tackles or taking on any role the team demanded. The Mohun Bagan and Indian football team star was regarded as one of Asia's best defenders when he landed in Jakarta for the 1962 Asian Games. But his biggest moment came in the semi-final and final, where he excelled as a striker to push India to gold.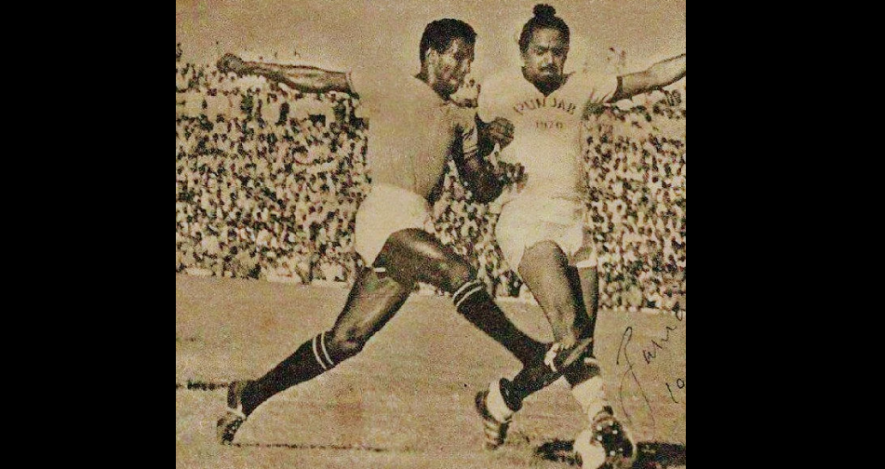 Jarnail Singh (right), playing for Punjab, snatches the ball from a Mysore player during the 1970-71 Santosh Trophy final in Jalandhar (Pic: Reddit, posted by Bengaluru FC).
Some members of the Indian football team faced a problem before the opening ceremony of the 1962 Asian Games. They were not adept at wearing 'pagri', which was a must for the Indian contingent.
They all were helped by Jarnail Singh, the only Sikh member of the squad. Jarnail, by then, had already attained fame for being one of Asia's most effective defenders – his ferocious tackles and intimidating style had left many forwards across the continent in complete awe.
But little did Jarnail know what lay in store for him over the next 12 days.While his teammates wore the turban only for the opening ceremony, it was an integral part of Jarnail's attire whenever he went out. It landed him in trouble in Jakarta on more than one occasion.
Also Read | A Chronicle Of Death In Sport. And Life
The anti-India feeling was so high in 1962 that Indian athletes were targeted whenever they stepped out of the Games village. Stones were thrown at Indian team buses. Indians were ridiculed when they entered the field and roundly abused when they won a medal.
The football team had to remove the sticker with the tricolour from the windscreen of their bus. Jarnail would often travel on the floor of the bus to avoid attention. His presence would invariably give away the team's identity.
Jarnail didn't like it. On the pitch, he was extremely tough – perhaps the toughest Indian footballer to play at the international level and took it upon himself to show he wasn't a man to be intimidated easily.
In a span of 10 days, from August 26 to September 4, Jarnail played a brand of football that remains unmatched in Indian football history. India won gold and to say Jarnail's display was the key factor behind India's triumph won't be an exaggeration.
His biggest achievement was that he was forced to don the role of a centre forward and yet emerged the biggest hero of the tournament. He was regarded as one of Asia's best defenders when he landed in Jakarta. But in the semi-final and final, he excelled as a striker. Badly injured in the second group league match against Thailand, Jarnail received six stitches on his head. It didn't stop him from scoring in both the matches to pave India's victory.
Jarnail wrote a fairy-tale story on the field. He had to be carried out against Thailand (India won 4-1) with a bleeding head. He didn't play the next game against Japan. In the semi-final against South Vietnam, spectators were stunned to see a heavily bandaged Jarnail taking the field. That too, as a centre forward.
Coach SA Rahim took a perilous but calculated risk. He knew that Jarnail's reputation as one of Asia's most physical footballers had instilled fear in the minds of many, South Vietnam included and wanted to cash in on it. His gamble paid off remarkably.
Skipper Chuni Goswami put India in the lead and Jarnail made it 2-0 in the 30th minute. The Hindustan Times wrote: "It was poetic justice that Jarnail, who had virtually sustained the team by his magnificent performance in defence and attack, should have scored the goal."
Like in all great football matches, the story wasn't over. In the second half, South Vietnam hit back with vengeance to make it 2-2. Finally, it was left to brilliant Chuni Goswami to score the match-winner and take India to the final after 11 years.
What happened in the final is history. Jarnail once again played as a centre forward and scored India's second goal in a 2-1 victory. For the proud Sikh, it was a fitting reply to those who made him sit on the floor of the bus only because he was an Indian.
Also Read | Delhi HC Rejects Plea To Curtail DDCA Ombudsman's Authority
"To hide myself from hostile people was disgusting. At the same time, I was happy that I could always be identified as an Indian," Jarnail once told this correspondent. "My performance in Jakarta didn't come overnight. It was the result of hard work for many years."
Having gone through many ups and downs in life, Jarnail was a hugely courageous man. Adverse situations always brought the best out of him. "I faced imminent death at the age of 13 during partition. Yet I managed to survive. Thereafter, I feared nothing in life."
Lyallpur (now Faisalabad in Pakistan) was burning in 1948. The political madness of partition had taken its toll. Jarnail's father had put his eldest son inside a truck cramped with at least 50 other men, women and children. They were to travel to Amritsar, unsure whether they would reach their destination or not. 
On the journey, Jarnail saw more dead bodies than people alive all around. He watched innocent people being brutally murdered, houses being burnt down. On reaching Amritsar, he boarded a train. The bogey's floor was slippery because of the blood. He had no water, no food with him.
Jarnail survived, thankfully. He was fond of football in Lyallpur and continued to play when his family was resettled in Panam village in Hoshiarpur. He went on to captain Punjab University and moved to Calcutta to play for Rajasthan Club in 1958. A season later, he joined Mohun Bagan. By the time Jarnail finally bid adieu to the eastern metropolis in 1968, he had captained the Asian All Star Eleven.
Success didn't come to him easily, though. He faced many hurdles and overcame them through guts and perseverance. After Chuni Goswami, he was Mohun Bagan's biggest star in the 60s – only he knew how hard he had to work to achieve that status.
In the 1959 season, then Mohun Bagan coach Arun Sinha recruited rookie Jarnail, much against the wishes of the club officials. Sinha's plan was to introduce the three-back system with Jarnail as the lone stopper. He failed miserably. A centre half till then, Jarnail fumbled match after match.
The fans were furious. They booed Jarnail every time he touched the ball. Sinha was openly heckled from the members' stands. Nervous officials wanted the coach to discard the idea. But Sinha was unyielding. Give the youngster more time, he insisted.
His patience paid off. Jarnail clicked, finally. That too in the key league encounter against East Bengal, a game Bagan won 2-0. The supporters were placated and Sinha retained his job. In the process, he gave India, arguably, their greatest defender.
Also Read | Lockdown Tales from Hockey: Neha Goyal Dribbles Around Life's Questions
But Jarnail's entry into the playing XI of the national team wasn't smooth either. In the 1959 tour of Afghanistan, Jarnail was included but never played. He didn't like it. Later, he made some uncharitable remarks about the coach's preference for Hyderabad footballers. He wasn't Rahim's favourite player on the team.
The differences didn't last too long. Rahim was no ordinary coach and he knew Jarnail was no ordinary footballer. Soon enough Jarnail was a permanent member of the playing XI. For the decade after his debut in 1959, an Indian team without Jarnail Singh was unthinkable.
In the mid 1960s, Jarnail was the captain of Mohun Bagan, Bengal and India. Mohun Bagan had a room booked round the year for Jarnail in central Calcutta's Broadway Hotel. A group of fans could always be spotted lurking near the hotel hoping to get a glimpse of their favourite star. In 1958, Mohun Bagan had refused to pay a penny when they recruited Jarnail. For the next 10 years, he and Chuni Goswami were Mohun Bagan's highest-paid footballers.
Fifty-eight years have passed since the 1962 Asian Games. Only a few of the team members are still there to share their experience. Two great forwards of that squad, PK Banerjee and Chuni Goswami, passed away in a span of 40 days during the lockdown period. The fans hardly had an opportunity to give the duo a fitting farewell.
Jarnail was among the first to go, nearly 12,000 kilometres away from home. The country's most celebrated stopper back was with his daughter in Vancouver, Canada, when he passed away on October 13, 2000. 
The most memorable tribute came from long time India teammate Arun Ghosh. "I once had the misfortune of going for a frontal tackle for the ball against Jarnail in a Calcutta league match," Ghosh said. "Fifty years on, I still feel the pain sometimes in the evening. I played international football for 12 years. Never did I experience such a powerful tackle. Instead of Calcutta, Jarnail Singh should have been playing somewhere in Europe."
Get the latest reports & analysis with people's perspective on Protests, movements & deep analytical videos, discussions of the current affairs in your Telegram app. Subscribe to NewsClick's Telegram channel & get Real-Time updates on stories, as they get published on our website.
Subscribe Newsclick On Telegram