I-League Clubs Terminating Player Contracts Via Force Majeure: The Legal Implications
I-League clubs invoking force majeure to terminate player contracts has brought a sharp focus back on players' rights and contracts in Indian football. The lack of a standard model and the addition and deletion of clauses that aid clubs has created a situation where players may end up losing big. While still not official, the FPAI plans to take up player complaints to the player committee and hopes justice will be served.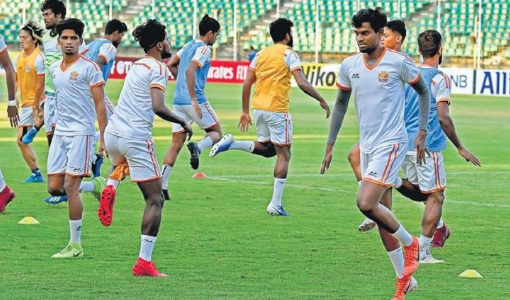 Katsumi Yusa has threatened to approach FIFA if Chennai City FC do not agree to pay his dues. Spanish players Roberto Eslava Suarez, Sandro Rodriguez and Nauzet Santana are also expected to follow suit (Pic: New Indian Express).
Indian football's state of limbo, has put the focus on how clubs are dealing with the financial implications of season cancellations. In many cases, as predicted, the aftershocks have hit the players, the backbone of the footballing structure but also the easiest dispensables.
News of I-League clubs, East Bengal and Chennai City FC activating force majeure to prematurely terminate all existing contracts of their players has been at the forefront of late. 
Also Read | East Bengal, Chennai City Players Approach FPAI For Help
A common clause in contracts, force majeure allows parties to suspend or terminate the performance of its liability or obligations when an extraordinary event or circumstance beyond their control takes place. The clubs have cited the pandemic as enough reason to invoke it and have worked different amendments into different player contracts dependent on duration.
Most players at East Bengal on a one-year contract have been asked to take a 50% pay cut for the whole of next year. Some players whose contracts were due to expire this year, have been told that they will not be paid for the last month, because Covid-19 falls within the ambit of the force majeure. Their contract, therefore, has been terminated with immediate effect. 
Left with no other choice, many players have reached out to the Football Players Association of India (FPAI) for help who have guaranteed support and referred the matter to the world body for players (FIFPro). 
Despite having not received any official written complaint, the FPAI has conducted and consulted players and agents via phone and have been requested to contact clubs and come up with an amicable solution acceptable to all parties. The chances of an immediate solution though are bleak to say the very least. 
Also Read | The Lockdown Lives of Football's Marginalised Essential Service Providers
The reasons are simple. Once official complaints are lodged the FPAI will put the case to the Player Status Committee, who will make a decision and further extend it to the AIFF. The AIFF's job then is to implement the decision and ensure it is carried out.
Siddharth Bhattacharya, Manager of marketing and player relations at the FPAI warns that the process takes time, mostly because of delays in decisions taken by the player status committee. "The players status committee is made up of people who are honorary, they are not paid, so they are free to attend the players status committee meeting [when they want] and on a general level cases we have seen that cases take up to 4-8 months to get resolved", he explained.
Ironically this fair practice process that players may have to go through to obtain what is due is not one practiced by clubs in the I-League. Force majeure has not taken into account player consent. Clubs have followed the 'do first talk later' policy that has left players clutching at straws. Bhattacharya cited this as a clear breach of regulations enforced by FIFA about contracts during the pandemic. "Our world body FIFPRO had a meeting with AFC and with FIFA and FIFA has clearly stated that it has to be an amicable settlement. It cannot be a unilateral termination. If both parties do not agree then it has to be taken further," Bhattacharya said.
Also Read | Limba Ram's Condition Worsens; Authorities Intervene to Restart Life-Saving Injections
FIFA guidelines clearly indicate that clubs and employees are encouraged to work together to find appropriate collective agreements for any period where the competition is suspended due to the covid-19 outbreak. These agreements should be addressed without limitation, remuneration which involve salary deferral and/or limitation, protection, mechanism and other benefits, government aid programmes during contract extensions etc.
It also mentions that unilateral decisions to varying agreements will only be realised when they are made in accordance with the national law or permissible within CBA structures or another collective agreement mechanism. When clubs and employees cannot reach an agreement, then national law will be used to make the decision. 
INDIAN FOOTBALL CONTRADICTION
Many clubs across the world, facing a loss in broadcast revenue, gate revenue and sponsor fees have been forced into financial negotiations with their players, asking them in some cases to accept pay cuts for the next year.  The logic, unfortunately, does not hold in the Indian context.
"I league clubs do not get money from the TV, broadcast or gate revenue," Bhattacharya says, "They cannot cite those as reasons for not paying the players. Those are not factors in this discussion.I don't see why the club cannot pay."
The FPAI's (and subsequently the players') problems though may arise from the fine print in the contracts themselves.
Anuj Gupta, lawyer and co-owner of Delhi based Sudeva FC, has looked up some contracts that players are given across league in India and has found clear discrepancies in them. Gupta finds that in I League contracts, there is no mention of the force majeure clause. ISL contracts on the other hand have a definite clause mentioning force majeure. (Section 56 of the Contract Act that talks about the doctrine of frustration states that it does not need a clause of force majeure to invoke the termination).  
"The primary difference between an I-League agreement and an ISL agreement was that the ISL agreement has been evenly distributed among the liabilities, responsibilities and termination compared to I-League contracts," Gupta says, "Which means that in an I-League contract the player hardly has any right of terminating the contract. The clubs hold all rights for termination."
Also Read | The Price of Power: Modesty, Decadence And Inevitability
"It is extremely one-sided in terms of the power balance," Gupta says. "In the ISL however, a lot of rights have been given to the player. Clubs may terminate contracts for various reasons, but the player has a strong right to not accept it."
The contracts further on, enlist responsibilities to players and clubs to fulfill till the end of the season. With the I-League season deemed concluded, and the 2nd Division is limbo, currently neither the players nor the club can carry out their responsibilities as required.
"So, while clubs can terminate contracts, at a players committee, players might have a stronger case," Gupta says, while also warning that this does not guarantee them victory. "I have a feeling clubs will go on and appeal to arbitration in defending their terminations."
Gupta says that players whose contracts expire this year may have a very small case to begin with seeing as they haven't played football in the month of April -- a requirement in their contract.  "It is not in their hands," Gupta says, "Even though they [the clubs] might have the money or not. That is secondary."
TWO FACED DEALINGS
Bhattacharya does not believe the cases are so easily dismissible. "We have still not started any legal proceedings till now against the clubs," he clarifies, reiterating that clubs' failure to cite financial loss because of cancellation hugely impacts their case for termination. Furthermore Bhattacharya says clubs are exposing themselves by signing new deals while absolving themselves of old ones. This standard business practice will put them on the defensive when the case goes to the committee.
"One club has claimed that their sponsors have withdrawn but after we investigated through their website it was concluded that they don't have any sponsors to begin with," Bhattacharya says. "These people are coming up with claims which are not valid. That's what we feel as a players association union." 
Also Read | Indian Football's Clarity At the Top Must Not Distract Us From Problems At the Grassroots
Bhattacharya further pointed out that many clubs, while terminating contracts are also on the other side signing players for next season, something that creates a clear conflict in the nature of their argument. "I strongly feel if you can sign new players then you can surely pay your old players. That's the argument we will be making in front of the federation and also in front of the court in our defence." he says.
If AIFF fails to provide a definite solution then according to FIFA guidelines, the final decision on the issue will be decided by national law. In India, national law states that the pandemic is declared as force majeure and gives employers the right to terminate contracts where the contract cannot be fulfilled.
Bhattacharya hopes these cases highlight the need for a standard footballing contract across all leagues in India. Lack of regulation and standardisation has resulted in ad-hoc exclusion and inclusion of clauses that benefit clubs and often leave players high and dry.
"Over the years, we have seen a lot of clauses which should not be seen in the I league clubs such as the performance clause, the injury clause, unilateral termination or unilateral extension," Bhattacharya says. "These kinds of clauses are commonly seen in I-League contracts and the players have been signing them. I can't say if the players know the repercussions or not." 
The pandemic has put them on notice.
Get the latest reports & analysis with people's perspective on Protests, movements & deep analytical videos, discussions of the current affairs in your Telegram app. Subscribe to NewsClick's Telegram channel & get Real-Time updates on stories, as they get published on our website.
Subscribe Newsclick On Telegram