SC East Bengal Hire Forensic Psychologist for Players; FIFA Introduces Maternity Regulations to Protect Players and More (Football Round-up)
Short Passes (Football News Round-up): SC East Bengal coach Robbie Fowler adds forensic psychologist to backroom staff | FIFA introduces maternity regulations to protect players | Italy's Serie A accepts €1.7 billion bid for buying stakes in its media unit | Newcastle United confirm legal dispute with Premier League over the failed takeover bid by a Saudi Arabia-led consortium | FIFA lifts suspension of Trinidad & Tobago FA.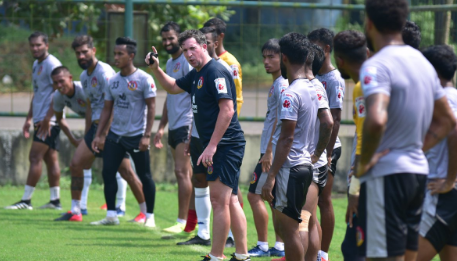 Robbie Fowler with SC East Bengal players during a training session at the Indian Super League (ISL) bubble in Goa.
SC East Bengal coach Robbie Fowler, a Liverpool legend as a player, but with no stripes as a manager after taking the plunge into coaching, is keen to leave an indelible mark in Indian football during his stint in the Indian Super League (ISL). The newbie coach has already done some pioneering stuff. He has made his entry in a grand fashion with an eight-member support cast which includes among others, a set-piece coach (apparently a first in Indian football), and, drumroll, a forensic psychologist, with extensive experience in the prisons department in the UK.
Nicola McCalliog, a chartered forensic psychologist based in the UK, will conduct virtual sessions for the team. She would join the side in the biosecure bubble in Goa if they make it to the playoffs, according to a report by the PTI.
McCalliog is a trained hostage negotiator, and as per the report, she has had some experience with football teams. However, her predominant experience listed in her LinkedIn profile is a seven-year stint with Her Majesty's Prison and Probation service. Right about now is when we should be writing ROFL! 
On a serious note though, Fowler might have hit upon the right personnel for the job. After all, McCalliog will be dealing with footballers living as celebrity prisoners of sorts in the ISL bubble in Goa. 
Also Read | ISL 2020-21 Season Preview: Indian Football Paradoxes Converge in a Goan Bubble
"I am working with the players to understand who they are, their story so far and what drives and motivates them. I support the manager and the staff in how to get the best out of the player on and off the pitch," McCalliog was quoted by the PTI. 
"I see the hunger to win in the eyes of the players and I know that they will give everything. It is all about creating a positive and winning mentality individually and collectively as a team," she added, sticking to the usual jargon psychologists throw out at 'commoners'. 
Credit must be given to East Bengal for adding a psychologist to their coaching staff. The role a psychologist plays in modern professional sports outfits, and the contribution they make in boosting performance on the field is beyond doubt. And one is sure East Bengal bosses would have understood the credentials and capabilities of the doctor before hiring her. Much like how they fathomed the coaching experience of Fowler before giving him the reigns of the 100-year-old legacy club. His managerial stats read: 37 matches, 15 wins, 13 losses, 9 draws and a paltry 40.54 win percentage.
Then again, regardless of what the outcome of the derby is this season, can ATK Mohun Bagan ever beat East Bengal on this — a Liverpool legend as coach, a set piece coach (a first in Indian football), and a forensic psychologist with a keen eye for hunger in players' eyes!
FIFA Introduces Maternity Rules
FIFA has, for the first time, proposed worldwide maternity regulations for female players and coaches. According to the new regulations — in line with the International Labour Organisation — players will receive a minimum 14 weeks of paid maternity leave with at least eight weeks after birth at two-thirds of their salary. The proposed regulations will be put forward to the FIFA Council for approval in December.
Additionally, FIFA could impose transfer bans on any clubs not meeting the new standards. The governing body's chief legal and compliance officer, Emilio Garcia Silvero, said that "clubs will not be allowed to terminate the contract of a player on the grounds of a player becoming pregnant. If this is the case, we are going to impose not only a fine, and compensation to the player, but also a sporting sanction. We are going to impose a transfer ban on the club. From now on, female players will be better protected".
The regulations also add that 'clubs will be permitted to sign a female player outside of the usual transfer windows in cases where short-term cover is needed to replace a player on maternity leave'. Additionally, they require that new mothers be offered facilities to breastfeed and receive independent medical advice.
There is concern however that minimum standards have been set too low and there are holes in the strategy. The regulations, while laudable, are actually lower than those in India's Maternity Leave Act 2017, which allow maternity leave for up to 26 weeks to employees with full pay (provided they have worked for a minimum 80 days in the 12 months prior to delivery). Additionally, according to the act, a female worker is entitled to a medical bonus of Rs 3,500. Pregnant Women and lactating mothers can also draw a benefit of Rs. 6000 under the National Food Security Act, 2013.
Pending approval, FIFA's basic regulations will be mandatory from January 1, 2021.
Serie A Accepts €1.7 Billion Bid for Media Unit
Serie A has agreed to sell a stake in its media business to a private equity consortium for €1.7 billion ($2 billion) as the league seeks to prop up revenues hit by the Covid-19 pandemic.
At a meeting in Rome, the league's 20 clubs unanimously accepted the offer by CVC Capital Partners, Advent International and state-backed Italian fund FSI for a 10% stake in a new unit which will handle the league's broadcast rights.
Also Read | 22-Team Saudi Women's Football League Begins, India Still Far Behind
Serie A chairman Paolo Dal Pino told Reuters that the deal was expected to close in the coming weeks. "We have found an agreement and unanimously voted in favour of the financial terms of the proposal, but we haven't closed the deal yet, we haven't committed yet," he said.
The deal will bring outside investors into one of the game's biggest leagues, whose revenue has plummeted during the pandemic with matches being played in empty stadiums and broadcasters cutting spending on pay-TV deals.
Weighed down by a combined debt burden of €4.3 billion, many clubs' finances are under strain with wage expenditure having topped a critical threshold of 70% of revenue in recent years. The league also lags behind others in Europe with revenues of €2.5 billion a year, according to consulting firm Deloitte, of which €1.35 billion comes from broadcasting rights. The Premier League receives €3.5 billion a year from media rights alone.
Newcastle in Legal Tussle with EPL
Newcastle United are involved in arbitration proceedings against the Premier League (EPL) over a cancelled takeover attempt led by a consortium of investors from Saudi Arabia including the Gulf nation's sovereign wealth fund PIF, PCP Capital Partners and the Reuben Brothers.
The takeover bid of the club, owned by British businessman Mike Ashley, involved a £300 million ($396 million) deal. After the bid collapsed, Newcastle accused the Premier League of acting inappropriately in rejecting the takeover bid based on an owners and directors' test and had said they would be "considering all relevant options available". 
Also Read | 2020 FIFA U-17 Women's World Cup Cancelled, India Awarded Hosting Rights for 2022
The news of the arbitration proceedings was put out by the Premier League in what seems to be a smartalec move, via a letter to the club's supporters' body -- Newcastle Consortium Supporters Ltd. 
Newcastle then came out with a statement of their own, clarifying to the fans without divulging details of the arbitration.
"The club is aware of public reports which state that... the EPL referred to legal proceedings with the club... in a letter to Newcastle supporters," the club said here in a statement on Thursday.
"In light of the information disclosed by the EPL, (Newcastle United) has no choice but to respond and update its fans in response to this coverage.
"The club makes no comment on the substance of the arbitration, but it can confirm that it has issued arbitration proceedings against the EPL."
FIFA Lifts Suspension on TTFA
FIFA has lifted the suspension on the Trinidad and Tobago Football Association (TTFA). The country's federation was indefinitely suspended in September for pursuing a dispute through the country's High Court in contravention of the world governing body's statutes.
"After taking note of the recent decision of the Trinidad and Tobago Court of Appeal and the express wish of the members of the TTFA for all associated legal claims brought by parties purporting to act in the name of the organisation to be terminated, the Bureau of the FIFA Council has decided to lift the suspension of the TTFA with immediate effect," FIFA said in a statement.
"This means that all of the TTFA membership rights have been reinstated and TTFA representative and club teams are again entitled to take part in international competitions."
The TTFA and FIFA had been at loggerheads since March after the sport's governing body dissolved the executive of the cash-strapped association.
FIFA installed a normalisation committee after it concluded the TTFA's former leadership had "engaged in various acts of serious mismanagement". This was opposed by TTFA president William Wallace and contested in court.
Get the latest reports & analysis with people's perspective on Protests, movements & deep analytical videos, discussions of the current affairs in your Telegram app. Subscribe to NewsClick's Telegram channel & get Real-Time updates on stories, as they get published on our website.
Subscribe Newsclick On Telegram