Slum Women of India's Cleanest City Exposed to Household Air Pollution
Indore has around 30% of its population living in slums with most households using mud stoves and unaware of health hazards.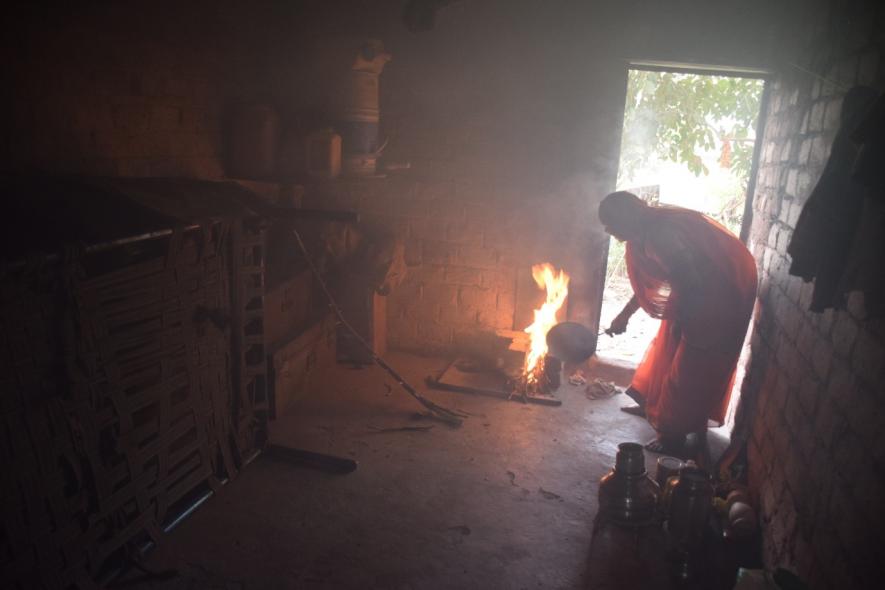 Santosh Bai, a resident of Sai Vandana Nagar Slums, in Sanwer Industrial Area of Indore, has been using a mud stove for several years despite having an LPG connection.
Santosh Bai's house has almost turned black from the inside due to the use of a mud stove for several years. "My house has turned black because of the smoke. But I don't have an option as I have to feed my family," says the resident of Sai Vandana Nagar Slums, in Sanwer Industrial Area of Indore.
Santosh has an LPG gas connection but the cylinder is empty. "We don't have enough money to get it refilled," she says adding that she is more "worried about her house turning black because of smoke, not the condition of her lungs". 
This is not Santosh's story alone but of most other women slum dwellers in Indore, which was adjudged as the cleanest city in India for the sixth consecutive time in Swachh Survekshan 2022, the Centre's annual cleanliness survey of urban areas under the Swachh Bharat Mission.
A recent survey by the Union environment ministry revealed that Indore was one of the 37 cities whose air quality has declined in the past four years with increased levels of PM10 between 2017 and 2021. 
Kshama Kanade too uses firewood, coal and dung cakes while coughing and having watery eyes during cooking. But she firmly believes that using a mud stove does not affect her health. When asked if anybody has informed her about the hazards of household air pollution, she replied in the negative.
The level of unawareness about household air pollution (HAP) can be gauged by these women's overwhelming preference for mud stoves, which "keep mosquitoes away".
HAP on average contributes 30%-50% to ambient air quality in urban and rural areas, according to a March 2021 study by Council on Energy Environment and Water (CEEW). Increased use of polluting fuels leads to lower respiratory infections and coronary chronic obstructive disease, which increased the risk of COVID-19 infection, according to the study.
The Global Burden of Disease Study 2019, nearly 600,000 deaths in India in 2019 can be attributed to indoor air pollution. Burning of solid fuels to prepare food on simple cooking stoves in homes exposes families, particularly women and children, to the harmful impacts of smoke and indoor air pollution.
Slum dwellers are doubly affected both by the higher concentration of particulate matter in urban areas as well as indoor air pollution from the use of unclean cooking fuels.
With more than 13.7 million people living in slums, as per the 2011 Census, there is a strong impetus to understand the use of clean cooking fuels in such households, the CEEW suggests. 
Indore has a significant slum population with about 30%, or 8,38,977, of residents residing in slums. The total area of 646 slums—out of which 599 are notified—is 20.35 sq km, which takes up 8% of the total area designated under the Indore Municipal Corporation (IMC).  
"Many people are unaware that various forms of indoor air pollution also pose a risk to our lungs. Some of the major sources in urban settings include burning of biomass, incense sticks and mosquito coils. People with medical conditions such as pulmonary tuberculosis, HIV, poor nutritional status and concurrent respiratory infections are at a greater risk. Chronic Obstructive Pulmonary Disease (COPD) is triggered more during monsoons and winters," says Dr Lokendra Dave, a pulmonologist at Gandhi Medical College, Bhopal. 
The damage caused by COPD to the lungs is permanent but awareness about risk factors can minimise chances of developing COPD, Dave adds. 
According to Dr Ajay Nagpure, a clean air catalyst expert, children and women—especially pregnant ones—are most affected by HAP. "Women using biomass like firewood, dung cakes or coal for cooking suffer more badly. Use of biomass as fuel causes 5-10 times more air pollution." 
Studies say that constant exposure to burning biomass is associated with a wide range of illnesses, including COPD, pneumonia, stroke, lung cancer and cardiovascular diseases. 
"Forget about household air pollution. Most people are largely unaware of the ill-effects of air pollution," says Sudhir Gore, the lead of rumour tracking project of clean air catalyst in Indore, which aims to end myths related to air pollution among common people.   
"Our study revealed that people think air pollution caused by industries does not affect much as it moves towards sky through chimneys. Most of them believed that air pollution occurs only outside homes, not inside," Gore adds. 
Kirti Dixit, a social activist working for slums, says these women have seen their mothers cooking on firewood. "They think watery eyes and coughing are natural during cooking. They are completely unaware of HAP."
On the other hand, there are women like Parwati Suleri, who cites additional reasons for using mud stoves. "We belong to village and we like food cooked on traditional stoves. Chapatis baked on woodfire taste different. Moreover, jowar (sorghum) and makka (maize) chapattis are baked best on woodfire."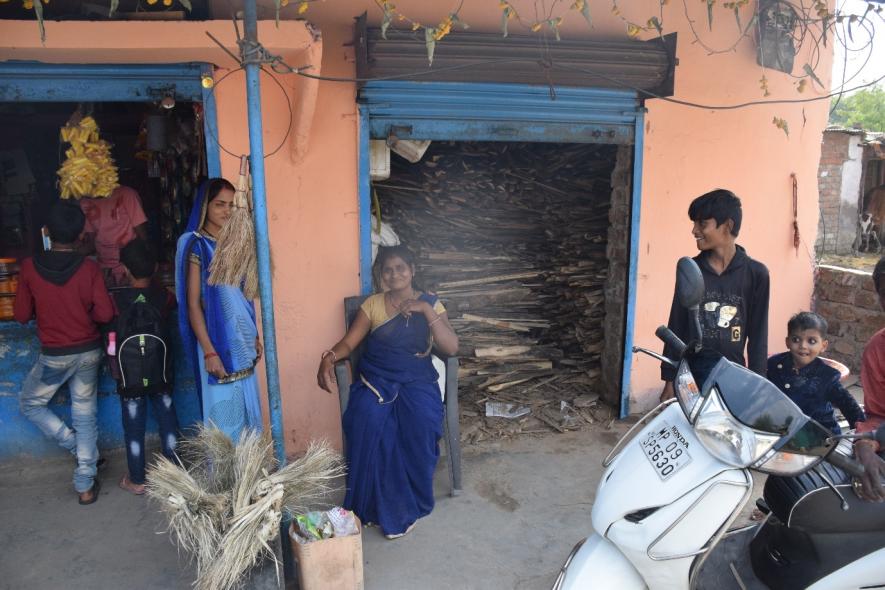 Women in Indore slums prefer firewood to cooking gas due to its easy and cheap availability.  
Most of these shanties have an additional mud stove outside the main door built exclusively to provide heat water during winters. "We cook food on the stove inside the house. The other one is used to warm water for bathing," says Mamta Chouhan and Pinky Rajput sitting outside their shanty.
The stove outside the house is often fed with any ignitable substance in addition to wood, cardboard paper and industrial waste.
Several women have also set up small shops catering to the daily needs of labourers. Sheela Kushwaha has a shop and a tea stall attached to her shanty. A firewood stove could be seen at her shop. "I use it to make tea for the customers and cooking," she says. Her children and husband collect firewood, paper, cardboard and industrial waste.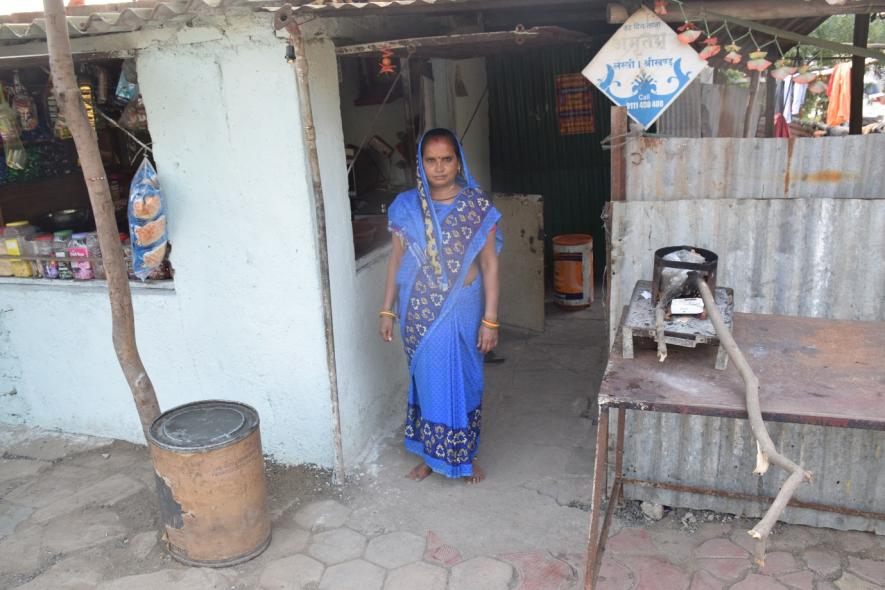 Sheela Kushwaha has a shop and a tea stall attached to her shanty.
Kushwaha cannot afford cooking gas. "The price of gas cylinder has almost doubled from Rs 600 a few years ago to almost Rs 1,100 now. Wood is cheap and often available for free." 
Another CEEW study found that though 85% of Indian households have an LPG connection, only 54% continue to exclusively use traditional solid fuels or by stacking them with gas cylinder.   
"The problem is serious and needs to be addressed immediately. Women should be educated about the nuances of HAP and the use of clean energy fuels and alternatives provided by renewable energy appliances," says Nagpure. 
"Subsidised LPG cylinders should reach the economically weaker section. Efforts should be made to start an awareness campaign to develop an understanding of ecology besides making it part of school education," says Sachin Jain, a social researcher and director of Vikas Samvad. 
"A sustained campaign should be started among women of weaker sections where they should be informed about the ill-effects of HAP. Once they realise the health hazards of using biofuels, only then will they consider adopting the alternatives," Jain adds. "Cooking solutions based on renewable energy sources should be made affordable and encouraged."
IMC mayor Pushyamitra Bhargava claims that the corporation and the district administration have taken several steps to reduce air pollution caused by the industries, traffic and waste management. "Ideas like installing a community water heating system at Sulabh Toilet Complexes using solar energy are welcome and we will start it soon on a pilot basis. Moreover, Deendayal Rasoi Yojana too could be modified to suit the needs of slum dwellers." An awareness campaign will be started to apprise women of the ill-effects of air pollution on their health. 
The writer is a freelance journalist. This story was produced with the support from Internews' Earth Journalism Network.
Get the latest reports & analysis with people's perspective on Protests, movements & deep analytical videos, discussions of the current affairs in your Telegram app. Subscribe to NewsClick's Telegram channel & get Real-Time updates on stories, as they get published on our website.
Subscribe Newsclick On Telegram